Davis' errant throw opens door for Sox's rally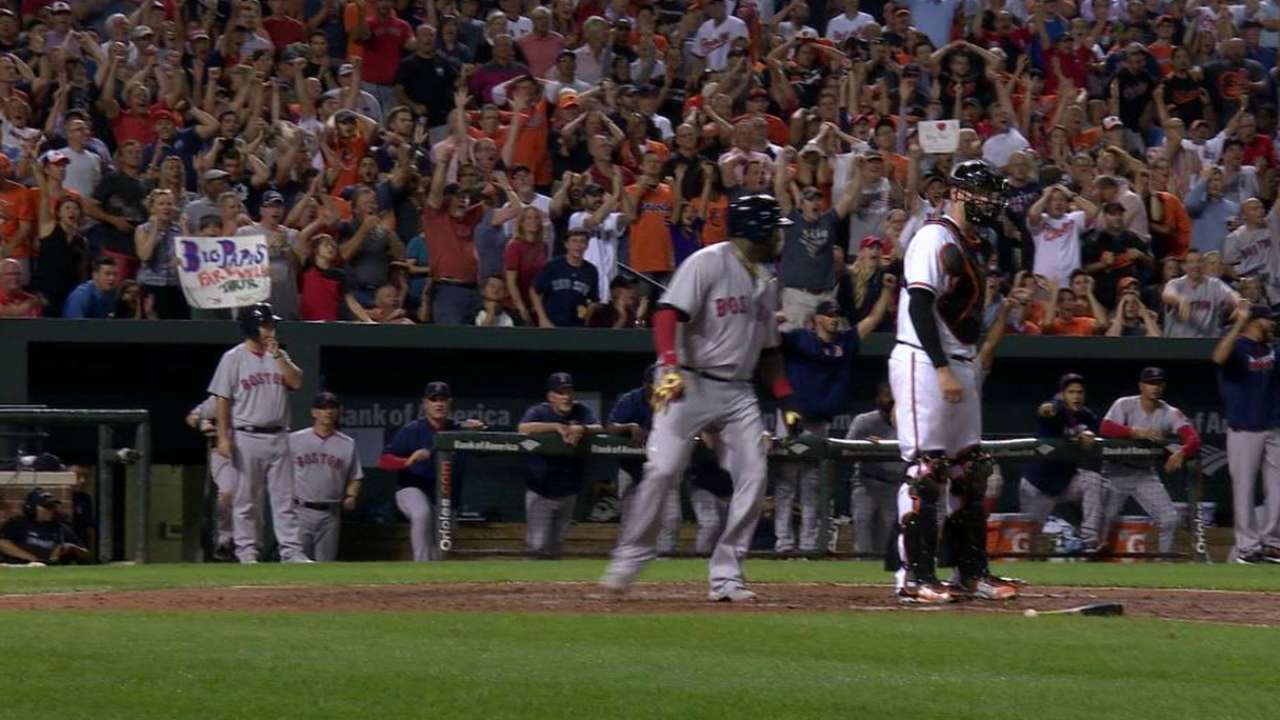 BALTIMORE -- The same fans that had risen to their feet earlier in the sixth inning Wednesday to give departing Orioles starter Ubaldo Jimenez a standing ovation sat stunned in their seats. In a span of two pitches, the Orioles went from a one-run lead to a four-run deficit on the heels a pivotal two-out error by first baseman Chris Davis.
Davis fired an errant throw to reliever Brad Brach, who was running to cover first base, which resulted in two runs and extended the sixth inning. On the ensuing pitch, Red Sox rookie Andrew Benintendi launched his second career home run to bury the Orioles in a gut-wrenching 5-1 loss.
"Just didn't make a very good throw on it," Davis said. "I know how important it is to get the final out with the bases loaded right there. Probably a ball I could've stayed back on and just gone to the bag, but I just reacted, and when I went to throw it, it just kind of stuck in my hand and I pulled it. Threw it and didn't even give Brad really a shot to catch it."
It was the Orioles' third straight loss and fifth in seven games -- all of which have come at Camden Yards -- and left them with just a one-game lead over the Tigers for the second American League Wild Card.
But the fashion that the latest loss came in -- all five runs in the inning were unearned because of Davis' error -- seemed to make it all the more painful to swallow.
"It was very difficult, especially because everybody knows what we are playing for," Jimenez said. "It was a tough game."
Jimenez, having kept the Red Sox scoreless, exited with one out in the sixth with men on first and second. Facing his first batter, Brach allowed a dribbler down the first-base line to Aaron Hill for an infield single to load the bases. Brach bounced back and struck out Jackie Bradley Jr., bringing the O's one out from escaping the jam.
Sandy Leon, who'd already grounded into an inning-ending double play with the bases loaded earlier, rolled over another pitch to the hole between Davis and second baseman Jonathan Schoop. Davis opted to try to make the play, but his throw sailed past Brach and bounced off the netting in front of the camera well along the first-base line.
"I know that he's played a Gold Glove first base all year and your first thought there is don't let the ball through the infield," Showalter said. "We usually execute the back end of that. We feel confident in him making that play, or Jonathan [Schoop] making it."
One pitch after Davis' miscue, Benintendi left the Orioles and the crowd alike dismayed.
"I wish I could have maybe just thrown a ball there or something out of the zone," Brach said of his fastball up and in. "Just kind of reset there, because it would have been nice to have one extra pitch. Obviously, I wasn't really thinking clear there for that one pitch, and unfortunately he made me pay for it."
Ryan Baillargeon is a reporter for MLB.com based in Baltimore. This story was not subject to the approval of Major League Baseball or its clubs.