Dodgers continue to be careful with Hill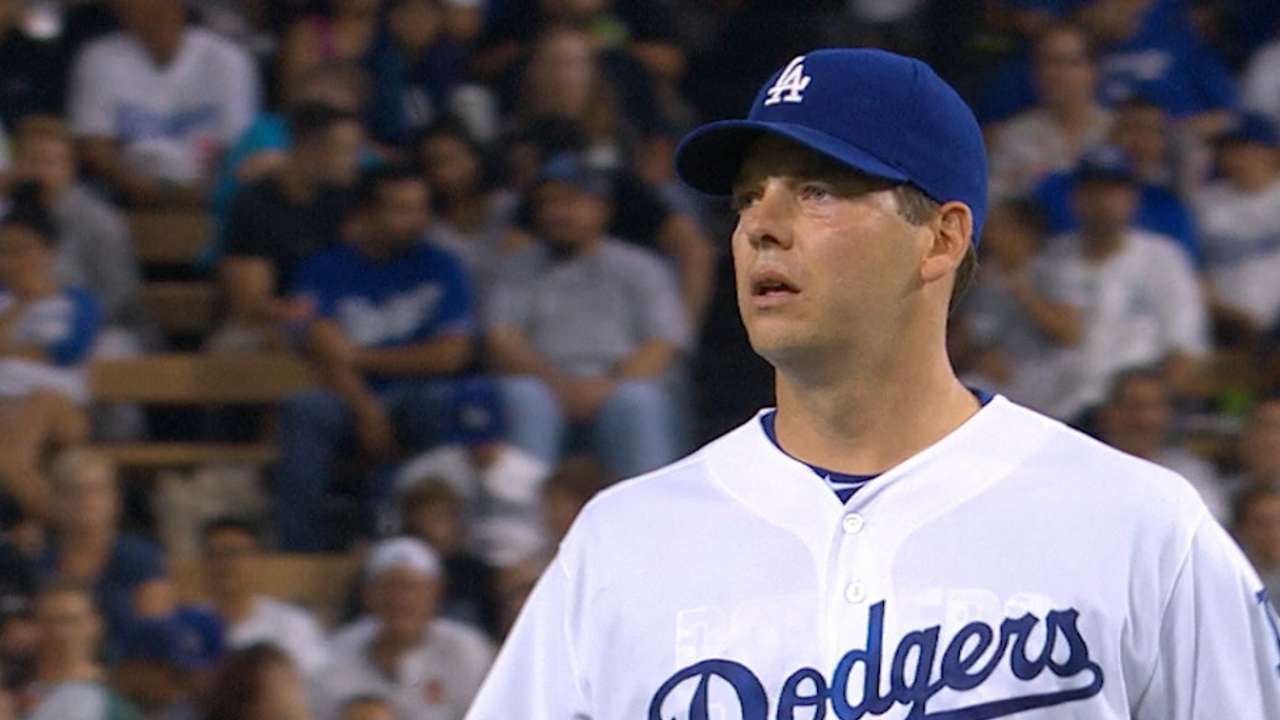 LOS ANGELES -- It's common knowledge that the Dodgers have been as cautious as possible with Trade Deadline acquisition Rich Hill and his blisters; pulling him after seven perfect innings last week at 89 pitches made that apparent enough.
The Dodgers showed that caution again in Tuesday's 2-0 loss to the Giants, pulling Hill when he was sitting at 77 pitches after five good innings. Hill's spot in the lineup was due to lead off the bottom of the fifth, and manager Dave Roberts batted Howie Kendrick in place of Hill.
While pulling a pitcher that early seems exceptionally cautious, it remains all part of the plan as the Dodgers try to make sure their current rotation doesn't succumb to the health woes that have struck often throughout the season.
"Where we're at right now, we just can't afford any setbacks," Roberts said. "Very important game, I just didn't know how much longer he was going to go. ... It was going to be another inning at the most anyway."
Hill missed more than a month between July and August when a pair of blisters on his left index finger gave him trouble with his fastball and curveball. He also hit the disabled list earlier this year with a groin strain. And that's not to mention he's 36 years old and hasn't pitched this many innings in a season since 2007.
The sole run Hill allowed came suddenly in the fifth, when Eduardo Nunez found a fastball that missed its target and cranked it to the top of the left-field wall. Outside of that mistake, Hill continued to look strong five starts into his Dodgers tenure.
"Threw the ball well. At the end of the day it's disappointing. I made one mistake to Nunez; fastball was supposed to be down and completely missed all the way in," Hill said. "He did what he should have done with the pitch. For me, that's where I take 100 percent responsibility for this. It's not acceptable to miss like that at this level."
Hill has now struck out 35 batters in 29 1/3 innings as a Dodger and holds a 1.53 ERA with the team. He has clearly established himself as a pitcher the Dodgers will need in the playoffs, along with Clayton Kershaw and Kenta Maeda. The athletic training staff has kept a close eye on his hand, checking between innings to make sure the blisters aren't becoming a problem again.
However, the Dodgers might not just need Hill healthy in the postseason. They also could need him to go deep into the games. Keeping him on a short leash for now might impede that, but Hill was insistent that going from five innings to eight or nine wouldn't be an issue given the hectic season he's had.
"It's been such a crazy season, with having time off and then getting back into it. I think I've fielded some questions where people were surprised at how I was able to come back and pitch with the lack of rehab starts," Hill said. "It's something that the moment presents itself and you rise to the occasion and you're ready to perform when that comes about."
Jack Baer is a reporter for MLB.com based in Los Angeles. This story was not subject to the approval of Major League Baseball or its clubs.