Tempers flare between Angels, Rangers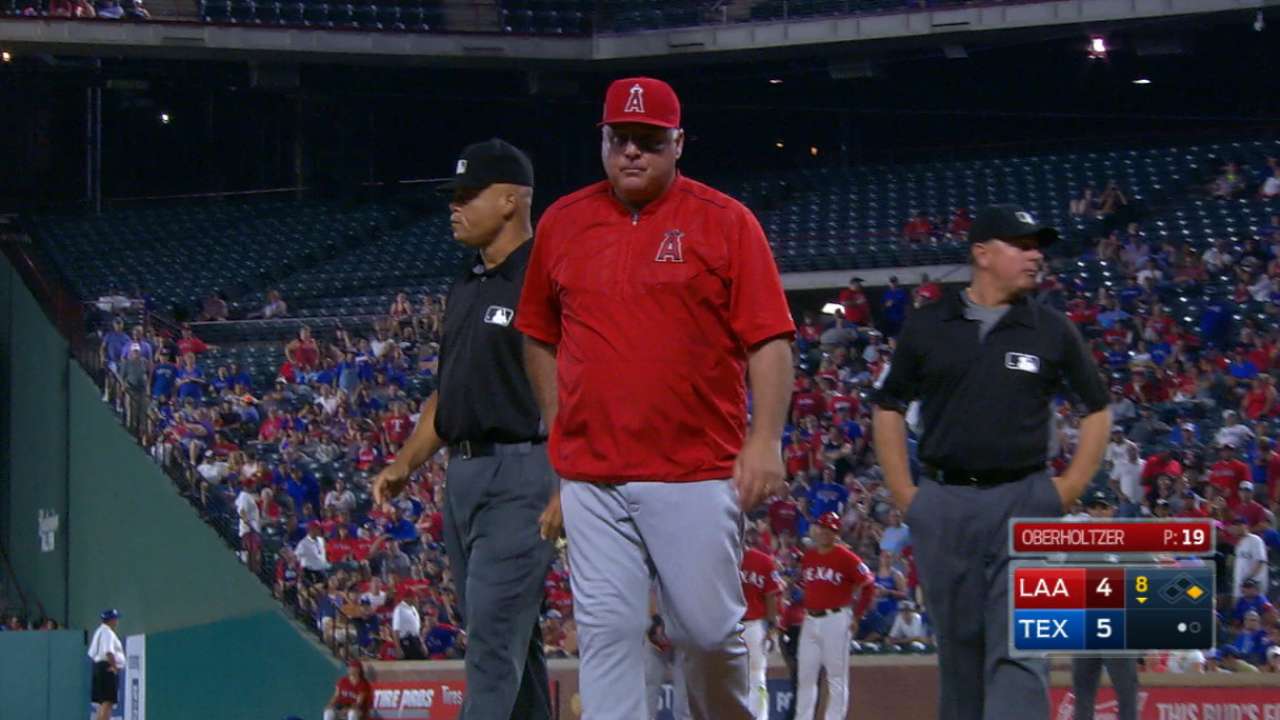 ARLINGTON -- After Rangers outfielder Carlos Gomez singled with one out in the sixth, he looked to advance to second on an errant pickoff throw from Angels left-hander Jose Alvarez. Gomez over-slid second base and was called out, and a challenge upheld the call on the field.
Gomez took exception to what he believed was Angels shortstop Andrelton Simmons blocking second base on the putout. And that sparked a night of flared tempers in the Rangers' 5-4 win over the Angels on Tuesday night.
"I guess they took exception to what was a good play by Andrelton," Angels manager Mike Scioscia said. "He wasn't in Gomez's way at all. Gomez let him know he wasn't happy."
If you check the tape, I clearly was not close to blocking the bag," Simmons said. "Anybody that thinks I was blocking the bag, that's ludicrous."
The next inning, when Simmons was at the plate, right-hander Keone Kela threw a 96-mph pitch that sailed behind Simmons' shoulders and to the backstop. Simmons was visibly upset and gestured to the mound, and both benches were immediately given warnings. Texas' Adrian Beltre and Jonathan Lucroy had been hit by pitches in the fifth.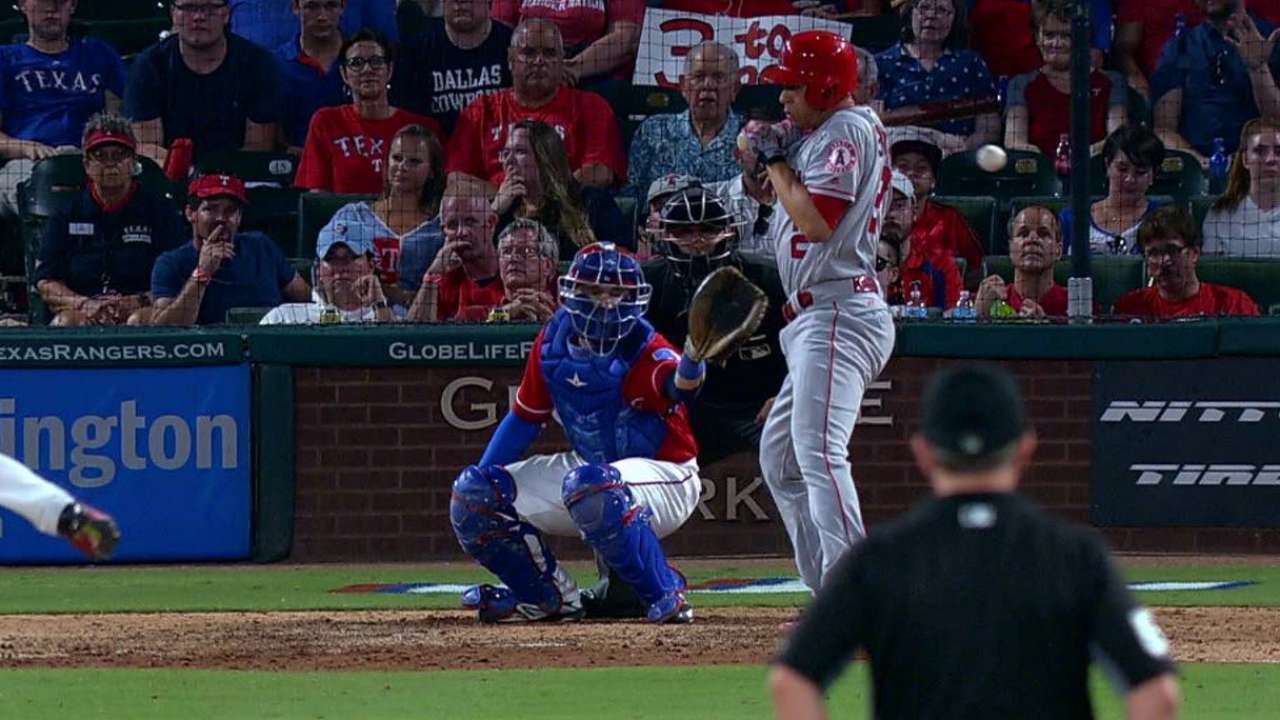 "I knew exactly what it was about," Simmons said. "It started after [Gomez] got thrown out at second. The guys throws 98 mph and he's throwing behind my head, pretty much. That's pretty dangerous."
After the pitch, players on both sides rose to the top steps of their respective dugouts. The situation didn't escalate, and play resumed after a few minutes.
Rangers manager Jeff Banister said Kela's pitch was not intentional.
"Fastball tends to get away from [Kela] at times, we've seen that," Banister said. "Nobody wants to see a 97-mile-per-hour fastball up around their chin. I'm sure he's entitled to take offense at that. Warnings were issued, and we played on."
Scioscia did not agree.
"Obviously, there was an intent to throw at Simmons," Scioscia said. "This is worse than 'boys will be boys.' Any time you throw 97 mph at a man's neck, that's not 'boys are boys.'"
Scioscia, still angered by Kela's pitch, engaged with an argument with Rangers coach Spike Owen the following half-inning. After another brief delay, play resumed.
"I was upset, and he was the closest guy in the opposing uniform," Scioscia said.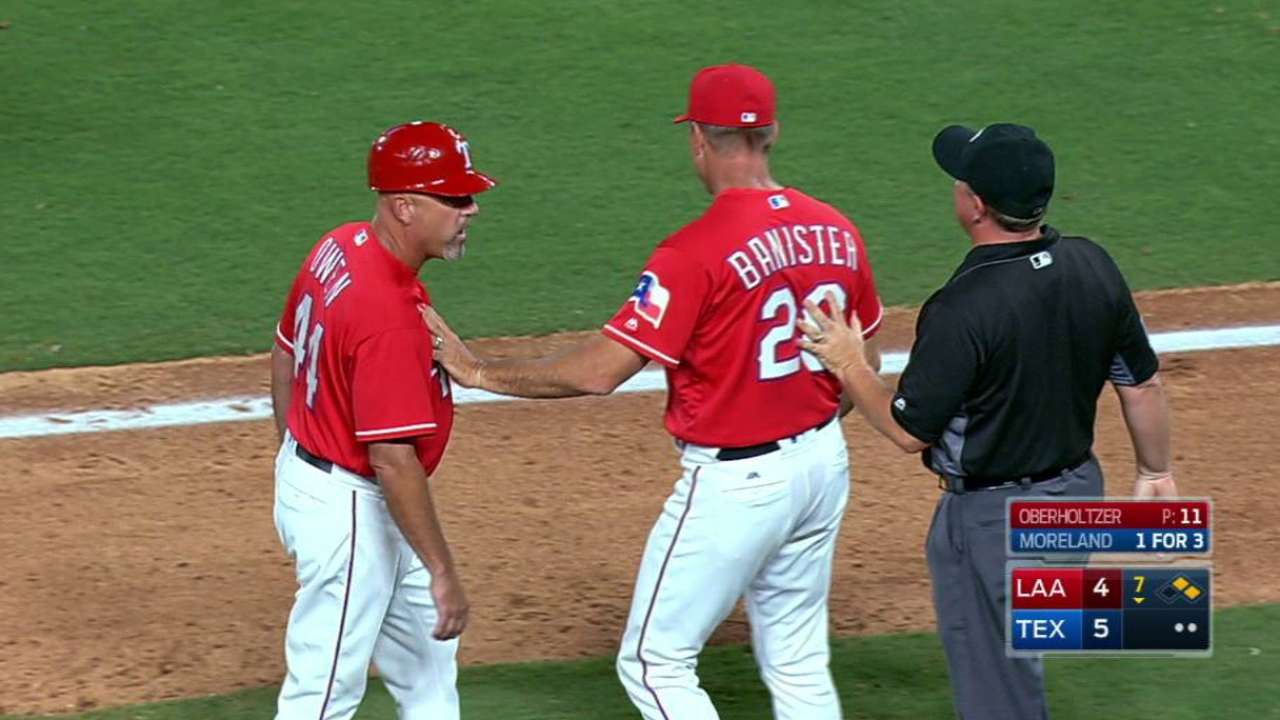 All was calm until the eighth, when Angels left-hander Brett Oberholtzer hit Elvis Andrus near the ribs with a 1-2 pitch. Oberholtzer was immediately ejected -- for the first time in his career -- and Scioscia was tossed as well.
"If there was any intent, it would be a stupid time to do it," Oberholtzer said. "We were down by one, and it was a 1-2 pitch."
"When you have warnings in play, [it's] tough," Scioscia said. "He just cut a ball a little bit in too much, and it hit Andrus. There was no intent on that one. But I understood the circumstances."
The Rangers and Angels meet on Wednesday night for the final time this season. Simmons doesn't expect Tuesday's events to carry over.
"I don't think there's any reason for that," Simmons said.
Ryan Posner is a reporter for MLB.com based in Texas. This story was not subject to the approval of Major League Baseball or its clubs.