Rangers have 'pen to thank for win over Halos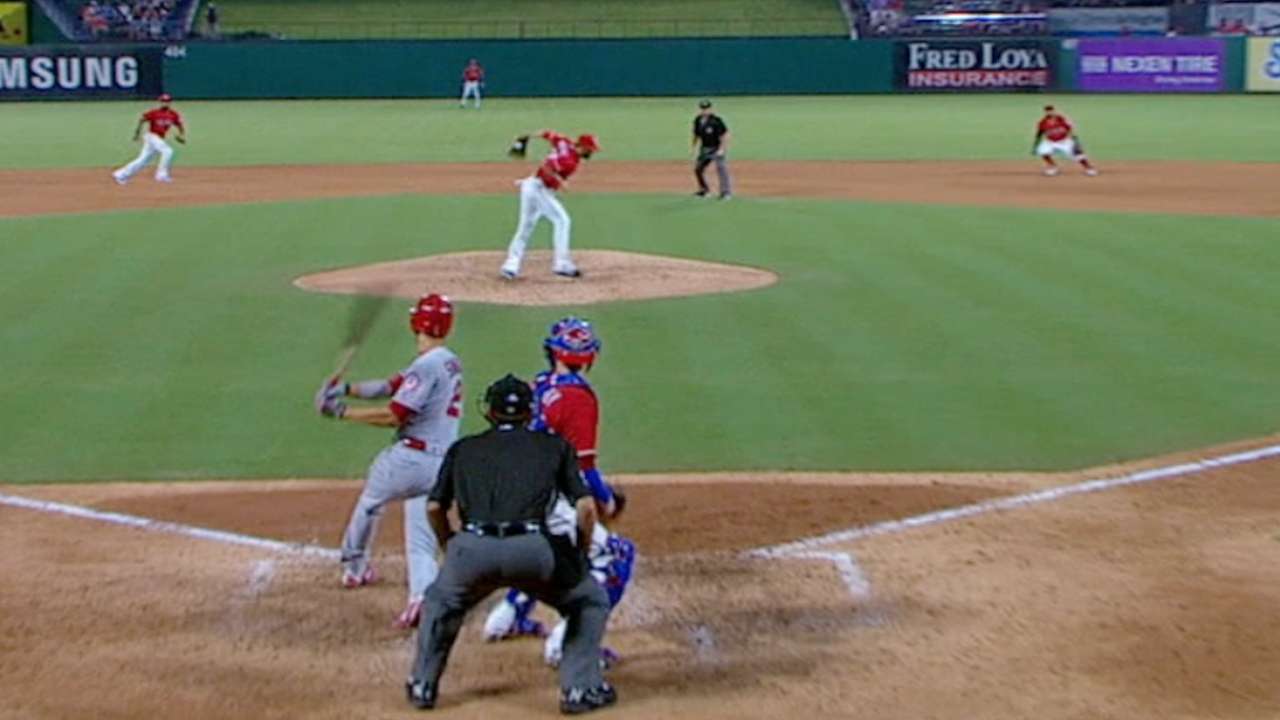 ARLINGTON -- Rangers starter A.J. Griffin, battling an upper respiratory infection and uncharacteristic control problems, had a short and disappointing outing on Tuesday at Globe Life Park. But he was picked up by the outstanding work of the bullpen, and the Rangers rallied for a 5-4 victory that lowered their magic number to two games.
Nick Martinez, Alex Claudio and Tanner Scheppers were particularly outstanding on a night when Rangers relievers combined to hold the Angels to one unearned run over 7 1/3 innings.
Martinez, who also made the defensive play of night, earned the win, and closer Sam Dyson pitched a scoreless ninth to earn his 35th save. The main contributions by Claudio and Scheppers were setting down a Hall of Fame hitter at two crucial points in the game.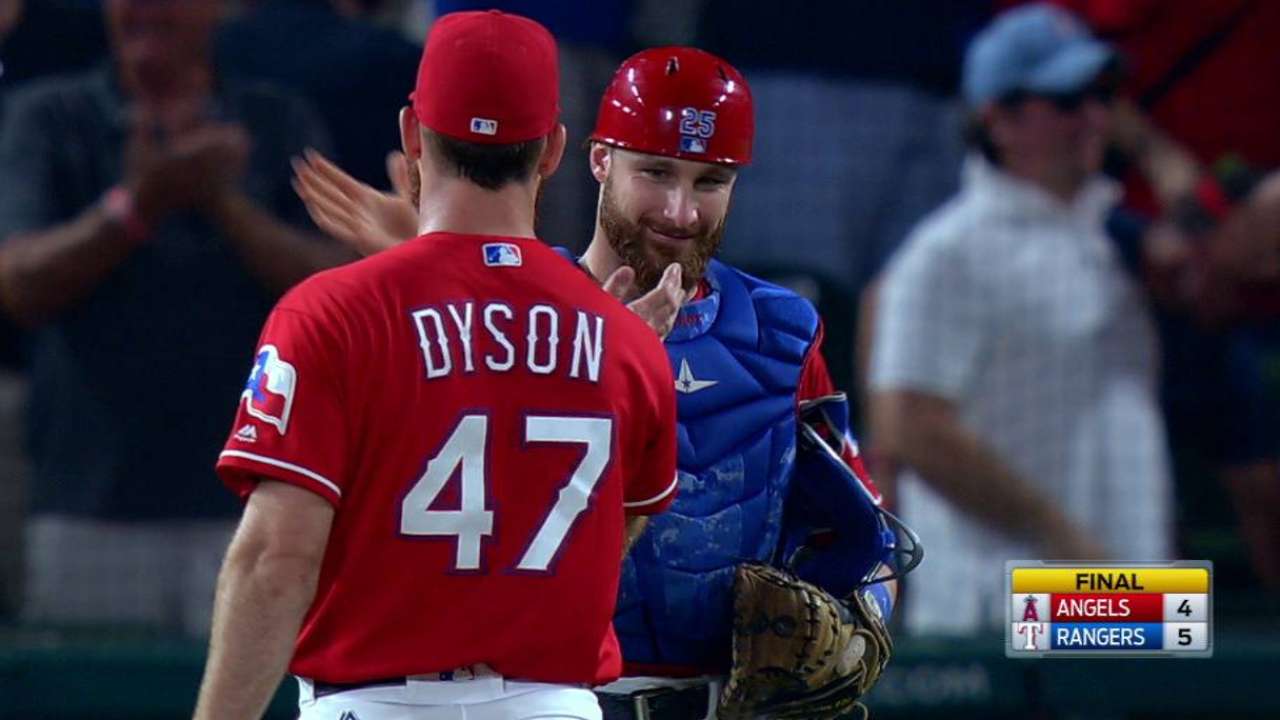 "On a night when there were challenges for Griffin, for them to step up the way they did is a testament to their resiliency," manager Jeff Banister said. "Solid job by everybody."
Rangers relievers now have 39 wins, the third most for one season in Major League history. The record is 41, set by the 1953 Brooklyn Dodgers.
"Everybody down there is amazing," Dyson said. "They all have phenomenal stuff."
Martinez entered the game with two outs in the second after Griffin had walked consecutive batters to force in two runs and give the Angels a two-run lead. Griffin walked four overall in his 1 2/3 innings of work.
"It didn't seem to be getting any better, so it was time to make a move," Banister said.
Martinez fell behind, 3-0, to Andrelton Simmons, but came back and retired him on a ground ball to short. He followed that with three scoreless innings while the Rangers stormed back to take a two-run lead.
The defensive gem came in the fifth after Martinez walked C.J. Cron. Simmons followed with a liner back to the mound, and Martinez caught it behind his back and flipped it to first to complete the double play.
"I was just trying to knock it down," Martinez said.
"That's just a reaction," Angels manager Mike Scioscia said. "You try that 100 times and maybe you get it once. But he comes out and makes a nice play on it. It was incredible."
Claudio took over in the sixth and gave up an unearned run after an error by Elvis Andrus to make it a one-run game. It could have been worse, because the Angels had two on and two out with Albert Pujols at the plate.
Banister had Scheppers warming up in the bullpen but stayed with Claudio. Claudio struck out Pujols to end the inning.
"Claudio has been good in those situations," Banister said. "He has a different look, a challenging look and multiple pitches. He tends to keep the ball on the ground. We felt it was a good matchup."
Banister, after a scoreless seventh from Keone Kela, had a similar decision to make in the eighth with Jake Diekman on the mound. A one-out walk by Carlos Perez and a two-out double by Yunel Escobar put runners on second and third for Mike Trout.
Banister had Diekman walk Trout intentionally and then brought in Scheppers, who has been active in September after missing the first five months while recovering from surgery on his left knee. Scheppers retired Pujols on a grounder to short to end the inning.
"For Scheppers to come into that game in that situation and do that," Banister said. "Limited number of appearances this year, middle of a pennant race, it was pretty impressive."
It was that way for the entire bullpen on Tuesday night.
T.R. Sullivan has covered the Rangers since 1989, and for MLB.com since 2006. Follow him on Twitter @Sullivan_Ranger and listen to his podcast. This story was not subject to the approval of Major League Baseball or its clubs.