Guyer gives Indians MLB-best 11th walk-off
Pinch-hitter laces RBI single just fair down right-field line to set off celebration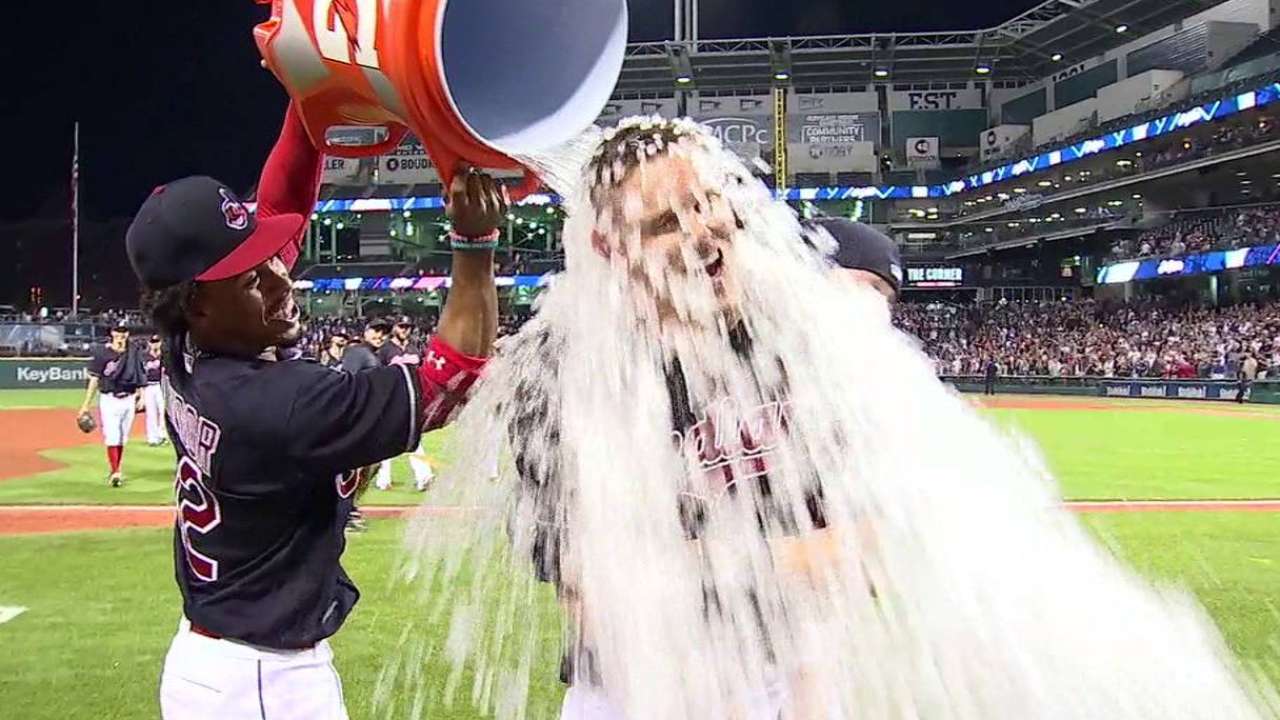 CLEVELAND -- The crowd inside Progressive Field was not sure, and neither were the players inside the Indians' dugout. For a few seconds, as the baseball soared down the right-field line, there was a hush of anticipation as Brandon Guyer sprinted up the first-base line.
Then, Guyer raised his right arm into the air. That was everyone's cue. Cleveland's players poured out from the dugout, the fans erupted in a celebratory roar and fireworks popped overhead. The Tribe's 2-1 victory over the Royals on Tuesday night was the 11th win in walk-off fashion this season -- more than any other team in the Majors.
"Any given night, it could be anybody," Guyer said. "Tonight, it was me. But really, any night, if anyone's got the opportunity, we all have full confidence that anyone can come through. It's just really fun to be on a team like that."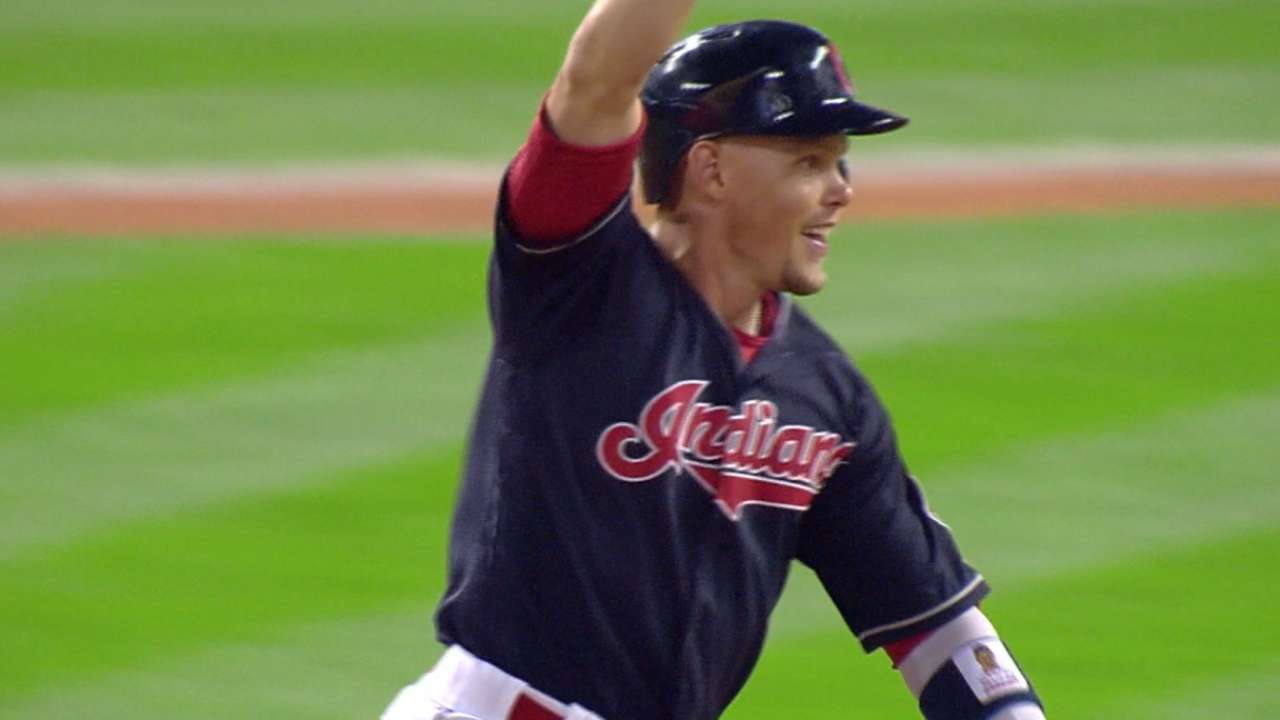 Guyer was not speaking in hyperbole.
Nine players have delivered the decisive blow in Cleveland's walk-off parties this year. Yan Gomes began the line of heroes with an extra-innings winner on June 1. Since then, Mike Napoli, Carlos Santana, Jose Ramirez, Francisco Lindor, Tyler Naquin, Jason Kipnis, Lonnie Chisenhall and Guyer have followed suit. Only Naquin and Ramirez have been under the dogpile twice.
Spreading the wealth has been part of the fabric of this Indians team, which trimmed its magic number to clinch the American League Central to six games with the win. For every player who has been lost to injury, there has seemingly been another to rise to the occasion. It is a large reason behind the Tribe having a seven-game lead in the division with 12 games to play.
"When we're a good team, that's the way it works," Indians manager Terry Francona said. "Keeping the line moving and one through nine, or one through 12, or one through 14, whatever it ends up being, I think that's the way we play the best."
Guyer's chance arrived with the game caught in a 1-1 deadlock in the ninth inning.
Ramirez opened the final frame with a walk and then advanced to second when Coco Crisp executed a sacrifice bunt, which came with an errant throw by reliever Brian Flynn. With runners now on first and second, Abraham Almonte doubled down on the bunt strategy, but his backfired with a fielder's-choice out at third base. At that juncture, Royals manager Ned Yost summoned Joakim Soria from the bullpen.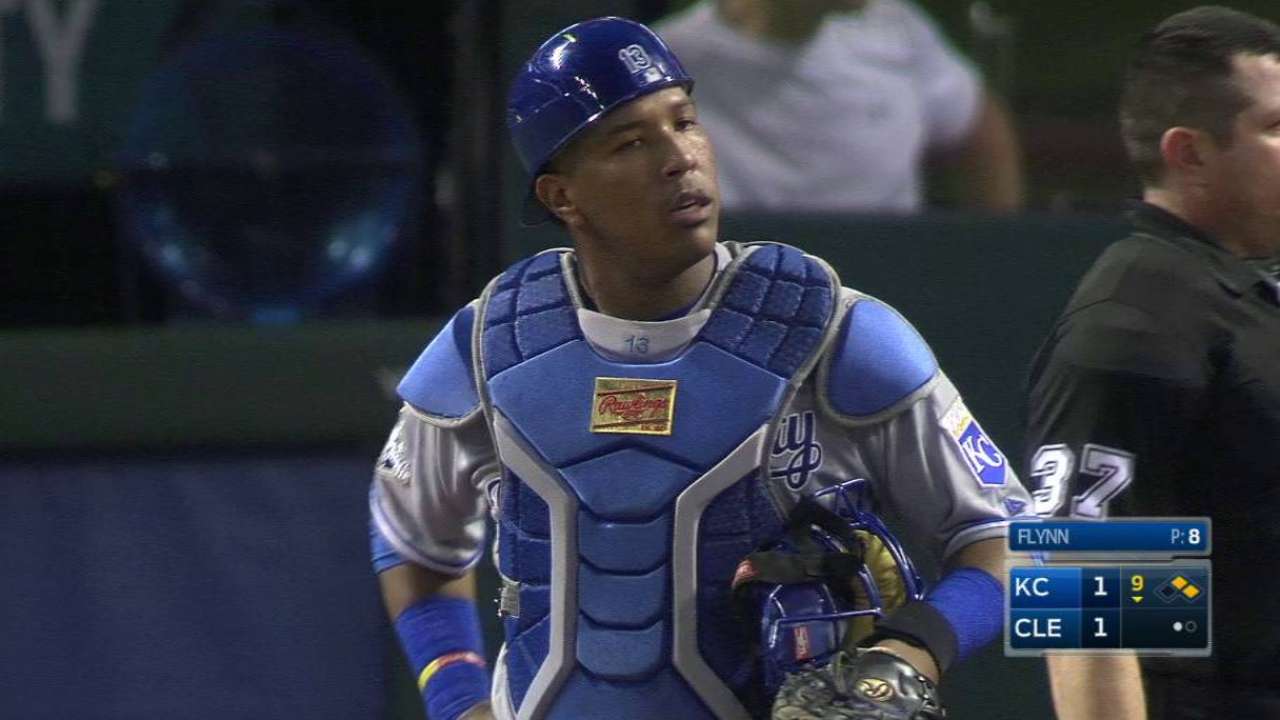 Soria got a quick out against Rajai Davis, and then Roberto Perez was due to hit. Francona typically uses Guyer against left-handed pitching, but Soria's splits convinced Cleveland's manager to roll the dice differently. Heading into the night, Soria had allowed a .292 average (.918 OPS) to right-handed hitters, so Francona gave Guyer a shot as a pinch-hitter.
"Soria's probably tougher on lefties than he is on righties," Francona said. "That was part of why we let him hit there. He's always ready."
Guyer made the move pay off by slicing a 1-2 pitch down the right-field line, where Royals outfielder Paulo Orlando closed in fast. Orlando made a sliding attempt at a catch, but the ball landed just inside the chalk line and rattled around in the corner for the game-winning hit.
"I thought he was going to catch it," Francona said. "And then, when it fell, I wanted to have fun."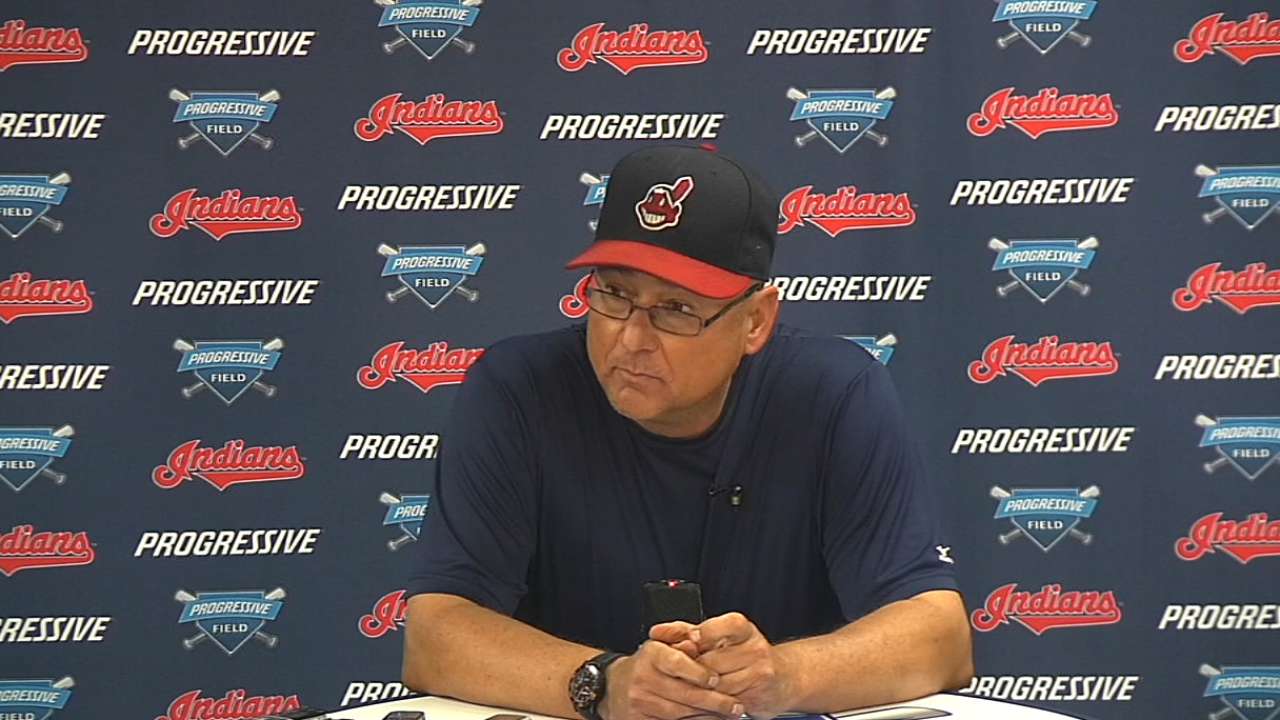 After Crisp scored from third, Guyer raised his arm and the mob scene unfolded, the Royals opted not to challenge the fair call.
"I wasn't sure if it was going to be fair or foul," Guyer said. "I wasn't sure if he was going to catch it. Then I rounded first base and saw the first-base umpire say fair, so I started celebrating. I'm glad it stayed fair, because it would have been a little weird if it was foul and I had to go back, all the Gatorade on me and stuff, and clean up the field and the cups.
"That would have been really awkward and weird. I still haven't seen a replay so I don't know how fair it was, but I'm glad it was."
Jordan Bastian has covered the Indians for MLB.com since 2011, and previously covered the Blue Jays from 2006-10. Read his blog, Major League Bastian, follow him on Twitter @MLBastian and listen to his podcast. This story was not subject to the approval of Major League Baseball or its clubs.