Hurdle leans on bullish bullpen for 5 innings
Hughes cleans up jam for Brault with pivotal double play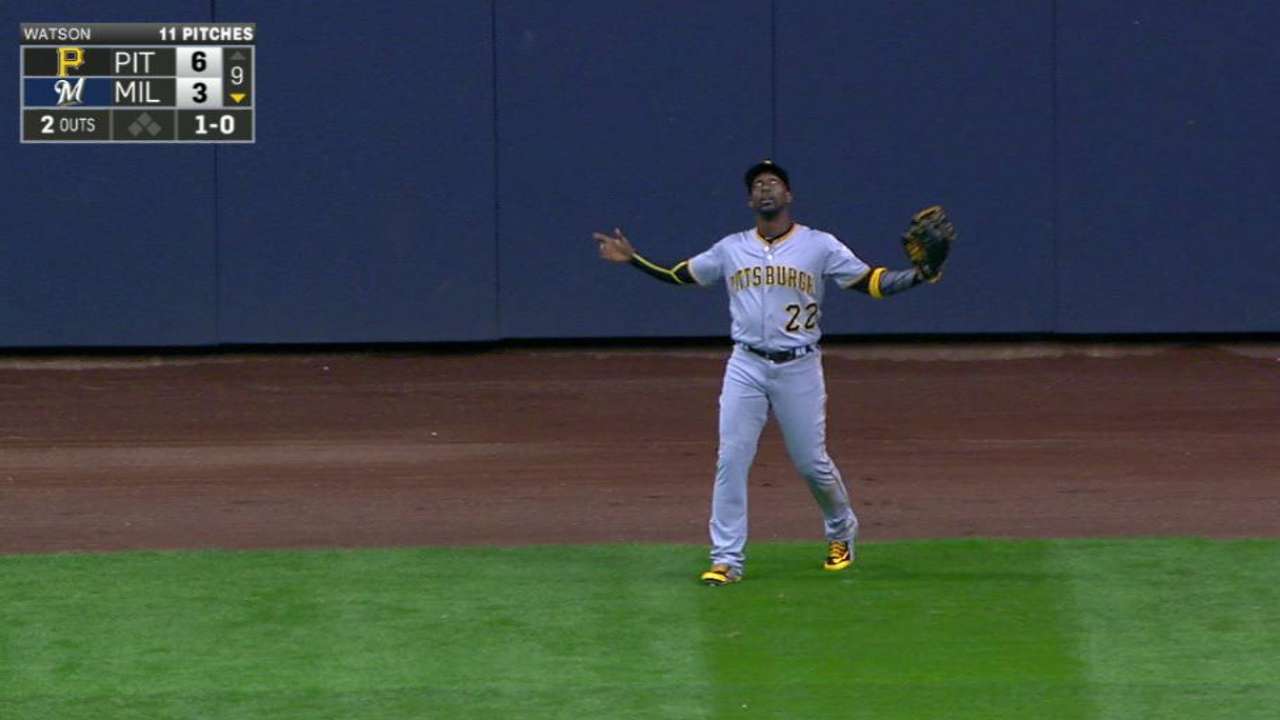 MILWAUKEE -- Before Tuesday's game against the Brewers, Pirates manager Clint Hurdle said the leash with his starting pitchers would be shorter as his team clings to slim postseason hopes. Hurdle executed that plan hours later, and it led to Pittsburgh's 6-3 win at Miller Park.
With nobody out in the fifth and the power-hitting Chris Carter representing the potential tying run in a 5-2 game, Hurdle pulled starter Steven Brault. Reliever Jared Hughes induced a game-changing double play to lead the charge as five Pirates' relievers combined to throw five scoreless frames to seal the victory.
"They've continued to take the ball and stay ready," Hurdle said of his bullpen. "It's a heavy workload."
At 4 1/2 games off the pace for the National League's second Wild Card spot and with a 0.4 percent chance of reaching the postseason entering the day, according to Fangraphs, Hurdle was not going to take any chances. Would it have been too tough to leave the lefty Brault in to face the right-handed Carter -- third in the NL with 36 homers -- for the third time on the night?
"So tough I didn't let it happen," Hurdle answered with a laugh.
Carter squared up Hughes' delivery, but directed it right at third baseman Jung Ho Kang, who was knocked off his feet on the stop. Falling back, he threw in time to second to start a 5-4-3 double play.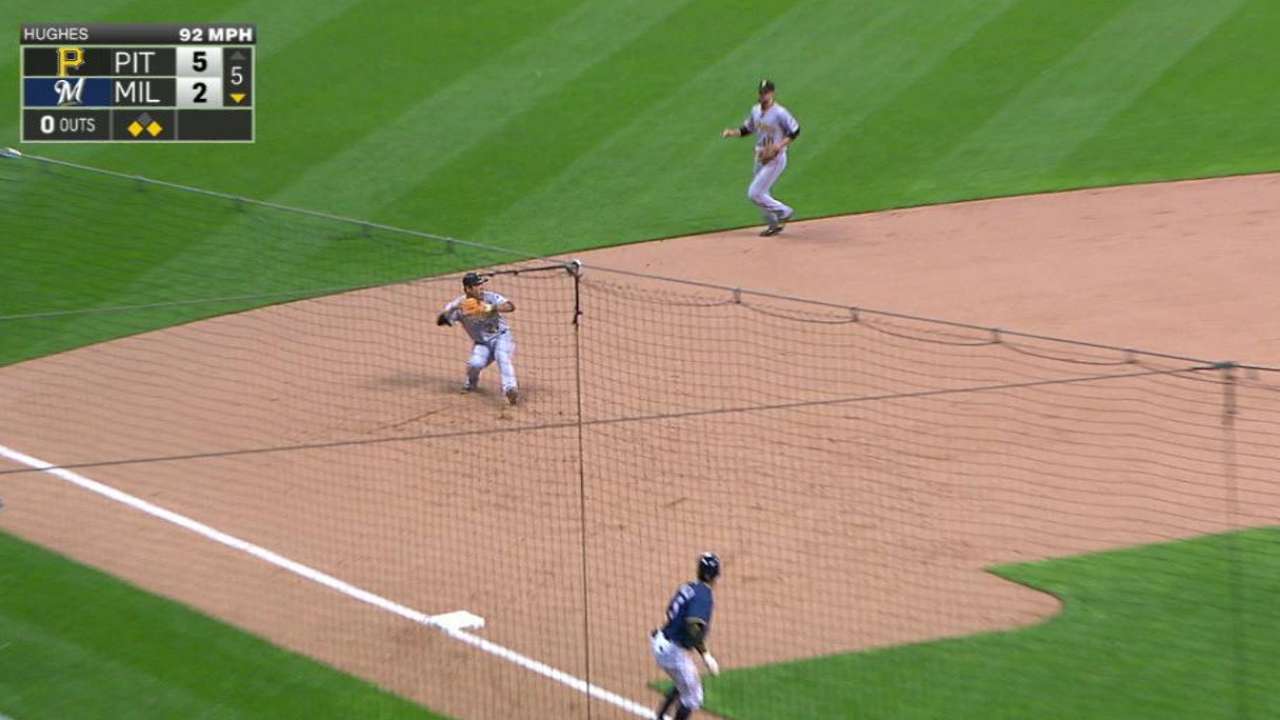 "That was maybe the turning point," Hughes said. "It was a great play and then a great turn at second base, so I'm just happy to have that defense behind me."
Hughes, Wade LeBlanc, Juan Nicasio, Antonio Bastardo and Tony Watson combined to collect the final 15 outs of the game without allowing a run. Over their last 21 innings at Miller Park, Pirates relievers have allowed just one run.
Brault retired the first two batters in each of the first four innings, but struggled to keep his pitch count down as he then allowed five two-out baserunners.
"Too many two-out hits. Too many two-strike hits," Brault said. "I kind of dug my own grave as far as not being able to finish the fifth. I understand that. I'm not upset about that. I kept my team in it even though I couldn't go the five and get the win. I kept my team in it and we got the win. We're making a playoff push, that's all that matters right now."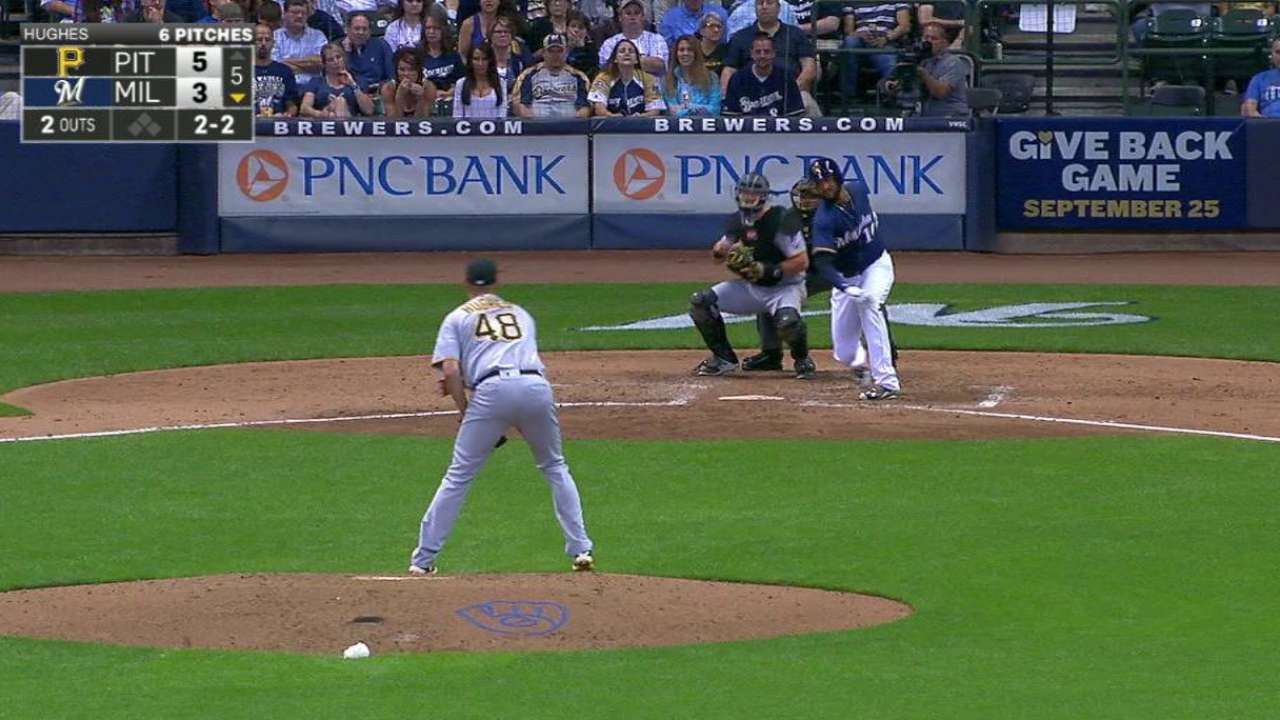 With the Cardinals beating the Rockies on Tuesday, the Pirates -- winners of five of their last six games -- need to keep winning to have any hope with 12 games remaining.
"Obviously we need to win," Hughes said. "We want to win, we need to win. We're making a push."
Curt Hogg is a reporter for MLB.com based in Milwaukee. This story was not subject to the approval of Major League Baseball or its clubs.