Pineda's 11-K outing helps set winning tone
Rookie catcher Sanchez guides righty through strong start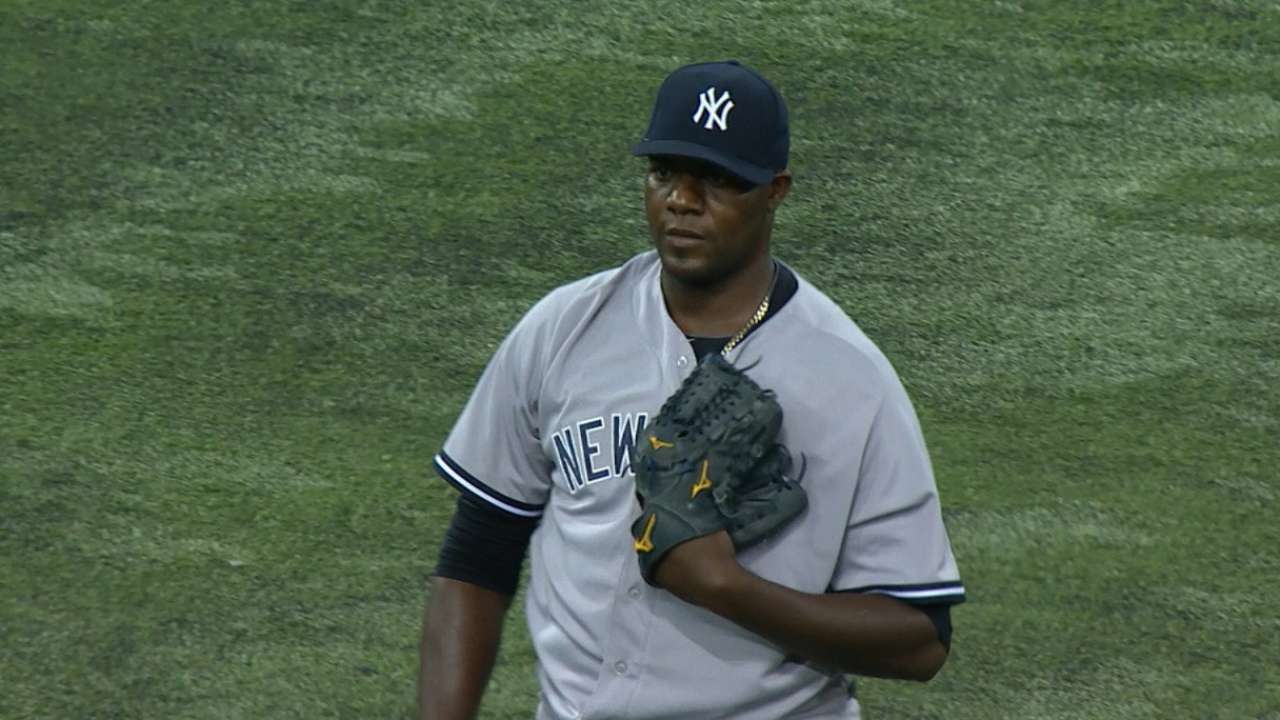 ST. PETERSBURG -- By the time the Yankees grabbed the lead in the seventh inning on Tuesday, Michael Pineda had found a spot on a couch in the visiting clubhouse at Tropicana Field, cooling down from an 11-strikeout performance that was his best in some time.
Wouldn't you know it? Not only did Gary Sanchez rescue his team with his three-run homer off Brad Boxberger, lifting them to a 5-3 victory, but the Yanks believe that the 23-year-old rookie catcher deserved some credit for guiding Pineda through the Rays' lineup.
"You can talk about the three-run homer, and obviously that's really big, but I thought he did a fabulous job with Michael tonight," Yankees manager Joe Girardi said. "Michael was really good and kind of set the tone for the game and gave us a chance to win."
Pineda said that he and Sanchez hammered out "a really good plan" to attack Tampa Bay prior to Tuesday's 98-pitch outing.
It marked the second time that Pineda reached double digits in strikeouts this year, having fanned a season-high 12 Rangers on June 30 in New York, and it was Pineda's 12th start of eight strikeouts or more.
"I'm making my best pitch and working with my fastball on the corners," Pineda said. "I threw my slider down, tried to keep the ball down, and it worked."
Girardi said that he thought Pineda used his fastball effectively with a good slider, and he was pleased to see Pineda get strikes on all four changeups he threw, adding a third pitch into the mix.
"When you're a two-pitch pitcher against right-handers, you have to mix," Girardi said. "I thought [Sanchez] recognized guys at times if they were sitting on breaking balls and throwing a heater and vice versa. I thought they had a good plan today. Obviously, it takes Michael to execute that, Michael has to execute it, but I thought they did a good job together."
Pineda remained winless over his past eight starts, not having won since Aug. 5 vs. Cleveland, but touching the sixth inning represented a step forward. Pineda had lasted four, 4 2/3 and four innings in his past three starts, though two were impacted by weather, something there was no chance of happening under the Trop's roof.
"For me, every five days, when I go out there I want to pitch longer," Pineda said. "I want to throw everything I've got. But you know, my last two games, it's raining. It's a hard situation for me and for everybody. So I feel fine because Joe tried to take care of me. He makes the decision, and I'm fine with that. I really want to pitch, but he makes the decision."
Bryan Hoch has covered the Yankees for MLB.com since 2007. Follow him on Twitter @bryanhoch, on Facebook and read his MLBlog, Bombers Beat. This story was not subject to the approval of Major League Baseball or its clubs.