Toronto looks to improve WC grip on MLB.TV
Rangers can wrap up AL West; Ortiz plays final game at Camden Yards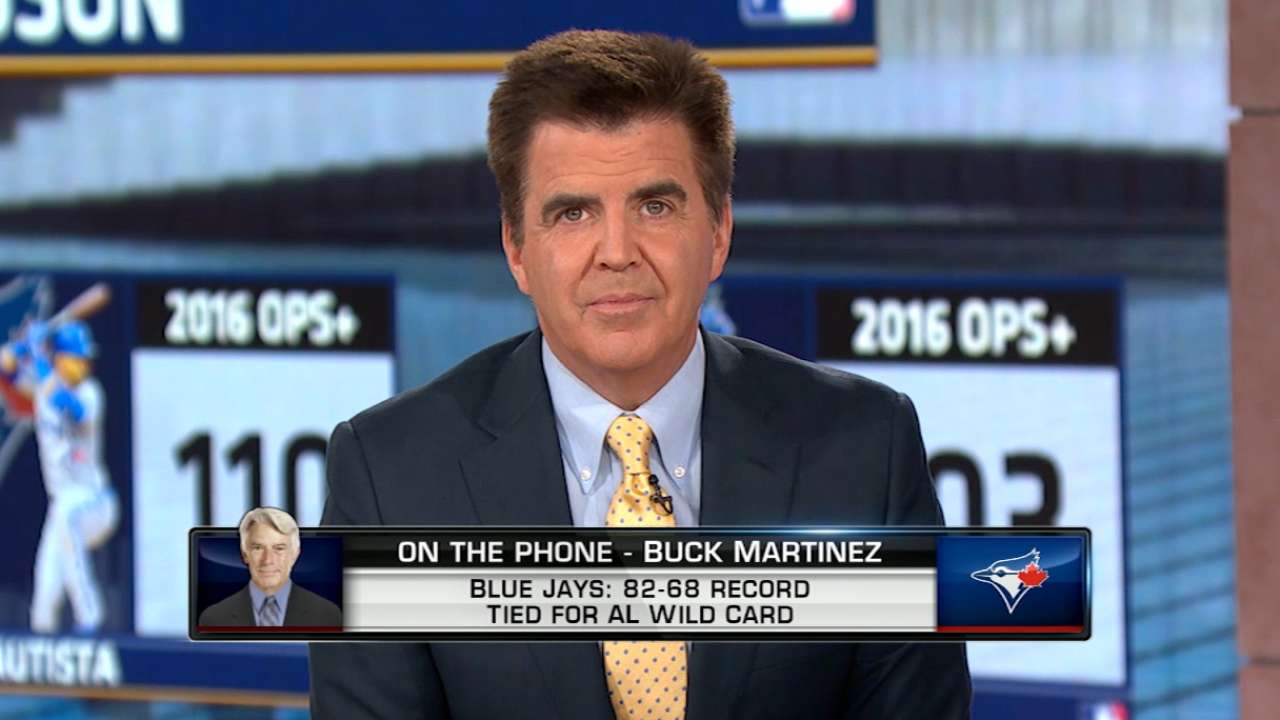 The Blue Jays can strengthen their position as one of the American League's two Wild Card teams today in their final head-to-head matchup against the Mariners, one of several clubs lingering beneath Toronto in the standings.
Toronto enters the day holding down a Wild Card spot, alongside the Orioles, but falling behind in the AL East as Boston nears its first division title since 2013.
Today's 15-game slate is packed with playoff implications. The Rangers enter play in position to clinch the AL West, while other playoff contenders -- Giants at Dodgers and Red Sox at Orioles -- meet in head-to-head matchups.
And the best place to catch all the action is MLB.TV.
MLB.TV Premium has returned with the same features as last year, and is only $9.99 for the rest of the season. This package has the best value and provides access to more than 400 devices and a free subscription to the MLB.com At Bat Premium app (a $19.99 value). It offers the best picture quality ever -- a new 60 frames per second -- for supported devices.
Here's what to watch for throughout the day (all times in ET):
King Felix holds court: TOR@SEA, 3:40 p.m.
The Blue Jays are in possession of a playoff spot, but keeping it could prove challenging in the season's final two weeks. Toronto's final 11 games, including today's matchup, are each against teams they're in direct competition with in both the Wild Card race and the AL East.
"These guys are nipping at our heels right here," Blue Jays manager John Gibbons said earlier this week.
The Mariners are looking for a rebound outing from their ace, Felix Hernandez, who's yielded six runs in three of his last four starts. He'll oppose Toronto's Aaron Sanchez, who is pitching on nine days' rest as the Blue Jays monitor his workload.
Stat that matters: Hernandez has yet to face the Blue Jays this season, but he's 7-6 with a 4.30 ERA in 15 career starts against them. It's his highest ERA vs. any AL club.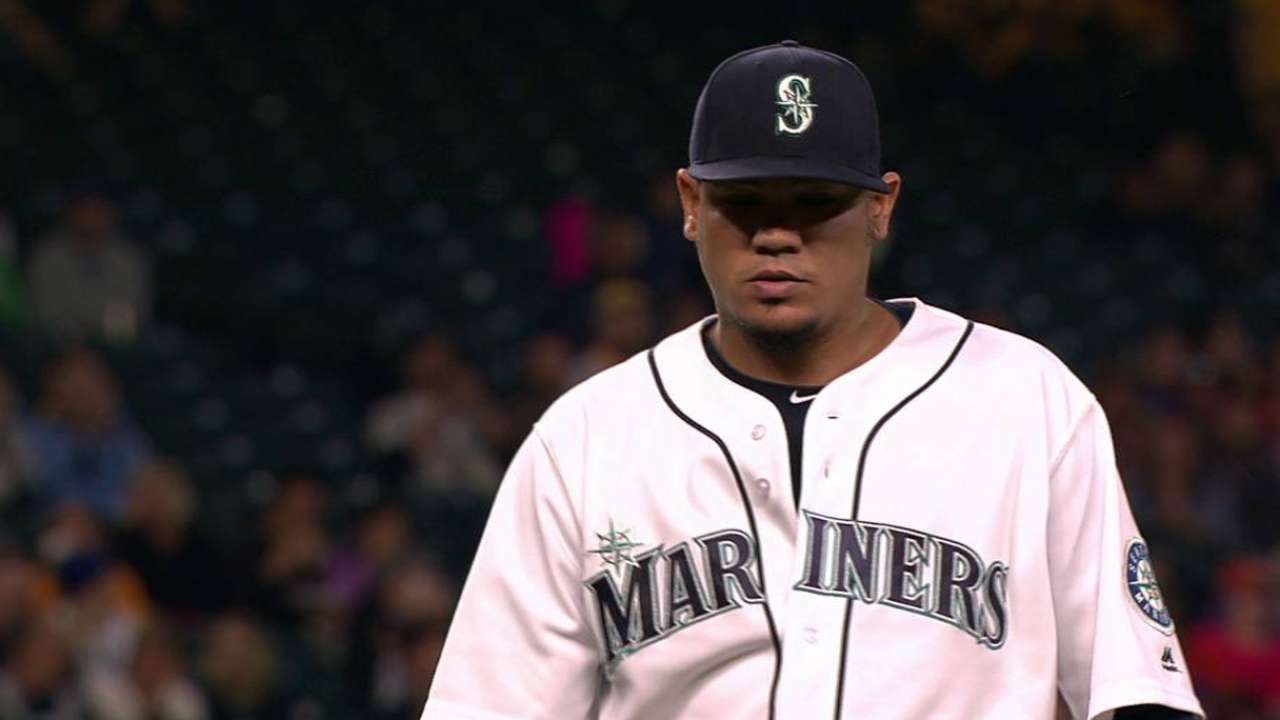 Rangers nearing AL West title: LAA@TEX, 8:05 p.m.
The Rangers can become the second team to claim a division title today as they play host to the Angels in Arlington. Texas can clinch the AL West with a win and an Astros loss today. One or the other assures Texas of no worse than a one-game tiebreaker on Oct. 3.
Houston plays Wednesday afternoon, so it's likely that by the time the Rangers take the field, they'll know if the division title is within reach.
Derek Holland takes the ball in the potential division-clincher, looking to put his recent struggles behind him. The left-hander is 1-2 with a 6.32 ERA over his last three starts. He's fared well against the Angels, however, posting a 2.55 ERA through three outings this season. For Los Angeles, Jered Weaver will take the mound, coming off his first back-to-back quality starts of the second half.
Stat that matters: Rangers batters entered Tuesday slugging an MLB-best .861 on 0-0 counts over the last 30 days.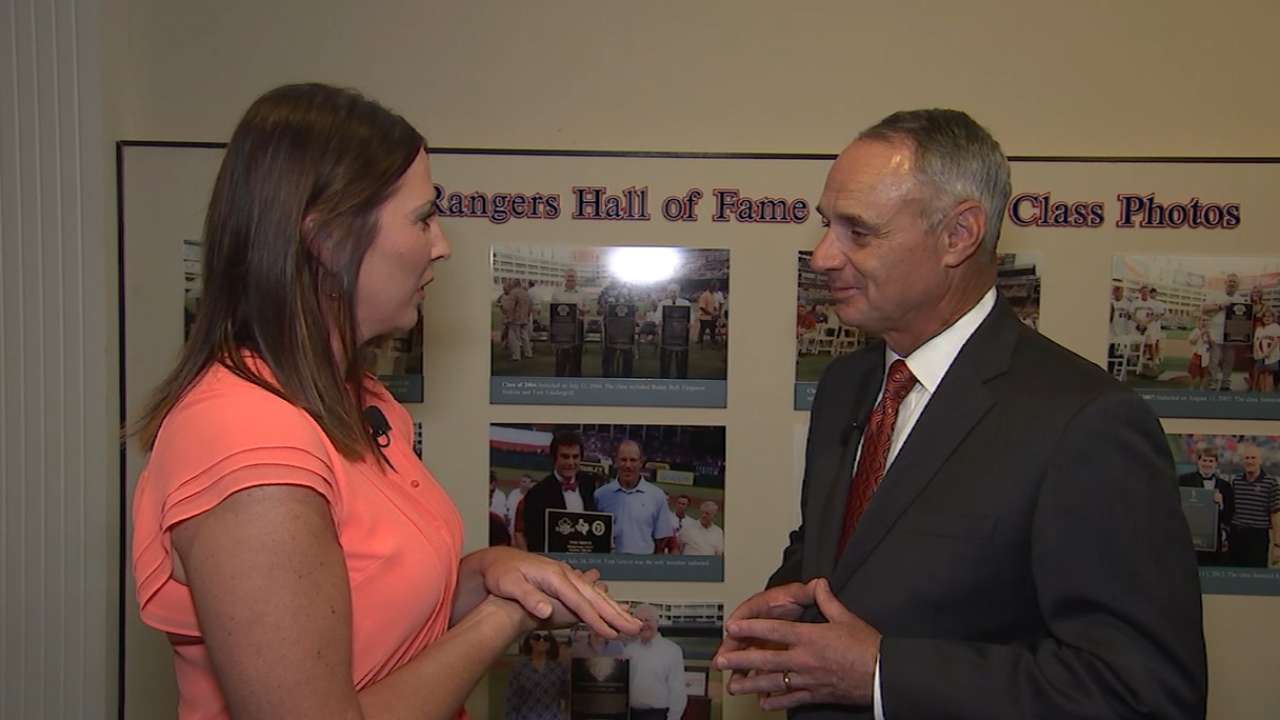 Ortiz set for final game in Baltimore: BOS@BAL, 7:05 p.m.
With just under two weeks remaining in the regular season, the AL East remains the most tightly contested division. But after unseating the Blue Jays for first place earlier this month, the Red Sox have begun to pull away. Boston enters today's matchup with the Orioles, who trail by five games, riding a six-game winning streak.
The game represents David Ortiz's final regular-season contest at Camden Yards. The veteran slugger homered in each of the first two games in this series.
Ubaldo Jimenez will start for the Orioles. The right-hander owns a 3.51 ERA since the All-Star break after posting a 7.38 mark in the first half. Boston will counter with Clay Buchholz, who's 5-3 with a 5.10 ERA in 10 career appearances at Camden Yards.
Stat that matters: Ortiz's three-run blast in Tuesday's win gave him 36 on the year, breaking Dave Kingman's record for most home runs in a player's final season.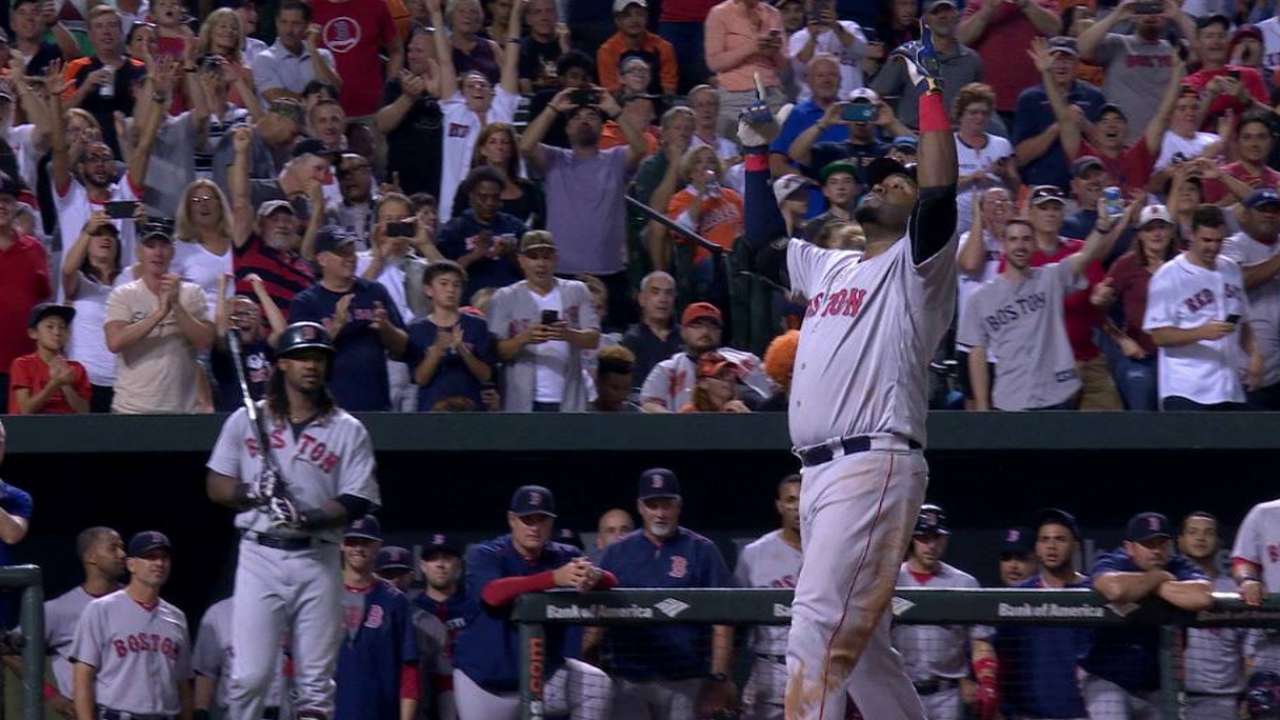 Dodgers look to extend lead on Giants: SF@LAD, 10:10 p.m.
The Dodgers continue their quest for a fourth consecutive National League West crown tonight against the Giants at Dodger Stadium. It's the finale of the penultimate series between these division rivals, who also close out the season together in San Francisco.
Rookie Kenta Maeda will toe the rubber for the Dodgers, while southpaw Matt Moore goes for the Giants, who are looking to keep pace in the NL Wild Card race. Moore is 4-1 with a 3.45 ERA over his last five starts. The last time he faced the Dodgers, he came within one out of his first career no-hitter. Corey Seager singled to break it up in Los Angeles.
"To be that close, you would think he would just be so disappointed. But he was smiling," Giants manager Bruce Bochy said after the game. "I think he savored the moment of having the chance [to throw a no-hitter]."
Stat that matters: Maeda is starting on four days' rest in back-to-back outings for just the fourth time this season. He owns a 3.59 ERA when pitching on regular rest.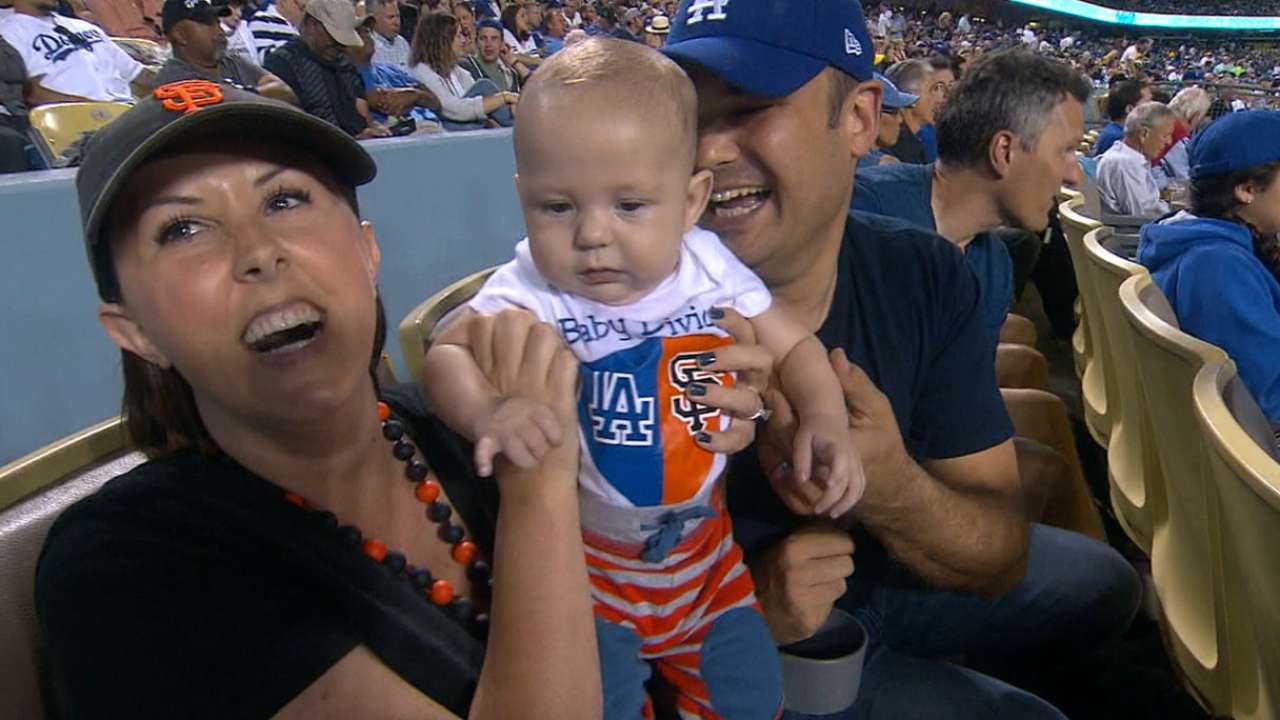 MLB.TV Premium subscribers get the Mosaic View -- split screen or quad, available on PC or Mac only. That always comes in handy, especially when scoreboard-watching looms. MLB.TV Premium and MLB.TV Single Team subscribers both enjoy HD and both will get real-time highlights and player stats automatically loaded moments after they occur (only for the game you are watching with MLB.TV Single Team, and for all games with MLB.TV Premium).
Chad Thornburg is a reporter for MLB.com. This story was not subject to the approval of Major League Baseball or its clubs.