Giants' win forges Wild Card tie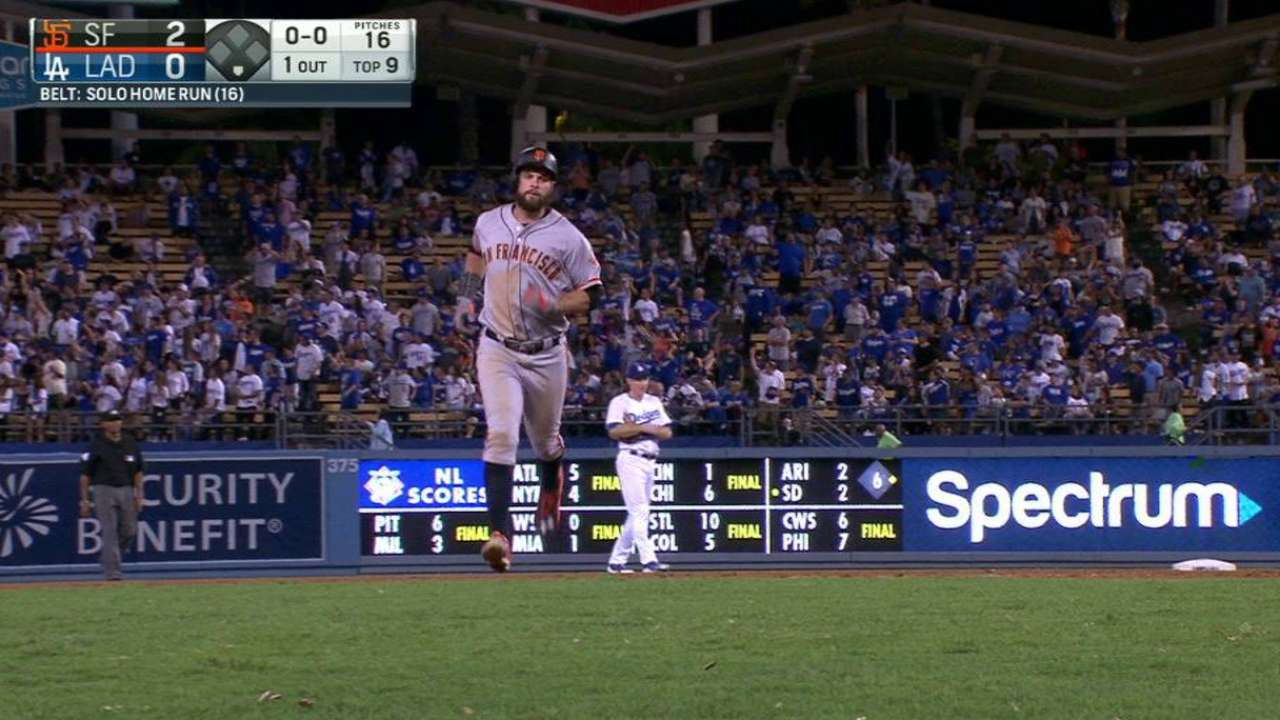 LOS ANGELES -- The San Francisco Giants picked on their longtime nemesis Tuesday night and, in doing so, picked up a couple of fresh rivals.
The Giants' 2-0 victory over the Los Angeles Dodgers left them tied with the Mets in the competition for the National League's two Wild Card postseason spots. Each possess an 80-71 records, with the Cardinals, who lost to the Rockies, 11-1, on Wednesday afternoon, a half-game back. In the NL West race, San Francisco kept pace with first-place Los Angeles, whose magic number remained at seven, as Eduardo Nunez homered following a crew-chief review in the fifth inning and Brandon Belt went deep in the ninth. Sergio Romo pitched a 1-2-3 ninth for his first save of the season.
However, this victory came at a costly price for the Giants. Brandon Crawford, San Francisco's multitalented shortstop, was removed from the game in the second inning with a dislocated left pinkie. Right-hander Johnny Cueto (17-5), the starting rotation's leading winner, received the decision but also departed prematurely with a strained left groin in the sixth inning.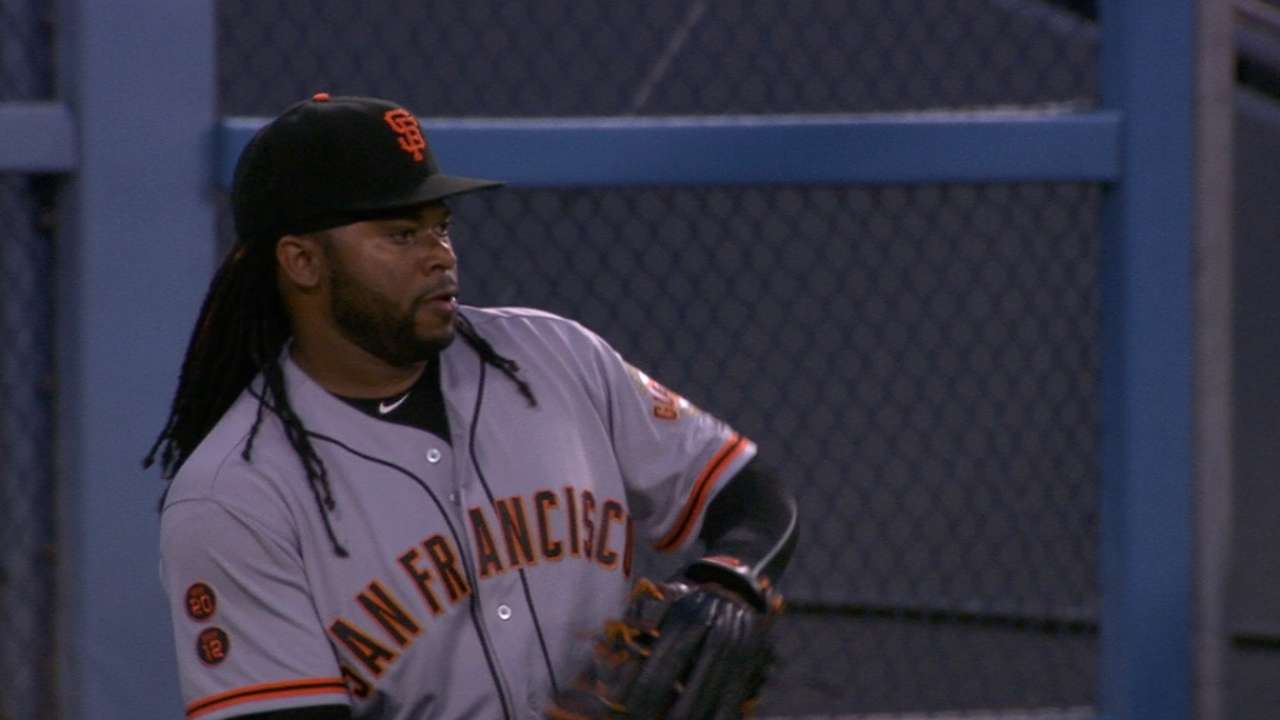 Crawford's playing status is day to day. Cueto's immediate fate could become clearer after he undergoes an MRI on Wednesday.
Giants manager Bruce Bochy relished the 11-game sprint that his club will experience with the Mets and Cardinals.
"It's going to be a fight, no question," Bochy said. "That's why you hate to see what happened tonight with Johnny and Craw. The one thing you want are the guys healthy these last few games. But we have to move on and find a way to win. We did tonight."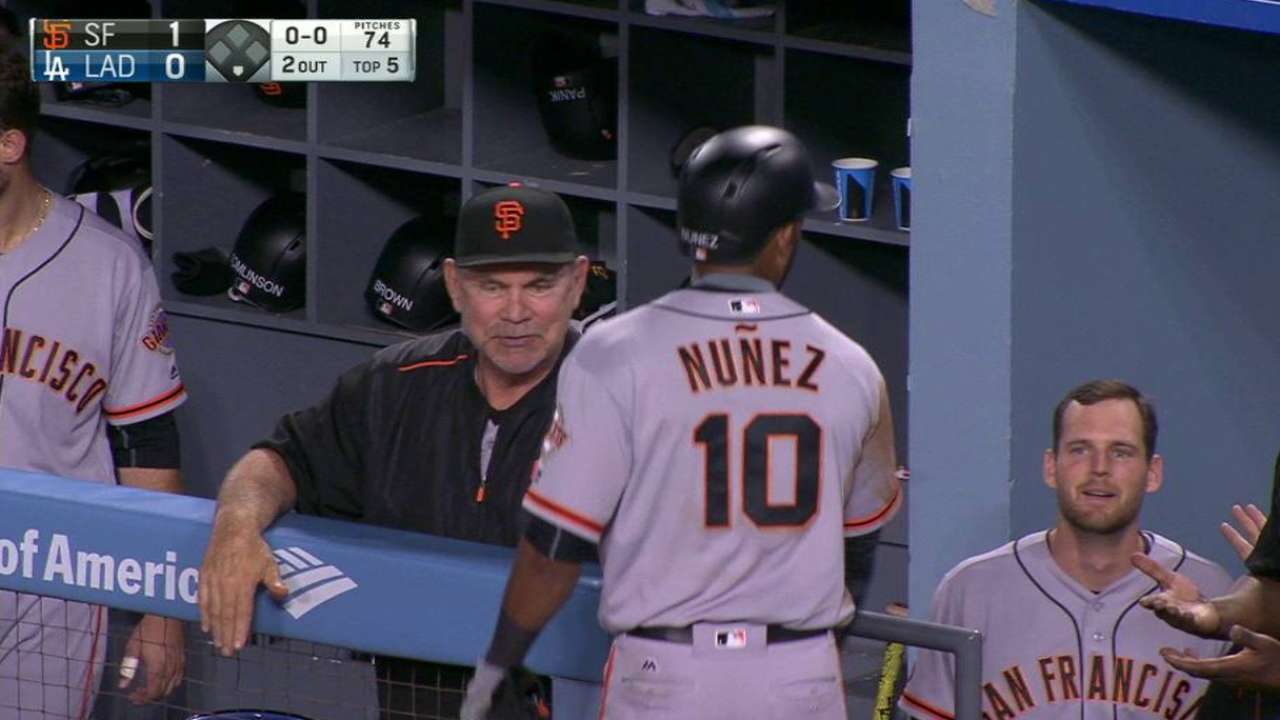 Romo, who combined with lefties Steven Okert and Will Smith to limit Los Angeles to one hit in 3 2/3 innings and halt the Giants' bullpen slide, welcomed the heightened Wild Card intensity.
"I think it's fun for the game," Romo said. "It's fun for baseball. As a fan of the game, who wouldn't be interested in the fact that there are three teams fighting for two spots?"
MOMENTS THAT MATTERED
Okert's OK: Okert was disconsolate when he yielded Ryan Schimpf's three-run, ninth-inning homer in the Giants' 6-4 loss to San Diego last Tuesday at AT&T Park. But the rookie relieved Cueto in the sixth inning and redeemed himself by striking out pinch-hitters Yasiel Puig and Kiké Hernandez to strand a pair of baserunners. Okert added a scoreless seventh for good measure.
"It's an awesome feeling," Okert said.
"He really handled the situation well," Bochy said. "I was proud of him."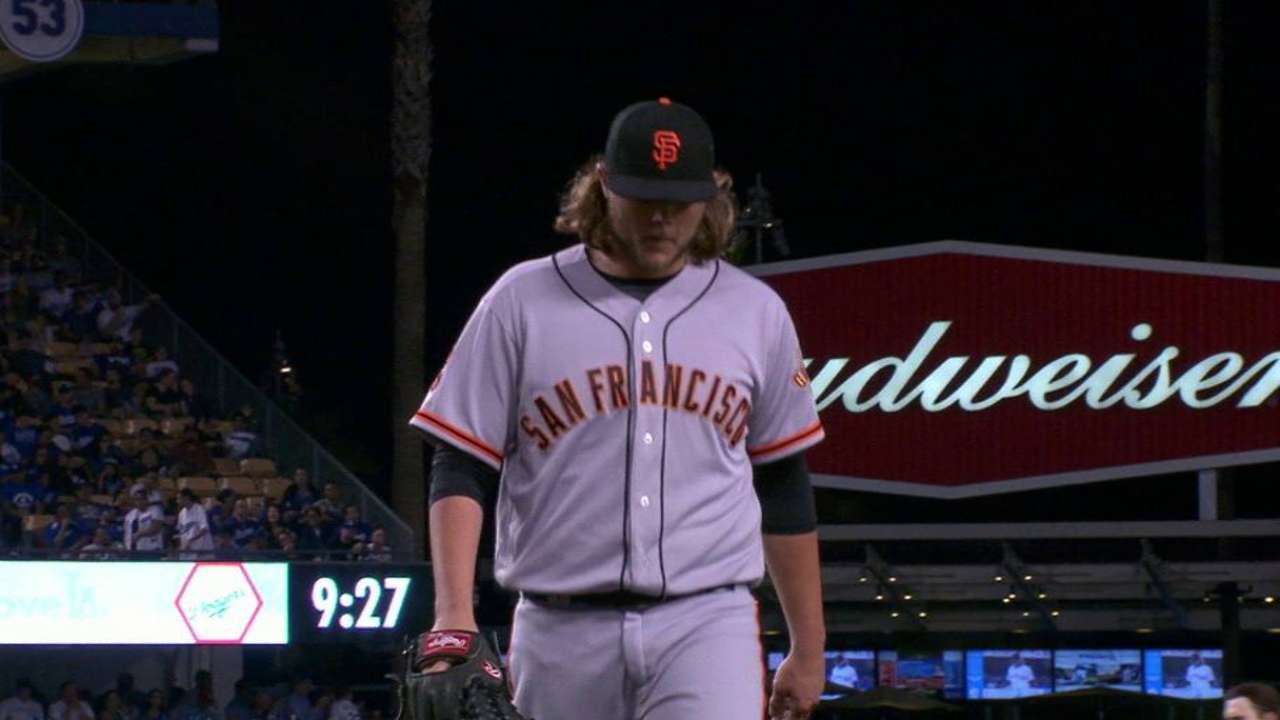 Still dealing: Dodgers starter Rich Hill got his biggest out of the night in the fourth inning when a pair of singles and a walk loaded the bases with two outs and Belt hitting. After a fastball missed outside, Hill went curveball, sidearm fastball, fastball to strike Belt out looking. Hill let out an emphatic yell as the final pitch froze the Giants first baseman. However, he was pulled an inning later despite sitting at just 77 pitches through five innings. More »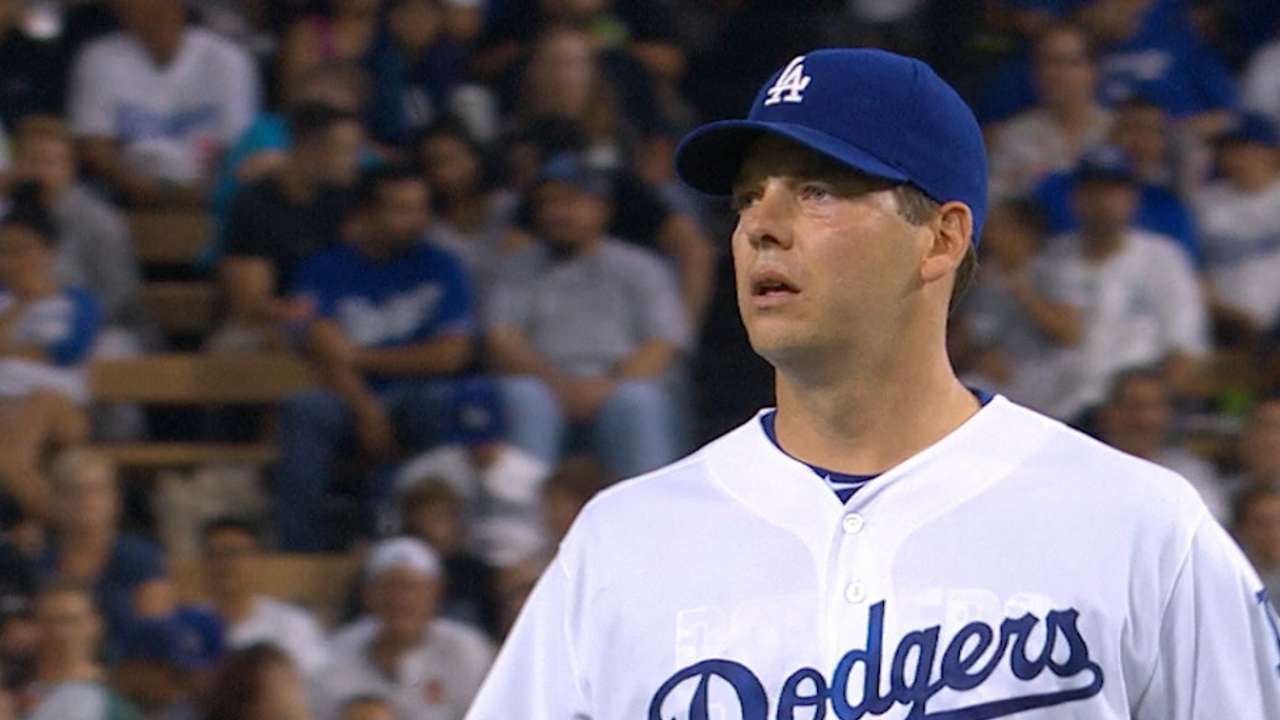 Familiar territory: Romo, San Francisco's primary closer during 2013 and in parts of two other seasons, looked at home as he recorded his first save since July 27, 2015. Romo bracketed the inning with strikeouts -- first victimizing Puig, who's 1-for-11 lifetime off him, then ending the game by inducing Chase Utley to flail at a full-count, 76 mph slider.
"The one thing about Serge," Bochy said, "is he's been through it."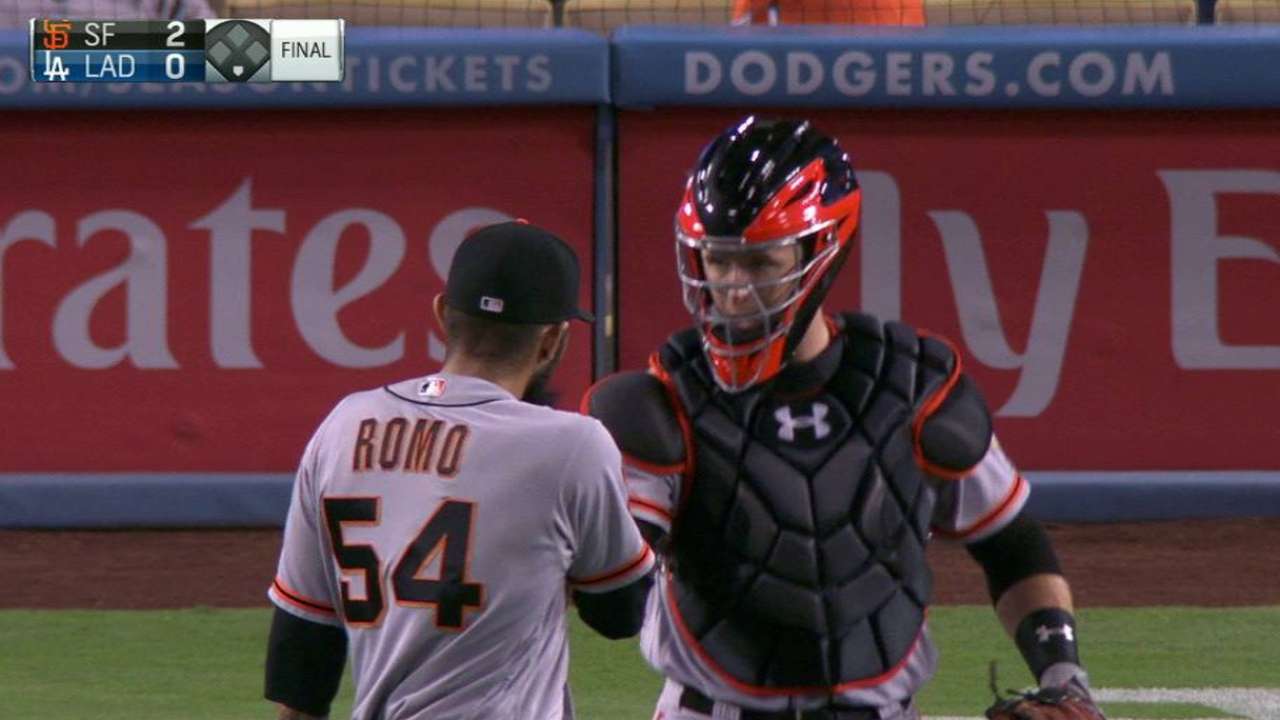 Getting ready: Manager Dave Roberts has recently limited his use of Adam Liberatore out of the bullpen, with the left-hander pitching just 1 2/3 innings in September entering Tuesday. Liberatore hit the DL in August with left elbow inflammation after setting a Dodgers record with 28 consecutive scoreless appearances and hasn't quite looked the same coming back. Roberts called on Liberatore to pitch the seventh inning and was rewarded with a perfect inning, an encouraging sign as the Dodgers start determining their playoff roster.
"Lib will say he feels back to where he was in the first half," Roberts said. "I've purposefully given him some extra days off. Right now, it's nice where you look down in the 'pen and there's a lot of guys I feel comfortable in high-leverage situations."
THREE-WAY WILD CARD TIEBREAKER
If the Giants, Cardinals and Mets end the season tied for two Wild Card spots, the three teams would choose/receive A, B and C designations. Club A would host Club B on Oct. 3 and the winner would host Club C on Oct. 4. Again, the three designations are decided by head-to-head records. The Cards and Mets both have the season-series edge over the Giants, and the Cards and Mets split their series set, so first choice would go to the club with the better intradivision record, which is the Cardinals as of now, but that could change before the end of the season.
So if this happens, the Cardinals and Mets would play one game to determine the first Wild Card spot on Oct. 3 and the loser would travel to San Francisco for a game on Oct. 4. The winner of that game would take the second Wild Card spot. After that, the winner of the Oct. 3 game would host the winner of the Oct. 4 game on Oct. 5 in the National League Wild Card Game. More tiebreaker scenarios »
QUOTABLE
"It feels like playoff baseball with about 15 extra players." -- Roberts on the atmosphere at Dodger Stadium
SOUND SMART WITH YOUR FRIENDS
Tuesday's game featured a Vin Scully bobblehead given out to fans to commemorate the legendary broadcaster's final season calling the Dodgers. The paid attendance for the night was 53,621. That's the highest attendance at an MLB regular-season game since Dodger Stadium held 54,621 on Aug. 30, 2012, the last time the Dodgers gave out a Vin Scully bobblehead.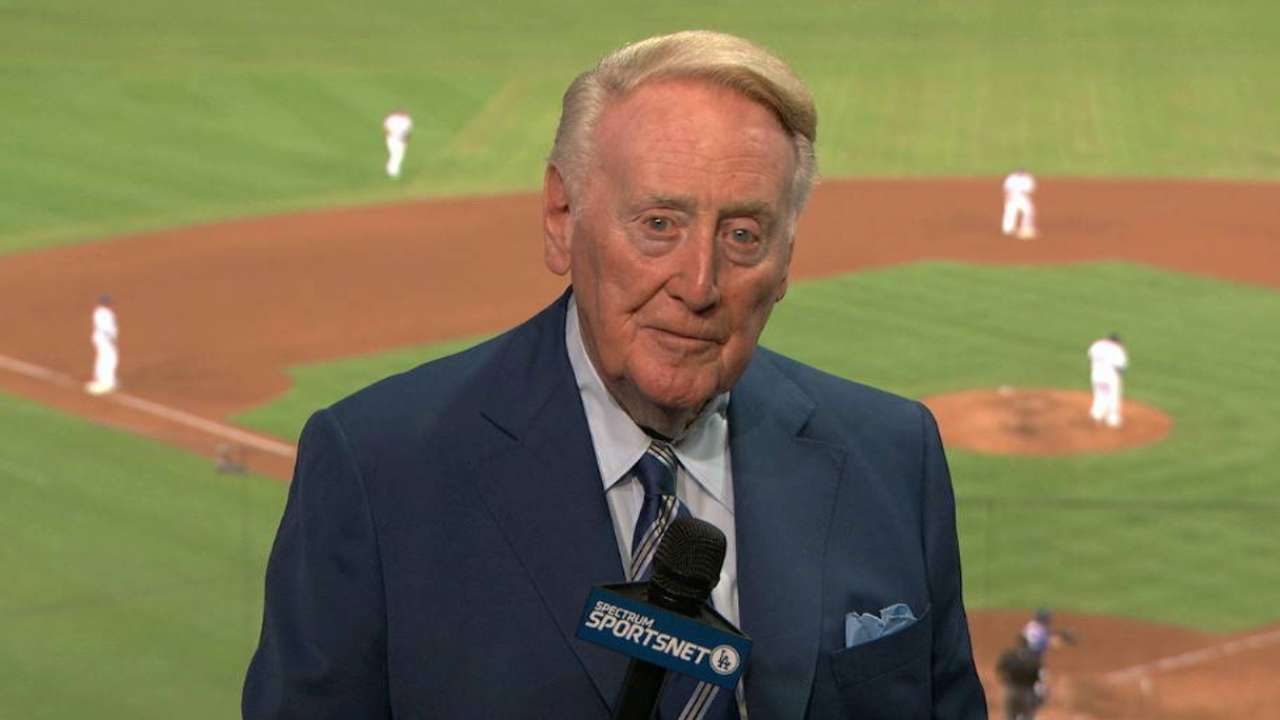 WHAT'S NEXT
Giants: Left-hander Matt Moore, scheduled to start for San Francisco in Wednesday's 7:10 p.m. PT series finale, will face the Dodgers for the first time since he nearly authored a no-hitter against them Aug. 25. Corey Seager blooped a two-out single in the ninth to forestall history.
Dodgers: Kenta Maeda will make his second consecutive start on four days' rest Wednesday, the first time he has done so in the second half. The right-hander has been the Dodgers' sole member of the Opening Day rotation not to hit the DL, but the team has recently allowed him to pitch on five or six days' rest like he did in Japan
Watch every out-of-market regular-season game live on MLB.TV.
Jack Baer is a reporter for MLB.com based in Los Angeles.

Chris Haft has covered the Giants since 2005, and for MLB.com since 2007. Follow him on Twitter at @sfgiantsbeat and listen to his podcast.

This story was not subject to the approval of Major League Baseball or its clubs.