Sanchez keeps up 'amazing' run with 17th HR
Rookie ties Berger of 1930 Braves for most home runs through 44 games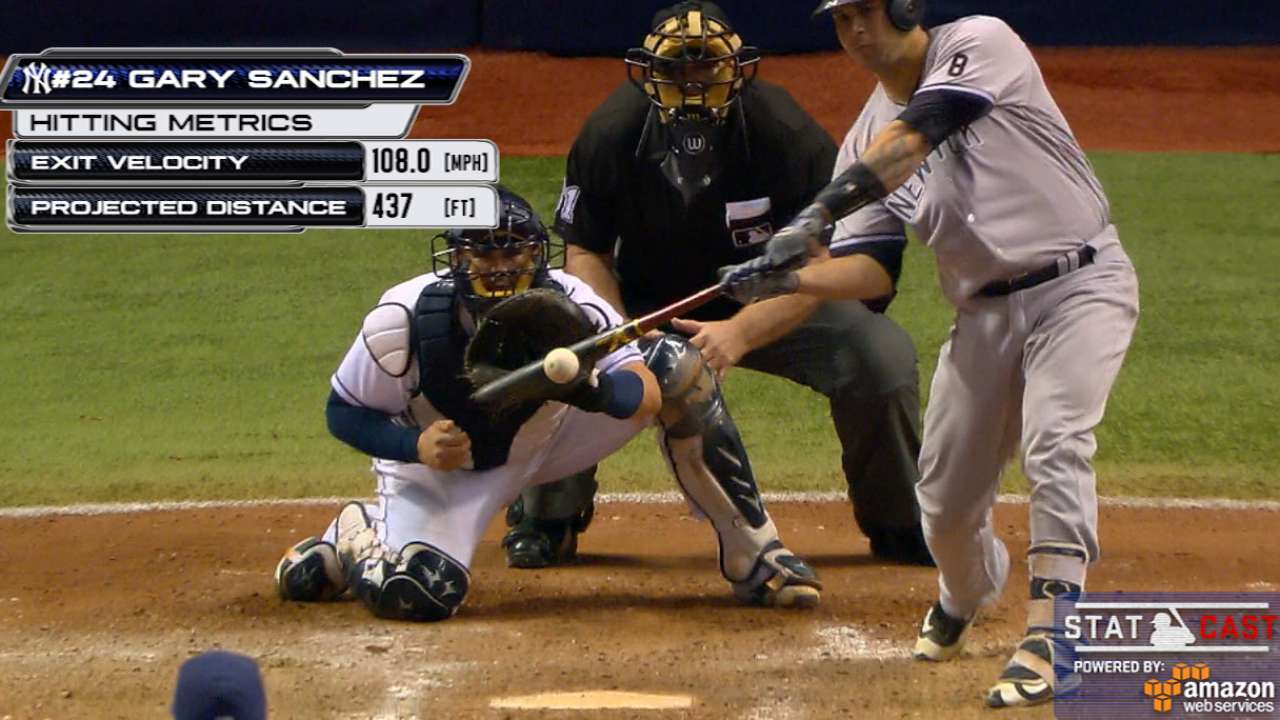 ST. PETERSBURG -- Surely, there were pitchers in 1927 who could not wait to test their skills against Babe Ruth, who went to battle against Mickey Mantle and Roger Maris in 1961, or who grumbled on a nightly basis when their club was handing out intentional walks to Barry Bonds in 2001.
In that vein, you almost have to admire Brad Boxberger, who was given the option of facing either Sanchez or Billy Butler in the seventh inning on Tuesday. Boxberger chose the hot-hitting rookie, who bashed a three-run homer that lifted the Yankees to a 5-3 victory over the Rays at Tropicana Field.
Sanchez said that he wasn't sure if Tampa Bay was going to pitch to him, but when they did, he was ready.
• #AwardWorthy: Vote Sanchez for Best Rookie
"That's something I don't have any control of," Sanchez said through an interpreter. "I went up there looking for a fastball; it was not a fastball, it was a slider. It was right there, and I was able to put a good swing on that pitch."
Boxberger's 83-mph hanger was crushed over the wall at 108 mph and traveled a projected 437 feet, according to Statcast™. Sanchez has homered in three consecutive games, six times in the past 11 games and 17 times this season, tying Wally Berger of the 1930 Braves for the most in history through 44 games.
"There are a lot of words: amazing, incredible, impressive," Mark Teixeira said. "He's carried us. We're not even close to talking about a playoff berth if Gary doesn't come up and do what he does. That's the fun thing about power hitters; when you're on a streak like that, you can carry a team for a month. He's done that."
Tuesday's victory moved the Yankees 3 1/2 games back in the American League Wild Card chase with 12 games to play. Even with a recent skid that saw them lose seven of eight games, the Yankees are 25-19 (.568) since Aug. 3, when Sanchez was promoted from Triple-A Scranton/Wilkes-Barre.
"I'm enjoying it, especially when we win a game," Sanchez said. "I'm hoping to keep enjoying it."
The Yanks have had a front-row seat to Sanchez's incredible run, so there was some head-scratching in their dugout when the Rays elected to pitch to the 23-year-old with first base open.
Rays manager Kevin Cash explained that he thought the Yankees might send up the left-handed Brian McCann to pinch-hit for Butler, and Hickey planned to have Boxberger walk Sanchez if he fell behind in the count. It never got to that point, as Sanchez jumped on the first pitch.
"[Pitching coach Jim Hickey] said, 'You have an opportunity to face either Sanchez or Butler,'" Boxberger said. "The matchup was better against Butler, but it was up to me. And I wanted Sanchez. It didn't work out today."
Butler, who had doubled twice on Tuesday, would not have been surprised by an intentional walk.
"They're probably going to walk him next time, I would think," he said.
Butler has only been with the Yankees for five games, but he believes that they may be seeing one of the game's best power hitters in the making.
"I've seen him hit every type of pitch out," Butler said. "I've seen him hit a cutter out, I've seen him hit a fastball out, and I've seen him hit a slider out. Basically, if you're an opposing pitcher and you leave it over the middle of the plate, it's got a good chance of being damage off of him."
Manager Joe Girardi opted not to comment on the Rays' strategy, but he said that it was no surprise that Sanchez came through when his team needed it most.
"God, he's meant a lot since he's got here, offensively and defensively," Girardi said. "He changes games in a lot of different ways. It's kind of fitting that he got the big hit again."
Bryan Hoch has covered the Yankees for MLB.com since 2007. Follow him on Twitter @bryanhoch, on Facebook and read his MLBlog, Bombers Beat. This story was not subject to the approval of Major League Baseball or its clubs.