Giants lose Crawford, Cueto to injuries
Shortstop leaves game with dislocated finger; starter suffers groin strain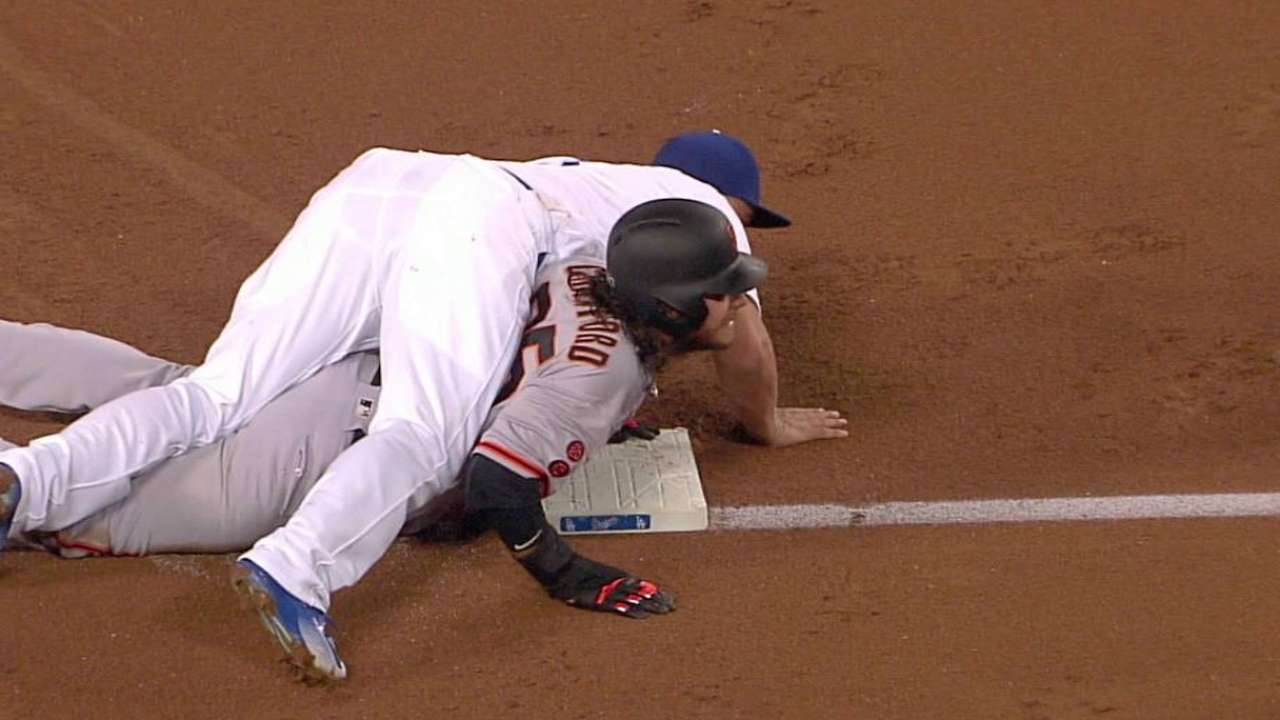 LOS ANGELES -- The Giants gained new concerns during Tuesday night's 2-0 victory over the Los Angeles Dodgers as shortstop Brandon Crawford and right-hander Johnny Cueto left the game with injuries that threaten to limit their availability for the stretch drive.
Crawford dislocated his left pinkie while sliding into third base and is on day-to-day playing status. Cueto, who strained his left groin during the sixth inning, will undergo an MRI examination Wednesday, which could reveal more about whether he'll take his next scheduled pitching turn Sunday at San Diego.
The mishaps occurred on an evening when the Giants forged a tie atop the National League Wild Card standings with the New York Mets and St. Louis Cardinals. Each owns an 80-71 record.
"It's going to be a fight, no question," Giants manager Bruce Bochy said. "That's why you hate to see what happened tonight with Johnny and Craw. The one thing you want are the guys healthy these last few games. But we have to move on."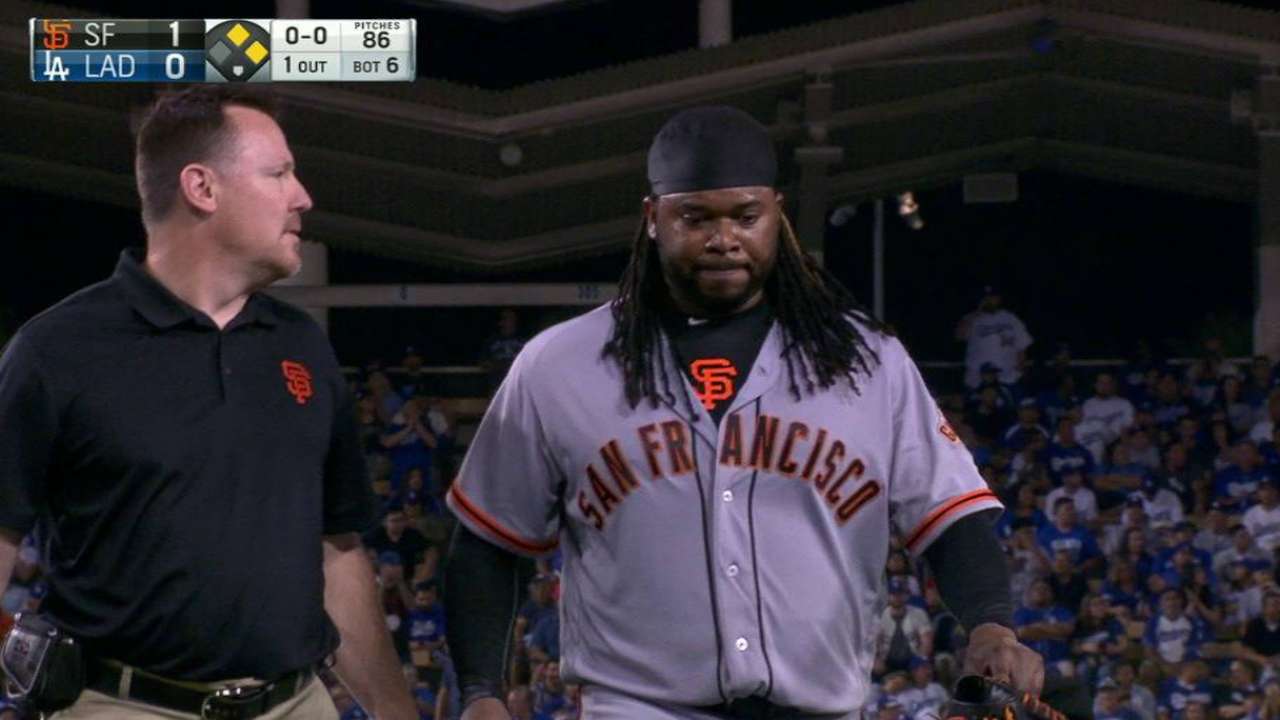 The prospect of moving on without two top performers is daunting. Cueto (17-5) won his third consecutive start and improved to 3-1 with a 2.67 ERA in five outings against the Dodgers this year.
Cueto declined to guess what doctors might discover.
"We just have to wait for the MRI," he said.
A fitness enthusiast who exercises intensely, Cueto said he never has endured a pulled groin muscle.
"It was like a crab just grabbed me there and bit me," said Cueto, who hurt himself as his body's momentum carried him on a follow-through toward first base.
Crawford, who's batting .268 with 12 homers and a team-high 80 RBIs, wrenched his pinkie as he tried to take an extra base on Brandon Belt's two-out single in the second inning. Crawford churned toward third base and slid headfirst, which frequently leaves a player's hand or fingers vulnerable to injuries.
Crawford, who has appeared in a team-leading 148 games, took solace in recalling that second baseman Joe Panik endured a similar injury in 2014 and missed just one game, which was played after an off-day.
"It'll be swollen and sore tomorrow, I'm sure," Crawford said. "I would think I'd probably be out, but if I feel like I can swing and I think I can help us, I'll try to work my way in there."
Chris Haft has covered the Giants since 2005, and for MLB.com since 2007. Follow him on Twitter at @sfgiantsbeat and listen to his podcast. This story was not subject to the approval of Major League Baseball or its clubs.