Giants don't elaborate on Bumgarner's exit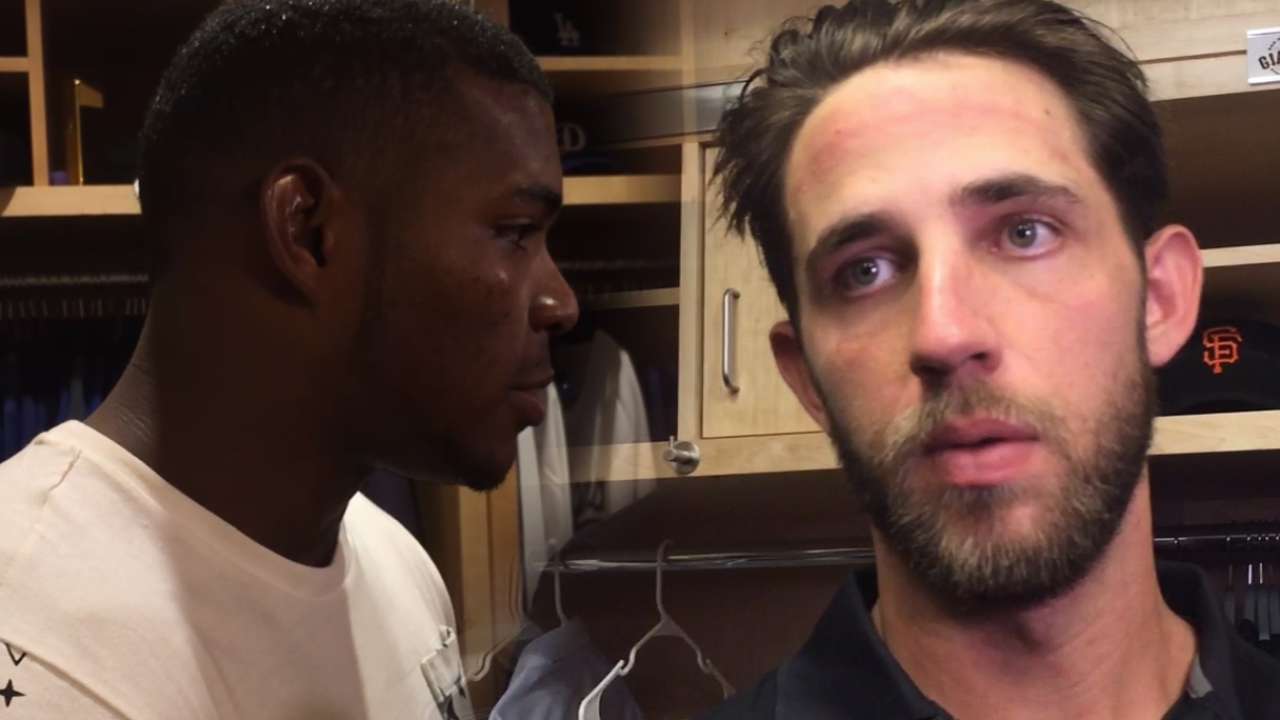 LOS ANGELES -- One day after Giants manager Bruce Bochy removed Madison Bumgarner from Monday's game against the Los Angeles Dodgers, the timing of the left-hander's exit remained mysterious.
Bochy entrusted the game to the bullpen -- which allowed the tying and winning runs in the ninth inning of a 2-1 Dodgers victory -- after Bumgarner allowed one hit, Yasiel Puig's second-inning double, in seven innings. Bumgarner also walked none and struck out 10.
Bochy excused Bumgarner from further activity after the latter's confrontation with Puig following the end of the seventh inning. It was suggested that the Giants took Bumgarner out of the game to protect him from the Dodgers. That is, the Dodgers might have wanted to warn Bumgarner about crossing Puig by throwing at him high and tight or even hitting him with a pitch. Bochy insisted those possibilities didn't enter his mind.
"Whatever you think is the reason and 'conspiracy' wasn't that I was afraid he was going to get hit," Bochy said Tuesday. "I promise you that. That's not even in the ballpark with any of this."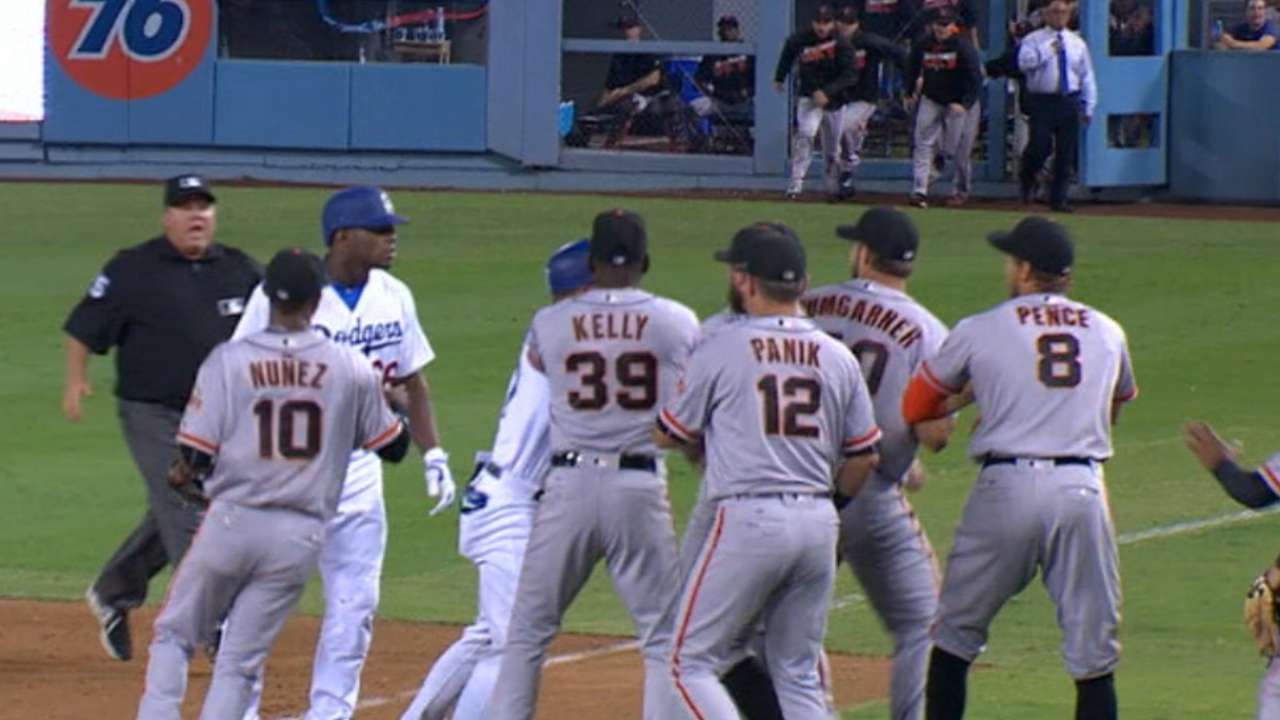 Bumgarner hinted after Monday's game that he was tired. If that was the case, Bochy might not have wanted anyone knowing his ace might be vulnerable to fatigue.
Bumgarner likely has two scheduled starts remaining. He entered Tuesday having thrown a Major League-high 3,365 pitches. Bochy possibly wanted to preserve Bumgarner's stamina for the season's crucial, final days.
"I don't disclose what I say to a player. That's confidential," Bochy said. "If Bum wanted to elaborate, that would be fine. But it's out of respect to the player."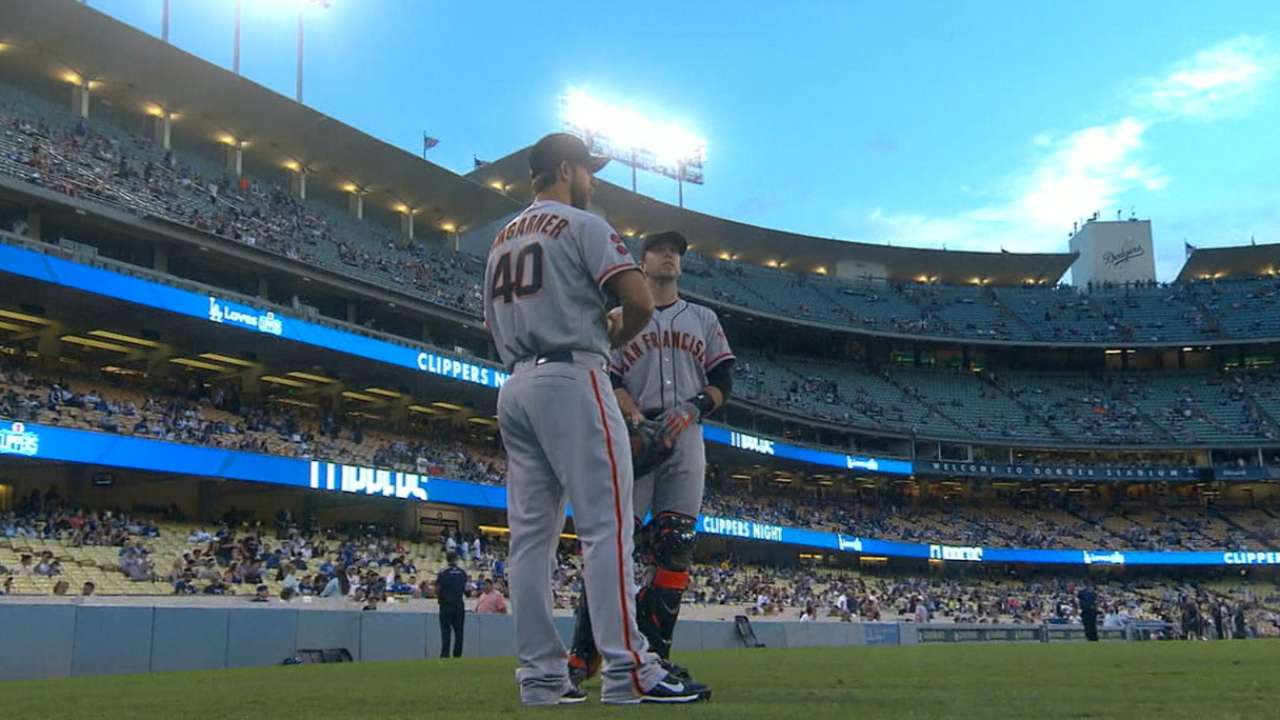 Also on Tuesday, a becalmed Bumgarner acknowledged his temper occasionally can be counterproductive.
"Certain cases, you let something get to you or get out of hand that there's no need for," Bumgarner said. "I'm not saying necessarily yesterday. I'm just saying there have been some cases for me where I need to concentrate on pitching and getting guys out."
Asked whether he regretted his behavior in the Puig incident, Bumgarner said, "I don't know. I need a little more time to think that one through."
Chris Haft has covered the Giants since 2005, and for MLB.com since 2007. Follow him on Twitter at @sfgiantsbeat and listen to his podcast. This story was not subject to the approval of Major League Baseball or its clubs.