MLB.com Columnist
Anthony Castrovince
October too unpredictable to deal in absolutes
Hoynes understands Indians' anger after comments, but Tribe embracing challenge
CLEVELAND -- His morning proctology examination was not the most uncomfortable part of Paul Hoynes' day, which tells you what kind of day Tuesday was.
This was the day Hoynes, the Cleveland.com Indians beat reporter who just a couple of days earlier had declared the Indians' October pursuit of a World Series championship over before it even began, walked into the home clubhouse at Progressive Field and faced the men he had counted out.
With the prying eyes of his fellow media members surrounding him and the room filled (not by accident) by every member of the ballclub, this was scrutiny of a different sort. And when I asked Hoynes which was more challenging -- the doctor's probe or the Indians' ire -- he answered before I could even finish the question.
"This," he said with his charming chuckle. "But don't write that I liked the proctology exam!"
If you're just joining this battle of Tribe vs. Scribe, it came about like this:
Carlos Carrasco took an Ian Kinsler liner to the hand on the second pitch of Saturday's game, breaking his fifth metacarpal and ending his season. This injury, on the heels of Cleveland's loss of Danny Salazar to a flexor strain mere days earlier, compelled Hoynes, a bulldog of a reporter and a good man who has covered this team for longer than many of its current players have been alive, to write the Indians' obituary.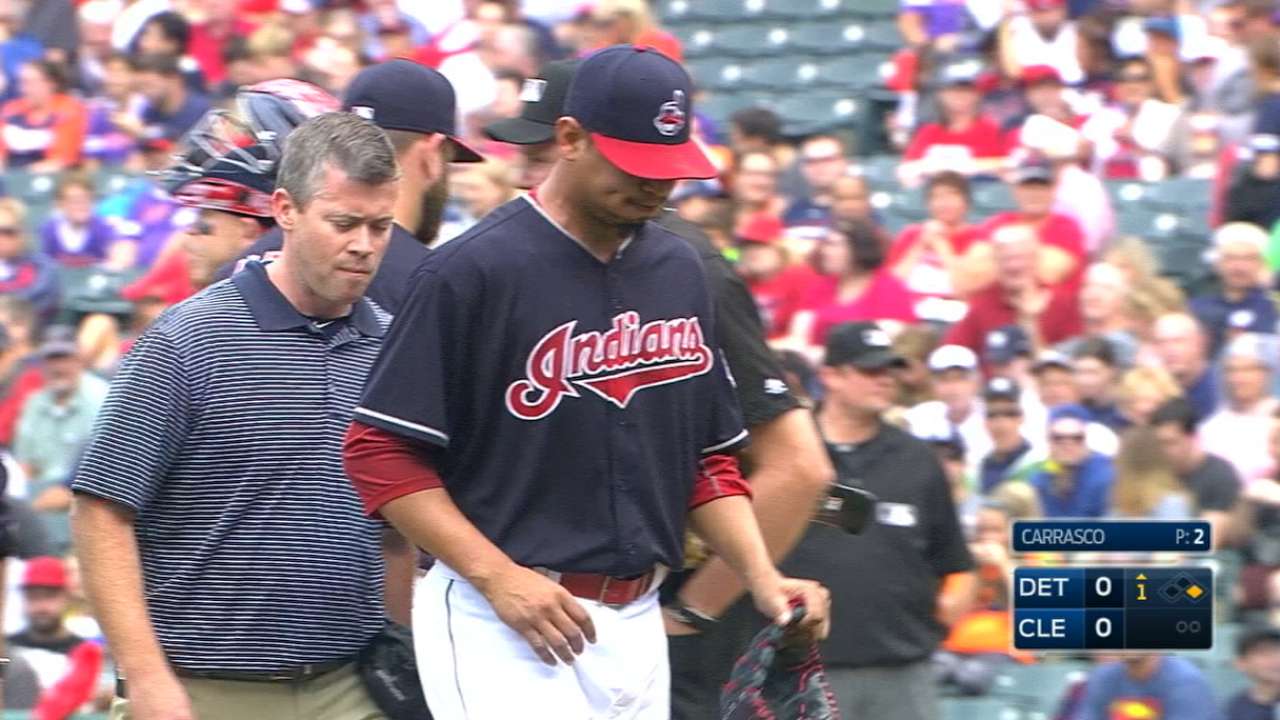 "Write it down," Hoynes wrote. "On Sept. 17, the Indians were eliminated from serious postseason advancement before they even got there."
Well, you can imagine how that went over. And Tuesday gave us our first follow-up to the Twitter tussle in which second baseman Jason Kipnis encouraged Hoynes to cover the rest of the season from his couch and starter Trevor Bauer called him a "coward" for taking his scheduled day off Sunday instead of coming to the clubhouse and facing the music.
"I felt what I wrote was the right thing to write at that time, and I still do," Hoynes told me. "And I understand if they're mad, I really do."
We can delve into a journalistic discussion here about the importance of immediate attendance after such a strongly written piece (Hoynes, for the record, said he regrets not showing up Sunday), but ultimately, the primary problem with Hoynes' opinion -- one I shouldn't have to tell you he is 100 percent entitled to -- is that it deals in absolutes in a game that rarely lends itself to them.
Now, realistically, Hoynes is probably right to assume the Indians won't win the World Series. Heck, if you proclaim the Cubs, a club that entered Tuesday 41 games above .500, won't win it all, the odds are strongly in your favor (FanGraphs was giving them a less-than-20-percent chance of breaking their curse, at last check). Hoynsie has seen this firsthand, having covered the 1995 Tribe club that won 100 games in a 144-game schedule and fell short.
But October history is littered with so many unforeseen feats and fallouts that to slap a death sentence upon a still-breathing ballclub felt a little too click-baity for its own good. And Hoynsie got his clicks, all right, including one from pretty much every member of this ballclub.
"I know a lot of guys took a lot of exception to it," said catcher Chris Gimenez. "Is it going to get a lot tougher? Without a doubt. But sometimes stuff like that creates opportunity."
Kipnis added: "I think we've shown pretty clearly that we haven't relied on any one guy or any one facet to win the game. ... But I don't want to turn this into attacking Paul Hoynes. That's not the goal."
No, the goal is to win it all. And it says here that the Indians can still do just that, and prove a certain writer wrong in the process.
October is, increasingly, a bullpen-oriented environment, and the Indians are, increasingly, a bullpen-oriented team. Since they made that mega-move for Andrew Miller, the Tribe's relief unit has turned in a 2.92 ERA in 169 2/3 innings -- the best such mark in baseball, entering Tuesday. Manager Terry Francona's high-leverage use of Miller has maximized his value while also making those around him better, with Dan Otero (whose entire 2016 is criminally underrated), Zach McAllister and Bryan Shaw all turning in sub-2.00 ERAs in that span and closer Cody Allen holding the opposition to a .148 average.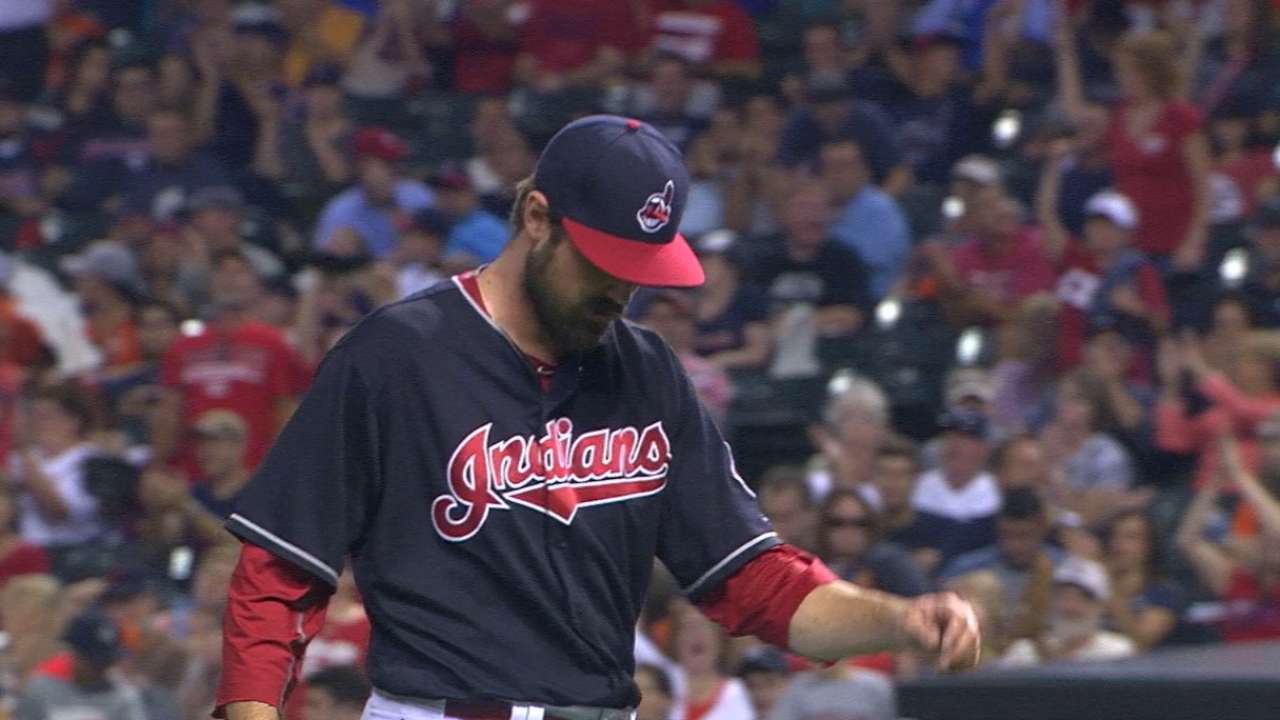 In last year's postseason, managers relied on relievers to handle 39.5 percent of all innings pitched, a jump of 3.5 percent from just five years earlier. The Royals won it all with their starters averaging five innings per outing (and Edinson Volquez was their No. 1, for crying out loud).
"You look at their bullpen, and it's very good and very capable," Royals manager Ned Yost said. "It gets to the point now where, instead of a seven- or eight-inning dominant pitcher on the mound, you hope to get four or five and then turn it over. That works if you've got enough pieces back there."
The pieces in the rotation are obviously more suspect. Beyond legit American League Cy Young Award candidate Corey Kluber, there are questions. Bauer showed Sunday, when he plunked three Tigers batters, that his great stuff can come with bouts of wildness. Josh Tomlin serves up homers at about the rate the Melt concession stand serves up grilled cheese sandwiches. And Mike Clevinger is simply unproven at this level.
But a Tomlin/Clevinger piggyback scenario is oddly intriguing.
If Tomlin can run his cutter to both sides of the plate, get hitters to chase a few breaking balls in the dirt and miss the middle, he can give you an effective trip or two through the order. He did it for much of the first half, and he did it in Tuesday's win over the Royals. And Clevinger, with a more powerful fastball and effective changeup, presents a different look altogether. The differences in velocities and approach would, at the very least, force the opposition to make a major in-game adjustment.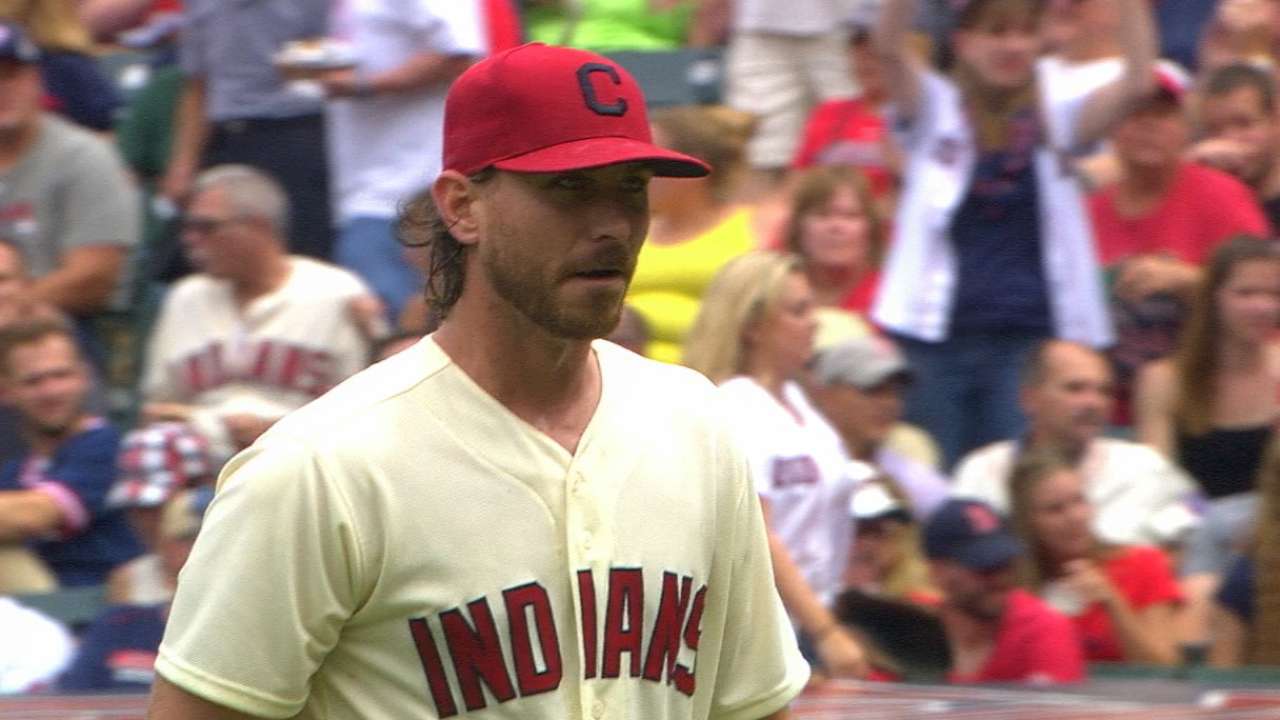 And then, you know, start Kluber on short rest and hope for the best.
Maybe it wouldn't take an unexpected or unusual star turn, akin to what we saw from Chad Ogea and Jaret Wright in '97, for the Indians to advance. Maybe it just comes down to maximizing matchups, executing game plans and hoping a lineup that has provided the second-highest runs average in the AL, as well as some of the best baserunning and defensive marks in baseball, can do the rest.
Forecasting the result is a fool's errand. Anybody who enters October expecting absolutes ought to feel uncomfortable.
Perhaps even more uncomfortable than a rectal exam.
Anthony Castrovince has been a reporter for MLB.com since 2004. Read his columns and follow him on Twitter at @Castrovince. This story was not subject to the approval of Major League Baseball or its clubs.