Statcast of the Day: Ross rumbles home
39-year-old Cubs catcher scores from first on 107-mph double by Lester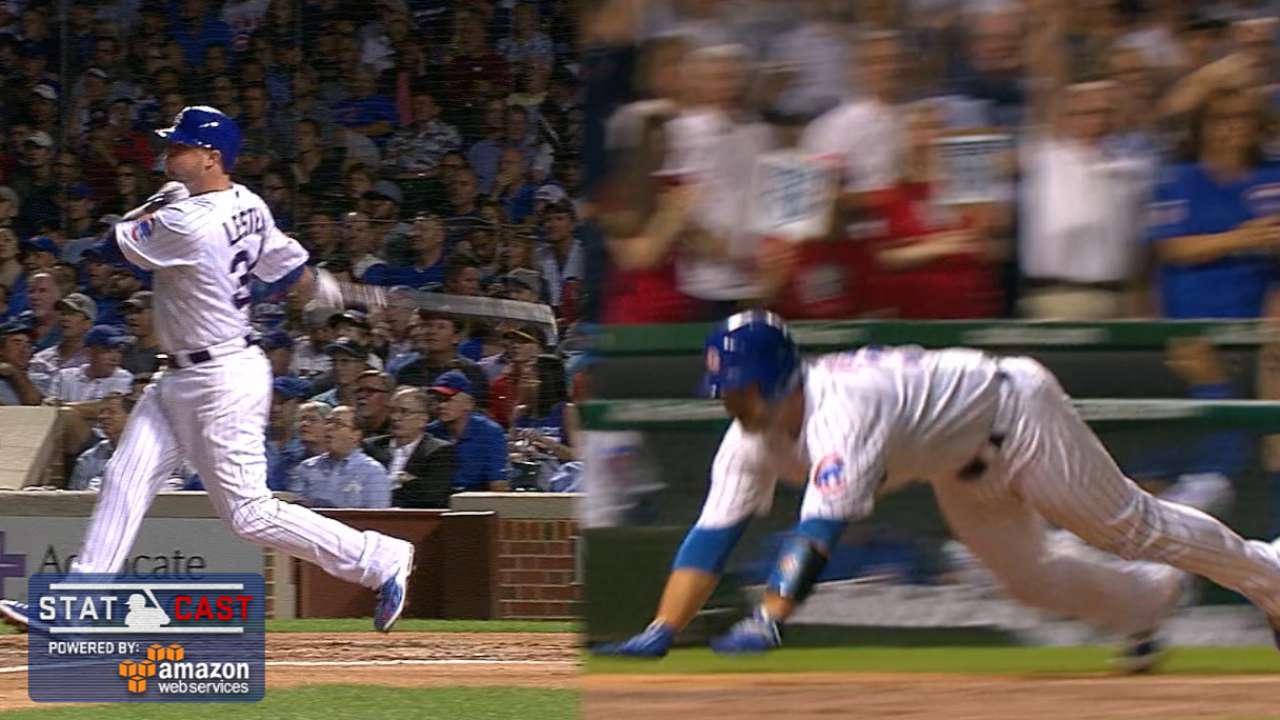 CHICAGO -- By the end of it, David Ross was running on empty.
Actually, he was barely running at all after going first to home, non-stop, to score on a two-out double Jon Lester drilled to center field with an exit velocity of 107 mph in the second inning of the Cubs' 6-1 win against the Reds on Tuesday night at Wrigley Field. As the 39-year-old catcher rounded third, he started to slow, breathe heavily and wonder whether he'd make it at all.
"Tell you what, [Lester] needs to tell me if he's going to swing first pitch and make me run first to home," Ross said. "It's been a little while since I've had to do that. I think I've trained first to third, but that last 90 feet was not friendly for me."
Ross couldn't believe it when he saw Cubs third-base coach Gary Jones wave him home, but there wasn't even a play at the plate. Ross scored easily, other than his labored breathing and stumbling into a headfirst flop.
"That was just more of a collapse than a slide," Ross said. "Jonesy was telling me, 'You've gotta go! You've gotta go!' I was like, 'I don't got anything left. That's all I've got, Jonesy. Actually, I'm [decelerating].' I kind of talked myself into, 'Well, I guess I'm out, because I've got nothing left.'"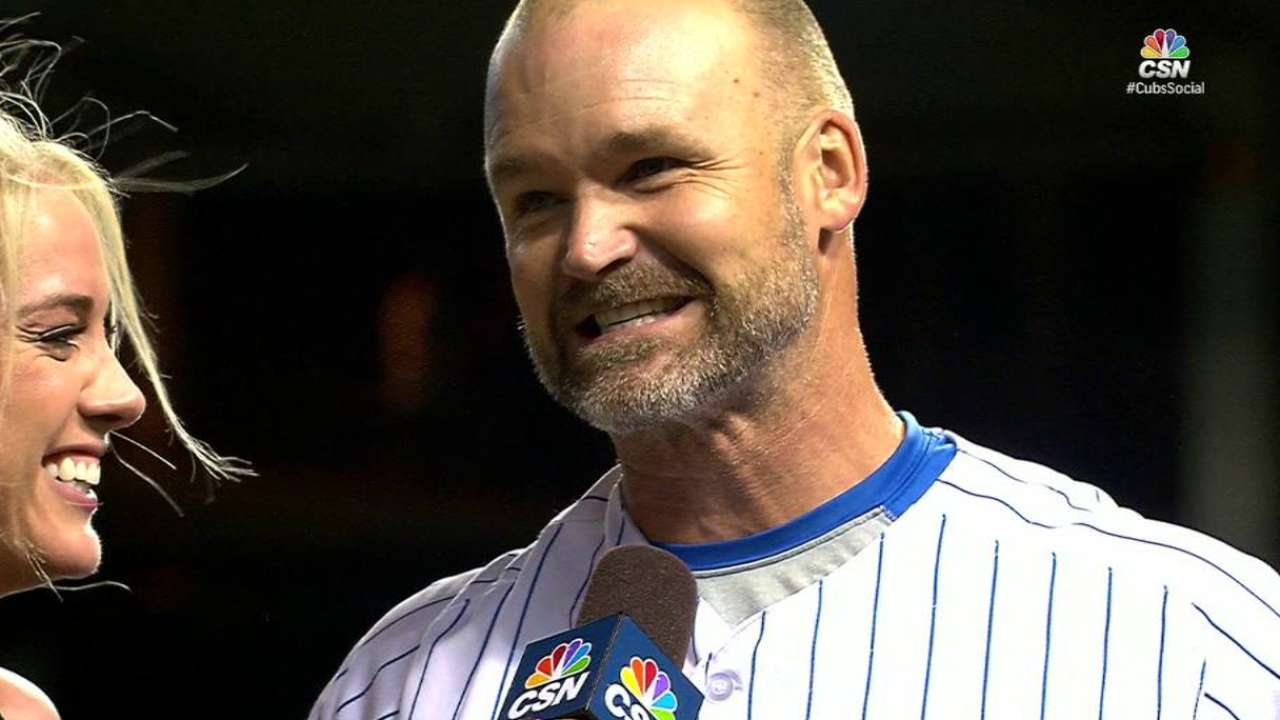 It was actually the second time Ross has scored from first against the Reds this season, and the fastest of the two, according to Statcast™, which tracked Ross' time from first to home Tuesday night at 11.82 seconds.
That's quite a bit quicker than the 15.19 seconds he clocked April 21 against the Reds at Great American Ball Park, but there was a good reason that one was slower. Ross scored on a hit by a Cubs starting pitcher that time, too (Jake Arrieta), but it was a single and he went first to third before scoring on a throwing error after he slid into third.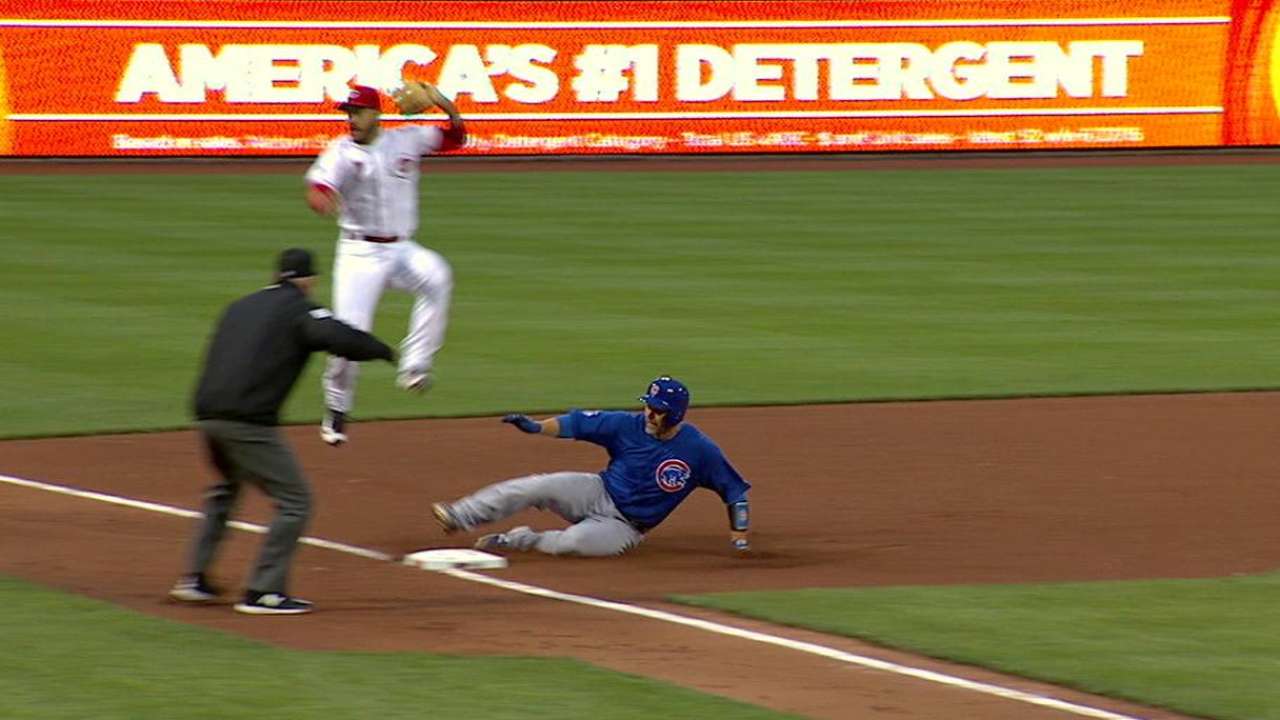 According to Baseball-Reference, Ross' long run Tuesday was the first time he's scored from first on a double since 2010 and just the sixth time he's done it in his 15-year Major League career.
The fastest first-to-home time by a catcher this season, as tracked by Statcast™, was Aug. 31, when Mets catcher Travis d'Arnaud did it in 9.47 seconds.
"I'm glad I could give the whole park something to chuckle at," Ross said. "I was not laughing. I was just trying to stay on my feet. I thought I was going down a couple times."
As for Lester, smoking a line drive like that was no surprise, as he has the hardest-hit double by a pitcher all year (109.9) on April 17 against the Rockies -- that two-bagger was the hardest safe hit by a pitcher this year and second hardest-hit overall. Only the D-backs' Zack Greinke hit the ball harder, a force out to Corey Seager on Sept. 16 at 111.3 mph.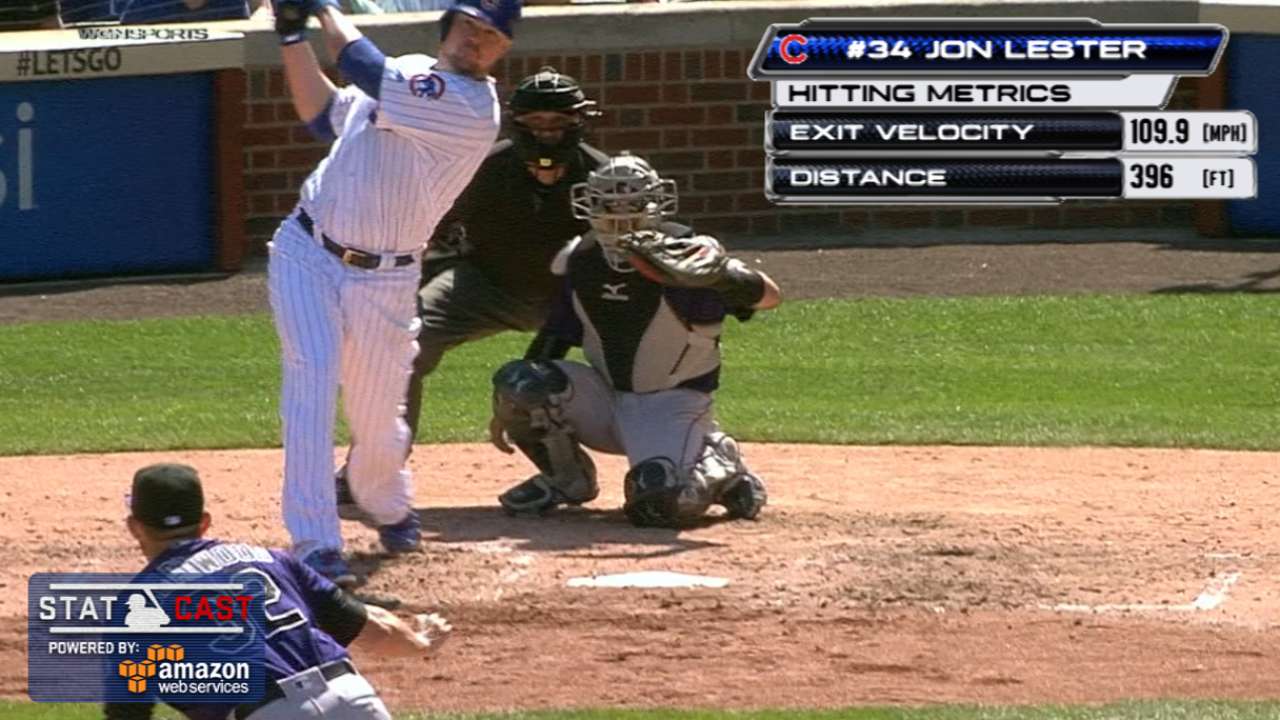 Among pitchers with at least 25 balls in play this season, Lester ranks fourth in average exit velocity at 89.1 mph. His double Tuesday night was also his first career RBI double. The 32-year-old, who began his career 0-for-66, has five hits in 54 at-bats this year.
"The guy's got a good swing," Cubs manager Joe Maddon said. "I've been saying it. He's got a good hack. Last year, he didn't have any hits, or maybe had one hit, but he hit a lot of balls well, I thought. As he continues to be a National Leaguer, this guy should be able to hit a little bit."
Avg. exit velocity by pitchers*
1. Madison Bumgarner: 93.2
2. Adam Wainwright: 89.9
3. Arrieta: 89.7
4. Lester: 89.1
5. Greinke: 89.0
*Min. 25 balls in play
Brian Hedger is a contributor to MLB.com based in Chicago. This story was not subject to the approval of Major League Baseball or its clubs.