Cards see the best of Waino against Rockies
Righty's all-around performance helps club tie for top Wild Card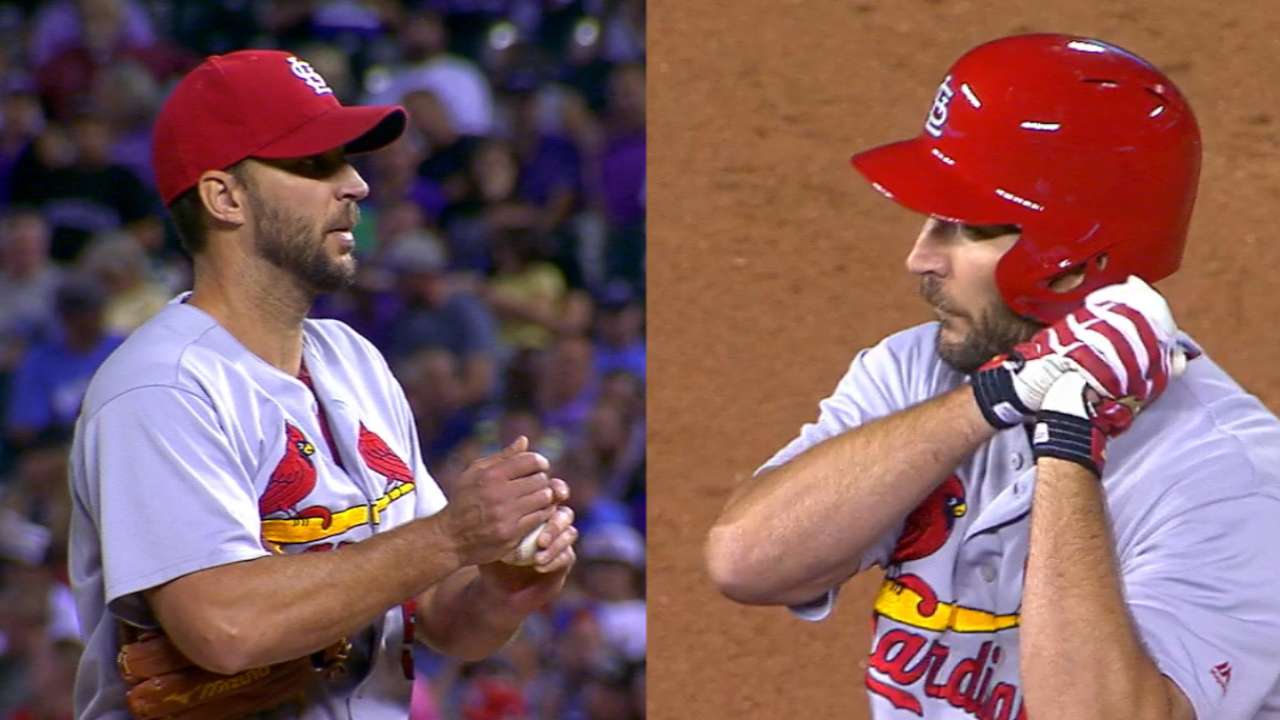 DENVER -- Leave it to the high-altitude hitters' paradise of Coors Field to help Adam Wainwright find himself on top of his game. Making use of the best curveball he's thrown all season, Wainwright earned his 12th victory on a career night offensively in a 10-5 win over the Rockies on Tuesday.
St. Louis also has a three-way share of the lead in the National League Wild Card standings.
"He was good," manager Mike Matheny said. "He had a real nice curveball today. It's hard to know here how that breaking ball is going to work, and he had a nice feel for it. He did a nice job controlling most of the counts. He had a good fastball when he wanted it, he just changed it up. He used the cutter and expanded when he needed to with that pitch. He got the chases when he had to have them. That's what he looks like when he's right."
Wainwright also contributed to three run-scoring rallies, hitting a two-run double in the second, a rally-extending sacrifice bunt in the fourth, and a two-run single in the fifth for a career-high four RBIs. His 18 RBIs for the season are the most for a Cardinals pitcher since Bob Gibson had 19 in 1970.
"I've been saving my RBIs up for this year," Wainwright said. "I'm doing whatever it takes to help this team win. In a park like this, in a place that no lead is safe, if a pitcher can go up there and push something across and help the team get a run, get four runs, whatever, you're doing your job."
At 12-9, Wainwright has been effective despite his 4.57 ERA. He's struggled to a degree and searched for solutions throughout the season, and it's all coming together for the stretch run.
"That was my best curveball all year," Wainwright said, words rarely uttered at Coors Field. "Without knowing it over the last 27 starts, my grip has been searching for that right curveball grip, and today was the first time I felt like I found home with my curveball grip. It made a big difference in a place like this.
"I found my fastball a few starts ago. I found my curveball tonight. Now I need to meld those together and let it go."
The one regret Wainwright had regarding his performance was that getting a good lead resulted in some diminished execution. That translated into three solo homers from Daniel Descalso, Charlie Blackmon -- off the foul pole -- and Gerardo Parra.
"Charlie's ball, most hitters hit that ball foul, but he's a great hitter," Wainwright said. "He did a great job keeping that ball fair. He's a tough hitter. He doesn't have many holes. Kudos to him. The other ones are not the pitch I'm trying to make. I attribute that to a lack of focus on my part. When I'm grinding and focused like I need to be, that wouldn't happen."
It was Wainwright's seventh consecutive win against the Rockies, and he's now 3-0 at Coors Field.
"I don't have enough starts to get [my ERA] down in the 2s like I want to be," Wainwright said. "I don't have enough starts to get to 20 wins like I want to be. But I have a chance to help this team win a World Series."
Owen Perkins is a contributor to MLB.com based in Denver. This story was not subject to the approval of Major League Baseball or its clubs.