Rasmus hopes to find spark down stretch
'It's been tough,' Astros outfielder says of limited playing time
OAKLAND -- Veteran outfielder Colby Rasmus has seen his at-bats dry up in the last couple of weeks, even to the point that he hasn't been playing against right-handers. Despite his struggles at the plate, Rasmus has been trying to put on a positive face and make sure he's ready whenever he's called upon.
Rasmus, who took a $15.8 million qualifying offer this year and began the season as the team's everyday starting left fielder and cleanup hitter, got off to a hot start, but struggled as the summer progressed and eventually went on the disabled list (to remove a cyst in his ear) following a 3-for-66 slump.
He homered in his return to the lineup Aug. 30, but is hitting .167 with three homers and six RBIs in 42 at-bats since being activated.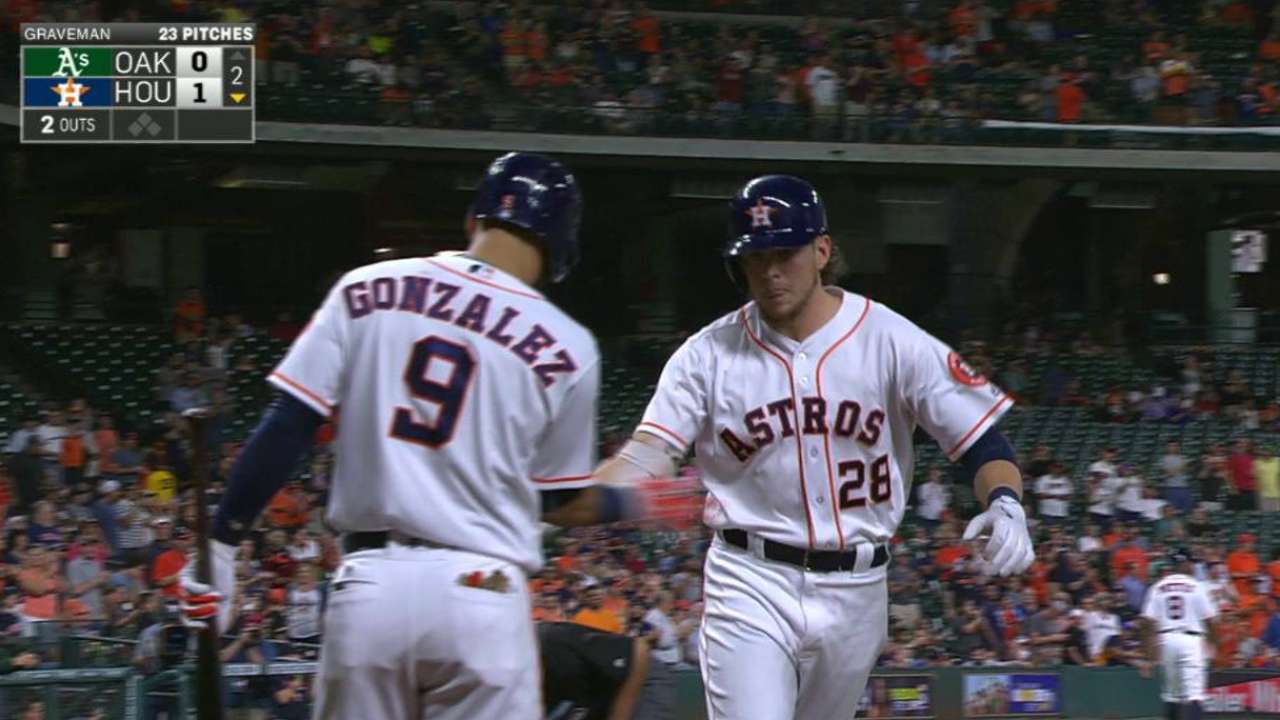 Tuesday marked Rasmus' fourth consecutive game out of the lineup, though three of those have been against lefties, against which he's hitting .138 this year. Rookie Teoscar Hernandez has started five of the last six games in left field.
"There's no doubt he's had a tough season on a lot of levels," Astros manager A.J. Hinch said. "He's had to battle a number of things. He's also grinding to the point of being really hard on himself and not performing at a level that he's used to.
"I'm going to mix and match. A lot of it has to do with how Teoscar players, how Jake [Marisnick] plays, how [Tony] Kemp plays [and] if I need to put Marwin [Gonzalez] in the outfield. We're trying to put our best team out there, and Colby can help us. He may find himself mixed and matched a little bit more than we're used to. We're used to seeing him out there against every right-hander. He knows that may not be the case. But he knows that he can help us win in certain games."
Rasmus, who lost 10 pounds following the surgery and had to work to regain his strength, understands where Hinch is coming from. He says he's had some good at-bats, but knows it's a results-oriented game.
"It makes it tough, but that's the game," Rasmus said. "I ain't mad at nobody. I ain't mad about it. Just not playing as good as I would like to play. It's just one of those years you've got to try down the stretch here to make some adjustments and hopefully make those adjustments and spark a little fire to get it going."
Rasmus is as prideful as it gets in the Astros' clubhouse. He wants to play and wants to win, so these last couple of weeks have been challenging. All he can do now is be ready when his number is called.
"It's just been a little bit frustrating to not get it done," he said. "Everybody wants to play good. You know, I'm going to definitely take my swings and try to get it right and all those things, but right now it's tough."
Brian McTaggart has covered the Astros since 2004, and for MLB.com since 2009. Follow @brianmctaggart on Twitter and listen to his podcast. This story was not subject to the approval of Major League Baseball or its clubs.