Padres could get Blash back this week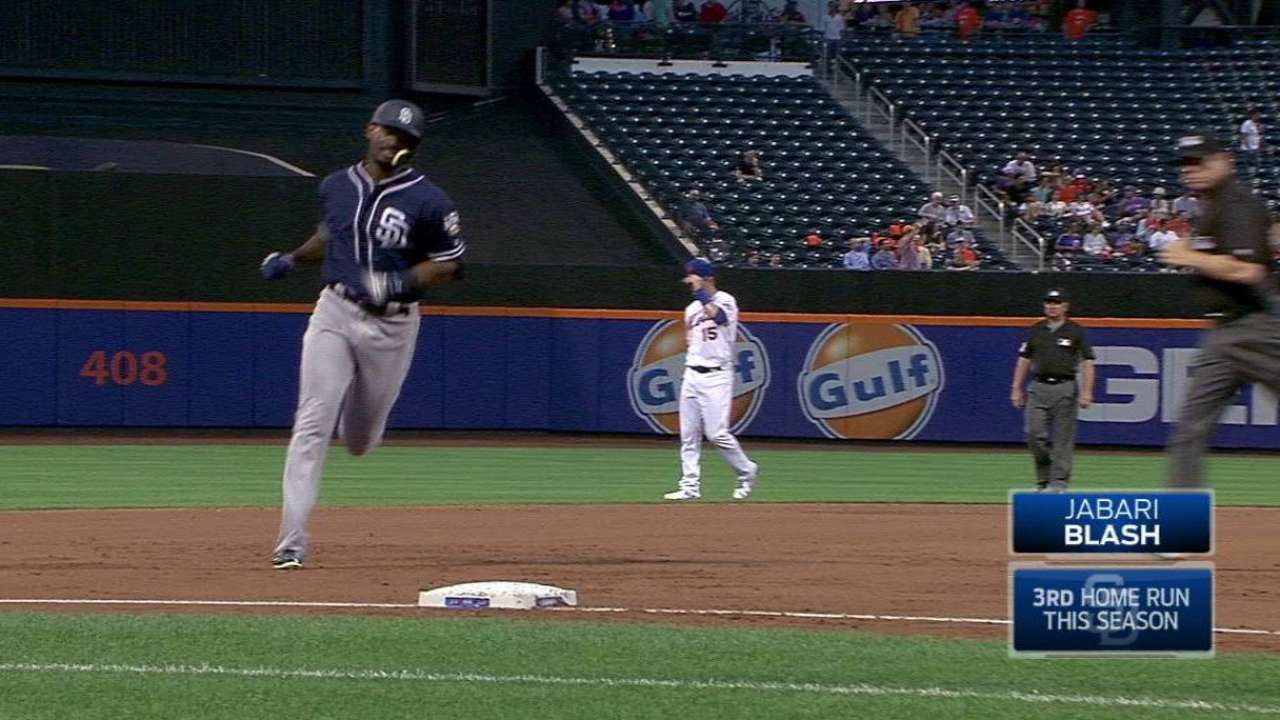 SAN DIEGO -- The Padres expect rookie outfielder Jabari Blash to be back with the team this week, after he dealt with a sprained left middle finger for a month.
Blash hasn't played since Aug. 18, in what was his first chance at regular playing time after being used in a reserve role to start the season. In 15 games from July 31 to Aug. 18, Blash hit just .196 (9-for-46), but still showed an ability to get on base (.327 OBP) and displayed some pop (three home runs and a double).
"It's hard to say for certain, but [we] do expect him back within the next week," said Padres manager Andy Green. "Until we get to where he's actually taking at-bats in games, which he's very close to doing."
Blash would be a welcome addition to the current outfield group, considering Travis Jankowski, Jon Jay, Alex Dickerson and Oswaldo Arcia are all left-handed hitters.
In 38 games at the Major League level this season Blash has hit just .169/.298/.324 compared to a Triple-A slash line of .260/.415/.514 in 62 games.
Edwards close to throwing in games
Jon Edwards (right elbow flexor strain) is less of a lock to find his way back on the mound for the Padres in the remaining days, but Green said that the 28-year-old righty was close to throwing in game situations in instructional league.
"He's very close," Green said. "I don't think he threw [Monday]. I'm not sure if he did or didn't, but he's close to throwing in a game and has felt very good in all of his work. So we'll see how far that takes him and if he gets to the point where he comes back or not."
Edwards hasn't thrown this season after sustaining his injury during Spring Training, and the team is still debating whether to have him throw in winter ball. The main thing is trying to give Edwards the confidence of knowing he's able to throw heading into the offseason.
"The main thing for him is the psychological push you get when you pitch in any game," Green said, regardless of whether or not that was with the Padres in the regular season. "Even if he pitches in five instructional league games and doesn't toe the rubber here, I mean, if he competes, his velocity's back, his stuff's back, that he's on the rubber by the end of the year."
Padres staff to attend Yuliett Solarte's funeral
A few San Diego staff members close to infielder Yangervis Solarte will leave the team this week to attend the wake and funeral of Yuliett Solarte, who passed away Saturday after complications in her battle with cancer. She will be laid to rest in a private service in Miami.
Green said that infielders coach Eddie Rodriguez, interpretor David Longley, video coordinator Mike Tompkins and trainer Paul Navarro would make the trip.
"Those are guys that are all very, very close to him," Green said. "I think we'd all like to be there. And the players in particular would love to be there to support them. We obviously have a baseball game here that we have to continue to play. But everybody's heart will definitely be with him."
Carlos Collazo is a reporter for MLB.com based in San Diego. Follow him on Twitter @CarlosACollazo. This story was not subject to the approval of Major League Baseball or its clubs.