Happ joins Blue Jays elite with 20th victory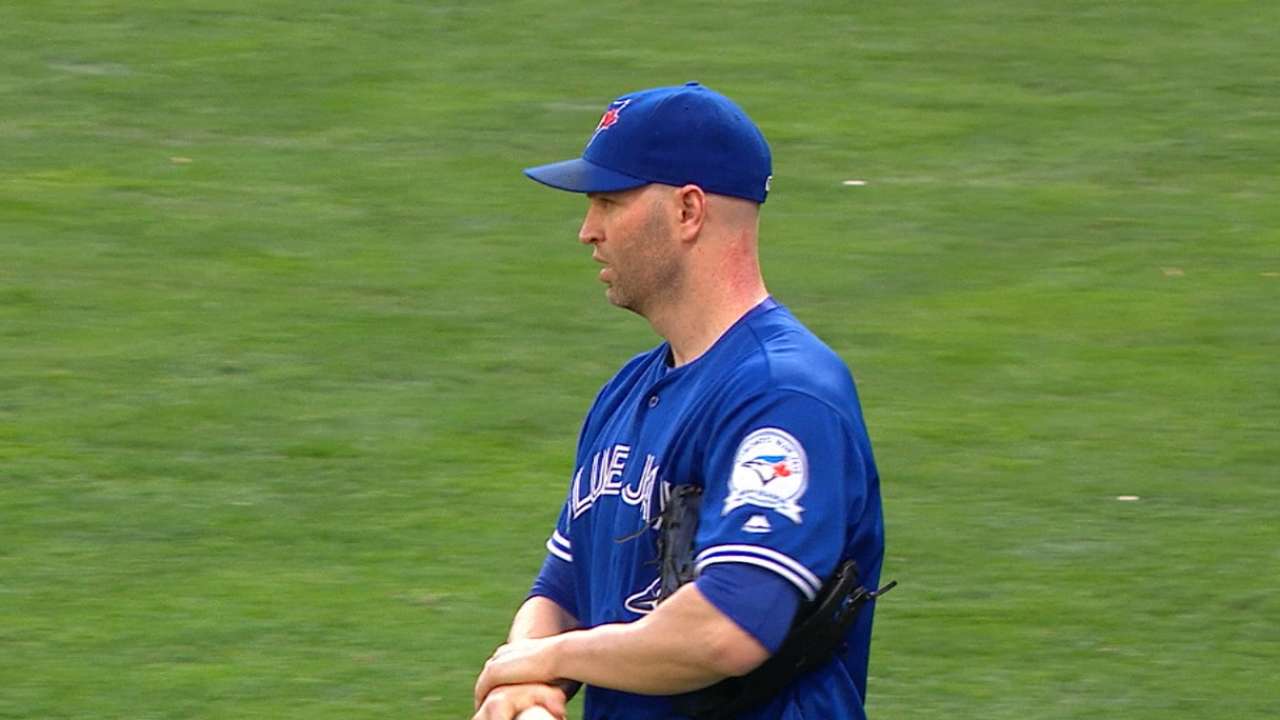 SEATTLE -- Move over Roy Halladay, Roger Clemens, Pat Hentgen, David Wells and Jack Morris. J.A. Happ has joined the 20-win club.
Happ became the sixth Blue Jays pitcher in franchise history to earn 20 victories in one season after Toronto defeated the Mariners, 10-2, on Tuesday night at Safeco Field. He's the first since Halladay went 20-11 in 2008.
The veteran lefty also joined Boston's Rick Porcello as the only two pitchers to reach the 20-win plateau this season. All of this from a guy who has spent 10 years in the big leagues but had never won more than 12 games prior to his remarkable run in 2016.
"It's a nice number," the always modest Happ said after the game. "I think as we go through the season, I'm focused on the day to day and the preparation, but you don't get to that number without having great teammates.
"I'm really grateful to just be on this team. They've been showing up all year long and it has been a lot of fun. Special shoutout to Russ Martin, who got me through a lot of those and a lot of battles so far this year and hopefully we got a lot more to go."
There were plenty of critics when the Blue Jays signed Happ to a three-year contract worth $36 million during the offseason. It was questioned at the time, but nobody is questioning it now, because that deal can now be considered one of the biggest free-agent bargains over the last several years.
Happ's latest victory came on a night in which he scattered six hits and allowed two runs over five strong innings. He walked one and struck out eight while throwing 64 of his 99 pitches for strikes. This one felt easy because of Toronto's eight-run fourth inning, but make no mistake about it, these 20 wins have not been the byproduct of a dominant offense.
The 33-year-old has allowed three earned runs or fewer in 24 of his 30 outings. He ranks ninth in the American League with a 3.28 ERA, ninth with a 1.16 WHIP and tied for the sixth-most double plays at 20. Toronto has won all but seven of his starts and Happ is one of the primary reasons the Blue Jays are in the thick of the postseason race.
"It's really kind of a milestone in baseball," Blue Jays manager John Gibbons said. "Some guys, you know what, they have higher ERAs and they win a lot of games because they get a lot of run support. I get all of that. But, you know what, some guys find a way to win and some guys find a way to lose. I've seen that over my career.
"Any time a guy can get to 20 wins, that's some kind of year. Everything has to go right. You have to be really good. You don't luck into that, that's for sure. Nobody in their wildest dreams thought Happ was going to win 20 games, I don't think. He might have, I don't think anybody else would have predicted that."
Happ can't necessarily explain it either. He has been a quality pitcher throughout the course of his career, but the native of Illinois has taken it to another level this year. Now he has a career milestone to prove it.
"I'm glad to be on this team and they put me in a good position," Happ said. "Getting to that number, I think I put us in a good position as well. It works both ways and just happy to be more consistent and being in a little better place."
Gregor Chisholm has covered the Blue Jays for MLB.com since 2011. Follow him on Twitter @gregorMLB and Facebook, and listen to his podcast. This story was not subject to the approval of Major League Baseball or its clubs.