Saunders on other side of Toronto-Seattle rivalry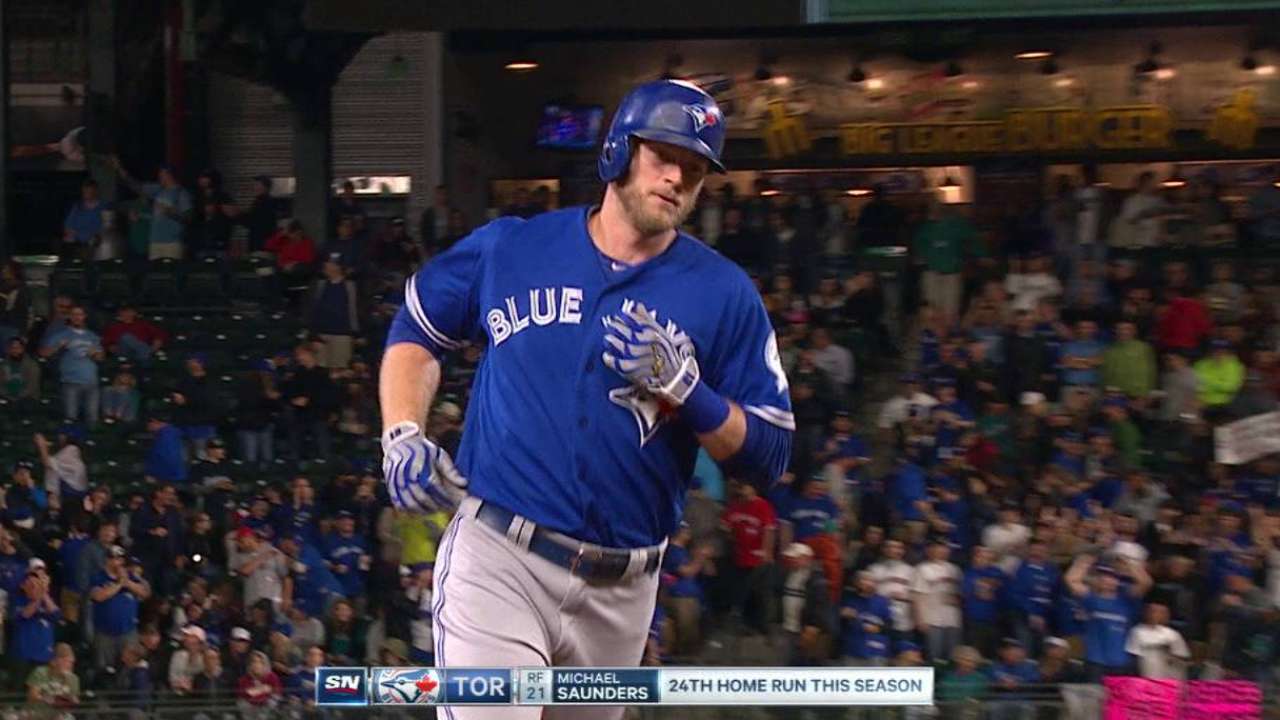 SEATTLE -- Michael Saunders spent the first six years of his career with the Mariners, but whenever the Blue Jays came to town, it felt like a road game. Now he's getting a taste of what it's like on the other side of the spectrum.
Thousands of fans from Canada have descended upon Seattle this week for Toronto's crucial three-game series against the Mariners. It has become an annual tradition for people from British Columbia and other parts of the West Coast to invade Safeco Field in a sea of blue.
Saunders, a native of Victoria, British Columbia, has seen this before. The Canadian fans used to taunt him with tongue-in-cheek chants about being a "traitor" to his country, but now that he's on the other side, the veteran outfielder is soaking up every minute of it.
"It's like we're playing a home game," Saunders said after his team's 10-2 victory over the Mariners on Tuesday night. "All of those years when I was with Seattle, it truly felt like we were playing on the road whenever the Jays came in and it's just showing the love of West Coast Canada. Not just British Columbia, but Saskatchewan, Manitoba and Alberta as well."
Saunders is going through a range of emotions this week. His hometown is less than a five-hour drive from Seattle and he has been busy providing tickets to family and friends who have made the trip south. Then there's also the fact that he's playing against his former team.
Seattle selected Saunders in the 11th round of the 2004 Draft, and he remained with the organization until he was traded to Toronto prior to the 2015 season. For a long time, this was the place he called home, and while Toronto is a lot farther away from where he grew up, Saunders now gets the honour of playing for Canada's only Major League team.
Blue Jays manager John Gibbons said prior to Tuesday night's game that he hoped a series against his former team would help spark Saunders at the plate. Toronto's outfielder was an All-Star this season following an incredible first half, but since then things have been more difficult. Maybe this kind of series was exactly what he needed.
Saunders came through with a big two-run homer on Tuesday night that gave Toronto a 4-2 lead and came as part of an eight-run fourth inning. It was Saunders' 24th home run of the season and his first since Aug. 31.
It's just the latest in a long list of things that Saunders will eventually be able to reflect upon when it comes to his time at Safeco Field.
"All of the relationships that myself and my family created over the years with this organization," Saunders said when asked about his fondest memories from the city. "It took me about an hour to actually get to the clubhouse when I actually arrived at Safeco, seeing everyone, catching up, giving everyone hugs. It's a really good experience and I'm happy to be here. Like I said, this one was circled on my calendar since Day 1."
Gregor Chisholm has covered the Blue Jays for MLB.com since 2011. Follow him on Twitter @gregorMLB and Facebook, and listen to his podcast. This story was not subject to the approval of Major League Baseball or its clubs.