Burns shows off blazing home-to-first speed
Speedster posts time of 3.75 seconds on infield hit vs. White Sox on Monday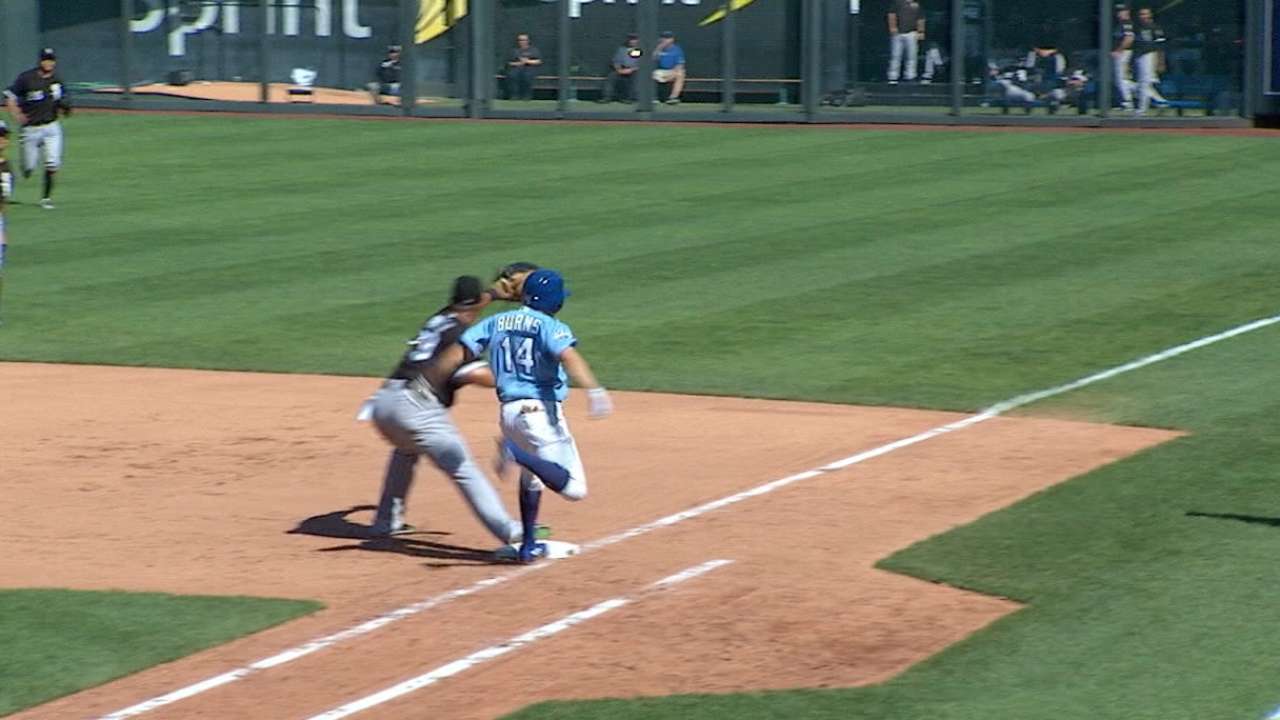 CLEVELAND -- Royals fans are finally getting to see why general manager Dayton Moore traded Brett Eibner to Oakland for speedy outfielder Billy Burns.
Burns was at his pesky best on Monday against the White Sox, getting three hits -- two were infield hits -- and stealing a base.
They also saw Burns' magnificent speed.
On his infield hit in the sixth inning, Burns' home-to-first time was 3.75 seconds, which seemed ridiculously fast in person. It was his fastest non-bunt time this season -- he posted a 3.5-second time on a drag bunt earlier this year.
Burns said he isn't aware of his times.
"Not really, unless someone tells me," he said.
Well, plenty of teammates told Burns about his home-to-first times last March.
Statcast™ determined that Burns had the best average home-to-first time in 2015 at 3.85 seconds, topping Dee Gordon and Billy Hamilton. The figure was reached by using "competitive plays," meaning times were thrown out on popouts or easy flyouts when the hitter wasn't digging as hard as normal toward first.
"That [time] came out in Spring Training with Oakland," Burns said. "Everyone in the whole locker room this Spring Training was telling me. I heard plenty of people tell me I was the fastest."
Burns believe his edge comes in his ability to get going quickly.
"It has everything to do with how I get out of the box and the way I finish my swing," Burns said. "I've seen plenty of left-handed hitters who finish moving toward the plate. It definitely matters how you hit the ball and the momentum you have going to first.
"I don't think it has anything to do with just a foot race."
Getting rid of the bat quickly also is a key.
"For me, it just happens," Burns said. "I don't think about it, but yeah, it's important."
Royals manager Ned Yost is a big fan of that speed, which is why Burns is getting a little more playing time down the stretch.
"He's had the opportunity to get on the field," Yost said. "He's an exciting player. He can do things on the field. He's decent in center [field], too.
"That's why Dayton wanted him. We're seeing that."
Jeffrey Flanagan has covered the Royals since 1991, and for MLB.com since 2015. Follow him on Twitter @FlannyMLB. This story was not subject to the approval of Major League Baseball or its clubs.