MLB.com Columnist
Barry M. Bloom
Classic's final team to be unveiled in Brooklyn
Brazil, Israel, Great Britain and Pakistan make up field of qualifier to run Thursday-Sunday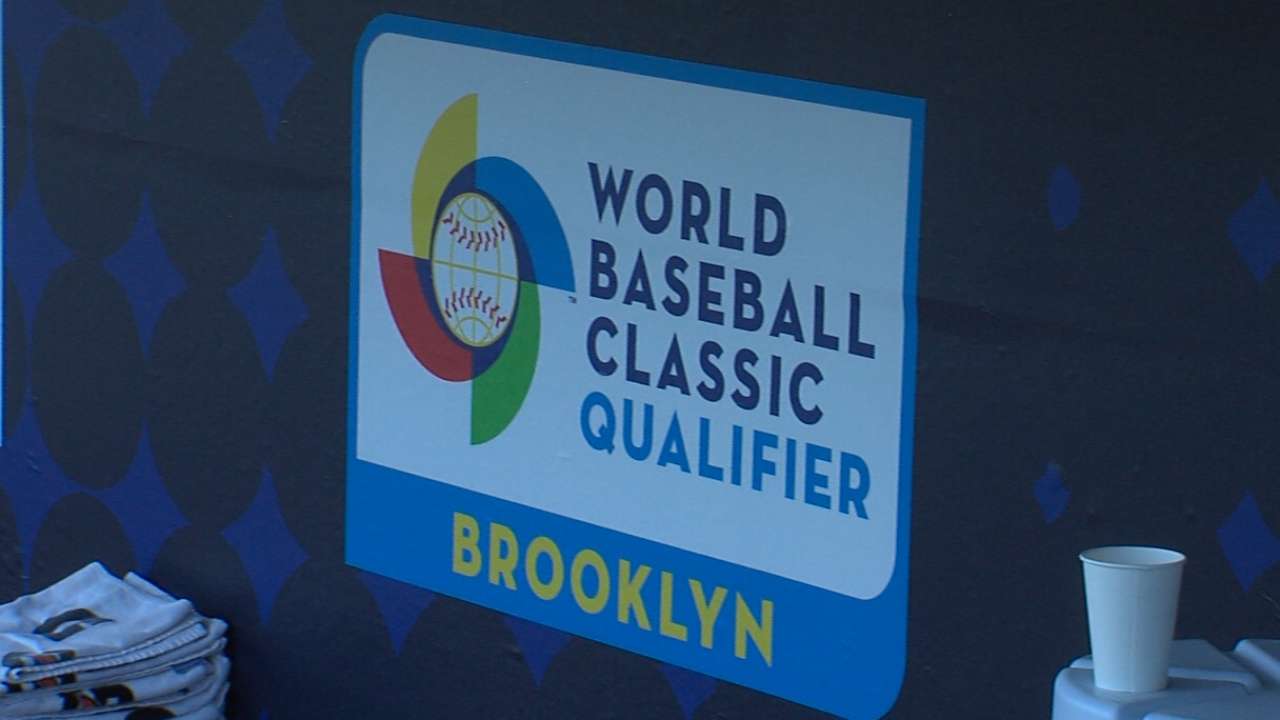 NEW YORK -- There's one spot remaining in next year's World Baseball Classic field of elite 16 nations, and it will be decided this weekend at MCU Park, the home of the Class A Brooklyn Cyclones on Coney Island with an expansive view of the Atlantic Ocean.
Brazil, Israel, Great Britain and Pakistan make up the field of the Brooklyn qualifier. The winner of Sunday's championship game at 6 p.m. ET will travel to Seoul, South Korea, next March and compete against host Korea, The Netherlands and Chinese Taipei in Pool B of the tournament.
There are day-night doubleheaders scheduled for Thursday and Friday. On Thursday, Pakistan, making its first appearance in the Classic, faces Brazil -- this weekend's favorite, managed by Hall of Famer Barry Larkin -- in a noon ET start. Israel plays the English in a 7 p.m. ET nightcap.
• Brooklyn qualifier schedule and tickets
Friday's games are at the same times, with the matchups determined by Thursday's winners. Israel will play in the day game and Great Britain at night.
A semifinal game is set for 8 p.m. ET on Saturday.
All the games will be streamed live and free of charge at worldbaseballclassic.com. Tickets for each individual game are priced at $15 and are available via the box office or worldbaseballclassic.com.
"All things considered, Brooklyn is baseball ground zero," said Eric Adams, Brooklyn's borough president, before introducing the managers of each team at a media conference on Tuesday. "We love the game."
The Dodgers played their last game at Ebbets Field in the Flatbush section of the borough on Sept. 24, 1957, almost 59 years ago. Baseball returned in 2001, with the opening of what is now called MCU Park, a beatific and cozy 7,000-seat facility that stands under the shadow of the long defunct parachute jump on the Coney Island boardwalk.
There were only 16 teams in the Major Leagues when the Dodgers moved to Los Angeles, so it's poetic justice that baseball in its now global form will be played on these streets for four days beginning on Thursday.
"The last thing from me is how cool things are and how small the world is because of baseball and the opportunities that are provided," said Liam Carroll, Great Britain's manager. "This is about the players, but my dad was born in New York and was a big-time Brooklyn Dodgers fan. A big-time Jackie Robinson fan.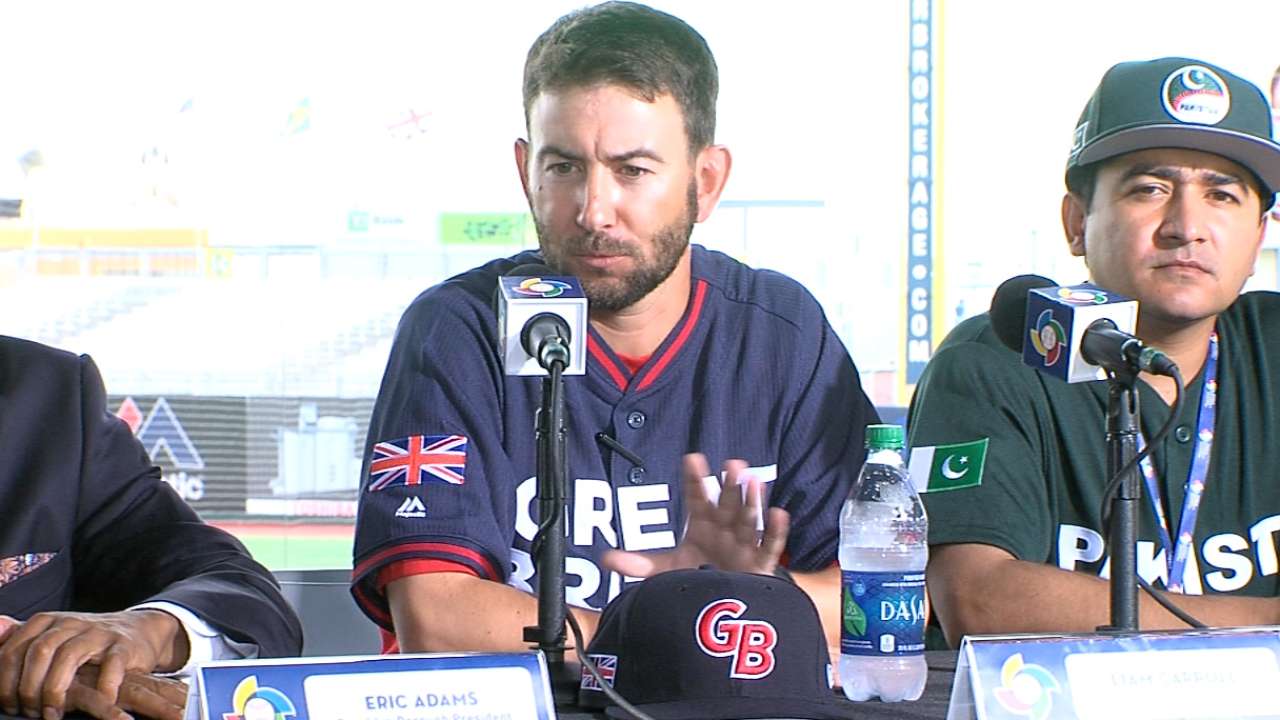 "And here I am getting to manage baseball where he used to be the biggest Jackie Robinson fan in the world. It's awesome the opportunity this sport provides."
Like four years ago, the qualifier could provide an upstart team an opportunity to advance into the main rounds of the tournament.
In 2012, Israel lost a heartbreaker to Spain in the 10th inning of the qualifying finals at Roger Dean Stadium, in Jupiter, Fla., a defeat that has been "gnawing on us for four years," this year's manager, Jerry Weinstein, said.
Israel returns this year with former Major Leaguers Jason Marquis, Ike Davis, Craig Breslow and career Minor Leaguer Cody Decker on the roster, plus a lot of passion for the game.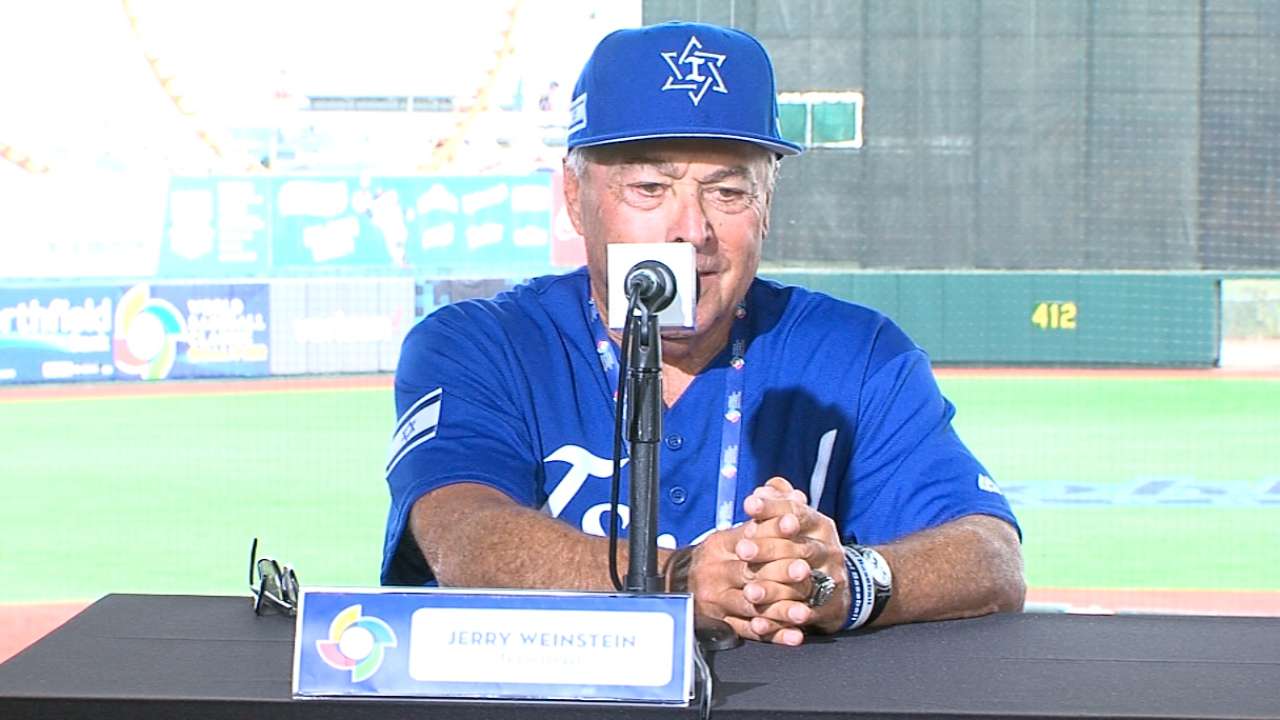 "Those people are 100 percent committed to this thing and being the best version of themselves they can be," Weinstein said. "These guys are experienced. There's not going to be any panic. We're going to play this thing pitch by pitch."
Meanwhile, Larkin led Brazil to a surprising 1-0 victory over Panama at Rod Carew Stadium in the final game at Panama City, Panama, in 2012 and went on to lose out the following March at Fukuoka, Japan, to host Japan, Cuba and China.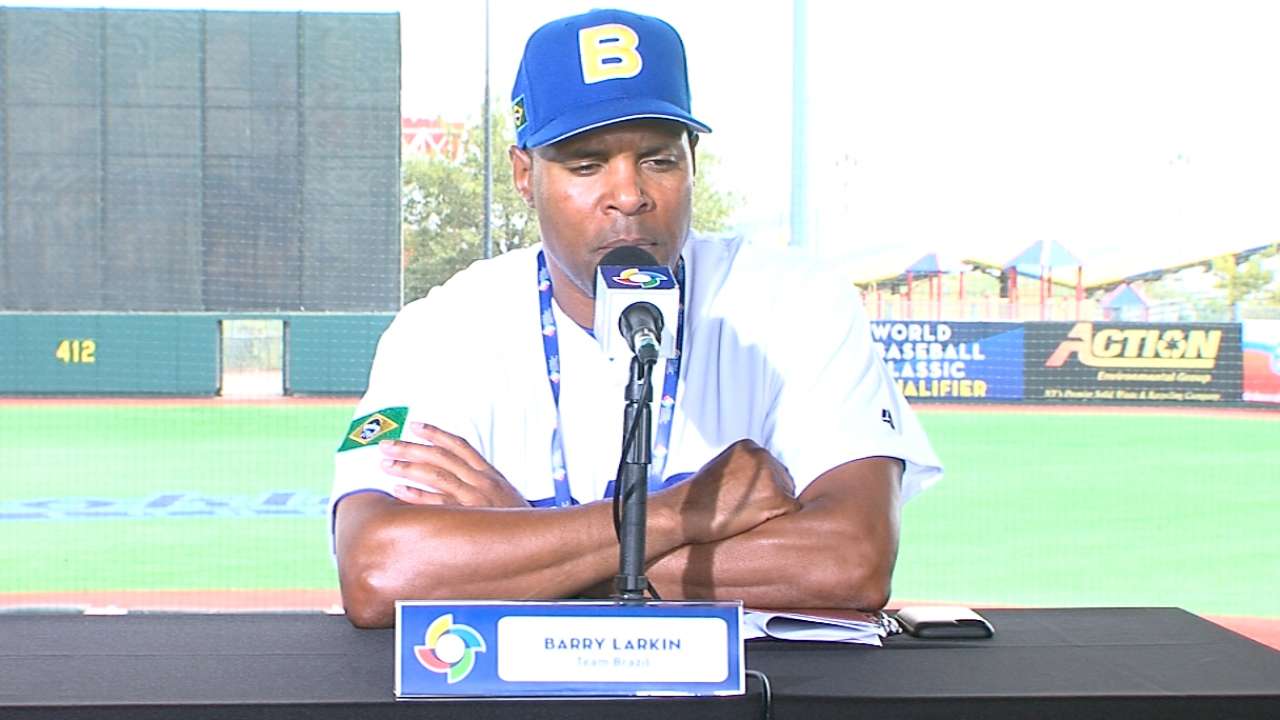 Larkin said this year's edition of the team is under no pressure to repeat this time as a favorite rather than an underdog.
"There's really no difference for us," Larkin said. "Remember, I was once a member of the media [as an ESPN baseball analyst] so I understand how this all works. I think the players understand that in order to win we have to execute.
"Whether people expect us to win or not, we don't go into this thinking about being underdogs or the favorite. We think about this as an opportunity to go out there and play the game we love. And the object of that is to win."
Pakistan, the No. 23-ranked baseball nation in the world, has a history of competitive cricket and has brought its national team.
Its manager, Syed Fakhar Ali Shah, is the 31-year-old son of the man who founded the Pakistani Federation Baseball in 1992.
Ali Shah said his team has cricket players who can throw the ball 90 mph. But they practice at home on the corner of soccer fields or cricket pitches without adequate equipment.
Their workout on Thursday morning on the artificial turf of MCU Park was their first on that kind of surface.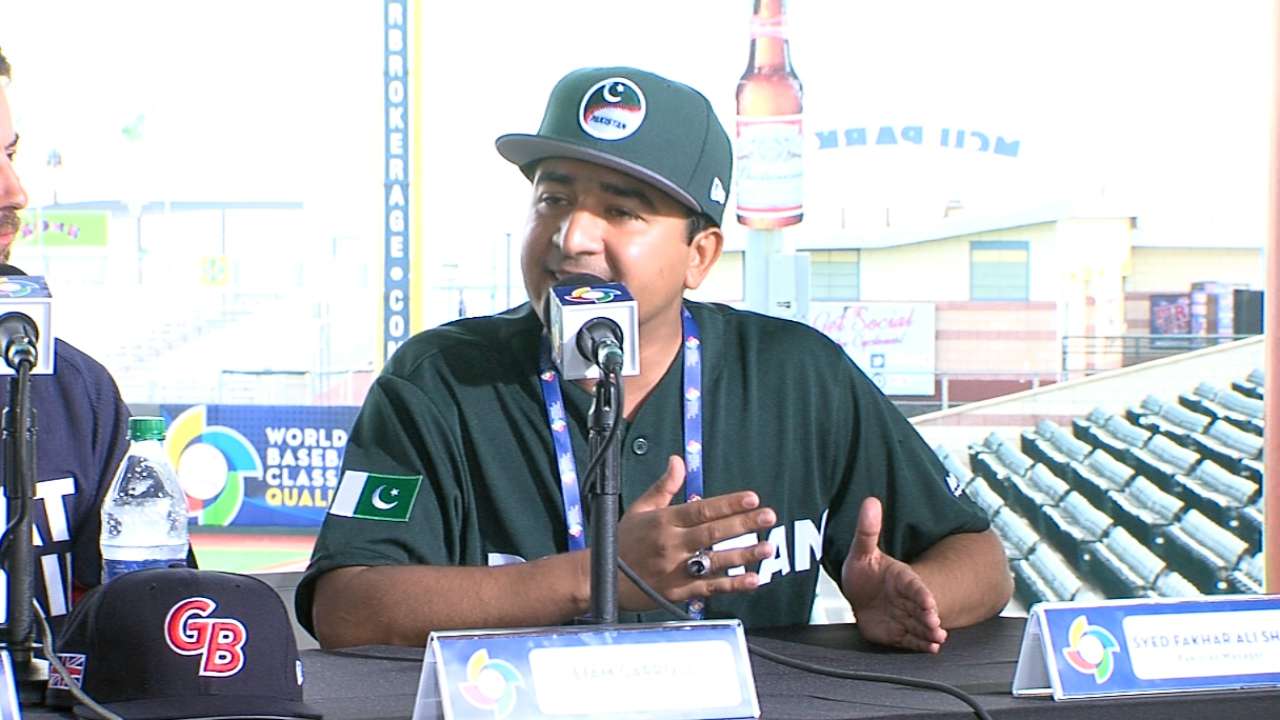 "They are excited," he said about his players. "We will get better as we practice over here, because the fields are good, the equipment is better and the baseballs are a lot different. We are competing against one of the best teams, and we will do our best."
The British have long competed in the European Baseball Championships, which have been dominated throughout the years by Italy and the Dutch. They are also making tiny steps toward improvement.
This year, their bullpen coach is a guy named Trevor Hoffman -- whose mother, Mikki, is English, and he is wearing the GB on his cap in her honor.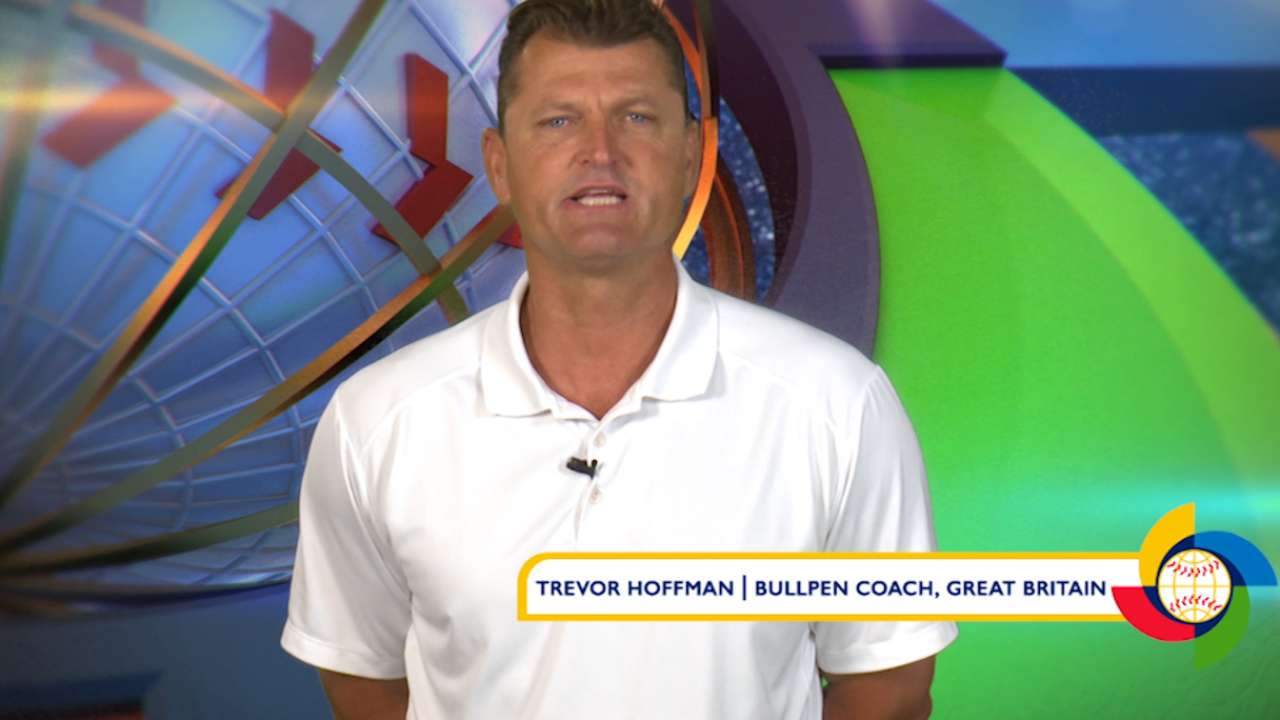 Hoffman, who holds the National League record with 601 saves, is a projected Hall of Famer coming upon his second year on the ballot. Hoffman is here as just one of the guys.
"This will be great," Hoffman said. "Hopefully we qualify and get over to Korea next March."
That's the goal, of course, for all four teams.
Barry M. Bloom is a national reporter for MLB.com and writes an MLBlog, Boomskie on Baseball. Follow @boomskie on Twitter. This story was not subject to the approval of Major League Baseball or its clubs.