Manfred: Evolving nature of game key to plan on pace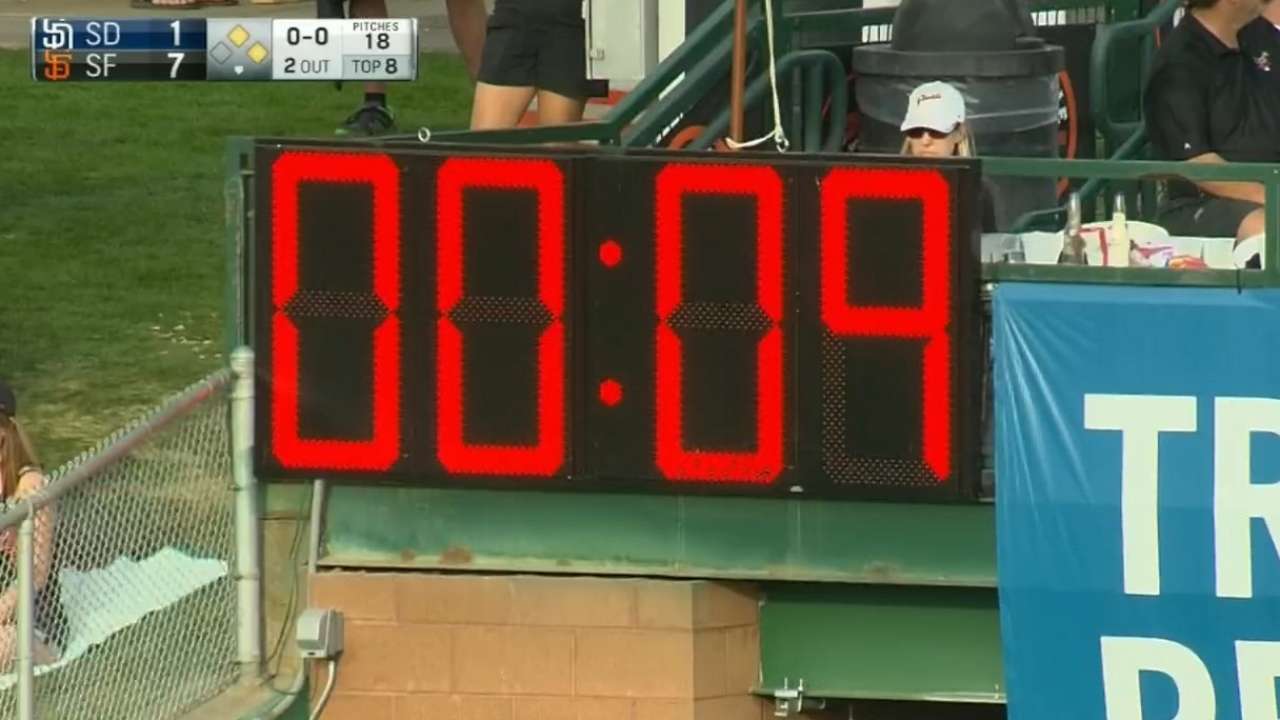 Major League Baseball Commissioner Rob Manfred was at Globe Life Park before the Rangers hosted the Angels on Tuesday night, lending his support to a ballot initiative that would provide public funding for a new retractable-roof stadium.
While he was there, Manfred also fielded questions from reporters on a wide range of topics, including former Heisman Trophy winner Tim Tebow's hopes of making it to the big leagues after signing with the Mets and reporting to the Florida Instructional League this week.
"I think it's an interesting development," Manfred said. "Obviously, you're talking about a great athlete. We're always excited about the prospect of great athletes playing Major League Baseball. That's what it's about at the end of the day. And we'll have to see how he develops, but it's obviously generated a lot of interest already."
Asked about pace-of-play initiatives, the Commissioner noted that part of the most recent Owners Meetings, in Houston last month, was devoted to a presentation that chronicled the changes in the game over the last 50 years and attempted to give them a historical context.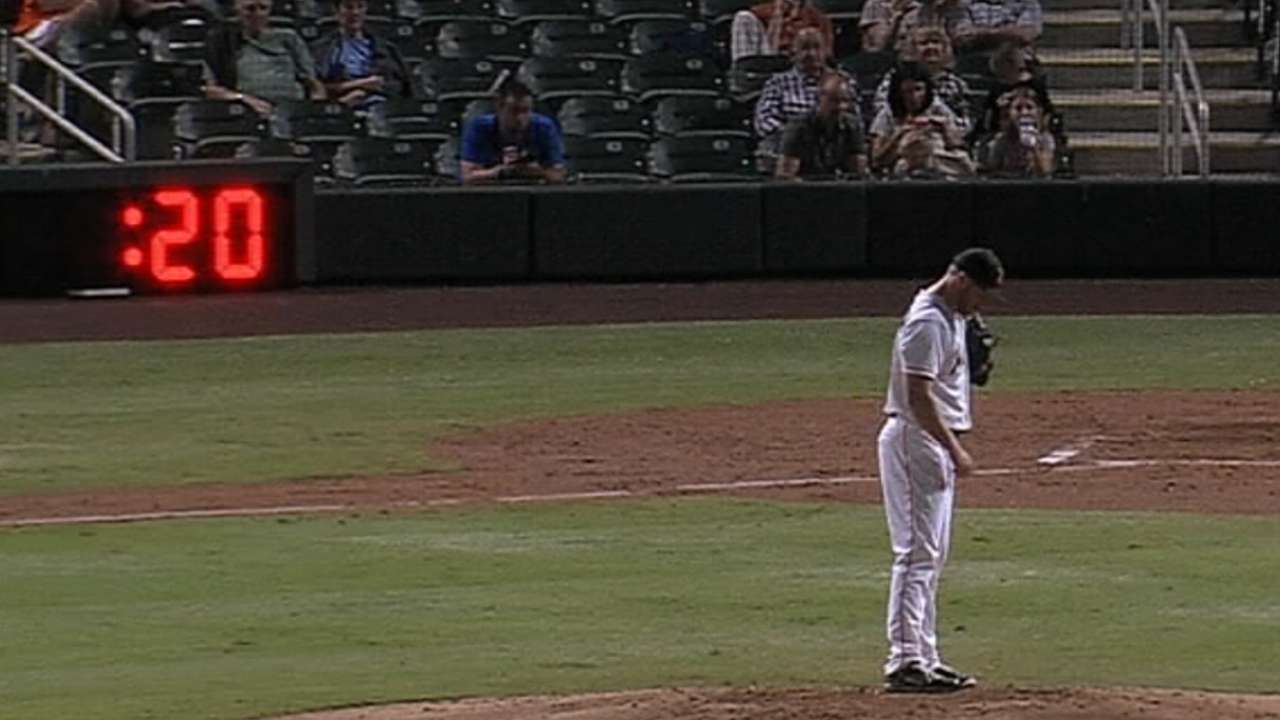 "I think that's going to be an ongoing and evolutionary process," Manfred said. "I think of the Owners Meetings in August as really the beginning of a comprehensive look at the game. I think there needs to be some analysis and research done -- which we're in the process of doing -- and then the conversation will begin with the owners as a group, how that evolution is going to take place.
"I think we'll be ready to advance the conversation, if not [at the quarterly meeting] in January, certainly by the May meeting."
The feedback to this point has been positive, Manfred added.
"The idea of looking at the game, looking at how our product looks to our fans on the field, is one that I think has appeal to ownership," Manfred said. "I think owners realize that the game has changed dramatically over the last couple of decades and it's a good time to take inventory of what we're doing -- and maybe make a decision to manage that change a little more carefully."
Manfred does not believe there is any momentum to change the designated-hitter rule.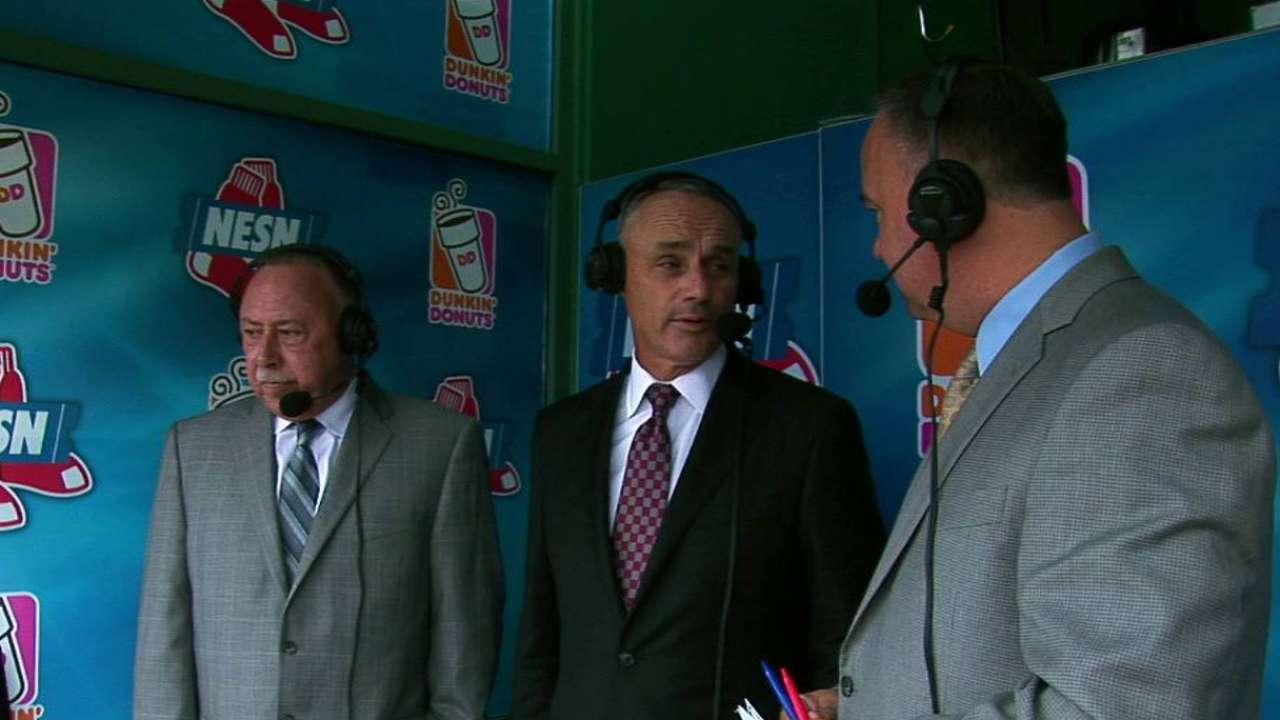 "I think the difference between the two leagues is important in maintaining league identity, and I also think it's a source of great conversation among fans," Manfred said.
The Commissioner said he preferred not to comment in depth on the decision by 49ers quarterback Colin Kaepernick not to stand for the national anthem and bring attention to what he considers to be an issue of social injustice, but Manfred added: "I respect -- and baseball has always respected -- people's rights to express their views."
Manfred continues to believe that MLB and the MLB Players Association can negotiate a new Basic Agreement to replace the current deal, which runs through Dec. 1, without a work stoppage.
"I'm optimistic about our ability to get a new Collective Bargaining Agreement," Manfred said. "There's been a lot of work done already. I think the pace of that work is going to pick up as we get close to the end of the season. I think people on both sides of the table understand that the game is doing well, and what should be important to both sides is making sure we keep the game on the field for our fans."
Manfred was also optimistic about Texas Live!, the new entertainment complex that will be built adjacent to both Globe Life Park and the Rangers' next ballpark, which is expected to open as early as 2020.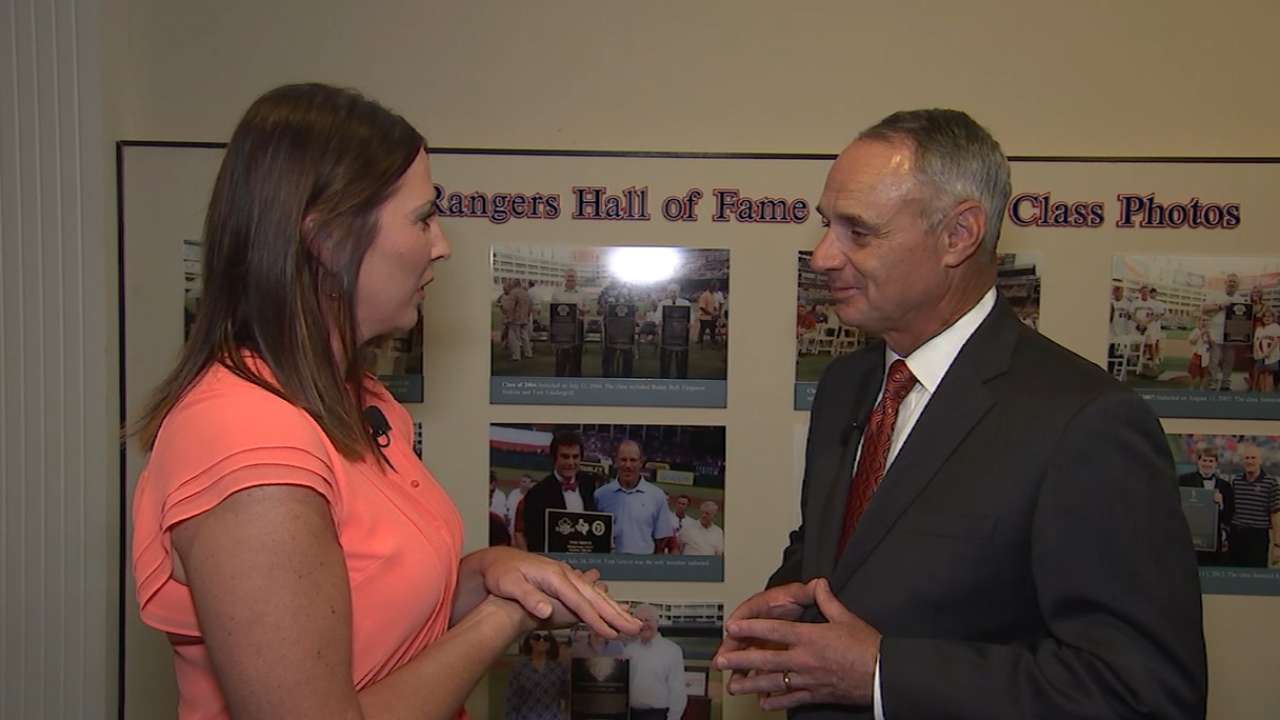 "We're going to end up with a facility here that's going to provide a comfortable, seasonal viewing opportunity for the fans of the Rangers as they come to see Major League Baseball, and a robust entertainment opportunity that surrounds that ballpark," Manfred said. "There's nothing better than that."
Paul Hagen is a reporter for MLB.com. This story was not subject to the approval of Major League Baseball or its clubs.