Ripken still a student in broadcasting booth
Hall of Famer discusses postseason, on-air personality at TBS Media Day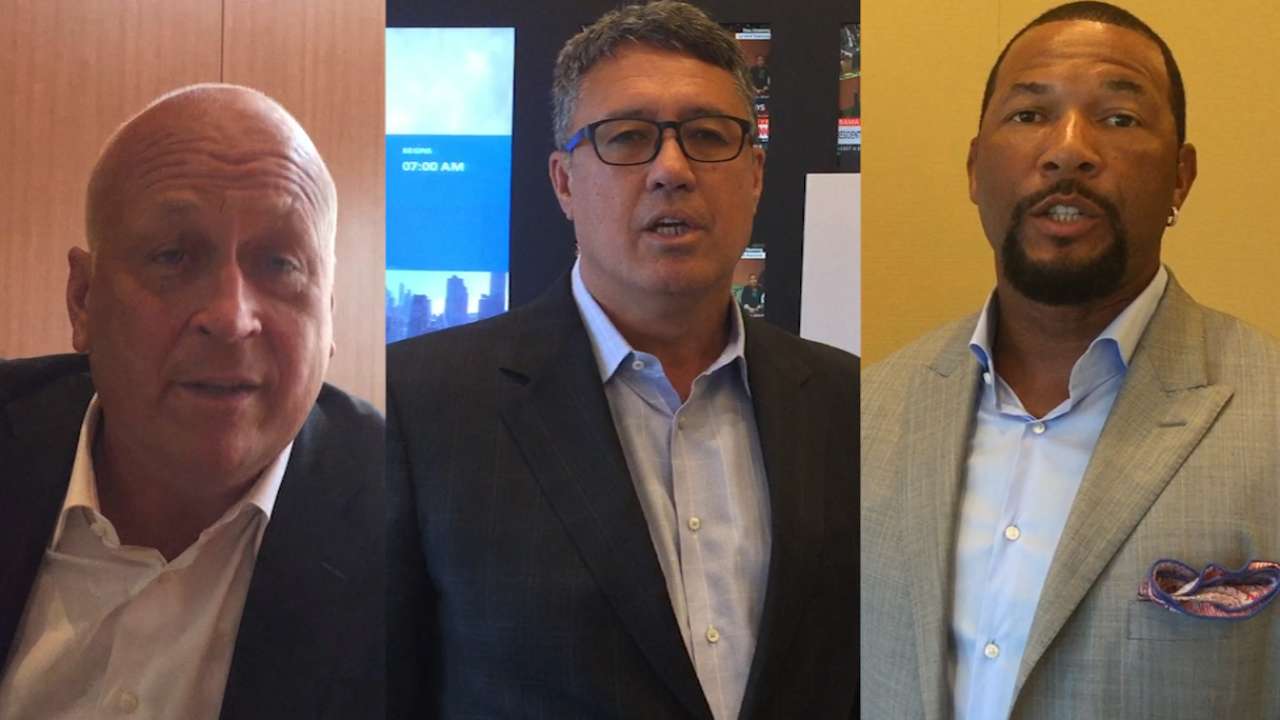 NEW YORK -- Tuesday was 18 years to the day since Cal Ripken Jr. asked out of the Orioles' lineup and ended the longest consecutive-game streak at 2,632 games. To beat his record, you need only play every day for more than 16 seasons in a row.
But real Iron Men don't just sit around talking about the old days.
Life for Ripken is always a lineup card with his name penciled in. On Monday, it was a meeting with Commissioner Rob Manfred to chat about their progress and goals in his new role as Major League Baseball's senior advisor on youth programs and outreach. And then it was here at the Time Warner Center for the TBS media luncheon, along with Ron Darling and Gary Sheffield, as they prepare for that network's 10th year of broadcasting postseason baseball, this time for American League games leading up to the World Series.
Ripken first gave broadcasting a try in that October 2007 postseason, as a studio analyst for TBS. He eventually moved into the booth alongside Ernie Johnson and Darling as the No. 1 crew, and now this has become a regular fact of life. Ten years later, and Ripken is on another streak. Only time will tell if he ever takes himself out of this lineup.
"Looking at Cal Ripken the broadcaster, I'm thankful that TBS thought of me," Ripken said. "I was always a big Ernie Johnson fan, and I came into the family by going down and rehearsing with Ernie. So I was in the studio first, and then placed into the broadcast booth, with Ernie and Ron Darling, two really professional guys. It makes it really easy to just focus on how the game unfolds, how the game plays.
"You're still trying to shape your style, your words, how you communicate that, but your main goal is to interpret what I see in the game and give that to your audience."
Earlier this season, while working a Dodgers game, Ripken was assigned by TBS to "interview" Vin Scully, who will sign off on Oct. 2 after 67 years of MLB broadcasts. Ripken said it wasn't long before the Hall of Fame broadcaster was asking the Hall of Fame player the questions.
"I guess I could always dream to aspire to be a Vin Scully, but I don't think anybody really can," Ripken said, when asked if Scully gave him any tips. "I know that I played the game, I love the game, I see the game sometimes in its complexities, and hopefully I'm able to do that. I don't know if Vin could give me any tips for being a broadcaster, because you first have to start with the great voice and the great vocabulary, two of the things that I don't have."
Ripken, Darling and Sheffield all predicted a Cubs World Series when put on the spot Tuesday. Ripken and Sheffield see the Rangers as the likeliest AL opponent, and Darling sees a Cubs-Red Sox matchup of two iconic ballparks with Theo Epstein as a common thread.
In addition to adding Aroldis Chapman, Ripken said the Cubs' experience from last year's National League Championship Series will be a big factor. He recalled the 1983 World Series, when he was a second-year player and went 3-for-18 but had help as Baltimore beat Philadelphia in five, saying it took a couple of games in that series to lock in because of "too much adrenaline."
"You felt stronger than you really were," Ripken said. "When you get a chance to play in the playoffs, you get a feel for what it means to you personally. 'How do I control my adrenaline? How do I stay within myself? How do I deal with the importance of these games?'
"They have expectations to not only win in the regular season, but to take it a little bit further. So experience and understanding how to play, they know what it's like. It's something you can't tell or teach, you just have to experience it yourself. So I think that experience is going to help them."
One of the thrills for Ripken in the next month will be watching the last licks for David Ortiz, who just matched Dave Kingman for most homers (35) in a farewell season. Ripken said his own 2001 farewell season was harder because it was a "rebuilding situation," whereas Ortiz comes to work each day knowing what he has to do for a bona fide contender.
"He's been an amazing performer all the way to the end," Ripken said. "His numbers are astonishing right now. In some ways, you're thinking, 'How in the world can you walk away when you're still performing at that level?'
"I've enjoyed watching Big Papi. I expect him to perform really well in the playoffs. He's always a clutch hitter in the playoffs, and so you root for him to go out on his terms, and I think he has done it just that way."
Tim Kiely, vice president and executive producer at Turner Sports, said the second TBS postseason crew will be Brian Anderson (play-by-play) with Hall of Famer Dennis Eckersley and Joe Simpson. Sheffield will be joined in a new and cutting-edge TBS studio by Hall of Famer Pedro Martinez, with Casey Stern hosting and possibly a fourth person to be added.
Mark Newman is enterprise editor of MLB.com. Read and join other baseball fans on his MLB.com community blog. This story was not subject to the approval of Major League Baseball or its clubs.