Rangers set to begin Texas Live! construction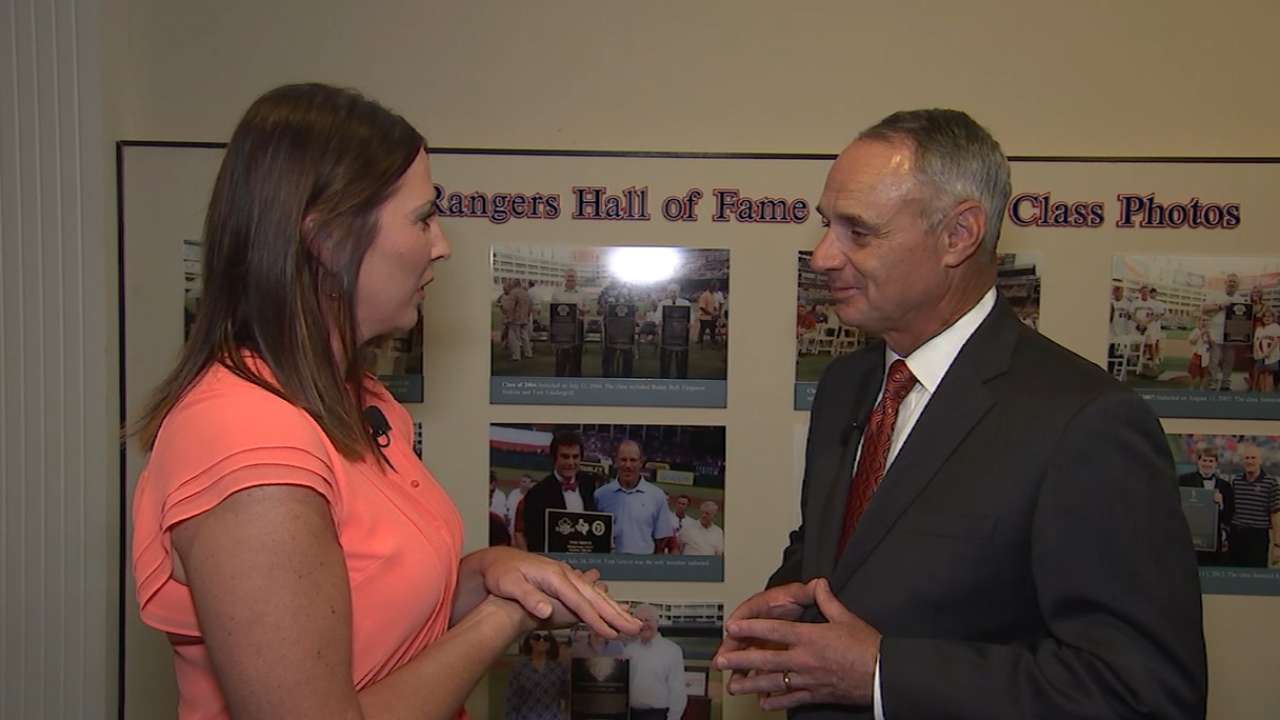 ARLINGTON -- The Rangers are just about ready to begin the construction of Texas Live!, the entertainment complex that will be built adjacent to both Globe Life Park and the new ballpark, expected to open as soon as 2020.
The new ballpark still needs the approval of Arlington voters in a Nov. 9 election, but Texas Live! has advanced beyond the planning stage, and the scope of the project has doubled since planning began nine months ago.
"We're looking forward to the beginning of building the Texas Live!, [to] start immediately after winning a World Series," Rangers co-owner Ray Davis said at a news conference on Tuesday to reveal the plans, developed by Baltimore-based Cordish Companies.
Blake Cordish, vice-president of the Cordish Companies, unveiled three major areas to be developed at Texas Live! One is Rangers Republic, which will be the "ultimate fan clubhouse" and a 30,000-foot dining and entertainment venue dedicated to the Rangers heritage.
Live! Arena will be a 35,000-foot, multilevel central gathering place that will serve as the "living room" of the complex. Arlington Backyard will be a 5,000-person outdoor event pavilion that could host concerts, festivals and community activities.
"We could not be more excited about the vision we have laid out today," Cordish said.
Major League Baseball Commissioner Rob Manfred attended the news conference and reiterated the need for the Rangers to have a climate-controlled facility in the Texas heat. If the $1 billion ballpark is approved, it will have air conditioning and a retractable roof similar to that at Minute Maid Park in Houston.
"The great thing about this ownership group is that they think big," Manfred said. "Ray has been talking to me about this project. I must admit, the very first time we had a conversation on it, I hung up the phone and thought, 'Wow, there is a big thought there.' Hats off to him."
Manfred said the new ballpark and surrounding entertainment complex will serve three important constituencies, beginning with Rangers fans.
"We're going to end up with a facility here that's going to provide a comfortable, seasonal viewing opportunity for the fans of the Rangers, as they come to see Major League Baseball, and robust entertainment opportunity that surrounds that ballpark," he said. "There's nothing better than that."
Manfred believes the new facility will help the Rangers attract better talent on the field, and provide an opportunity for Major League Baseball to take better advantage of the Dallas-Fort Worth market.
"Obviously, some of our jewel events, most notably the All-Star Game, take place in the middle of the summer," he said. "To have a market like Dallas-Fort Worth [have] a stadium that's climate controlled, it's an opportunity for us to bring these special events to a market that's really important for us."
Davis said the Rangers expect Globe Life Park to be integrated into the new facility rather than razed.
"It's our intent to preserve the existing facade of our current facility," Davis said. "I've had many conversations with Tom Schieffer and President [George W.] Bush about what a beautiful stadium they've built. It is my sincere desire that we can build a stadium that will complement both the architecture and the character of our existing facility. We hope to repurpose our current facility by leaving in place what we already have."
The Cordish Companies has experience in doing that. Among its many development projects was turning a Baltimore waterfront power plant into an office and entertainment complex that blended into the rejuvenated city harbor area and is adjacent to the city's world-famous aquarium. The firm did the same to a power plant in downtown Kansas City, converting it into a major entertainment complex.
"It's been exciting to see what's happened here in this entertainment district," Arlington Mayor Jeff Williams said. "Today we're talking about projects that are transformational. They're transformational for the Texas Rangers and Major League Baseball, they are transformational for our community and north Texas and, most importantly, they are transformational for our families. We draw families from all over the region that come to us."
T.R. Sullivan has covered the Rangers since 1989, and for MLB.com since 2006. Follow him on Twitter @Sullivan_Ranger and listen to his podcast. This story was not subject to the approval of Major League Baseball or its clubs.