Skaggs feeling 'pretty good' after playing catch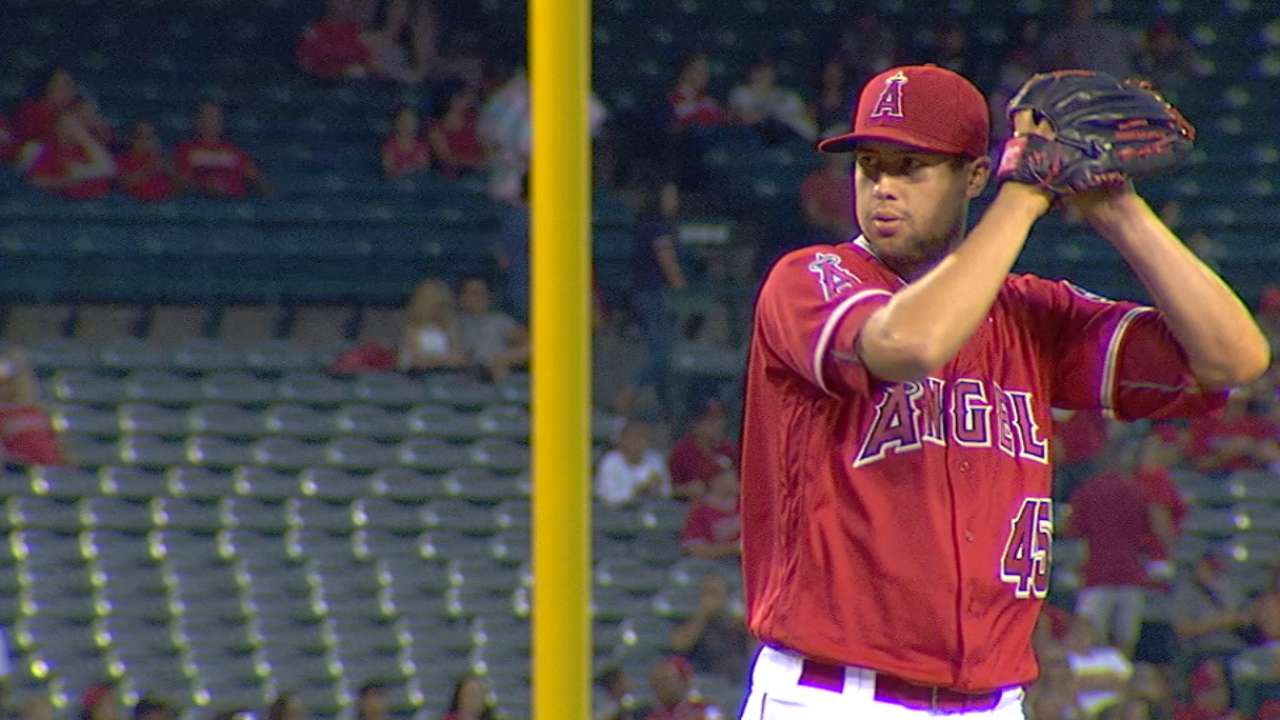 ARLINGTON -- Angels left-hander Tyler Skaggs is still not sure if he will make another appearance this season as he deals with a mild flexor-pronator strain in his left forearm. But he took a positive step on Tuesday, playing catch from 90 feet.
Skaggs, who said he felt good after playing catch for the first time since being scratched from his start last Wednesday, is expected to play catch from 120 feet on Wednesday. He's not sure when he'll be able to start working off a mound.
"Just all four-seamers today, nice and easy, getting loose. I felt pretty good," Skaggs said. "The more I throw, the better I'm probably going to feel. The first day is always about feeling out the cobwebs."
Manager Mike Scioscia confirmed that the team has not set a timeline for Skaggs' return. It's possible he may finish out his year in the instructional league, not the Majors.
"If it does feel good, I'll hopefully go out there and pitch one of the last days [of the season]," Skaggs said. "You can always go to the instructional league and get some innings in. I wouldn't like to, but if it needs to be done, I'm down for whatever."
Skaggs returned to the Angels in July after missing nearly two seasons while recovering from Tommy John surgery. He underwent an MRI last week that revealed no damage to the repaired ligament.
Even if Skaggs does have to finish the season in the instructional league, he'll consider this year a win, health-wise, as he was able to surpass 80 innings between his time with the Angels and rehab starts in the Minors.
"He needs to have a rehab where he feels good," Scioscia said. "Then we can see if he's going to pitch with us, or maybe [it will be] an instructional league situation where he can go out and prove this is all behind him."
Worth noting
• Scioscia said that right-hander Garrett Richards felt good after throwing a 30-pitch bullpen session on Monday. It was Richards' second time throwing off a mound since tearing the ulnar collateral ligament in his elbow and opting not to undergo Tommy John surgery.
"That comfort level will grow [to the point where] he's fine and ready for Spring Training," Scioscia said. "We're keeping our fingers crossed, but the first couple times off the mound have been resoundingly positive for Garrett, and hopefully, that will continue."
• Geovany Soto is back to swinging a bat after a fluke injury -- he sprained his ankle on Sept. 12 after slipping in the dugout -- set him back as he recovers from the inflammation in his right knee that's kept him on the disabled list since Aug. 17.
"Once he gets to running, we'll have an idea of when he'll be ready," Scioscia said.
• Kole Calhoun is expected to rejoin the team in Houston for this weekend's four-game series against the Astros. He did not travel with the Angels to Arlington as he and his wife, Jennifer, await the birth of their first child.
• Right-hander Jhoulys Chacin is expected to make his next start, on Saturday against the Astros, after taking a liner off his left shin during Monday's loss.
Ryan Posner is a reporter for MLB.com based in Texas and covered the Angels on Tuesday. This story was not subject to the approval of Major League Baseball or its clubs.