MLB.com Columnist
Paul Hagen
Ortiz: Being enshrined in Hall is 'important'
Slugger waxes poetic about his monumental final season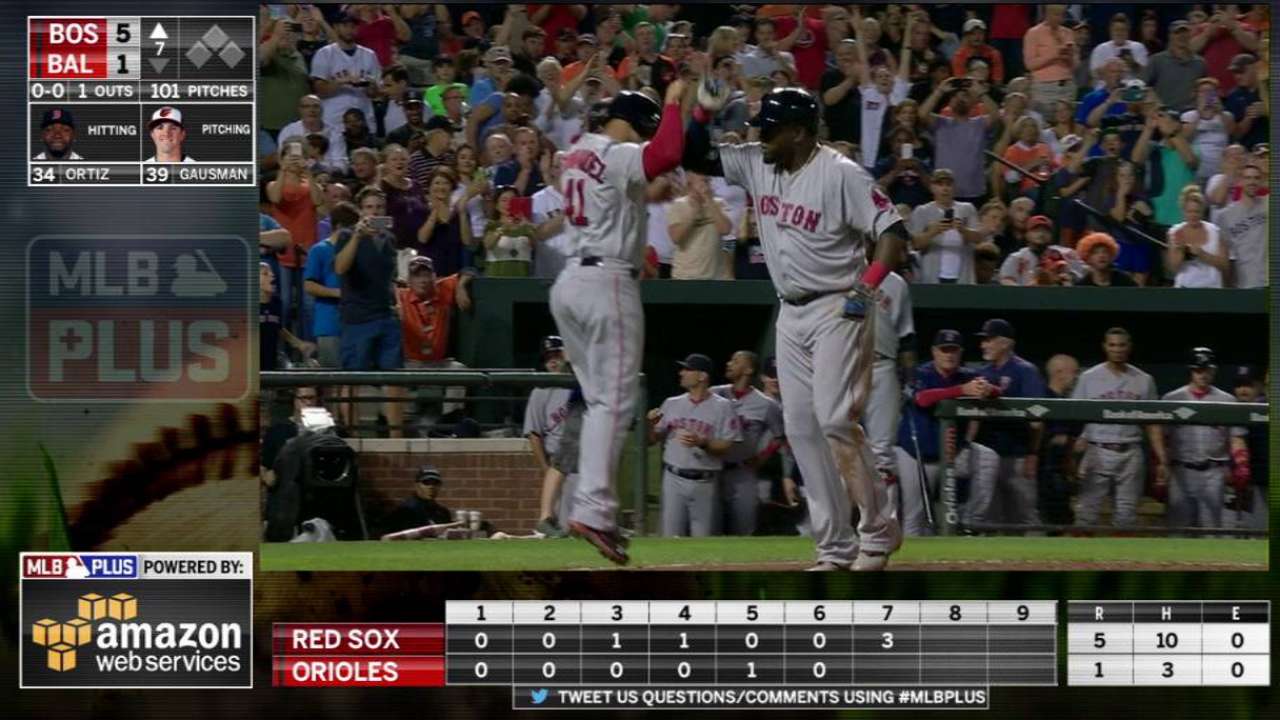 BALTIMORE -- With each day that passes, the end comes more sharply into focus. The Red Sox have 11 regular-season games remaining, which means that's how many David Ortiz has left in his exemplary career.
Then there's the postseason and then Ortiz will retire. It seemed so abstract when he announced 10 months ago this would be his last go-round. In the heat of a pennant race, it was easy to set aside. Now it's getting pushed to the forefront.
Two weeks ago when the Red Sox made their final scheduled trip to Toronto, Ortiz did a news conference. He did another Tuesday night at Camden Yards and will do the same when the Red Sox visit St. Petersburg and New York, closing out their American League East stops for the year.
As Ortiz sat in the visitors' dugout prior to Boston's 5-2 win over Baltimore, Big Papi was at times introspective, at times funny, at times expansive. The only query that made him a bit emotional came early in the 17-minute session when he was asked why this is the right time to call it quits. Yes, Ortiz is 40 years old. After his three-run blast in the seventh off Orioles starter Kevin Gausman, he also has 36 homers and 121 RBIs to go along with an amazing 47 doubles.
Ortiz paused. He sighed.
"It's just, my body, just," Ortiz began haltingly, before finding the right words to express the feelings that had surfaced. "I wish I could keep playing. It takes a lot out of me to prepare every year for the game. I've been dealing with this for pretty much the last four years, and every year it gets worse. You know what I'm saying?
#RedSoxhttps://t.co/sqsqkkttro pic.twitter.com/N9IcIQZdZY

— Boston Red Sox (@RedSox) September 21, 2016
"I've got to put a lot of effort and work into preparing to perform at the highest level out there. And at some point, it wears you out."
Ortiz has been a player who, over 20 years in the big leagues, has become known for getting the biggest hits in the biggest games. He's one of the biggest reasons the Red Sox have won three World Series championships and are well-positioned to make a run at a fourth this year.
• Papi tells fan he just missed homer, then goes deep
And, Ortiz said with a broad smile, he believes he can still contribute to the continued success of the franchise even after he's hit his last home run.
"I'm so happy with what I've seen," said Ortiz. "I'm retiring, but it's not like I'm going to forget about the Red Sox. I'm always going to feel for this ballclub. Like I always see Jim Rice. I see Pedro [Martinez]. Those guys always want the ballclub to do well. I'm going to be in the same situation, and those guys always look forward to making sure the players get better. You have no idea how many times Jim Rice or Pedro approached me, approached players when we're struggling to help us get better.
"I'm happy to see how things are going here in my last year. I know this organization is in good hands."
Ortiz talked about how impressed he is with his younger teammates.
"They got the memo," Ortiz said approvingly.
Ortiz said he knew Hanley Ramirez would have a bounce-back season after returning to the infield. Papi praised the improvement in the team's pitching. But he saved his highest accolades for second baseman Dustin Pedroia, citing him as the primary reason he believes the Red Sox won't miss a beat without him.
"I'm older than Pedroia, and I learn just from watching him," Ortiz said. "He's the best thing you could have on a ballclub -- ever. The leadership coming from Pedey plus all these young guys already knowing how to put themselves together. And they're going to have my phone number."
• Researchers name shark after Papi
Inevitably, though, the conversation drifted back to him. How does Ortiz explain that he's already bettered the record for homers in a farewell season (Dave Kingman had 35 in 1986) and is closing in on the record for RBIs (123 by Shoeless Joe Jackson in 1920).
"I worked this offseason. I wanted to have a good year," Ortiz said. "The fans deserved it, man. They've been very supportive. Every player, in the last season of playing for the fans, wishes he could put a good season together. I didn't know it was going to turn out to be this good, but I worked for it.
"I've played in a lot of pain. I've taken a lot of anti-inflammatories and stuff like that. But it is what it is, man. I love this game. This game is my everything. But not forever."
Ortiz declined to say what he thinks his legacy will be, but he made it clear how he'd like to be remembered.
"I really believe that when you treat everybody the right way, when you stay humble, when you respect people and show people love, people aren't going to forget about that," Ortiz said. "I feel like I've been that way with everybody. And that's better than just being thought about as a guy who used to hit home runs."
With 539 homers (and counting) and 1,762 RBIs, Ortiz could be inducted into the Hall of Fame as early as 2022. The hitch is that Frank Thomas is the only designated hitter to make it to Cooperstown. ... and he played a lot of first base earlier in his career. Mariners fans politic for DH Edgar Martinez, but he's fallen short so far.
Ortiz first said he hasn't know enough about the process to know whether being primarily a DH throughout his career could be an issue.
"You go to the Hall of Fame if you put up numbers," said Ortiz. "That's what it seems like. I haven't seen anybody get into the Hall of Fame without numbers. That's what it's based on. Most of the guys in the Hall of Fame have won a lot of championships and put up personal numbers and have done a lot of things for the game. So I'm not going to kill myself thinking about it right now. We'll see how it plays out."
Ortiz's tone changed, though, when he was asked if going to the Hall of Fame was important to him.
"When you've played as long as I've played and done what I've done," Ortiz said softly, "of course it gets to be important."
Paul Hagen is a national columnist for MLB.com. This story was not subject to the approval of Major League Baseball or its clubs.