Alomar eyes Puerto Rico for Tournament 12
Blue Jays great would like to bring high school tournament to native country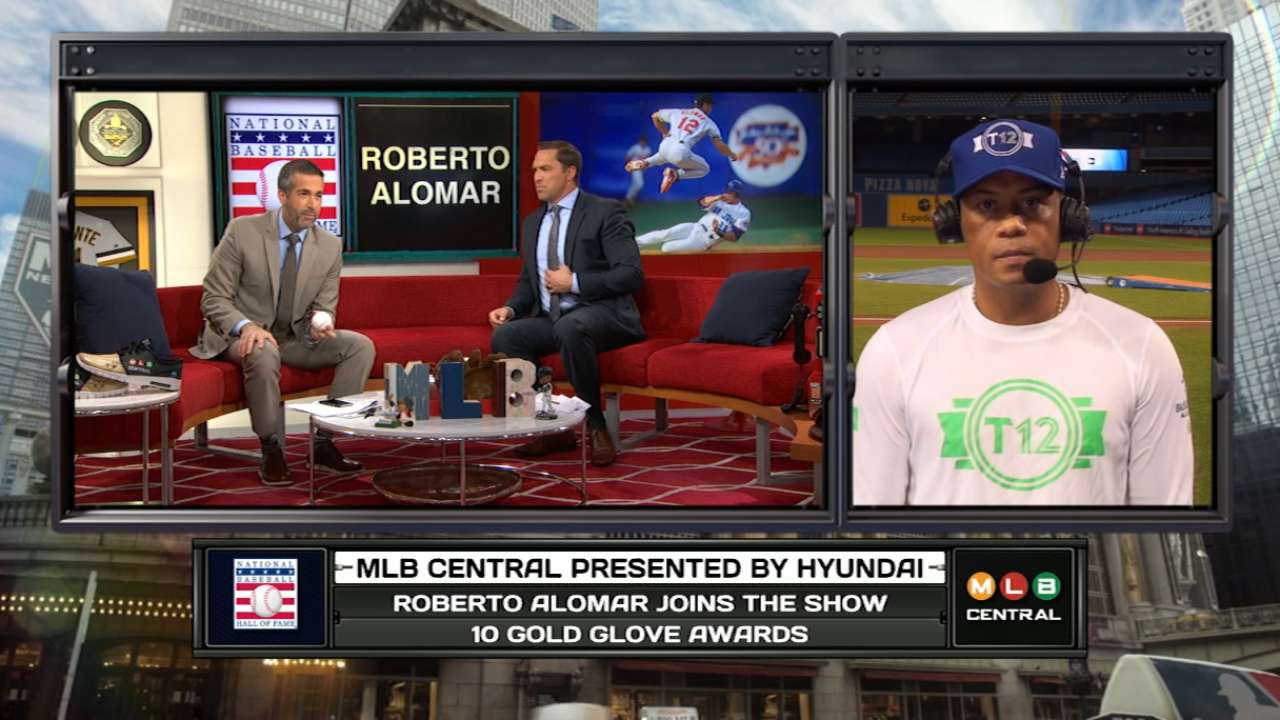 TORONTO -- For four years, Tournament 12 has been a showcase bringing together the top high school baseball talent that Canada has to offer, and as the Blue Jays-hosted event continues to grow, commissioner Roberto Alomar -- for whom the event is named -- could take it in another direction entirely.
The Hall of Fame second baseman's desired route would be to head back to his native Puerto Rico, another place where a number of young players could benefit from exposure that the Blue Jays Baseball Academy's tournament at Rogers Centre has provided in the country he played in for five years.
"I would love to take it to Puerto Rico," the 12-time All-Star said. "I know how important this is for the kids and for baseball, and hopefully next year I can bring it to Puerto Rico. If not, I would like to bring a team from Puerto Rico to come and play in this tournament. That would be great."
Getting his first glimpse at the showcase on Thursday, Alomar's friend and fellow Puerto Rican Carlos Delgado made his way to the fourth annual event to take in a couple of days on the field and see what it had to offer.
"This is a great opportunity," Delgado said. "Sometimes kids don't get the exposure they need, and bringing them to Toronto and having all the scouts in the stands, it's great. And the competition itself, playing against the best amateur players in the country, it would be a great experience.
"It's a nice treat for the kids to come out and play here at Rogers Centre, and with some of the alumni. Robbie's done a fantastic job to give these kids an opportunity."
Though Delgado felt that words could barely express the level of impact that a similar tournament could have in the country where he was born, he tried to put it into perspective.
"It would be really huge if this could happen in Puerto Rico," the three-time Silver Slugger Award winner said. "Especially now with the Draft. Robbie and myself signed just before the Draft, so if you did well and scouts were there, they signed you on the spot. Now you have to wait -- Canadians, too -- they go in the same pool with Americans, and it's not the same setup. They don't have the same facilities, and they can only pick 1,200 players.
"So we have a little bit of a disadvantage there, and having the opportunity to expose your talent to a big group of scouts is phenomenal. Whether you make it to professional ball or not, they have an opportunity to get an education out of their tools. It's phenomenal, and hopefully it can be done in Puerto Rico. ... When I was growing up, I didn't have any opportunities like this. You don't get to come to Rogers Centre and work out in front of all these people."
Jose Cruz Jr., another former Blue Jay and Puerto-Rican born player, saw what Tournament 12 had to offer for the first time this year, taking in almost every game between watching his 18-year-old son Trei play for the Ontario Green team, and seeing his 17-year-old son Antonio play for the championship-winning Ontario Black squad.
"I wasn't expecting anything like this," Cruz Jr. said. "Both my boys were born in Canada, so it's something that they're able to be a part of. TJ [Burton, tournament coordinator] brought it to my attention about doing something like this, and we thought it was a really good idea, for the experience here at Rogers Centre, aka SkyDome, what I know it as.
"I'm really happy for them to be able to be here to compete, go to a different place, watch how they play baseball, and just have a good time and take whatever they can take. Plus, they get a chance to talk to Roberto Alomar and Sandy Alomar and they talked to Carlos Delgado and George Bell. These are just some really good people to be around and take whatever they can from. I'm really appreciative of that."
After seeing the impact of the event in Canada, the former outfielder and Gold Glove Award winner would love to see what it could do for the young players in Puerto Rico.
"It's needed down there," Cruz Jr. said. "Not everybody gets a chance to be seen. It's not that it means that everybody's a Major League baseball player or a professional baseball player, but it's just the simple fact of giving yourself an opportunity to maybe get your education paid for maybe see things and experience things that you otherwise would not.
"It's something, and of course it would bring the morale out on the island. The island needs it, and with Robbie's name, his pedigree, it would be well received. I would want to be involved."
A complete success through the first four years of its run north of the border, Alomar is hopeful that he can continue and expand.
"T12 is an opportunity for the young guys here in Canada to be seen by the scouts, from college and professional baseball, and hopefully we can make their dreams come true," Alomar said. "This is our fourth year doing Tournament 12, and over 50 guys have been signed, going to play professionally and going to college, and I'm so glad that we have touched on this great opportunity. Now, we'll see what else we can do."
Alexis Brudnicki is a contributor to MLB.com. This story was not subject to the approval of Major League Baseball or its clubs.