MLB.com Columnist
Barry M. Bloom
Larkin's Brazil squad ready for Brooklyn qualifier
Hall of Famer eyes spot for club in 2017 World Baseball Classic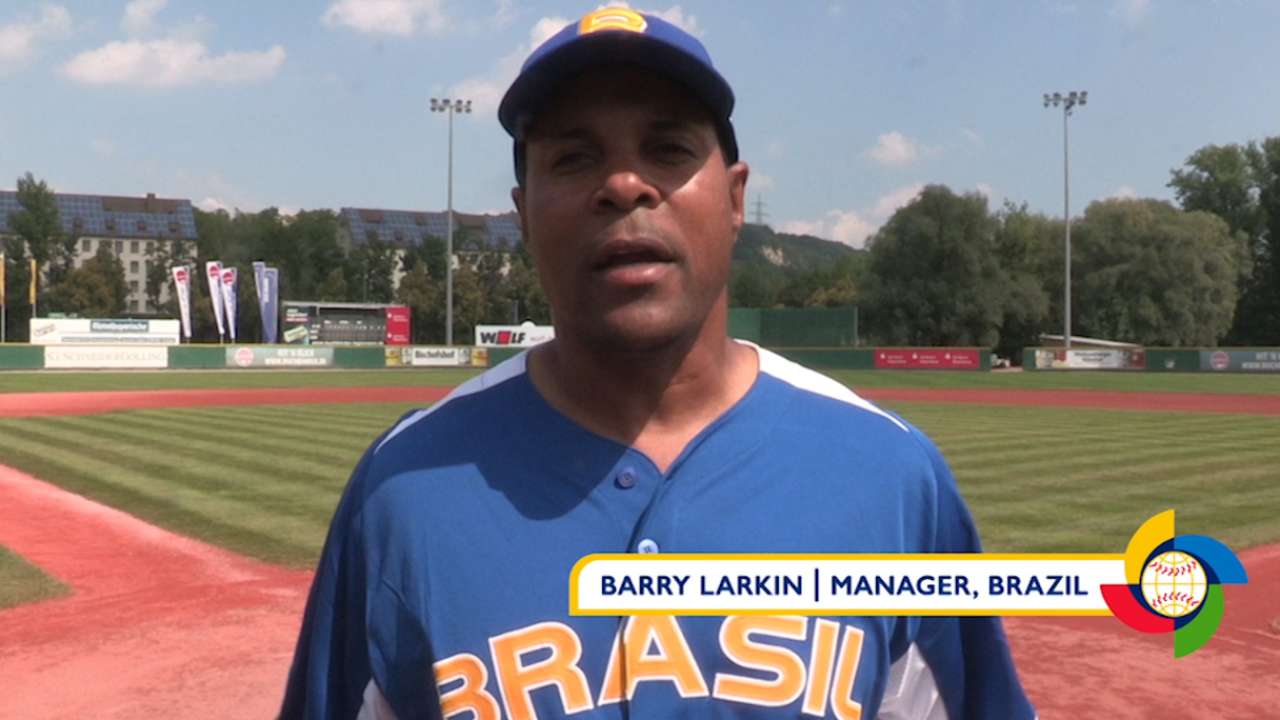 NEW YORK -- Hall of Fame shortstop Barry Larkin is back at it as manager of Team Brazil. It's his second time around, and in November 2012, his team survived the World Baseball Classic qualifying bracket in Panama City, Panama, only to be eliminated six months later after losing all three 2013 WBC games in Pool A in Fukuoka, Japan.
Reconstituted Brazil will have to qualify again. The Brazilians are in the Brooklyn bracket this weekend with Israel, Great Britain and Pakistan at MCU Park, the home of the Mets' Class A Brooklyn Cyclones, set right off the boardwalk on Coney Island.
Brazil opens the modified double-elimination tournament on Thursday with a 12 p.m. ET start against Pakistan.
Classic schedule, tickets | Scoreboard | Highlights
The winner will join the elite final 16 next March and travel to Seoul, South Korea, for Pool B play against host South Korea, Chinese Taipei and the Netherlands.
In 2013, Brazil was the surprise of its qualifier, which opened four years ago Tuesday.
"It was a fantastic experience," Larkin recently told MLB.com about his team's unexpected success. "We had a few of our players of Japanese descent. It was a great experience for the players. It was a great experience for me."
This time, the goal is get back to the main field of teams and proceed beyond the first round. Larkin said it was important to pick his own coaches. Last time he didn't, and there was no one with any big league experience. This week, Larkin will have the support of two former Major League players -- Steve Finley and LaTroy Hawkins -- as his hitting coach and pitching coach, respectively.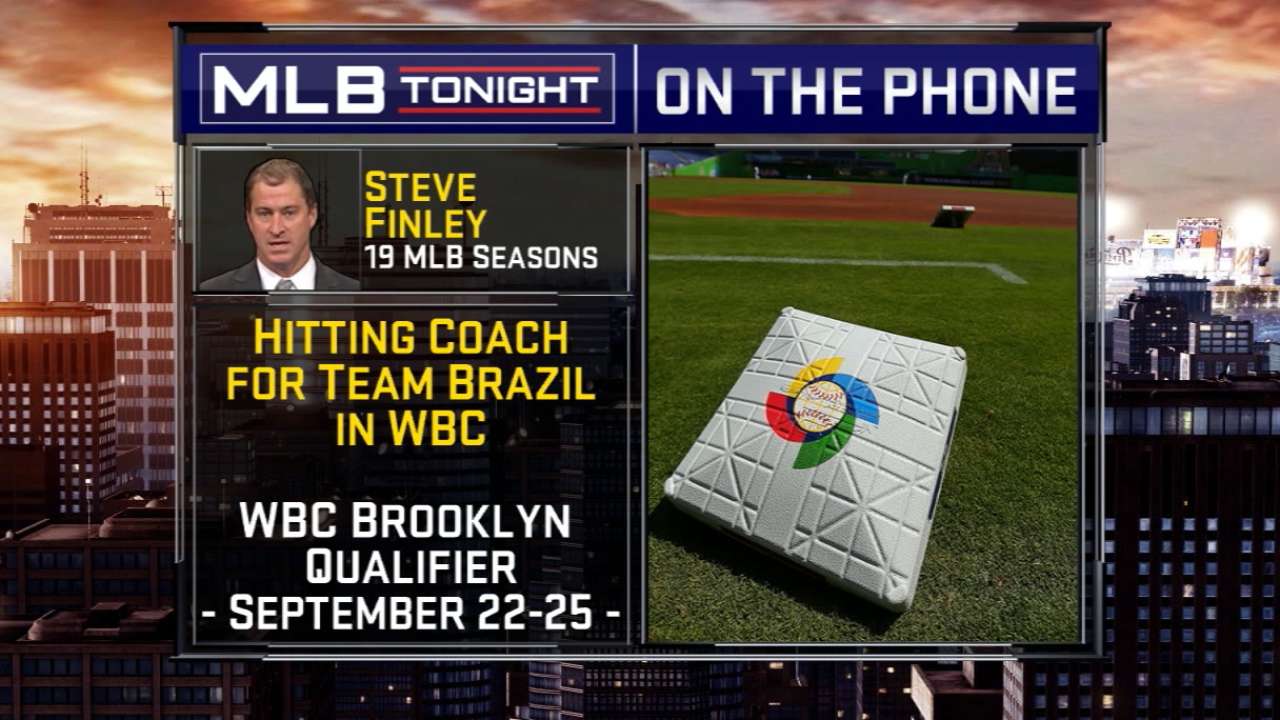 "I think that was the biggest thing that we have some coaches that had some experience in what to say and work with the players, some big league experience," Larkin said. "I think it would have been a different outcome if we had that in 2013.
"Those guys will be able to help and make some in-game contributions to the guys. It's kind of tough for me to do that -- to talk hitting and situations -- at the same time I'm trying to manage a game."
Of Finley, Larkin said: "He's had some experience working down in Brazil at the elite camp. We have the same kind of philosophy as far as hitting is concerned."
Of Hawkins: "He's been down there since his retirement working full-time as the pitching guy. They both have history with elite players. And when the elite players left, we brought in the national team. So they both have a tremendous background with these players."
It's safe to say that Brazil was the surprise team early in the 2013 tournament. Yan Gomes, now a catcher and first baseman for the Indians, led Brazil to win the qualifier by batting .333 at Rod Carew Stadium. Brazil defeated host Panama, 1-0, in the final game of that bracket.
In Fukuoka Dome, Brazil lost close contests to Japan, Cuba and China, by combined scores of 15-7. The Brazilians allowed five runs in each of the three games, but never scored more than three.
Against two-time World Baseball Classic-winning Japan, Brazil led, 3-2, heading into the bottom of the eighth before the Japanese came back with three runs to win the game. Japanese captain Shinnosuke Abe, now a 16-year veteran of the Japan Leagues, pinch-hit and drove in the winning runs with a single.
"We played the host team in the first game and we were actually winning late in the ballgame," Larkin said. "We fell apart late. They exploited some of our weaknesses."
Larkin was a 12-time National League All-Star during his 19-year Major League career, all with the Reds, that ended in 2004. He had an outstanding slash line of .295/.371/.444 and was inducted into the National Baseball Hall of Fame in '12, the only member elected by the Baseball Writers' Association of American in that class.
Larkin is currently working for the Reds as an organizational coach in player development, but he said that despite the experience in the Classic, he has no desire right now to manage in the Majors. Two Hall of Famers have recently tried: Ryne Sandberg, who fell short of lasting two full calendar years with the Phillies, and Paul Molitor, currently in his second season managing the last-place Twins.
"At this point in my life and my career, the greatest impact I can still make is working with the Minor Leaguers and helping to change the culture within the organization," Larkin said. "Maybe at a time when that's taken root and heading in the right direction, if a managing opportunity arises, I'll take a look at it. They've certainly asked me about it. It's something I might eventually consider, but it's not an aspiration at this point."
Larkin's duties with the Reds limited his on-field presence this summer as his current Classic team was formed and worked out in Brazil. He will take a good look at the current roster in person for the first time before the games begin.
This time, Brazil is expected to win among a field of countries with limited baseball experience.
"I got reports from the workouts and how guys were doing," Larkin said. "I got some video to look at. It's a collaboration. What the competition is going to look like, it's certainly consequential, but it's about us playing the brand of baseball we're capable of playing.
"The reason we won down in Panama was not because the teams had players or didn't have players. It was that we were able to execute. That's what I will expect again from them."
Barry M. Bloom is a national reporter for MLB.com and writes an MLBlog, Boomskie on Baseball. Follow @boomskie on Twitter. This story was not subject to the approval of Major League Baseball or its clubs.