Myers continues to tame Petco Park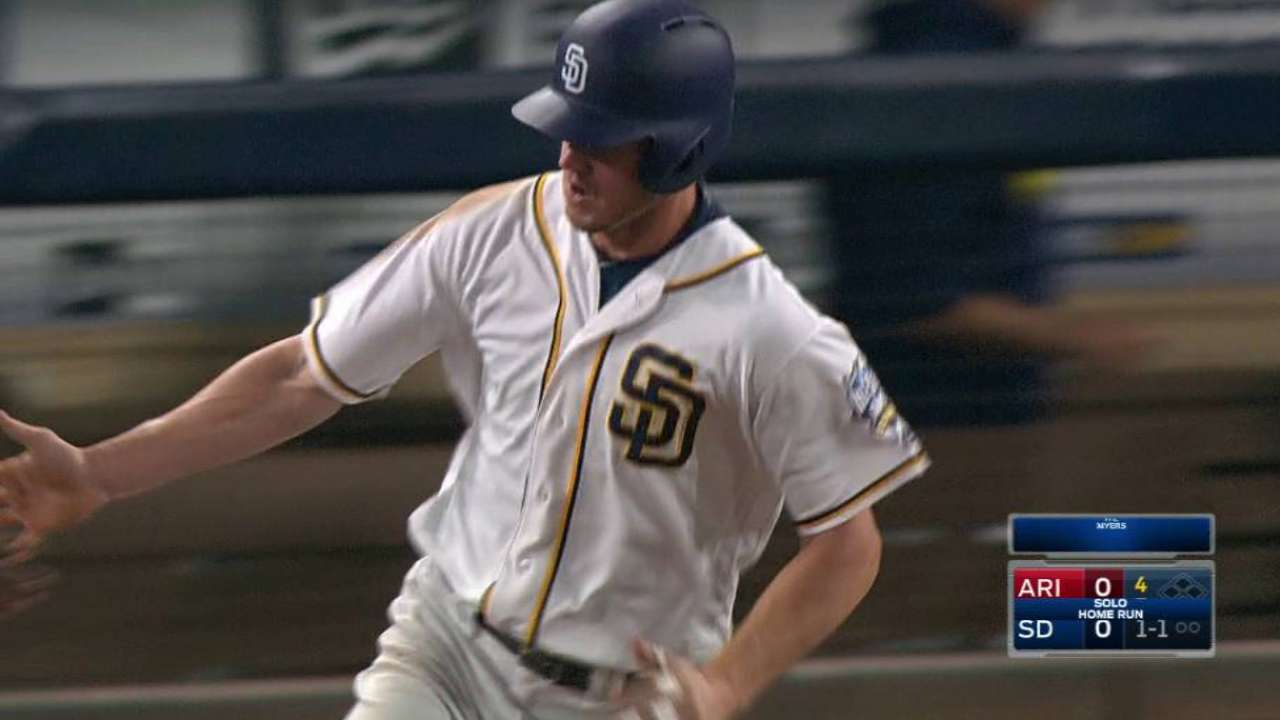 SAN DIEGO -- Wil Myers continued to add to the Padres record book during Monday's 3-2 win over the D-backs, driving his 16th Petco Park homer into the right-field stands in the fourth inning. That total passed former Padres outfielder Justin Upton (2015) and Will Venable (2013) for the most of any player in a single season in Petco history.
Not that any of that was at the forefront of the 25-year-old first baseman's mind.
"It wasn't till they put it up on the screen that I even knew about it," Myers said after the game.
That was also the case for Padres manager Andy Green, who usually makes a habit of being much more up-to-date on the numbers than his All-Star first baseman.
"Honestly, I had no idea he was hitting for that record until they flashed it on the [video] board today," Green said. "That's another one of many set this year, and I think there's a lot more inside of Wil. We're going to keep pushing for that."
Green was particularly impressed with the way that Myers managed to take the 92-mph pitch and go the other way with it, driving the ball a Statcast-estimated 359-feet.
After consistently driving the ball to the opposite field at the beginning of the year, Myers' inability to do that in the second half has been part of the reason he's hitting just .220 (47-for-214) after hitting .286 during the first half of the season.
"Tonight, just being able to hit a fastball out the other way was good," Myers said. "It wasn't one of those where I was just late on [the pitch] -- I actually tried to do [hit it the other way]. I saw it away and worked the other way with that.
"It felt good, and is something I can definitely build on."
The long ball snapped a 15-game homerless streak for Myers at his home field that dates back to Aug. 5, and allowed him to avoid the Petco Park drought that plagued Upton last season. Upton, the former Padres outfielder, hit his 15th Petco home run on Aug. 10 and then played 27 games in San Diego without leaving the field once.
The ballpark opened in 2004.
Myers' 38 extra-base hits are also the most a San Diego batter has managed at Petco in a single season, and he is now hitting .320 (87-for-272) with 19 doubles and three triples at home.
"I enjoy hitting here," Myers said. "It's a very comfortable atmosphere to me and, you know, everybody talks about it being a pitcher's park -- I think it's a very fair ballpark and I enjoy hitting here.
"It's a great place to hit."
Carlos Collazo is an associate reporter for MLB.com. Follow him on Twitter @CarlosACollazo. This story was not subject to the approval of Major League Baseball or its clubs.