Statcast of the Day: Nunez's speed aids Giants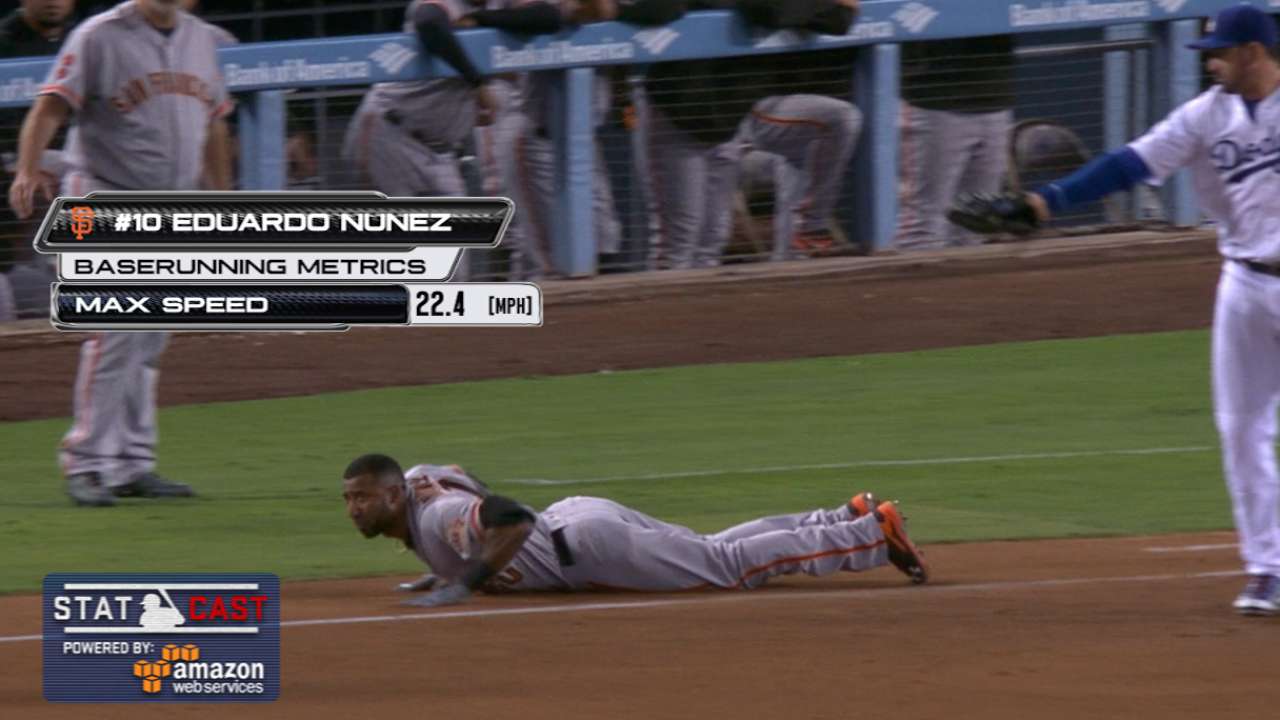 Monday night's matchup between the Giants and Dodgers featured two of planet Earth's best pitchers in one of the most pitcher-friendly parks in the Majors. So, any baseball fan would expect runs to be hard to come by and they were in the Dodgers' 2-1 win.
Aces Clayton Kershaw and Madison Bumgarner had put up dueling zeros in the first two frames at Dodger Stadium, and Kershaw had retired the first two Giants in the top of the third when Eduardo Nunez strode to the plate. Nunez has been battling a sore back in recent days, and could be seen trying to loosen up before he dug in to the batter's box. But on an 0-1 count, Nunez hit a dribbler just past Kershaw's glove and on to second baseman Chase Utley.
By the time Utley got a barehanded grip on the ball, Nunez was already approaching first base. The Giants infielder reached a top speed of 22.4 mph -- the fastest he has run on the basepaths for any of his batted balls in play this season -- before sacrificing his aching back and diving headfirst into the first base bag. Whether he slid or remained upright, Nunez would have likely beaten the throw because his speed forced an inaccurate throw from Utley. It's interesting to note, however, that if there is one team that knows the impact of sliding into first, it's the Giants, who benefited from Eric Hosmer doing so in a critical moment in Game 7 of the 2014 World Series.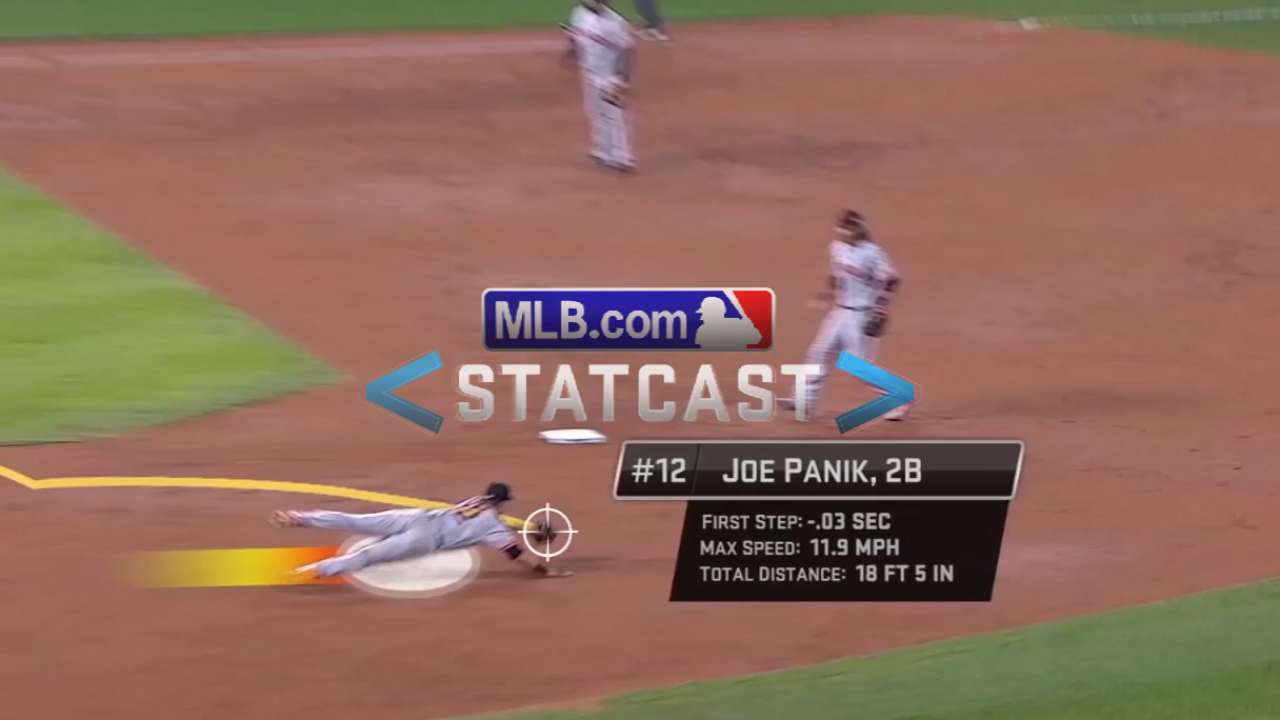 Nunez, perhaps feeling a twinge in his back, needed a few extra moments after the play to recover. Naturally Kershaw, who led all Major League pitchers with nine pickoffs last year, tested that back immediately by quickly firing to first. Nunez got back just in time, however, and then, two pitches later, he was off to the races.
"We know Kershaw is one of the best pitchers in the game," Nunez said. "I told myself to have a plan to be aggressive off him, to steal bases, to create something. That's what I did in my second at-bat."
If Nunez's back was bothering him, it wasn't apparent on his stolen base, as he reached a top speed of 21.2 mph -- his sixth-fastest mark on any steal attempt in 2016 -- and forced a wide throw from Dodgers catcher Yasmani Grandal that went into the outfield. Nunez, bad back and all, got right back up and motored on to third base. Getting from home plate to third base without hitting a ball out of the infield is a tough feat. But stealing a bag from Kershaw may be even more impressive. It was the first steal allowed by the Dodgers in 2016, andjust the second attempt made against him. It was also the first steal he'd allowed, period, since Nunez's teammate Kelby Tomlinson grabbed one more than a year ago on Sept. 2, 2015. In fact, Kershaw had allowed just 12 steals over the past three seasons, tied for the ninth-fewest of any starter who had tossed at least 400 innings in that span.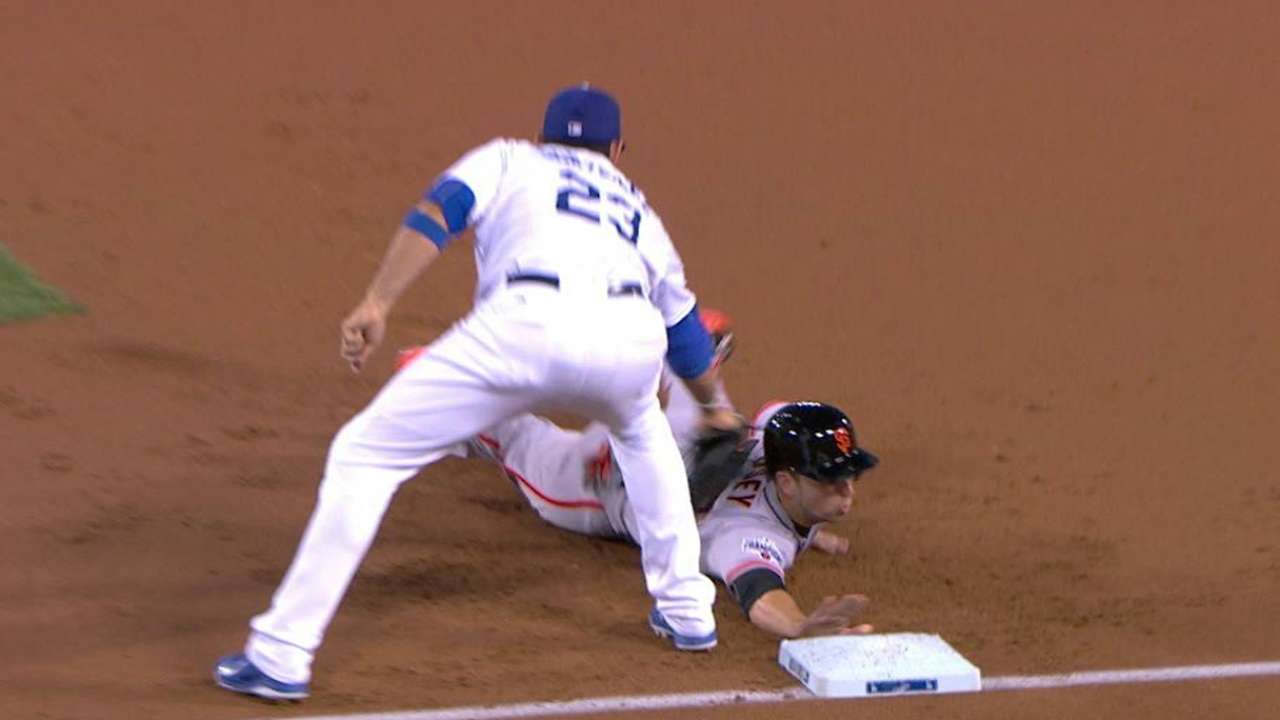 Nunez had defied the odds just getting to third, but he wasn't satisfied yet. Kershaw worked Angel Pagan to an 0-2 count, leaving him one strike shy of escaping the jam, before he bounced a slider into the dirt and on to the backstop. Nunez, who barely had a lead off third base, quickly accelerated to a top speed of 19.2 mph and raced home to finish his whirlwind trip around the diamond.
"That inning wasn't the problem necessarily," Kershaw said. "Nunez kind of tapped one in the right place for a hit and he picked a good pitch to run on with with the curveball. He obviously has a lot of stolen bases for a reason. I've got to do a better job on that pitch to Pagan. That was pretty impossible to block, there's nothing you can do. I left a slider hanging the pitch before that, so I wanted to make sure I got it down. I definitely did that, but it wasn't very close."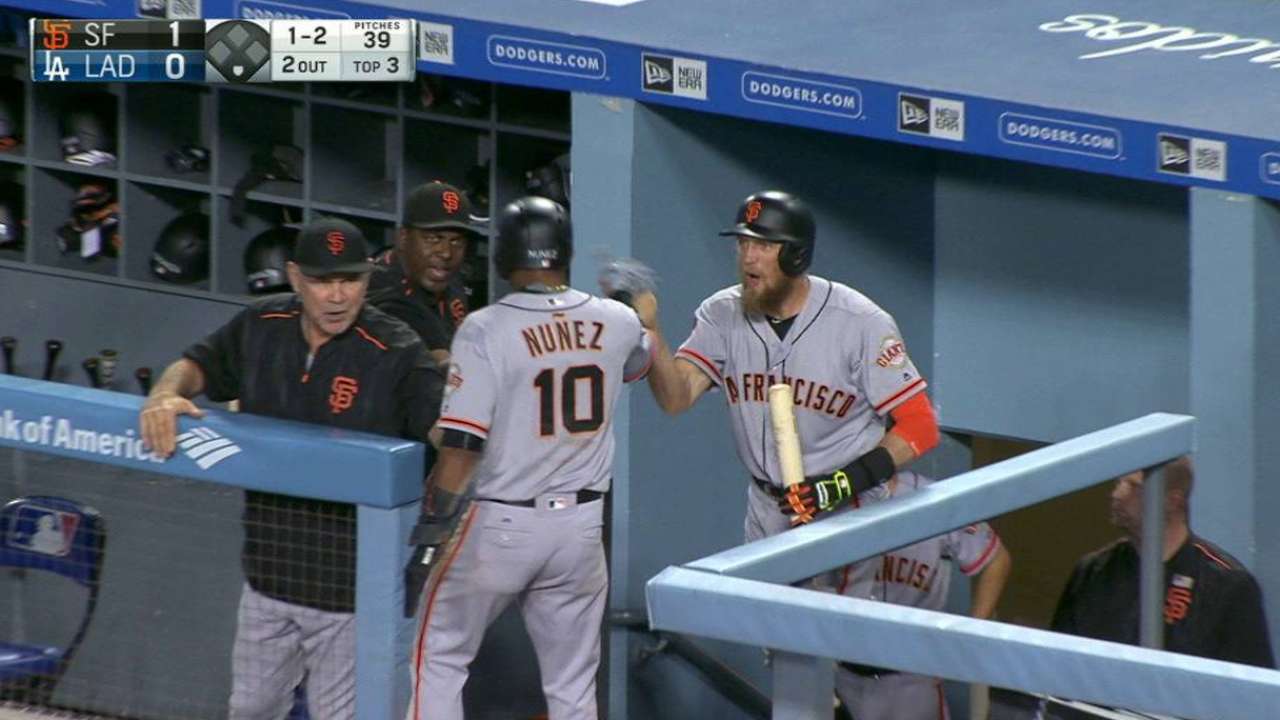 So, to recap, Nunez had scored a run off the best pitcher in baseball without hitting a ball out of the infield and without any help from his teammates. It turned out to be the only run San Francisco would score off Kershaw and the Dodgers before the Giants bullpen faltered again.
Matt Kelly is a reporter for MLB.com based in New York. Follow him on Twitter at @mattkellyMLB. This story was not subject to the approval of Major League Baseball or its clubs.