Blair's dedication, patience yield first victory
Braves rookie upstages Syndergaard with six-inning effort in 13th career start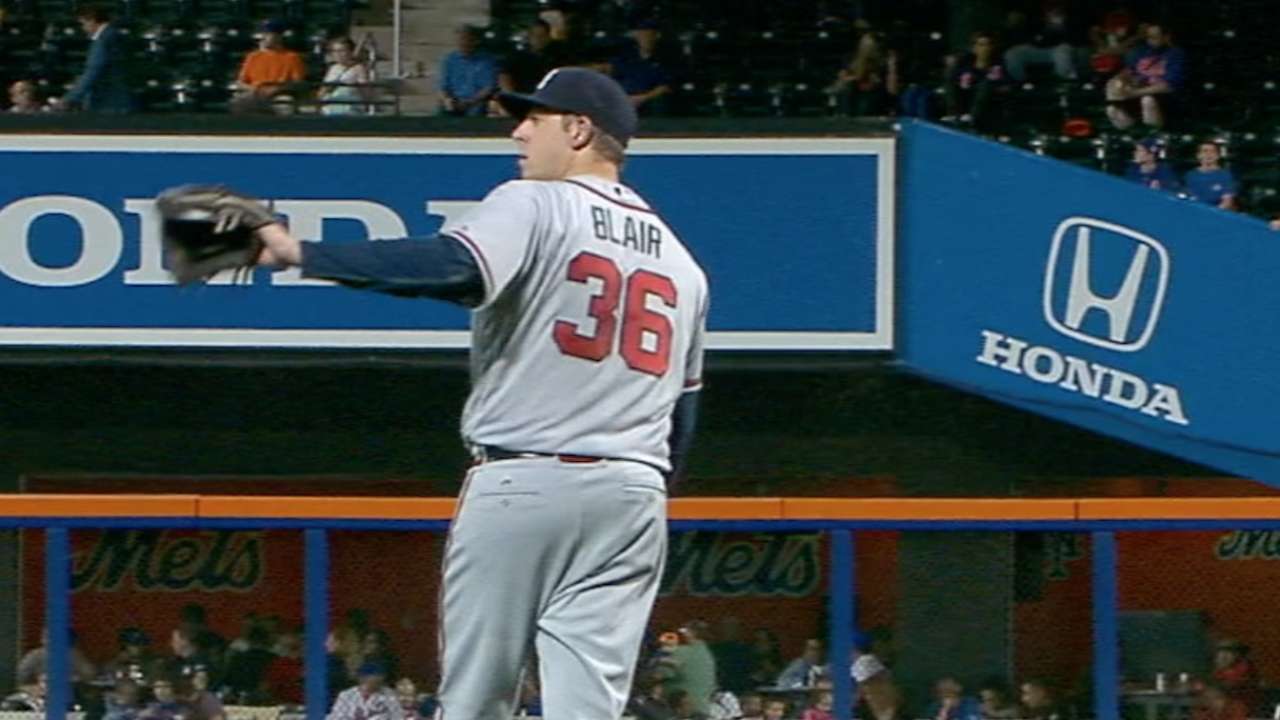 NEW YORK -- Aaron Blair was taking it all in stride, but his phone was buzzing.
"I've probably got 70 messages and 10 calls," the 24-year-old right-hander said on Monday night, a few minutes after the Braves' 7-3 win over the Mets went into the books as his first Major League victory. "I'm sure I'll be up all night returning calls."
It had taken a while to get to this point. This was Blair's 13th big league start, and there had also been four trips to the Minor Leagues this year. He had plenty of frustration, an ERA that sat at 8.23 before Monday (it's 7.71 now) and a new delivery.
Yes, it was all worth it.
"All the hard work he put in, making changes, it's nice to see him rewarded," manager Brian Snitker said.
Braves pitching coach Roger McDowell had gone to Blair after the righty gave up five runs over four innings to the Giants on Aug. 28 upon returning from two months with Triple-A Gwinnett. McDowell suggested eliminating a turn in Blair's delivery and finding a way to stay more upright to keep his weight on his back leg a little longer.
"Obviously, giving up a run per inning wasn't great, so I was up for any changes," Blair said.
The Braves had Blair make two starts for Gwinnett in the International League postseason, then brought him back to start on Monday. The assignment wasn't the easiest, against a Mets team fighting for a postseason berth and starting its ace, Noah Syndergaard.
Blair didn't mind. He said he didn't care who the opposing pitcher was.
And while Blair was holding the Mets hitless over the first three innings, Syndergaard struggled. By the time Blair took the mound in the bottom of the fourth, Syndergaard was out of the game and the Braves led, 5-0.
The rookie from Las Vegas carried a no-hitter two outs into the fourth before allowing a Curtis Granderson single. T.J. Rivera hit the next pitch for a two-run home run, but Blair escaped the inning on a Michael Conforto groundout.
When James Loney began the fifth with a double, Snitker watched carefully from the Braves' dugout.
"If it was going to fall apart, that was when it was going to happen," Snitker said.
It didn't fall apart. Blair struck out the next two batters and got through the sixth inning having allowed just one more hit. He finished the night matching his career high of six innings.
"He kept the ball down better and threw more strikes," Snitker said. "He threw some good changeups. He was on the mark better."
Blair was pleased with the changes, and pleased with the results. He was also pleased that he'll have another couple of starts to try to build on this before the season ends.
No matter what happens in those two starts, Blair will go into the offseason with something. No matter what, he already has his first big league win.
Danny Knobler is a contributor to MLB.com based in New York. This story was not subject to the approval of Major League Baseball or its clubs.