Nationals unable to come through in pinch
Initially out, Harper, Murphy strand potential tying run in 9th; Drew, Robinson miss earlier chance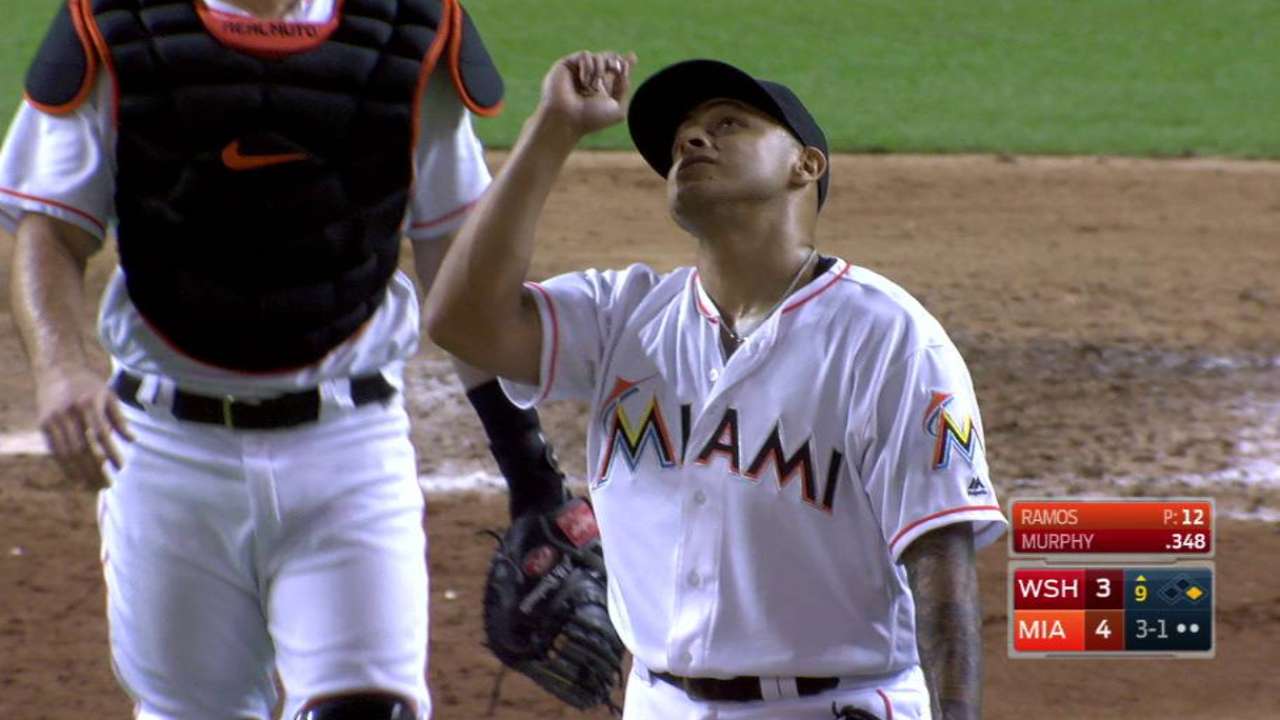 MIAMI -- With two key members in the middle of their order not in the starting lineup, the Nationals were already at a disadvantage for Monday night's series opener at Marlins Park. Daniel Murphy was out of the lineup due to left leg soreness, while Bryce Harper was kept out for a "mental day" after his most recent struggles at the plate.
With the Nationals trailing by a run with one out in the ninth, and the potential tying run on base, both players entered the game as pinch-hitters. But both players flied out to end the game and seal the Nationals' 4-3 loss to the Marlins. The Nats did however manage to cut their magic number for clinching the National League East to five after the Mets lost to the Braves.
The Nationals' only offense came on one swing in the fifth inning, when Danny Espinosa launched a three-run homer off Wei-Yin Chen.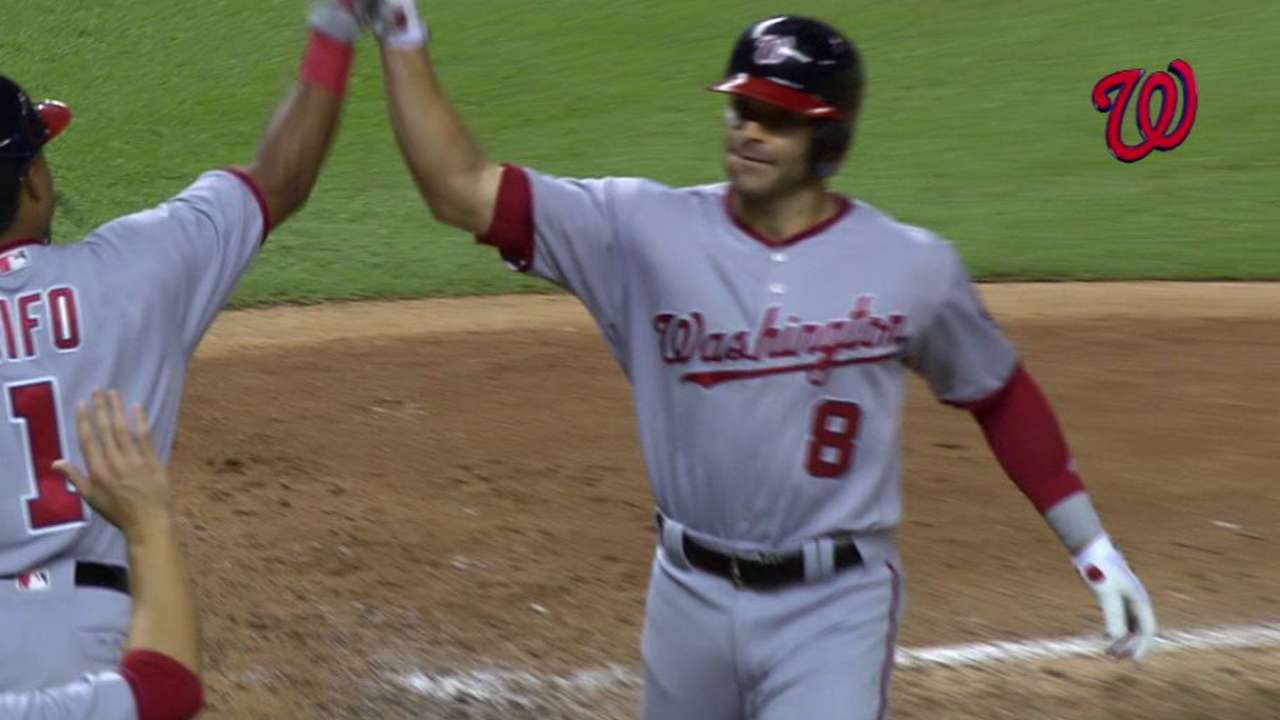 Washington could not cash in on the other scoring opportunities it had -- including pinch-hitters Stephen Drew and Clint Robinson striking out with runners on second and third with one out in the seventh -- going 1-for-6 with runners in scoring position and continuing a recent trend.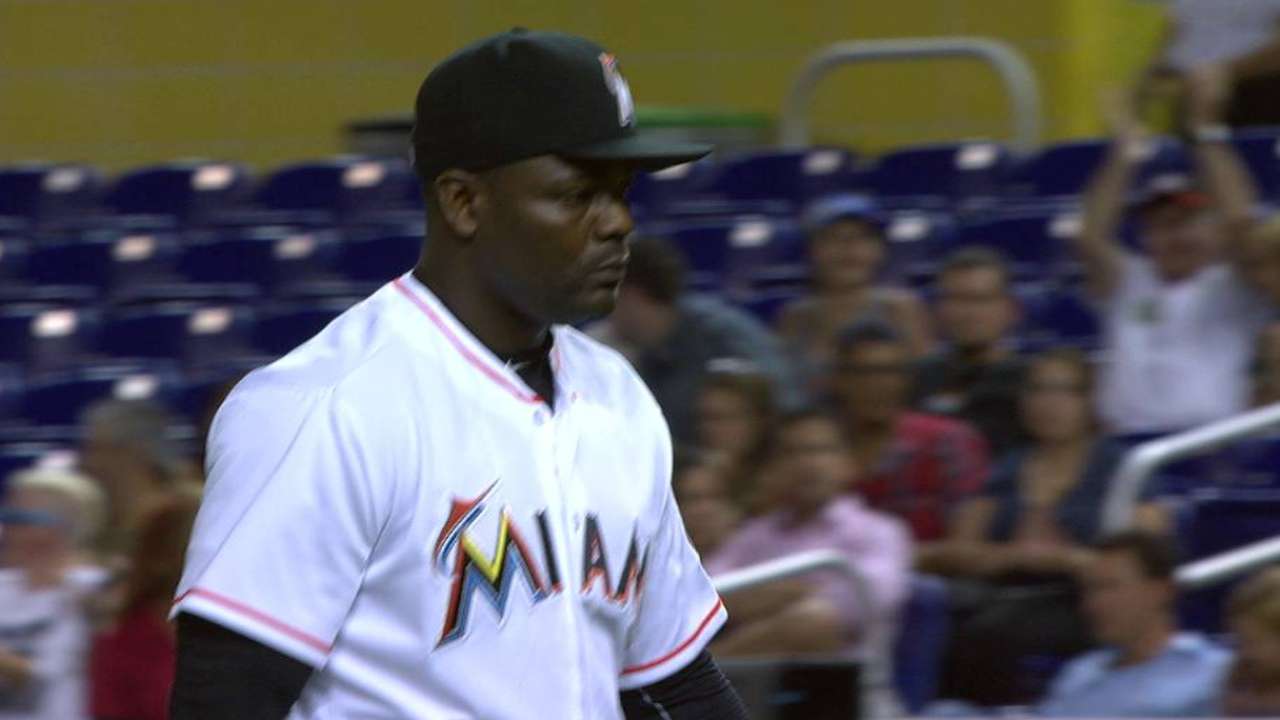 Entering Monday, the Nationals ranked 22nd in the Majors in runs scored during September.
"We haven't played good baseball, we haven't really swung the bats that well," manager Dusty Baker said. "We've had opportunities, but again it's been most of the year we haven't come through when we need it in the clutch.
"It's usually a combination of things when you're not hitting, it's not just one thing. Sometimes we're striking out too much, sometimes we're hitting the ball too much on the ground, because double plays have been killing us lately. So we've just got to continue to play, and these guys play hard, and most of the time we play smart."
Baker had given Harper a break Monday after sensing the reigning Most Valuable Player's concentration waning. Harper displayed signs of frustration in Sunday's 6-2 loss to Atlanta. After lining out in the fourth inning, he whipped his helmet into the dugout on his way back inside. At that point, he was hitless in 17 consecutive at-bats, although he did hit an RBI single during the sixth inning.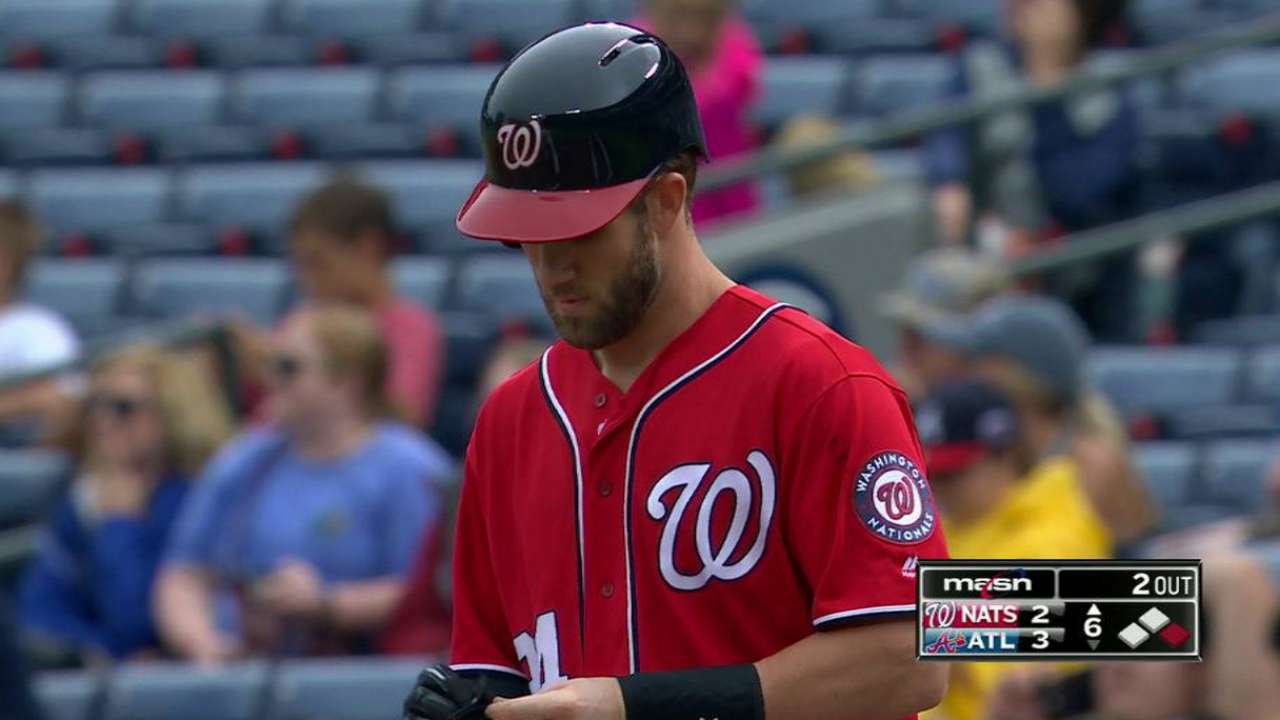 In his first 16 games this month, Harper is hitting .180/.333/.280 with a .613 OPS and one home run.
Murphy was given the night off after his leg tightened up sliding into second base for a double on Saturday, when he tied Denard Span for the most hits (184) in a single season. Although Baker and Murphy did not seem highly concerned, Murphy might receive the day off Tuesday as well just to ensure the injury heals properly.
• Murphy ties Span for single-season hits record
"There's a level of soreness I think everyone has after 145 ballgames. I think I may be experiencing some of that," Murphy said.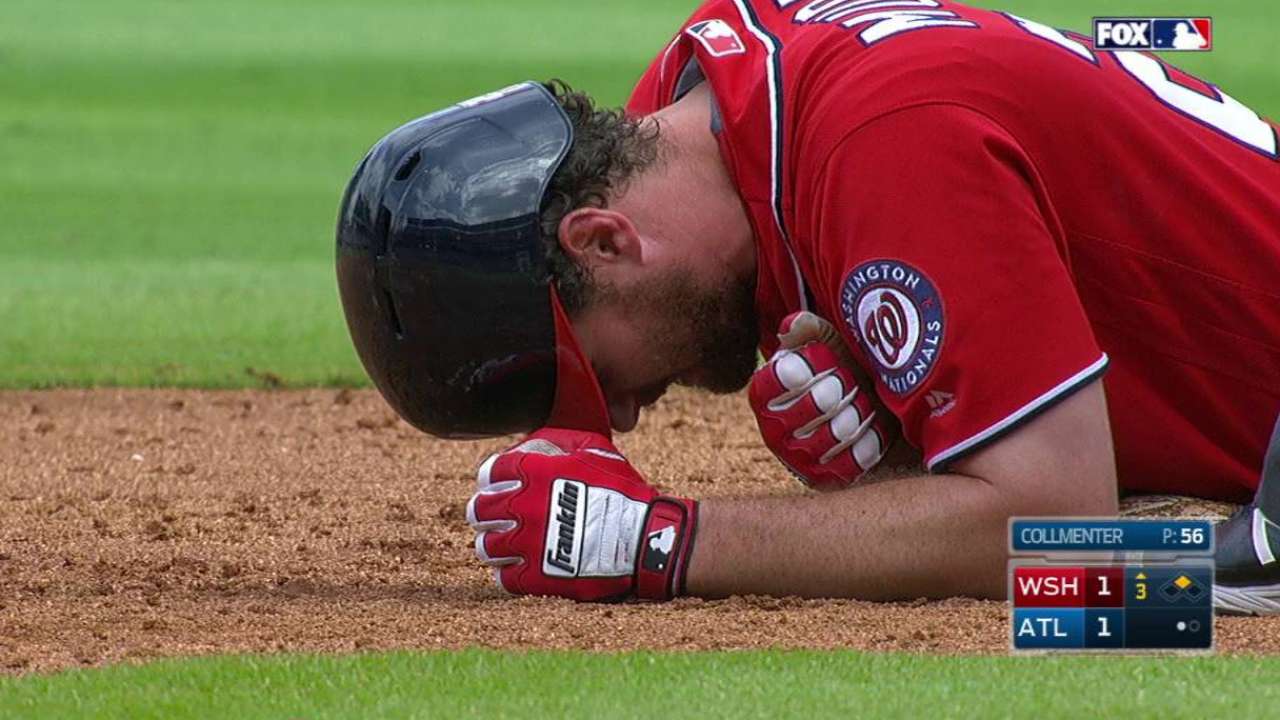 Worth noting
Baker was looking to start catcher Jose Lobaton this past Saturday, but Pedro Severino received the nod instead. As it turned out, Lobaton is dealing with an ankle injury. It's not known when he will return to action. Baker said he wants to get Lobaton ready for the postseason.
Jamal Collier covers the Nationals for MLB.com. Follow him on Twitter at @jamalcollier. This story was not subject to the approval of Major League Baseball or its clubs.