Giants' bullpen woes have vexed skipper Bochy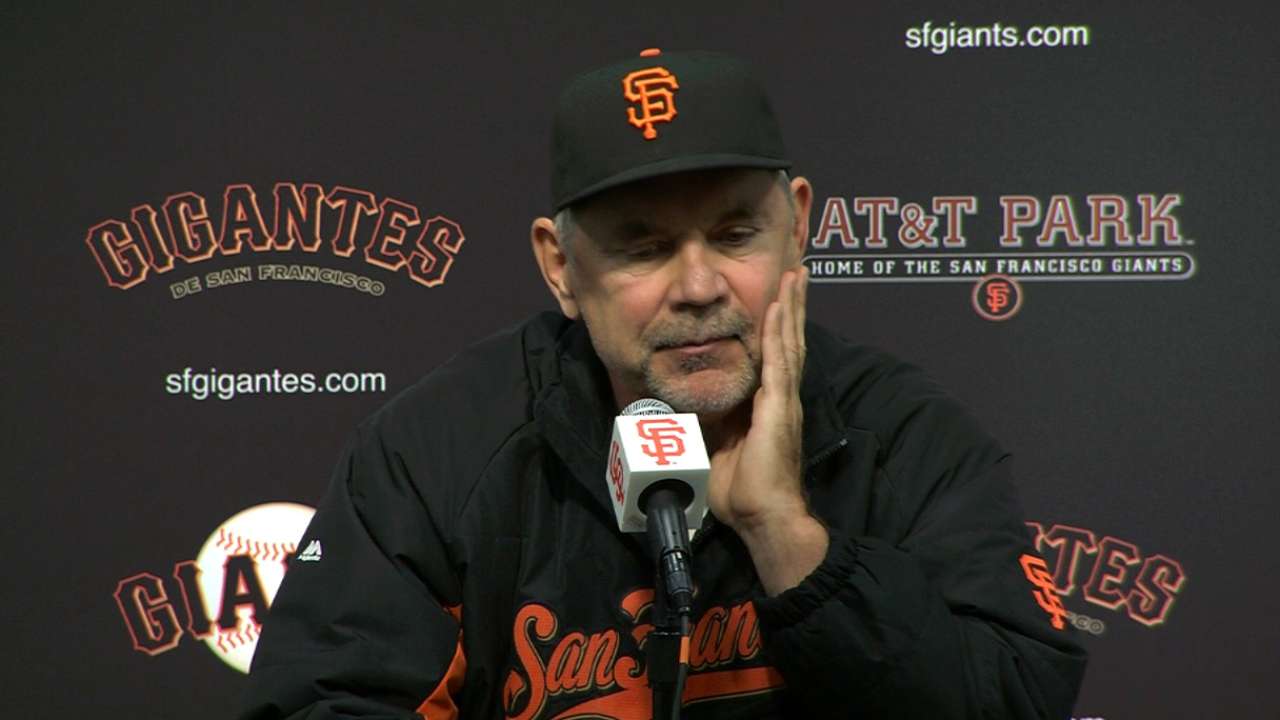 LOS ANGELES -- Giants manager Bruce Bochy, who's renowned for his orchestration of the bullpen, acknowledged Monday that this has been "the most trying season for me" due to the relievers' erratic performance overall.
Bochy's season, along with San Francisco's, remained on its rugged path Monday when the Giants lost, 2-1, to the archrival Los Angeles Dodgers. Four consecutive Dodgers hits erased the Giants' 1-0 edge and resulted in San Francisco's 30th blown save of the season.
Bochy has struggled to find a combination of relievers who can protect late-inning leads. Santiago Casilla lost his closer's role by blowing nine saves, matching the Major Leagues' highest figure entering Monday. Giants relievers owned a 6.55 ERA in the ninth inning or later since Aug. 13, contrasting with a 1.51 ERA in earlier innings during this span.
Also, the Giants have lost nine games this season when leading after eight innings, exceeding the seven such defeats they absorbed in 2014 and 2015 combined.
Bochy has ascended to third place in managerial victories in franchise history, with 830. But deriving pleasure from such accomplishments has been virtually impossible while the Giants tumbled from building the Majors' best record at the All-Star break to owning the worst mark in the bigs through much of the season's second half.
"No question, it's been a difficult year, with these bullpen decisions," Bochy said. "You're trying to get this thing in order. Sometimes you may overthink it a little bit because you're struggling. I think I have a couple times, with this closing situation.
"I've tried to mix it up [to] where something can work, and to be honest, that hasn't gone well."
Nor is Bochy thrilled with the bullpen's 15-man contingent. Granted, some relievers, such as Matt Cain, are starters trying to regain their stuff. Others, like left-hander Ty Blach, are being rewarded for a commendable Minor League season.
But, as Bochy pointed out, "it's tough to keep them all sharp."
Chris Haft has covered the Giants since 2005, and for MLB.com since 2007. Follow him on Twitter at @sfgiantsbeat and listen to his podcast. This story was not subject to the approval of Major League Baseball or its clubs.