Blue Jays scaling down Biagini's workload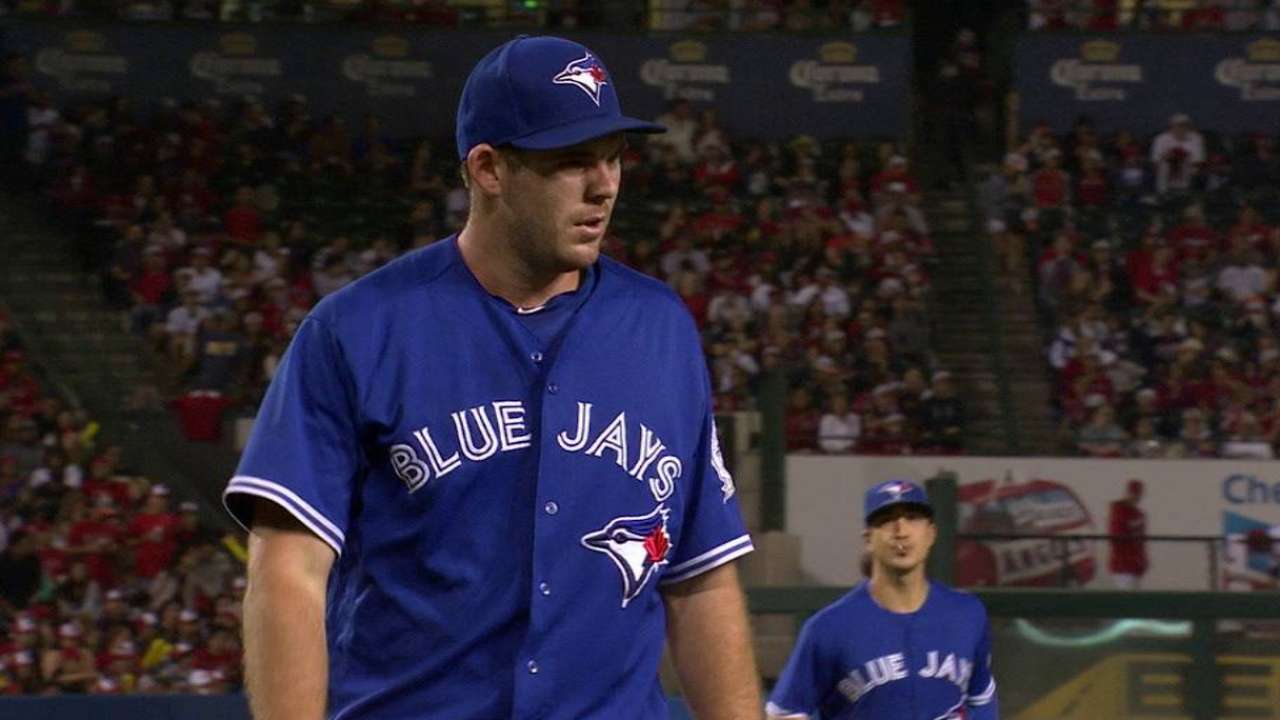 SEATTLE -- The Blue Jays intend on making some minor adjustments to the alignment of their bullpen with two weeks remaining in the regular season.
Right-hander Joe Biagini is expected to see his usage decreased, while left-hander Brett Cecil is scheduled to take on a more prominent role. The move is going to be made because the club has some concerns about Biagini's workload.
Biagini is still going to pitch some pivotal innings down the stretch, but he will likely require additional rest between outings. The decision to expand Cecil's role follows a stretch in which the veteran made 10 consecutive scoreless appearances.
"Keep him rested so when you go to him, he's good," Blue Jays manager John Gibbons said of Biagini. "He's thrown more than he has ever thrown in a new role for him."
Biagini has not pitched in back-to-back games this month, and it has happened only four times since the beginning of June. Even so, the Rule 5 pick has been used a lot this season and could be feeling the ill effects of that workload. It appears that more often than not, he will receive a couple of days off between outings.
The 26-year-old Biagini made the jump from Double-A when he was placed on the 25-man roster at the end of Spring Training. He has been one of the club's biggest surprises this season, but his performance has dipped a little bit of late.
Biagini entered September having not allowed a home run this season. He has since allowed three while his ERA went from 2.25 to 2.87 over 6 2/3 innings. The recent example that Gibbons used was how effective Biagini was on two days' rest during a scoreless outing vs. the Angels, compared to the pair of runs he surrendered two days later on Sept. 18.
"I think with Biagini, it has been a long year for him, but he shows you when he's rested he's really, really good," Gibbons said. "Just like what he did the other night in Anaheim. He was rested and came in and got out of a jam. He looked a little fatigued [in the next one]."
Day off for Saunders
Blue Jays outfielder Michael Saunders received the day off on Monday night as Toronto prioritized putting its best defensive unit on the field. Gibbons' referenced starter Marco Estrada's tendency to generate a lot of fly balls as the main reason why.
Melvin Upton Jr. got the start in left field for the series opener in Seattle, while Ezequiel Carrera was in right and Jose Bautista was in the lineup at designated hitter. Saunders is expected to start the final two games of the series.
"The reason I did that tonight was with Estrada going, a fly-ball guy," Gibbons said. "Put our fly hawks out there, man, and let them run those down. He'll be in there the next couple of days, though."
Gregor Chisholm has covered the Blue Jays for MLB.com since 2011. Follow him on Twitter @gregorMLB and Facebook, and listen to his podcast. This story was not subject to the approval of Major League Baseball or its clubs.