Walker turns in gutsy effort after early scare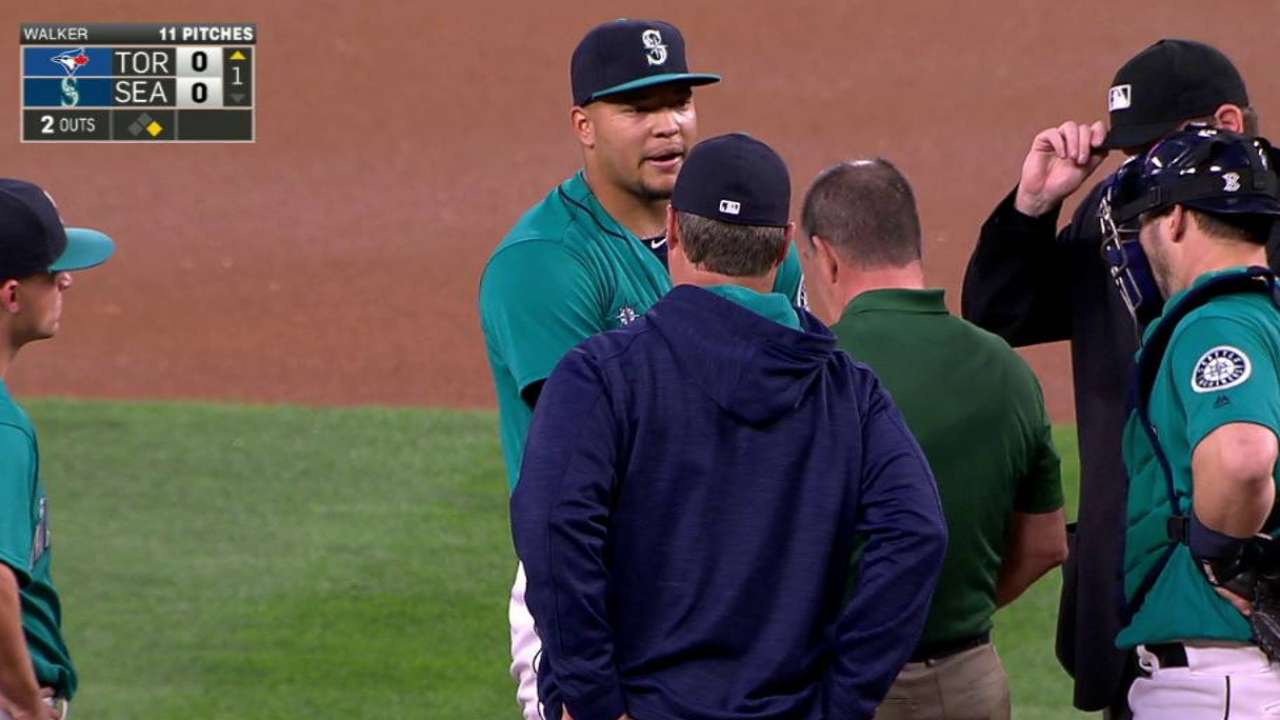 SEATTLE -- Taijuan Walker survived a line drive off his arm and worked around a gimpy ankle, but he couldn't quite overcome the Blue Jays on Monday night as the Mariners dropped a 3-2 decision in front of a raucous crowd at Safeco Field.
The 24-year-old wasn't as sharp as his last outing -- a complete-game three-hitter against the Angels -- but he battled the Blue Jays tough and kept his team in the game despite some difficult circumstances.
"I thought Walker did a nice job hanging in there," manager Scott Servais said. "We've seen that kind of game get off the tracks with Taijuan. But he did hang in there. He gave us a chance, and that's all we ask from all of our starters."
Blue Jays starter Marco Estrada didn't give the Mariners' offense much of a chance, however, as he allowed just one hit in seven-plus innings and Seattle was held scoreless until Leonys Martin's two-out, two-run homer in the bottom of the ninth made things interesting.
Walker had to deal with an odd atmosphere as well, as more than half the crowd of 34,809 consisted of Blue Jays fans who came down from Canada and cheered loud and long for the visiting team. And with Edwin Encarnacion putting Toronto up, 2-0, with a home run in the third, the Blue Jays didn't give Mariners fans many chances to respond until the late threat.
"It was different," Walker said. "We're at home, but it feels like an away game. It got loud after Encarnacion's home run, but I just had to stay within myself and keep making pitches."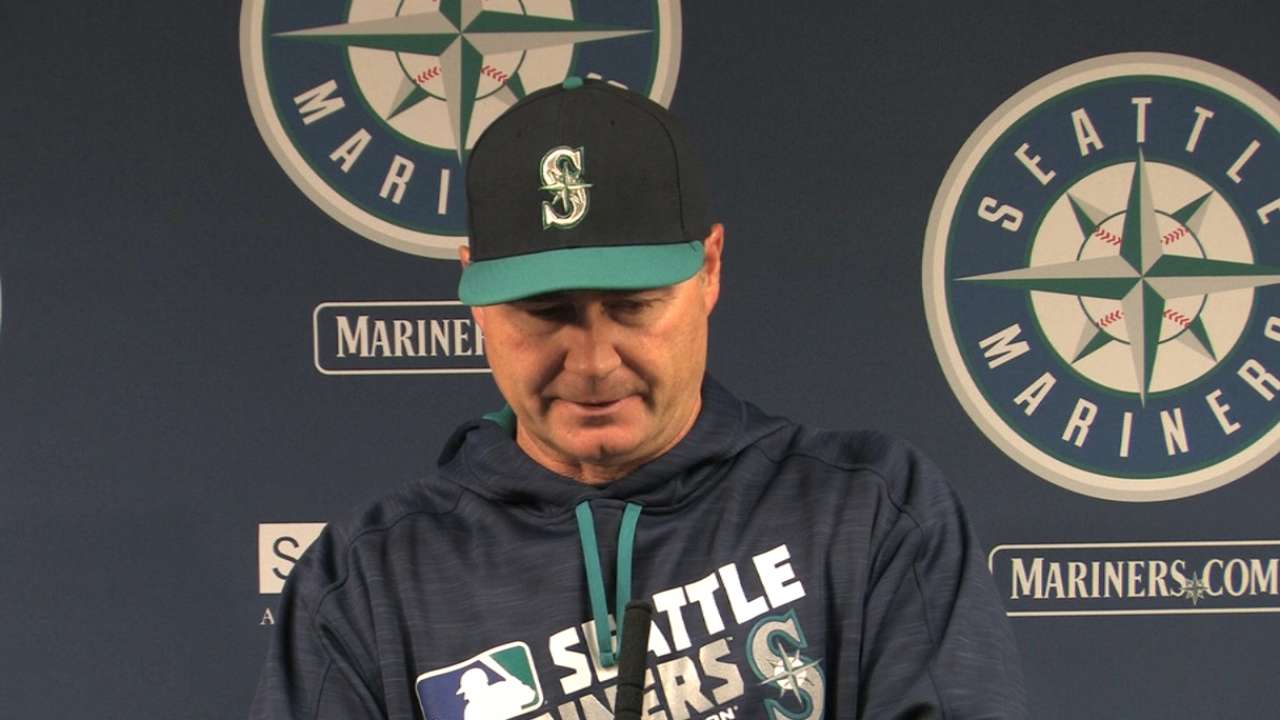 Encarnacion also put the hurt on Walker physically with the line drive off his left biceps in the first inning.
"I'm fine," Walker said. "It just got me dead a little bit for a second, but after that, it was fine. It was coming in hot. I thought I had a chance, but it was coming too hot."
Walker stayed in the game, but immediately walked Jose Bautista on four straight pitches before getting his adrenaline slowed back down.
"Just the whole game I was kind of amped up a little bit," he said. "Everything just kind of felt a little bit off. It wasn't my best, but I felt it was a big test. I tried to stay within myself, tried to make pitches and get outs."
That got tougher in the fourth when he twisted his ankle fielding a bunt, then had a similar play that again aggravated the same foot that has been bothering him since midseason. He said the foot is sore, but not as bad as earlier in the year.
But he did acknowledge that might have got him a little out of sync in his recently-refined delivery, which features a bigger turn and more leg drive.
"After I tweaked my foot I got out of my mechanics a little bit," he said. "From the windup it felt good still, but from the stretch I was getting a little too quick. They were running and I really wanted to give [catcher Mike Zunino] a chance, but my mechanics were off from the stretch a little."
The bigger pain on this night came from Encarnacion's bat, however, particularly on the home run on an 0-1 changeup.
"I went back and looked at it and it wasn't a bad pitch," he said. "I jammed him up a little, but he's just a really strong guy. It was down and in and that's kind of where he likes it. I've got to get that a little lower."
Greg Johns has covered the Mariners since 1997, and for MLB.com since 2011. Follow him on Twitter @GregJohnsMLB and listen to his podcast. This story was not subject to the approval of Major League Baseball or its clubs.