Unselfish Cishek shining in setup role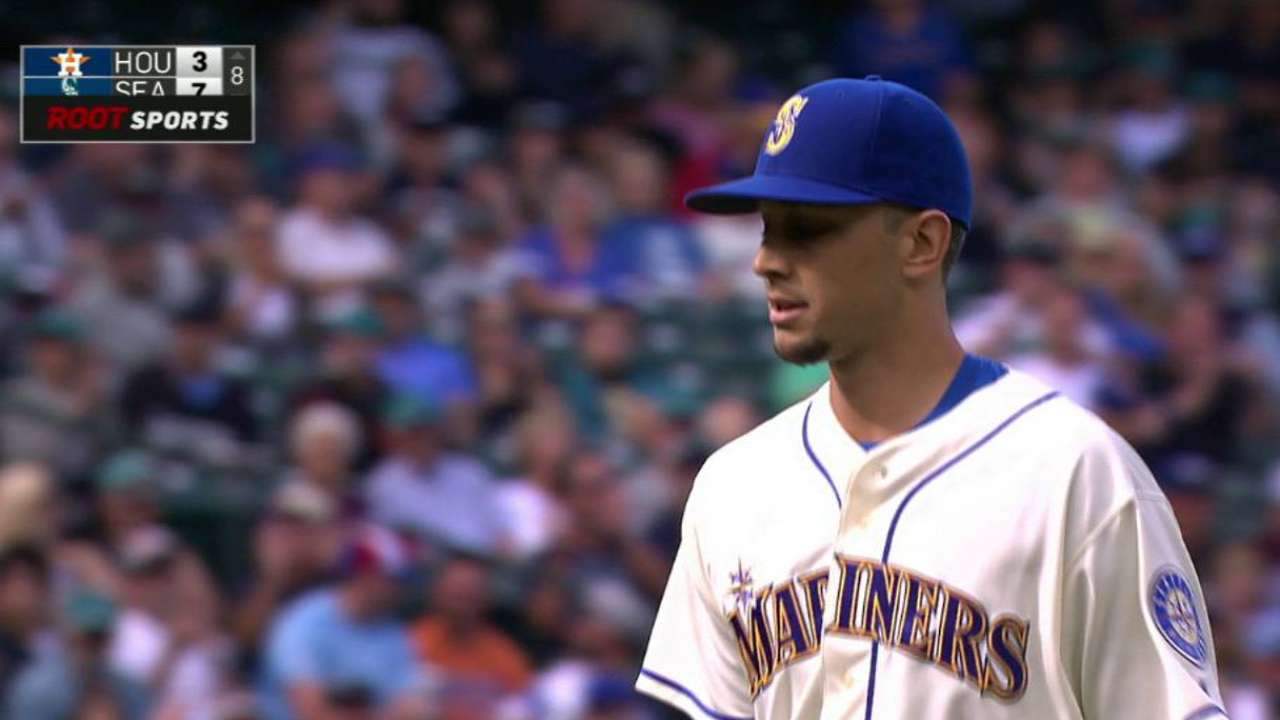 SEATTLE -- With two outs in the eighth and the Astros putting runners on second and third after cutting the Mariners' lead to 7-3 on Sunday, Seattle manager Scott Servais didn't hesitate in going to his bullpen to fetch former closer Steve Cishek to face the troublesome Jose Altuve.
After two quick strikes, Altuve grounded out to third, Servais turned the game over to rookie closer Edwin Diaz in the ninth, and the Mariners had another crucial win. And Cishek got another quiet pat on the back from his skipper.
"You look up and the game is starting to get a little closer and then that little guy walks in the batter's box and it's like, 'Wow. I can't believe we got to this spot,'" Servais said. "But Shrek did a great job. He's had pretty good success against Altuve and he executed. It was good. We needed it."
While Diaz has been a dominant force since taking over the closer's role in early August, Cishek has been outstanding as well in adapting to a setup role. Since returning from the 15-day disabled list to quiet a slight tear in his right hip labrum, Cishek has posted a 1.74 ERA with 10 strikeouts, one walk and an opponent's batting average of .189 in 10 1/3 innings.
Cishek signed with Seattle to be the closer, but the 29-year-old sidearmer understands his new situation completely.
"I'm all about us winning ballgames," he said. "Edwin has been phenomenal, and I have no doubt that he's going to get the job done. So my job is to set him up for the win, and I take a lot of pride in that. I'm working as hard as I can to be able to put us in that position for Edwin to be able to close it out."
Though Cishek had a couple of critical blown saves shortly before the change, he said his hip is feeling good again, his legs are back to feeling strong and he's happy to be helping. The numbers are far better than many fans would think as well, a 3.10 ERA, 25 saves, 72 strikeouts and 17 walks in 58 innings, with right-handers hitting just .168 against him for the season.
"I really tip my hat to him and the team-player that he is," Servais said. "Understanding that the guy behind him has some kind of crazy, historical numbers that he's put up this early in his career. So just realizing, you know what, that's what is best for the team.
"Sometimes the game can be won in the eighth inning or getting the last out in the seventh or whatever it is. [Sunday's] game came down to that out and he got the big out for us. But it's very unselfish and much appreciated."
Cishek looks around the bullpen and sees two other former closers in Tom Wilhelmsen and Drew Storen also in setup roles.
"We've got great arms," he said. "I feel like anyone in our bullpen can throw in any situation. We have guys that have been battle-tested before, like Storen and Wilhelmsen and young guys that are showing what they can do. It's been a lot of fun being out there and seeing what we're capable of doing the past month or so."
As for the 22-year-old who replaced him, any words of wisdom for Diaz?
"I mean, he throws 100 with a wipeout slider. I think he's all set," Cishek said with a smile. "But every now and then we'll chat a little bit. The young guys like [Dan] Altavilla will ask some of the older guys questions. That's what we're here for -- to help each other get better and ultimately to win ballgames."
Cishek has a $4 million base salary this season and has earned another $1 million in performance bonuses for finishing 39 games. He's under contract for $6 million next year and understands his situation could well be similar next year if Diaz stays strong.
"I'm not going to sit here and complain about it," he said. "At the end of the day, we're winning ballgames and Edwin is phenomenal and has a very bright future. If I'm setting him up, hopefully next year, too, I'll be happy doing that, as long as it helps us win."
Worth noting
• The Mariners will have a new Double-A affiliate next year as Jackson agreed to a four-year contract with the D-backs on Monday. Seattle has yet to announce where it will relocate its Double-A club. Jackson just won the Southern League title last week. The club has been Seattle's affiliate since 2007.
• Seattle's relievers entered Monday's play with 493 strikeouts, the third-most in franchise history. The Mariners' bullpen struck out 503 in 2014 and 535 in '13.
Greg Johns has covered the Mariners since 1997, and for MLB.com since 2011. Follow him on Twitter @GregJohnsMLB and listen to his podcast. This story was not subject to the approval of Major League Baseball or its clubs.