Inbox: Is Tribe's postseason run in danger?
Beat reporter Jordan Bastian answers fans' questions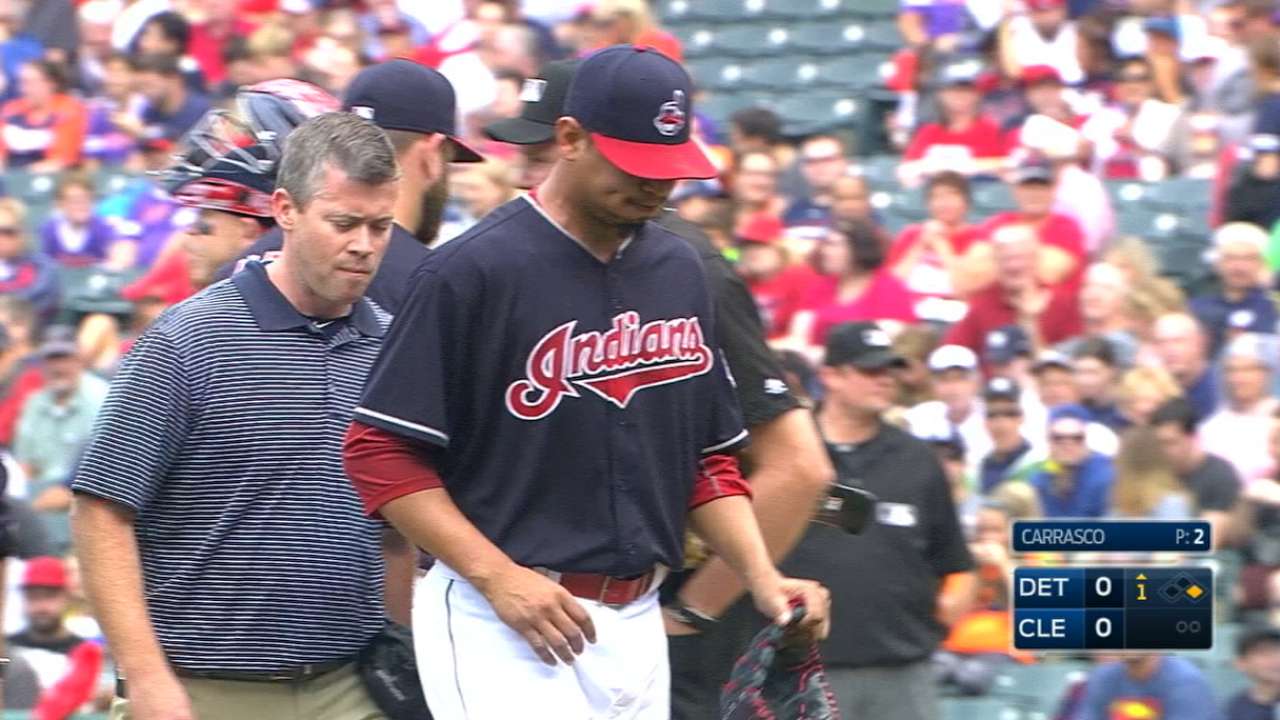 Do you think our postseason run is in danger if the Indians don't step up the starting pitching?
-- Luke, Columbus, Ohio
In the wake of the injuries to Carlos Carrasco and Danny Salazar, I don't think it's unfair to say that the Indians are not the favorites to win it all next month. That said, Cleveland is closing in on a division title, and plenty of postseasons past have shown that October can be unpredictable and, on occasion, unexplainable.
• Submit a question to the Indians Inbox
The Tribe's rotation consists of Corey Kluber, Trevor Bauer, Josh Tomlin and Mike Clevinger. The Indians will use a patchwork approach for the fifth spot, which may not be required should the club punch its ticket to the postseason. It's not an ideal situation, but it is also not an impossible one to overcome for Cleveland team that has overcome a lot this year.
If the Indians reach the American League Division Series, there is a chance they will field a three-man rotation. That would, of course, require the Game 1 starter to come back on short rest in the event of a Game 4. After Carrasco was lost for the regular season with a non-displaced fracture in his pitching hand on Saturday, Indians pitching coach Mickey Callaway hinted at the possibility of using Kluber or Bauer on three-days' rest.
"The good thing is Kluber and Bauer can probably pitch every fourth day, or whenever you need them to," Callaway said. "Bauer's arm never hurts, and Kluber's just a beast. That helps. But we're going to prepare guys for the postseason, and if we get in, we'll go from there."
Back on Sept. 8, which was the day before Salazar left his last start with a right forearm injury that ended his regular season, Fangraphs.com's projections gave the Indians a 13.3 percent chance of winning the World Series. As of Monday, those odds had dropped by roughly 30 percent to 9.3 percent. That is still the second-highest percentage in the AL (behind Boston's 18.1 percent odds) and fifth among the contending teams.
Cleveland's rotation is no longer set to feature one of the game's elite trios, but teams have won without dominant staffs. Just last year, Kansas City won it all with a rotation that ranked 22nd in ERA, 21st in FIP and 23rd in fWAR in the regular season. Two years ago, Madison Bumgarner hoisted the Giants on his back. Over the past 15 years, the average ranks in those categories for the World Series-champion rotations were 10.5 (ERA), 11.1 (FIP) and 12.2 (fWAR).
Helping Cleveland's cause is the fact that it hasn't leaned soley on its starting pitching this year. Entering Monday, the Indians ranked second in the AL in runs scored and offensive WAR, as well as third in team OPS. Cleveland was also rated as one of the top defensive teams in baseball. On top of that, the Andrew Miller-fueled bullpen has the best ERA in the AL and has been the Majors' top bullpen (first in fWAR) over the past 30 days.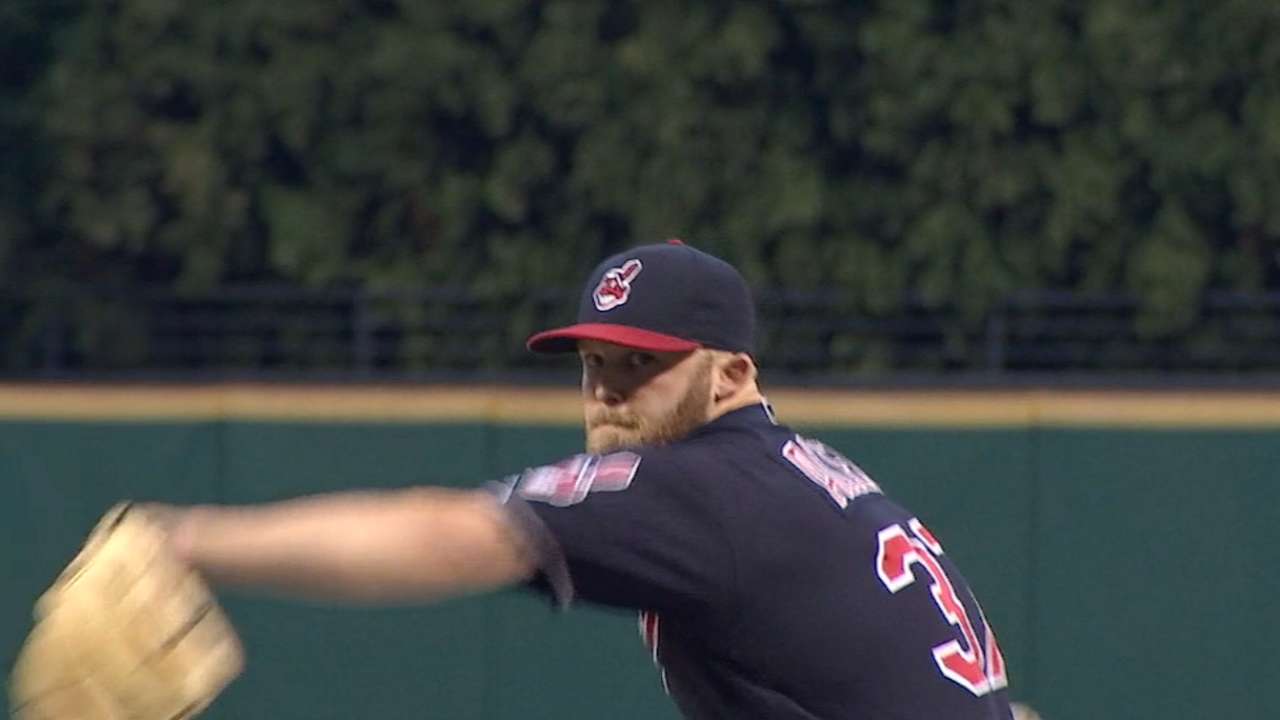 @MLBastian #indiansinbox do you see plutko or merrit entering the rotation?

— Codi ALLIN (@ChefCodiGOAT) September 19, 2016
Indians manager Terry Francona noted that right-hander Cody Anderson will be the starter for Saturday's game against the White Sox. The pitcher has been working as a reliever, though, so he will not be able to last long. It will be another "bullpen day" for Cleveland. Ryan Merritt or Adam Plutko (expected to be added to the roster Tuesday) can offer length behind Anderson. If Cleveland clinches the division before Sept. 29, it's possible one of those rookies could start that day against the Tigers.
@MLBastian any chance we see the tribe bullpen a game or two in the playoffs? I know @MrBrianKenny would love it.

— michael deighan (@mcdeighan) September 19, 2016
Barring more injury issues, it's hard to imagine Francona -- as forward-thinking as he is as a manager -- taking that approach in the playoffs. What I could envision is a scenario where Tomlin or Clevinger is available to pitch behind the other in a game, providing insurance. With Miller, Cody Allen, Bryan Shaw and Dan Otero anchoring the bullpen, a five-inning start could be enough for the Indians in an October setting.
@MLBastian but seriously, in your opinion who do you think the Indians should take in the bullpen for the playoff roster? -Kim in NEO

— Wikki (@Princesswikki) September 19, 2016
Part of this will depend on how Francona sets up his bench, which could feature five players in a playoff series. There are four no-brainer relief options: Miller, Allen, Shaw and Otero. One positive of late has been that arms such as Zach McAllister, Kyle Crockett and Anderson have pitched well over the past month. Rookie Perci Garner, who features a power sinker, has also been impressive. And then, of course, if the Indians go with a three-man rotation in the Division Series round, either Tomlin or Clevinger would surely be in the 'pen. I'm not sure how Francona will construct his bullpen, but it will be one of the more intriguing elements of the playoff roster.
Does Salazar or Yan Gomes have any chance for a postseason return? I know that Carrasco does not and he is done, but what about Salazar and Gomes?
-- Trevor R., Roseville, Calif.
Carrasco is likely out a minimum of six weeks, so the right-hander looks to be heading into an early offseason. Similarly, Gomes is facing a six-to-eight-week timetable after fracturing his right hand. Salazar is a more interesting case. He was given a three-to-four-week timetable. It might be a stretch to expect him to return to a normal starter workload late in the playoffs, but perhaps he could be an impactful reliever late in October. It's far too early, however, to place any expectations on Salazar.
Why was the out-of-town scoreboard at Progressive Field not in use during the Tigers series?
-- Luke D., Casper, Wyo.
There have been complaints from first basemen about losing sight of baseballs on throws from the left side of the field. In light of that, the Indians have been turning on the scoreboard in the left-field wall between innings, and turning it off during game action. It's safe to say that the team will look into correcting the issue over the offseason.
Jordan Bastian has covered the Indians for MLB.com since 2011, and previously covered the Blue Jays from 2006-10. Read his blog, Major League Bastian, follow him on Twitter @MLBastian and listen to his podcast. This story was not subject to the approval of Major League Baseball or its clubs.