Clevinger's transformation complete -- and just in time
Indians need rookie to be effective down stretch and into postseason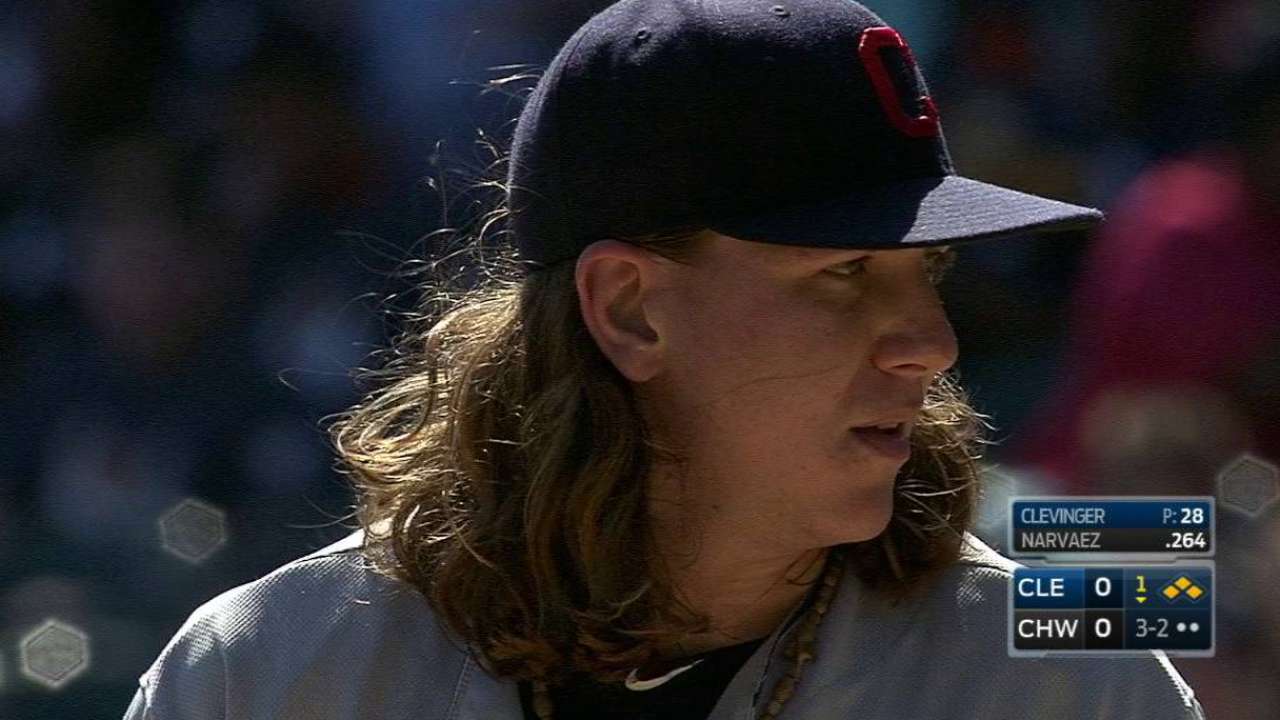 CLEVELAND -- With shoulder-length hair shooting out from underneath his cap, Mike Clevinger was a wild horse when he joined the Indians a couple seasons ago. The Tribe had a promising prospect on its hands, but one who also would be a long-term project and whose success would be reliant on his complete buy-in.
Two years later, Clevinger is pitching in critical games for Cleveland, and the rookie could soon be tested on the October stage.
"You see the smile on my face, right?" Ruben Niebla, the Indians' Minor League pitching coordinator, said on Monday morning.
Clevinger's rise to the Indians' rotation is a rewarding tale for the organization's player development staff, but the right-hander's ascension has also been out of circumstance. Over the past week, the Indians have lost starters Danny Salazar and Carlos Carrasco to season-ending injuries. Earlier this year, Cody Anderson's struggles knocked him out of the starting staff.
As the Indians work to clinch their first division crown in nine years, Clevinger is being counted on in a rotation that has been reduced to Corey Kluber, Trevor Bauer, Josh Tomlin and the untested rookie. Should Cleveland complete that task, then Clevinger will be thrust into a similar position as rookie Jaret Wright in 1997. After 16 starts in the regular season, Wright helped push the Tribe to the World Series.
The more he pitches, the more Clevinger feels ready to tackle the challenge ahead.
"It's going to be approaching an atmosphere that I've never seen or been in," Clevinger said. "The more comfortable I can get now, the better I'll be prepared to handle those situations."
Cleveland acquired Clevinger from the Angels on Aug. 7, 2014, in a one-for-one trade that sent reliever Vinnie Pestano to Los Angeles. The young right-hander was in his first comeback campaign after Tommy John surgery, and the Indians wanted to revamp his aggressive delivery. The team waited until the winter following that season to begin overhauling Clevinger's mechanics.
"When I first came here, there was only about a month of the season left, so they didn't touch me," Clevinger said. "They said, 'Just finish out.' When I got to [the instructional league], that's when they went from the ground up. From video to floor drills, working that into throwing, and off the mound and then into the games."
What Indians fans see now is not what arrived to Cleveland's farm system.
It has not been all smooth sailing for Clevinger this season, but the righty has progressed as the season has worn on. After posting an 8.79 ERA in three starts in May, Clevinger bounced between Triple-A Columbus and the Majors a couple times. During his stints in Triple-A this year, the righty went 11-1 with a 3.00 ERA and 97 strikeouts in 93 innings.
In 11 Major League games dating back to the start of July, Clevinger has turned in a 2.90 ERA with a .204 opponents' average and 30 strikeouts in 31 innings, with walks (18) being the biggest issue. He spent a spell in the bullpen but has seen his pitch count steadily climb over his past three starts, up to 85 on Thursday against the White Sox.
Clevinger, who should be able to handle around 100 pitches in his upcoming outing on Thursday, said the transition back to starting has gone well.
"Surprisingly well," he said. "I thought it would be a little bit of a struggle, bouncing back and forth, But, lengthening out, I feel like I just got a little break for my arm. It feels fresh again."
The Indians are hoping that can put Clevinger in position to make an impact down the stretch, and maybe in October.
Niebla is looking forward to watching it all play out.
"He's not going to back down," Neibla said. "We're pretty excited to watching him compete in high-leverage games. I think he's excited. I think he's going to thrive. He's overcome adversity left and right, so I think he's still going to continue to do that. It's going to be good."
Jordan Bastian has covered the Indians for MLB.com since 2011, and previously covered the Blue Jays from 2006-10. Read his blog, Major League Bastian, follow him on Twitter @MLBastian and listen to his podcast. This story was not subject to the approval of Major League Baseball or its clubs.