Baker gives Harper night off to clear head
Nationals manager has noticed star struggling with concentration during slump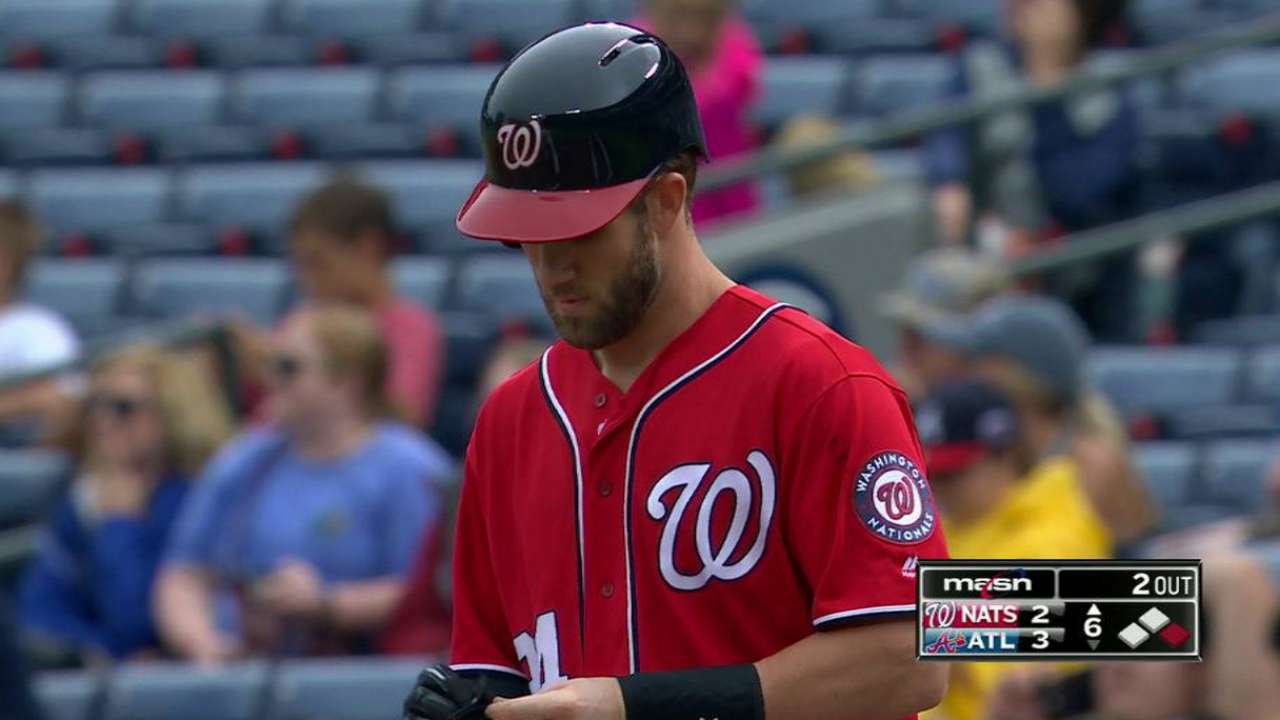 MIAMI -- Nationals manager Dusty Baker gave Bryce Harper the night off for Monday night's series opener, a "mental day" after Baker had sensed waning concentration from the reigning Most Valuable Player.
"You can just see a difference in a person, most of the time it's concentration," Baker said. "Sometimes when you get a little tired, you have trouble concentrating, at least holding that concentration for a long period of time. It was just time [for a break]."
Harper, however, entered as a pinch-hitter with one out in the ninth and flied out with the potential tying run on before the Nats fell to the Marlins, 4-3.
Harper displayed signs of frustration in Sunday's 6-2 loss to Atlanta. After lining out in the fourth inning, he whipped his helmet into the dugout on his way back inside. At that point, he was hitless in 17 consecutive at-bats, although he did hit an RBI single during the sixth inning.
This comes after Harper seemed to be briefly breaking out of his season-long slump after sitting out eight games in August with a stiff neck. In the 18 games following that break, he hit .333/.425/.594. Harper posted a .934 OPS during the month of August, by far his best month since his hot start in April.
However, Harper has not been able to continue those encouraging signs since the calendar flipped to September, hitting .184/.339/.286 with a .624 OPS and one home run in 15 games this month. It's one of the reasons Washington's offense as a whole has struggled this month, and entered Monday having scored the fifth fewest runs in the National League.
The Nationals have been waiting for Harper to put together another hot streak at some point this season, and that eventually he would start to look more like the hitter whose historic 2015 season made him a unanimous choice for MVP and who continued to terrorize opposing pitchers during April.
Now they hope this mental day can be the latest key to getting Harper back on track, perhaps in time for the postseason.
Jamal Collier covers the Nationals for MLB.com. Follow him on Twitter at @jamalcollier. This story was not subject to the approval of Major League Baseball or its clubs.