Scioscia talks passing Weaver on wins list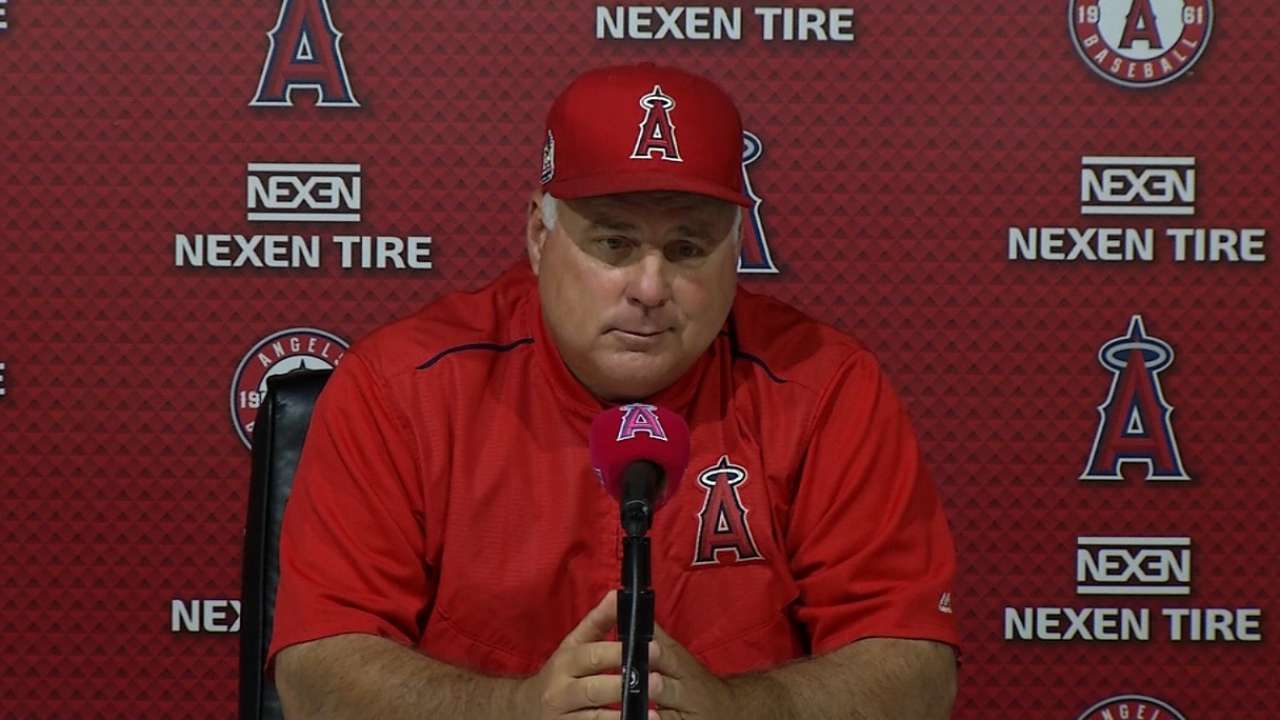 ARLINGTON -- Angels manager Mike Scioscia has watched Mike Trout and Albert Pujols frequently break records, seemingly on a daily basis. But with the Angels' win over the Blue Jays on Sunday, Scioscia made some history of his own.
Scioscia passed former Orioles manager Earl Weaver with career managerial win No. 1,481 and now stands alone at No. 23 on the all-time list. He needs 10 more to tie Hall of Famer Clark Griffith.
"I think it means that we've had some really good players here, for someone to have this position long enough to put up that many wins," said Scioscia, who's managed the Angels since 2000. "We've done a lot of things right over the years, and we're going to get back to that."
By passing Weaver, Scioscia has the second-most wins by an American League manager with one team. He has a ways to go to catch Connie Mack, the all-time leader, who won 3,582 games with the Philadelphia Athletics.
"No, that ain't happening," Scioscia, 57, said. "As Tommy Lasorda once said, 'I just hope to live that long.'"
Wins have been harder to come by this year, as the Angels are looking to avoid their first 90-loss season since 2000. Scioscia is confident that the team will regain its winning ways in the near future.
"It really hinges on if your organization is moving in the right direction," he said. "Hopefully, we continue to do that."
He is certainly encouraged by the rotation's recent success. The Angels entered Monday's game with the second-lowest number of innings from their starting pitchers, with just one-third of an inning more than the A's.
However, Angels starters haven't allowed a run in their last 13 innings, spanning three games. Scioscia pointed to the last few starts from right-handers Alex Meyer, Ricky Nolasco and Jered Weaver as encouraging signs heading toward next season.
"It's encouraging, because we've seen guys that were looking forward to seeing where they're going to be next year because they have a chance to help us," Scioscia said. "The heartbeat of the club is your rotation. We need to get a little more consistent, a little deeper there, and hopefully we start to see it."
Worth noting
• Catcher Jett Bandy is feeling better after a sore back kept him out of the lineup on Sunday. He will be available in an emergency situation for Monday's game.
• Geovany Soto, on the 15-day disabled list with inflammation in his right knee, has had a delay in his rehab after twisting his ankle last week walking down the steps in the dugout. Scioscia is hopeful that Soto will be able to catch again this season.
• Tyler Skaggs is expected to play catch on Tuesday as he continues to deal with a mild flexor-pronator strain. He has not thrown since injuring the forearm on Sept. 14. Scioscia did not have a timetable for his return, though.
Ryan Posner is a reporter for MLB.com based in Texas and covered the Angels on Monday. This story was not subject to the approval of Major League Baseball or its clubs.