MLB.com Columnist
Richard Justice
Scully's humility big part of legacy
With final game set for Oct. 2, broadcast legend 'filled with thanksgiving'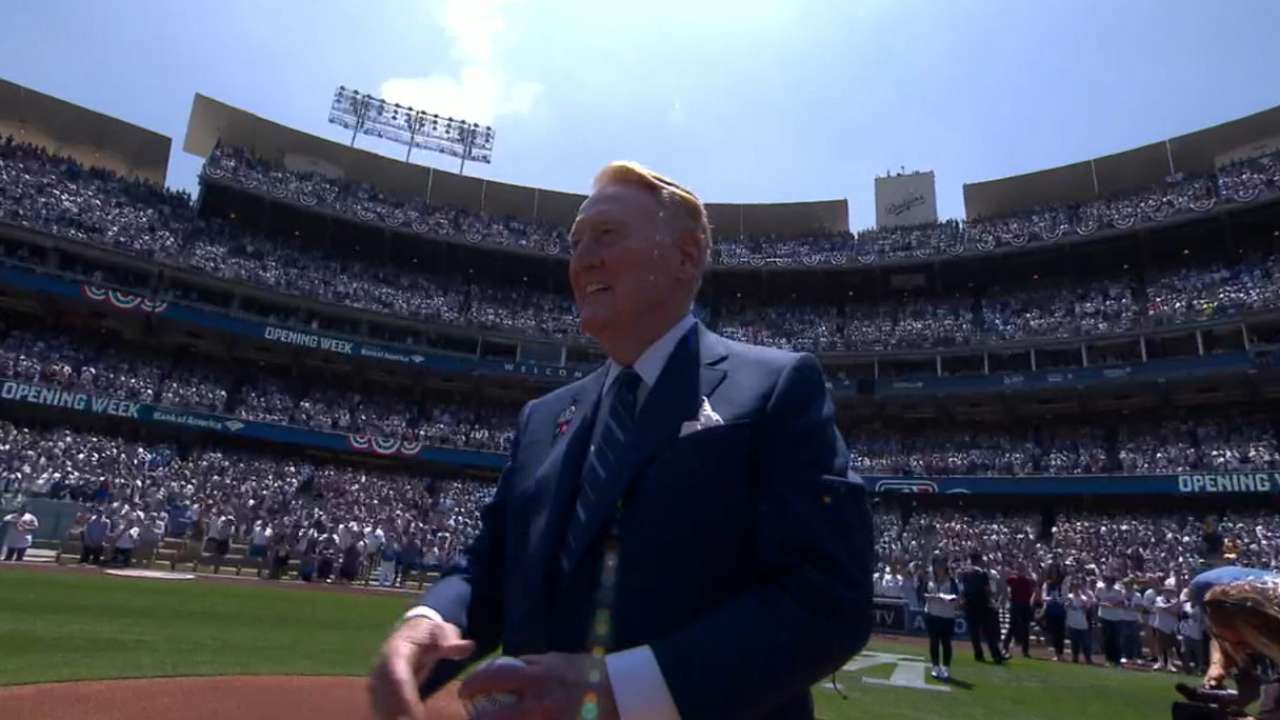 As legacies go, Vin Scully's couldn't be simpler. First, he made broadcasting a baseball game an art form. Others have done this job well -- Russ Hodges and Red Barber, Jack Buck and Ernie Harwell. Scully admires many of them and has emulated some of them.
But no one has ever done it better than this man. Go ahead and tune in to one of Scully's final games and check him out. Or go online and check out his work. How about Scully's call of Sandy Koufax's perfect game in 1965?
Through Scully, we are taken there. We can see Koufax running his fingers through his hair, fidgeting, shaking off signs, winding and delivering. No poet could have painted a more captivating description.
Scully has prided himself on a minimalist style -- that is, describing the action and then allowing fans to live the moment for themselves through the roar of the crowd and their mental imagery.
Beyond any of that stuff, though, is the man himself. This is what's stressed by the people who know Scully best. They speak of his decency and humility, his relentless belief that no man on Earth has ever been luckier.
"I attribute it to one thing and one thing only -- God's grace to allow me to do what I love for 67 years," Scully said Monday. "It's not me. I'm the vessel it was handed down through.
"My cup runneth over. God has been incredibly kind to allow me to be in position to watch and broadcast all these monumental events. I'm filled with thanksgiving."
As Scully prepares for his final game as voice of the Dodgers on Oct. 2, he did a conference call with members of the Baseball Writers' Association of America on Monday. He touched on a variety of subjects, including how he'd like to be remembered.
"I'd truly like to be remembered as a good guy, a good husband, a good grandfather," Scully said. "A good sportscaster? That'll be disappearing as the sands blow over the booth. I want to be remembered as an honest man, a man who lived up to his beliefs. I think it's been God's generosity to put me in these places and allow me to enjoy it."
Scully is scheduled to broadcast 10 more games, beginning with this week's seven-game Dodgers homestand and finishing with three at San Francisco at the end of the regular season.
Scully will not do any postseason games, saying: "I don't want it to be like a grand opera where you say goodbye 25 times."
As for the attention he's getting, Scully said: "I never wanted to get out in front of the game. Gee whiz, it's the Dodgers and Giants tonight. I don't want it to be Vin's last whatever. I want them to enjoy the Giants and Dodgers. I realize all this fuss and fury is that I lasted 67 years."
How much will Scully miss it?
"I'd only be human to miss something I've been doing 67 years," Scully said. "It's been a major portion of my life. I think more than anything, I'll miss the people, and then the thrill of trying to describe what I'm looking at. I know I'll miss it.
"Once I call it an end, I'll try very hard to just stay back and be the normal guy that I am."
Now about that final game on Oct. 2. Scully thinks there's some symbolism there. On that day in 1936, he passed a Chinese laundry on his way home from school in the Washington Heights section of New York and saw that the Yankees had beaten the Giants, 18-4, in Game 2 of the World Series.
"That's when I fell in love with baseball," Scully said. "My grammar school was 20 blocks from the Polo Grounds, and I could walk over there after school and catch a game for free because I was a member of the Police Athletic League.
"My last game is exactly 80 years to the minute after I fell in love for the game. It seems like the plan was laid out exactly. All I had to do is follow it."
On other topics
• The origin of his broadcasting style: "When I was growing up as a little boy, the thing I loved was the roar of crowd. I'd crawl under our big old radio and listen to college football. It was the roar of the crowd that poured out, and I'd be covered in goosebumps. When I got into broadcasting, I was still captivated by the roar of the crowd. I'd try to call a play accurately and revel in the roar of the crowd."
• The Dodgers leaving Brooklyn for Los Angeles in 1958: "My first emotion was bittersweet. Maybe that's not the proper word. I thought leaving New York was somewhat overwhelming. I was leaving all my friends, relatives, high school, college. It was a little scary.
"The other side was, `Thank God I've got the job.' There was considerable pressure on [Dodgers owner] Mr. [Walter] O'Malley to employ announcers out here. He prided himself on loyalty, and it was a tremendous relief I got the job."
• The transistor radio: "My single greatest break -- and my life has been full of breaks -- was the transistor radio. People coming to the Coliseum knew the superstars, but they brought their transistor radios to find out about the other players. We ended up doing things like singing happy birthday to an umpire."
• Delighting in bad puns. Once, when Joe Torre got hit on the hand by a foul ball while catching, he played third base the next day. In recounting the move to third, Scully said that if Torre doesn't put on the gear again, he'd forever be known as "Chicken Catcher Torre."
"The groan from 60,000 fans will be something I'll remember to my dying day," he said.
• The adulation of this final season: "I've been told, 'Oh, it won't be the same without you.' I look back over my career and remember Mel Allen leaving the Yankees. I thought the Yankees couldn't play without Mel. Harry Caray, Red Barber, Russ Hodges, Jack Buck, they all moved on. In a year or so, you'll be history, and someone will ride and make history in your place."
• The emotions of his final game: "I think I've got them in check, but you never really know. I'll not stress anything about me. I'll do the game and hope the game carries me along with it. I think I'll be OK with it."
Richard Justice is a columnist for MLB.com. Read his blog, Justice4U. This story was not subject to the approval of Major League Baseball or its clubs.