Ventura goes distance as Royals thump Sox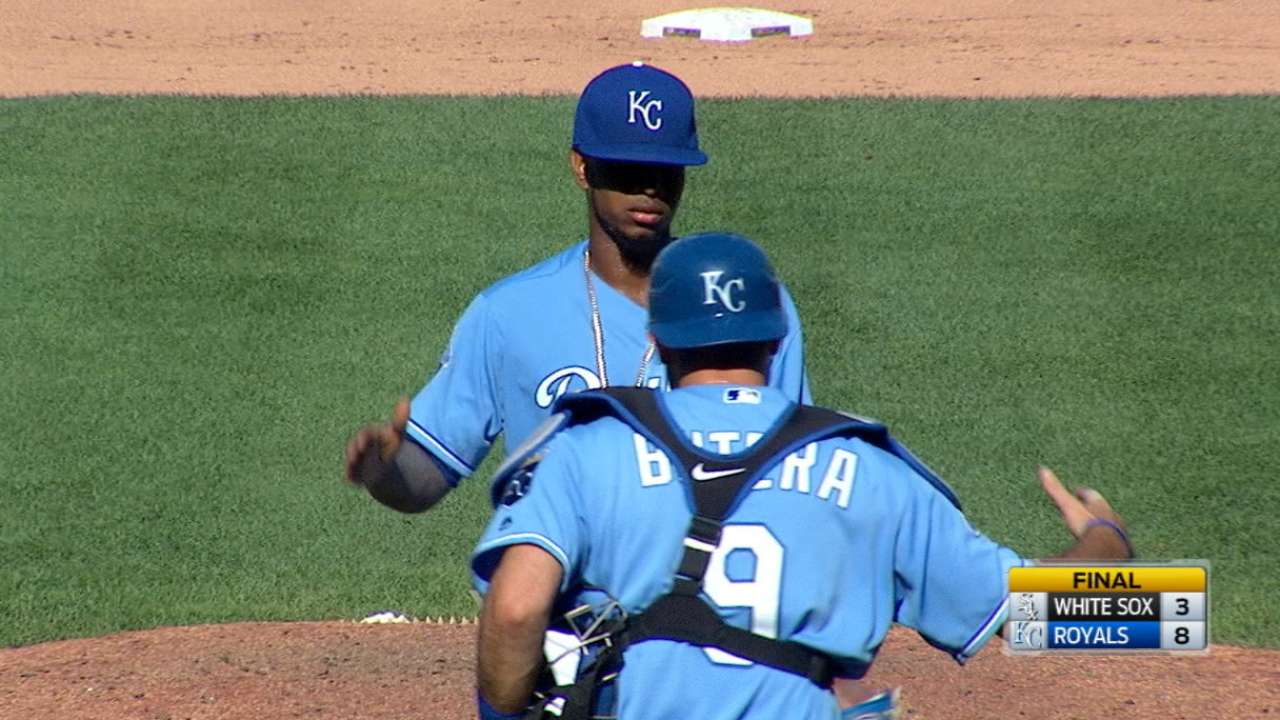 KANSAS CITY -- There's a little life left yet in the defending World Series champions.
After dropping five straight games to open a crucial homestand, pushing them to the brink of postseason contention, the Royals have bounced back with three straight wins, the latest an 8-3 triumph over the White Sox on Monday afternoon in a makeup game at Kauffman Stadium.
"It ended strong," Royals manager Ned Yost said. "It is what it is. Coming off a real good series in Chicago last week, I felt like we had some momentum, and Oakland just stomped on that momentum. But we gathered back up."
• Orlando makes spectacular leaping grab
Red-hot Kendrys Morales, Paulo Orlando and Alcides Escobar all homered, with Escobar establishing a new career high with his sixth homer. The Royals' magic number to be eliminated from the second Wild Card spot in the American League is eight.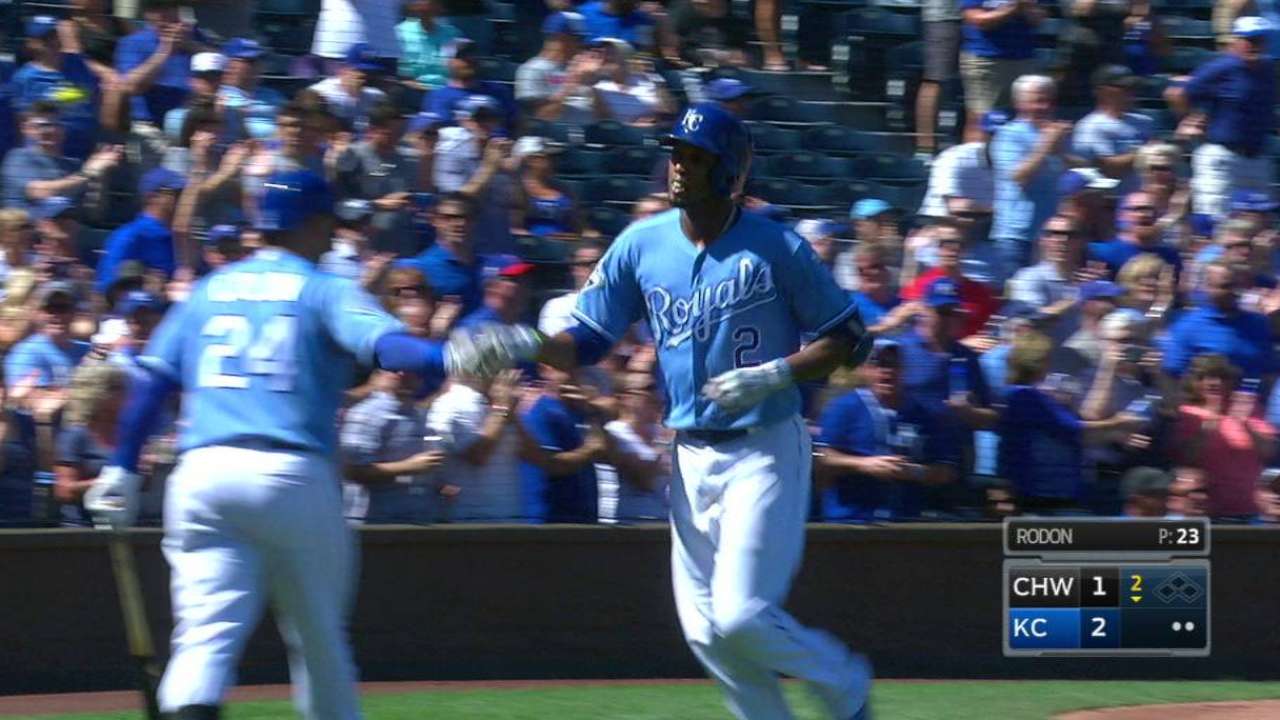 Yordano Ventura started for Kansas City and pitched the club's second nine-inning complete game of the season -- Danny Duffy had the other -- and the first of his career. Ventura gave up nine hits, walked one and struck out five.
• Yordano has laugh after getting startled by Butera
"I was just trying to get as many outs as quickly as I could [today]," Ventura said through interpreter Pedro Grifol. The heat index at game time was 96 degrees.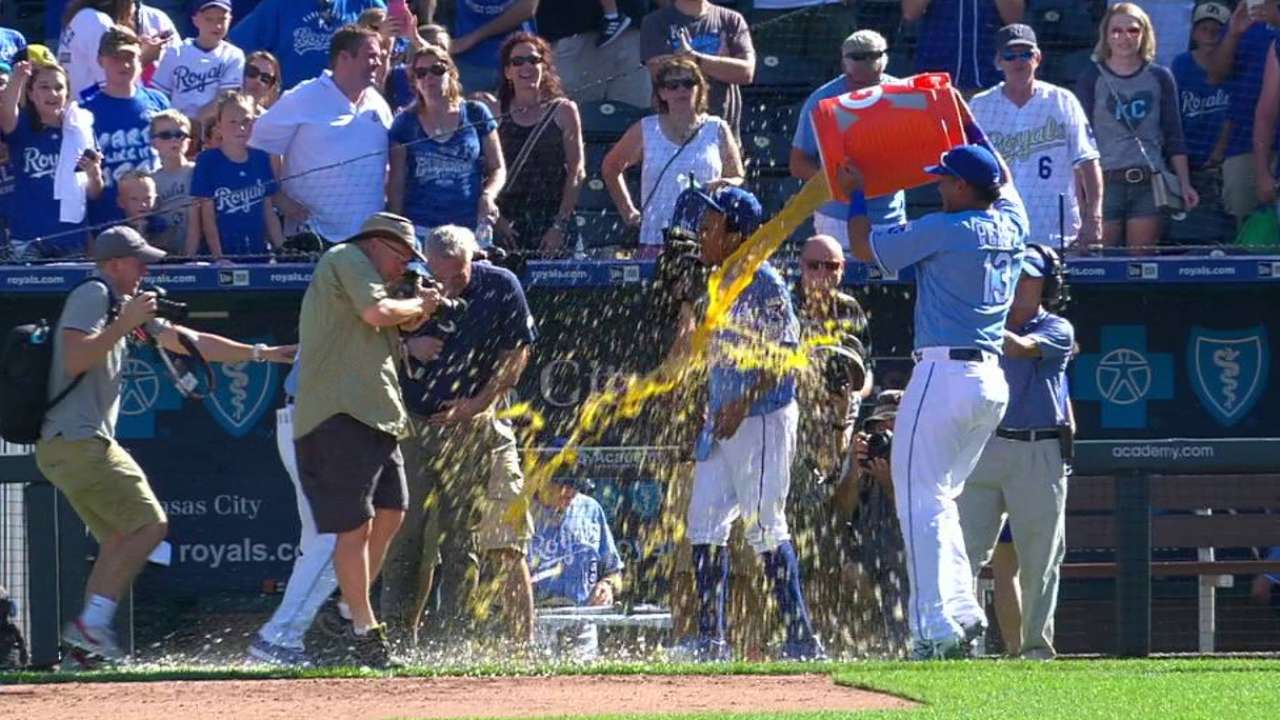 White Sox left-hander Carlos Rodon was chased with no outs in the fifth inning and was charged with six earned runs on eight hits, including three homers. Jose Abreu hit his 25th homer for the White Sox, and Carlos Sanchez hit his second of the series.
"It's a good ballclub and guys who have been in the game for a while and understand they need to make me throw pitches and get deep in counts," Rodon said. "They did a good job with that. They swung the bat well. Our guys swung the bat well too. They had some hard balls hit and some home runs. That's baseball."
MOMENTS THAT MATTERED
Stay hot, Big Ken: Morales delivered a deep drive in the fifth, a three-run shot that finished Rodon's day. Morales now has nine homers and 30 RBIs in his last 21 games. And he finished the eight-game homestand with two homers and 10 RBIs. The 29 homers are the most by a Royal since Billy Butler hit 29 in 2012. The last Royal to hit at least 30 was Jermaine Dye, who belted 33 in 2000.
"When he's hot, Kendrys can carry a team," Yost said. "That's what he's doing right now."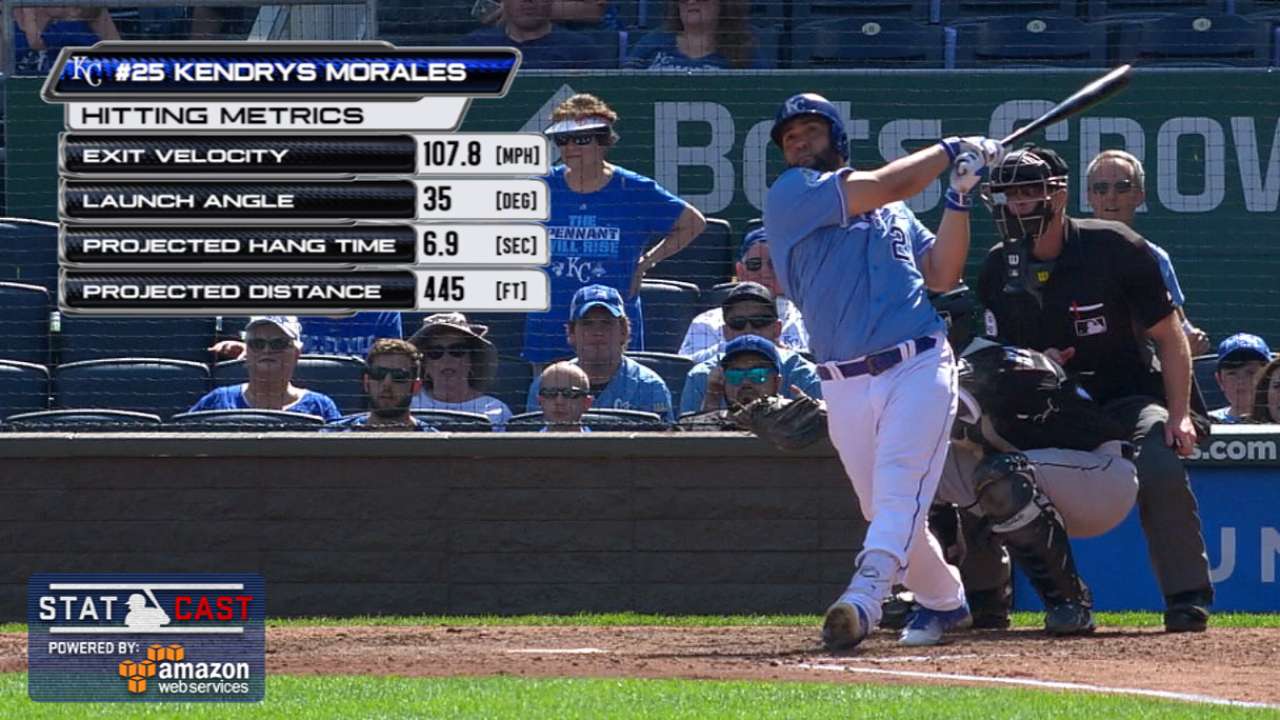 That escalated quickly: Rodon did not allow a home run to the Royals during the first 25 innings innings he threw against them this season. From the time Orlando connected with one out in the second, the White Sox left-hander gave up three over the next 18 hitters.
"It's a tough lineup. It seems like he could never catch his breath," White Sox manager Robin Ventura said. "Every inning seemed to jump on him a little at a time. Thinking he could get through that fifth and get out of it, but they got him. Not his best one and a tough one considering it was going as good as it was."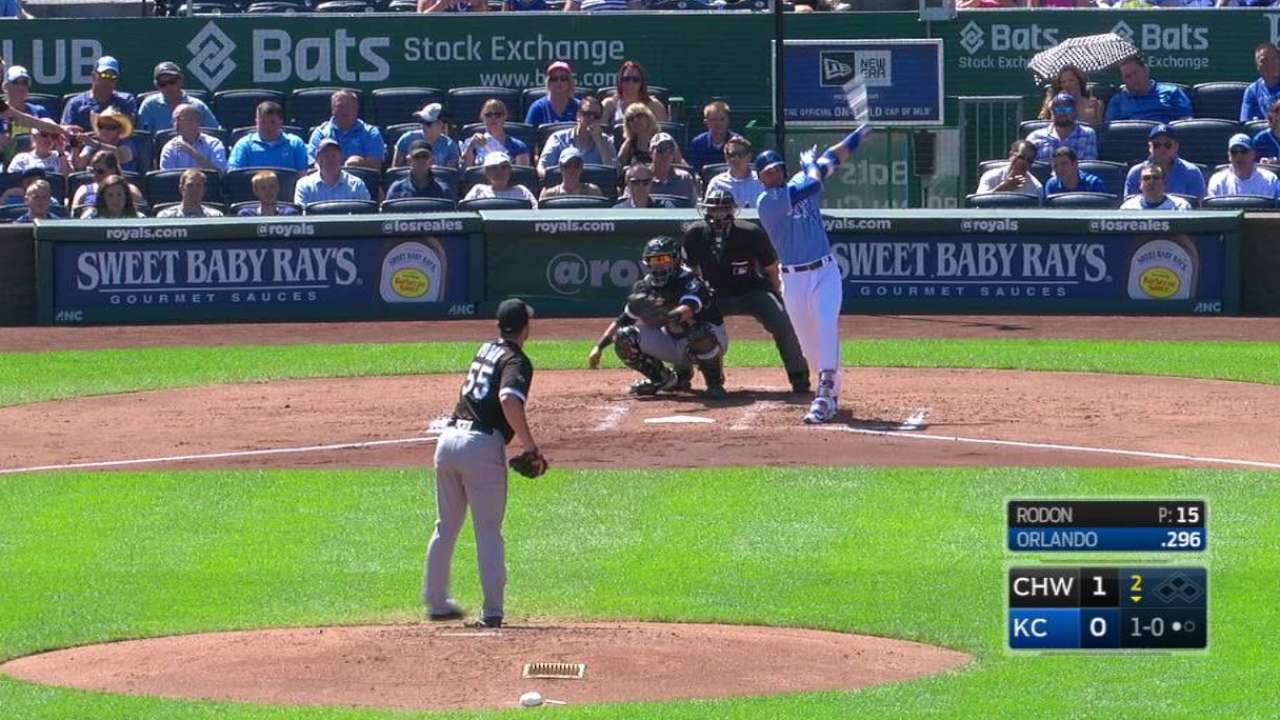 Nearing 100: Royals first baseman Eric Hosmer already has career highs in home runs (23) and RBIs. Now he is approaching the 100-RBI mark. Hosmer had RBI singles in the fifth and sixth inning, bring his RBI total to 97.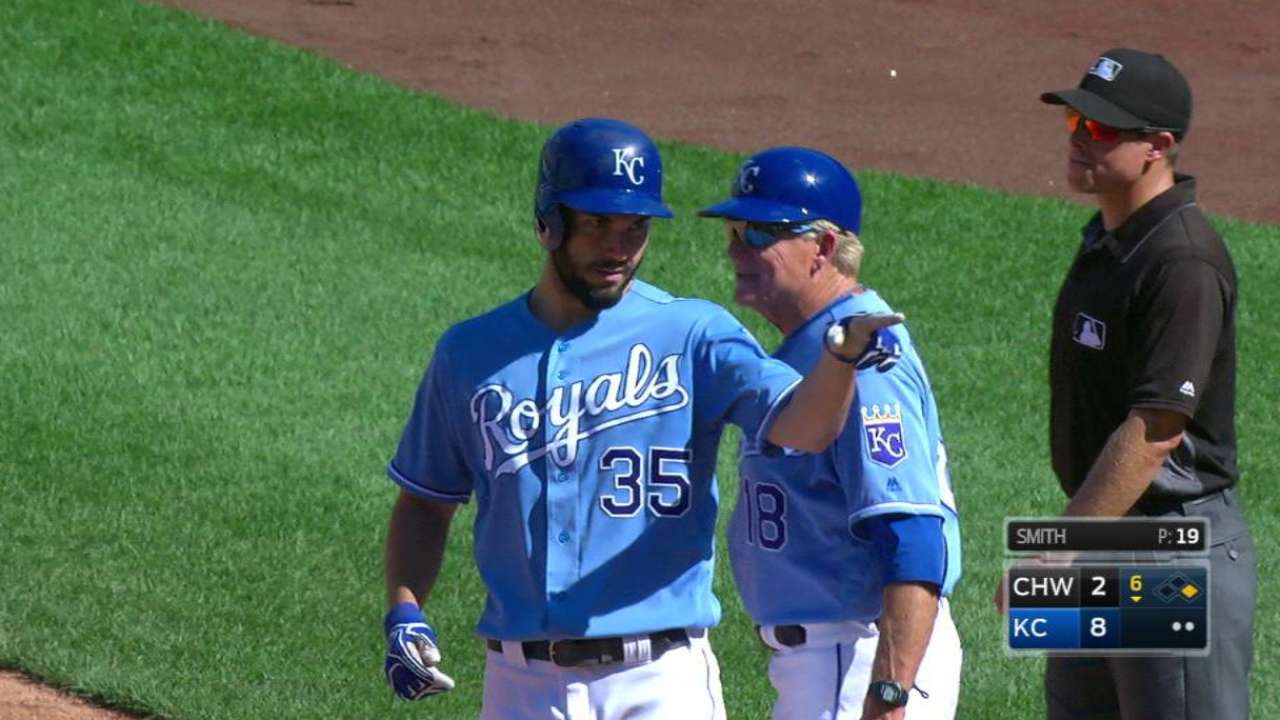 Rounding up the numbers: Todd Frazier and Abreu moved closer to individual milestones with their efforts. Frazier singled home a run in the second, giving him 37 homers and 94 RBIs in pursuit of a 40/100 season. Abreu launched a Statcast-projected 451-foot home run in the fourth with an exit velocity of 107 mph, giving him 25 homers and 96 RBIs. Abreu is trying to join Albert Pujols as the only players in MLB history to have at least 30 homers and 100 RBIs in each of his first three seasons. Abreu has reached base safely in 42 of his last 45 games, batting .370 with 14 home runs and 40 RBIs during that stretch since Aug. 2.
"My mindset right now is just to play game by game," said Abreu through interpreter Billy Russo. "That's something that I can accomplish. But this is, of course, tough because of the short amount of games we have. Of course, it's in the picture. I'm glad to have this opportunity and I want to thank God because after what I passed through the first half, the second half has been very good." More >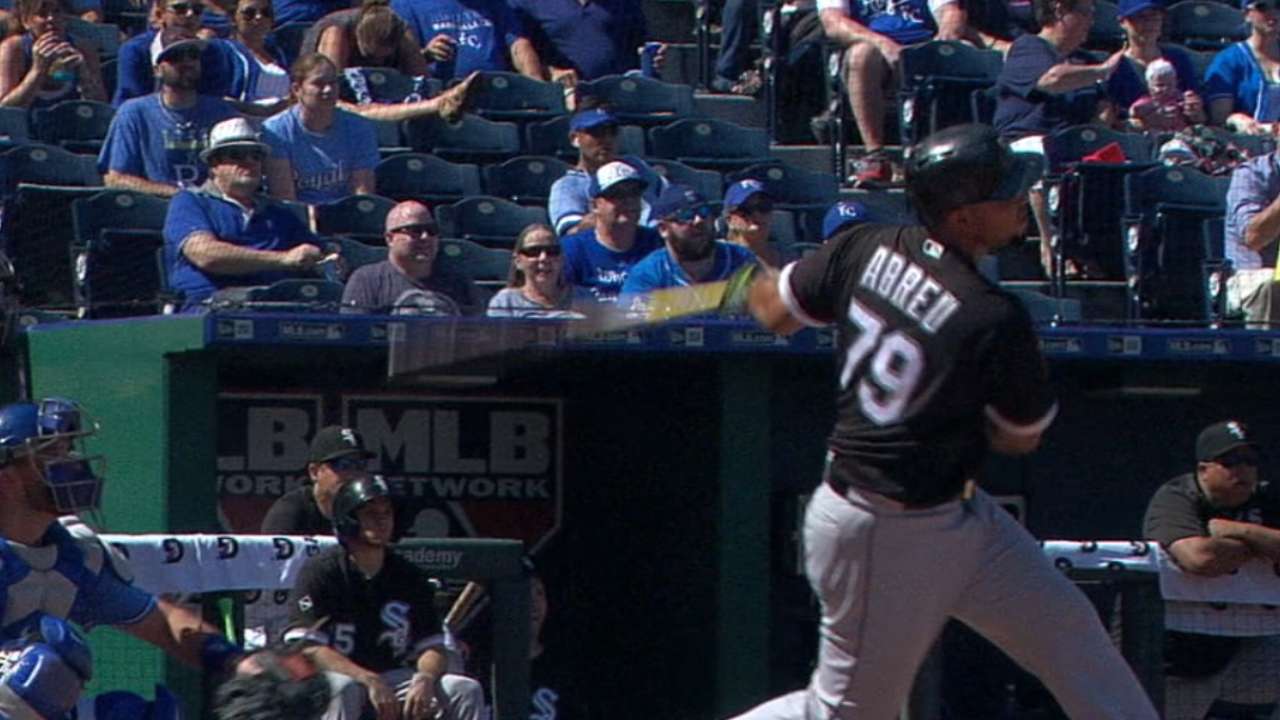 QUOTABLE
"I think it's desire. It's desire to win. It's their hunger to win games and to be good. For me, that is the main point for them."
-- Abreu, on what makes the Royals good and what makes them so tough on the White Sox, who have lost seven straight series to Kansas City
CLOSE ENCOUNTERS
Of the 19 games this season between the Royals and White Sox, 16 were decided by three runs or fewer. There were eight one-run games, in which the Royals won seven.
TOSSED
Escobar and Yost were ejected from the game by home-plate umpire Toby Basner in the bottom of the fifth. Escobar was at the plate when he took a 3-1 pitch for a strike. He then began having words with Basner, who ejected him. Yost came out moments later and was ejected as well. It was Escobar's third career ejection, and Yost's 39th.
Yost got to view the rest of the game in the clubhouse off the television feed.
"I said something I probably shouldn't have said [to Basner]," Yost said. "I was a little frustrated. I thought Toby did a fairly good job. But I thought on Esky's at-bat before, on a 3-1 count, it was definitely ball four and we would have had the bases loaded with one out, knowing that Rodon is so tough to score against. But he called it a strike and he ended up flying out."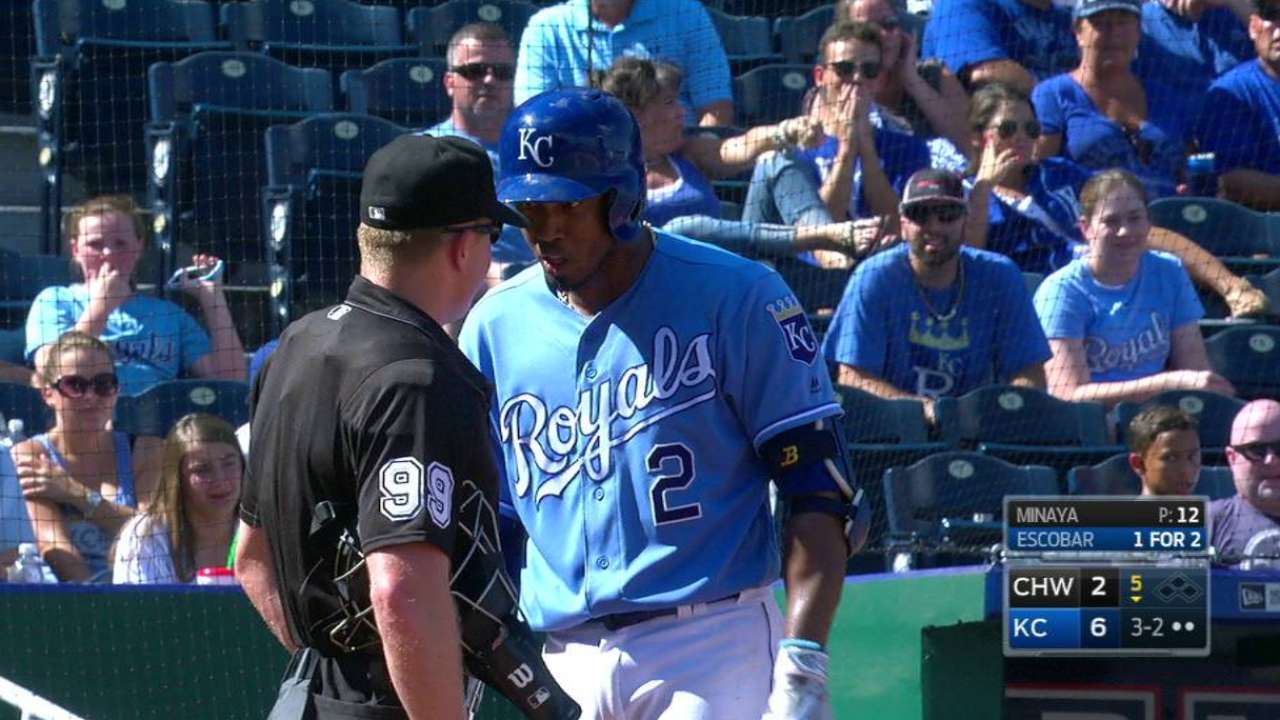 WHAT'S NEXT
White Sox: James Shields (5-17, 5.84 ERA) makes his 31st start of the season and 20th with the White Sox as they move into Interleague Play in Philadelphia with a 6:05 p.m. CT first pitch Tuesday. Shields is 0-5 with a 9.37 ERA over his last nine starts and is 0-2 with an 11.02 ERA over his last four road starts.
Royals: Right-hander Edinson Volquez (10-11, 5.40 ERA) takes the mound for the Royals as they open their final road trip of the season Tuesday with a 6:10 p.m. CT game against the Indians. Volquez was roughed up by the A's in his last outing Thursday, giving up eight earned runs and seven hits in 3 1/3 innings.
Watch every out-of-market regular-season game live on MLB.TV.
Jeffrey Flanagan has covered the Royals since 1991, and for MLB.com since 2015. Follow him on Twitter @FlannyMLB.

Scott Merkin has covered the White Sox for MLB.com since 2003. Read his blog, Merk's Works, follow him on Twitter @scottmerkin, on Facebook and listen to his podcast.

This story was not subject to the approval of Major League Baseball or its clubs.