Dawson impressed by Hall of Fame Tour
Exhibit will be at Mall of America in Bloomington, Minn., through Sept. 29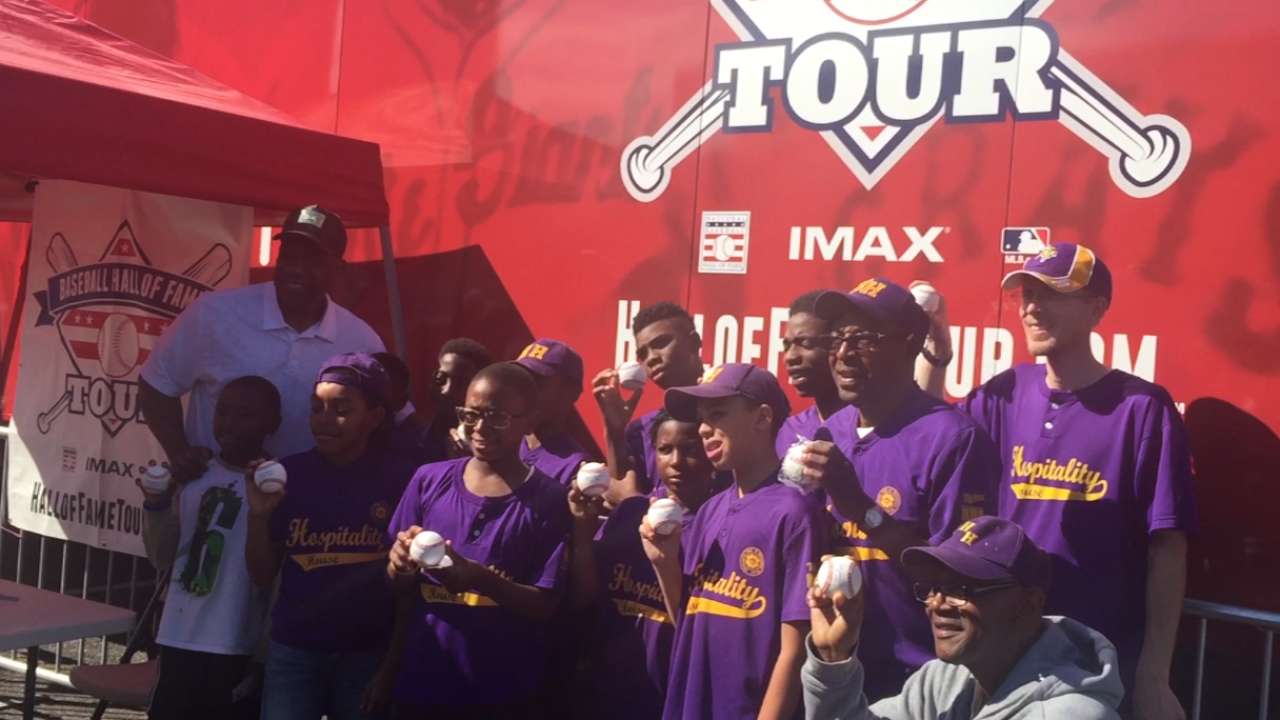 BLOOMINGTON, Minn. -- The Baseball Hall of Fame is a national treasure, and the museum is a must-see for baseball fans, but its location in Cooperstown, N.Y., isn't easy to get to for many.
So Major League Baseball helped create the first Hall of Fame Tour, which is making its final stop of the year in the north lot of the Mall of America in Bloomington until Sept. 29. The traveling Cooperstown exhibit includes five trailers filled with interactive displays, artifacts and an IMAX movie celebrating the game of baseball.
Hall of Famer Andre Dawson visited the exhibit on Sunday, and he came away impressed by what he saw. But he's not the only former player who will be on hand to meet with fans, as Twins Hall of Famer Eddie Guardado appeared on Monday at 4 p.m. CT, Hall of Famer Bert Blyleven is scheduled to visit on Tuesday at 11 a.m., and former Twins right-hander Juan Berenguer will stop by on Sept. 26 at 4 p.m.
"This is great," Dawson said. "This is my first time witnessing the tour itself. They did a phenomenal job with the displays, the artifacts and the history of the game. The very first thing I did when I got here was go through each exhibit. It was pretty phenomenal."
Dawson, inducted into the Hall of Fame in 2010 after a 21-year playing career that saw him named an All-Star eight times and win the National League MVP Award in 1987, was simply the latest Hall of Famer to check out the exhibit, joining others such as George Brett, Ozzie Smith and Blyleven.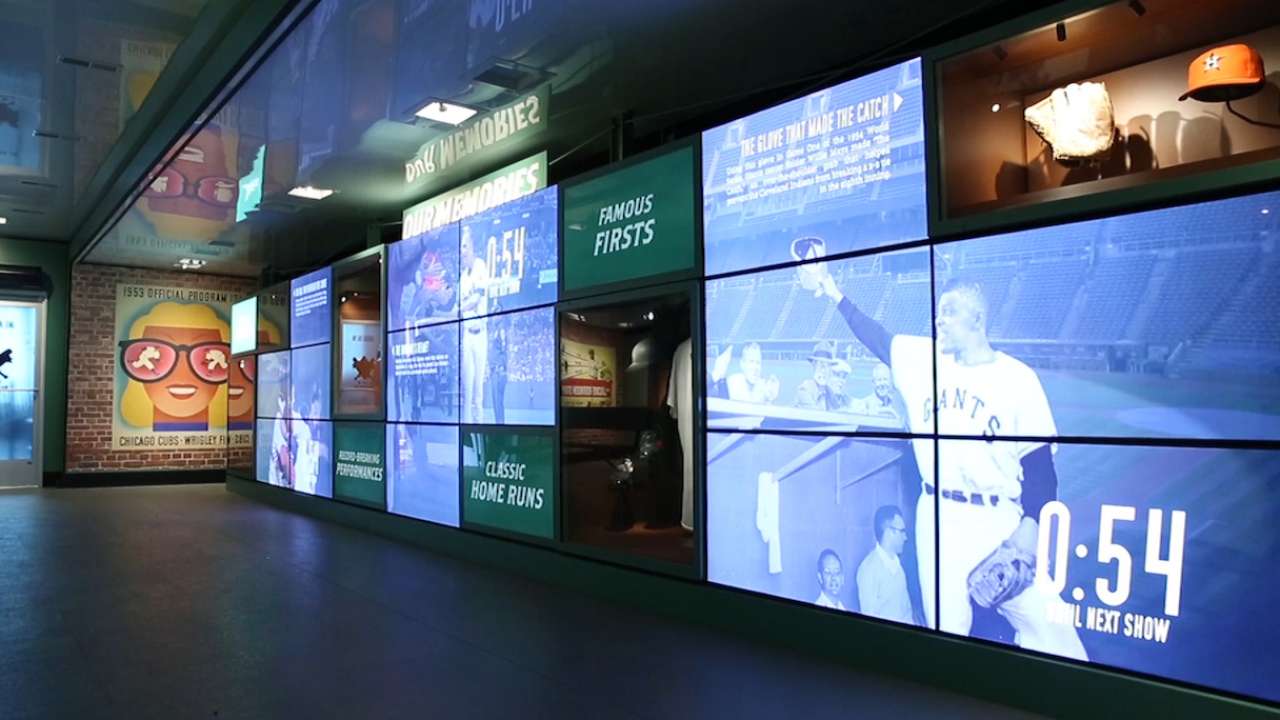 Dawson signed autographs for fans and met with several youngers, including a youth baseball team from Hospitality House. But he also made sure to check out the five trailers, and he came away impressed. Dawson's baseball cap from his 1987 MVP season was on display, as well as other baseball gear from legends such as Babe Ruth, Honus Wagner, Ted Williams, Ty Cobb, Walter Johnson, Cy Young, Jackie Robinson, Stan Musial, Hank Aaron and more.
"It's good that Major League Baseball and the Hall of Fame can put it on and show it to fans around the country," Dawson said. "Obviously, everybody can't get to Cooperstown, so this is an outstanding job to let people see it around the country."
Each of the five trailers has a different theme, including a trailer that includes virtual-reality headsets to put fans at the center of the action. Fans can watch players run out onto the field, see what it's like to be behind the plate for Marcus Stroman's curveball and watch Mike Trout take batting practice. Dawson surprised a few lucky fans who took off their VR headsets only to see a real-life Hall of Famer in front of them.
"That's what makes it so surreal," said Andy Couch, the curator of the traveling exhibit. "Andre and I did the virtual reality, and it's funny to see people's reactions when they take off the goggles and Andre is in front of him. It's really great he was able to visit."
There's also the "Our Hall of Famers" trailer that houses digital versions of every Cooperstown plaque and also allows fans to create their own plaque, which can be funny or serious. It's just one of several interactive displays at the exhibit.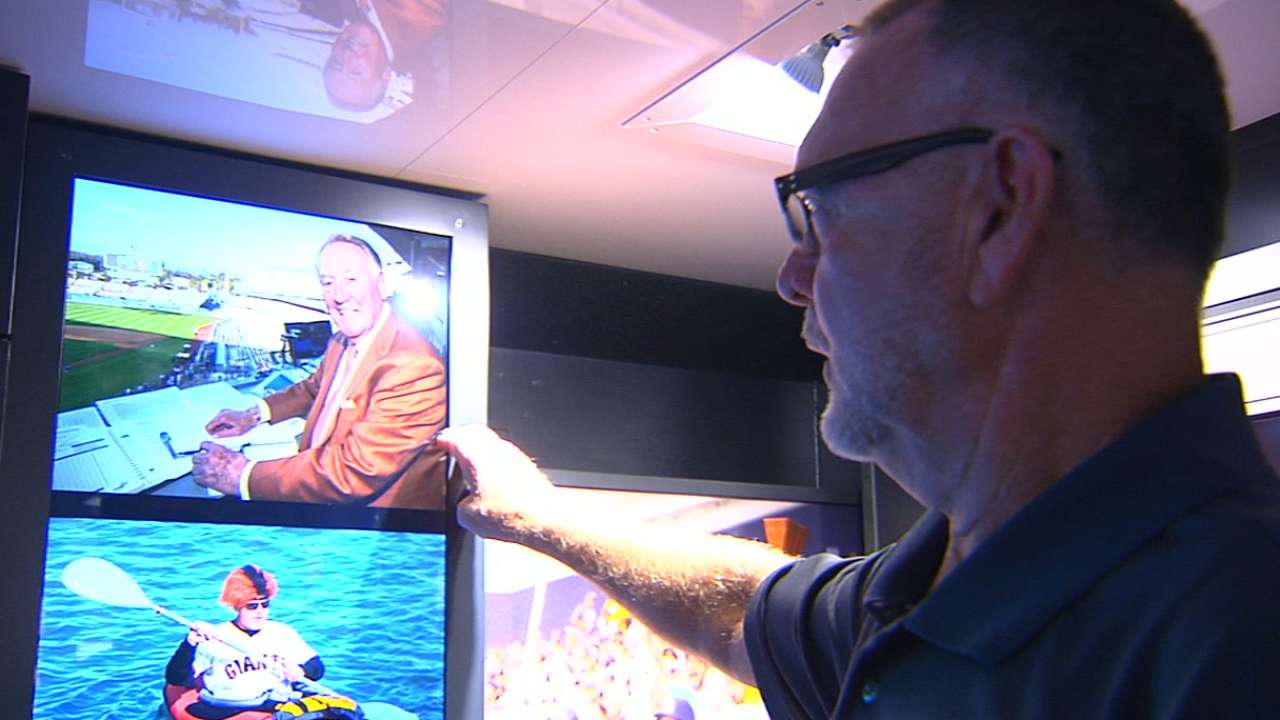 The "Our Traditions" exhibit has a large interactive touch table in the center of it, allowing fans to play games and trivia. It also has items such as broadcaster Harry Carry's glasses, a baseball from the 1800s and the T206 Honus Wagner baseball card, which is one of the rarest and most expensive cards in the world.
There are also plenty of interactive features to the "Our Memories" exhibit, which allows fans to put themselves in some of the biggest moments in baseball history with the help of a selfie cam. It also focuses on some of baseball's most unforgettable moments, such as Cal Ripken breaking the consecutive games played streak, Bobby Thomson's "Shot Heard 'Round the World" and Carlton Fisk's game-winning homer in Game 6 of the 1975 World Series. Fans can also write down their favorite memories from games they've attended.
"My favorite exhibit is 'Our Memories,' because you're able to read and learn about the community and the memories they have at the ballpark," Couch said. "It's been great to read all of those."
Finally, there's the traveling IMAX film, which is the first of its kind. The 10-minute film takes a look at the game being played at the Major League level down to Little League and fields throughout Latin America.
The five trailers and the IMAX movie are all included with the price of admission. For a complete schedule and ticket prices, visit mlb.com/hall-of-fame-tour.
"Everyone who has come out has really enjoyed it," Couch said. "It's just been a great reception overall. The virtual reality, the only mobile IMAX and of course just bringing Cooperstown to people around the country."
Rhett Bollinger has covered the Twins for MLB.com since 2011. Read his blog, Bollinger Beat, follow him on Twitter @RhettBollinger and listen to his podcast. This story was not subject to the approval of Major League Baseball or its clubs.