Bucs still playing for October while building for 2017
Pirates know playoff chances slim, but club will keep battling until officially out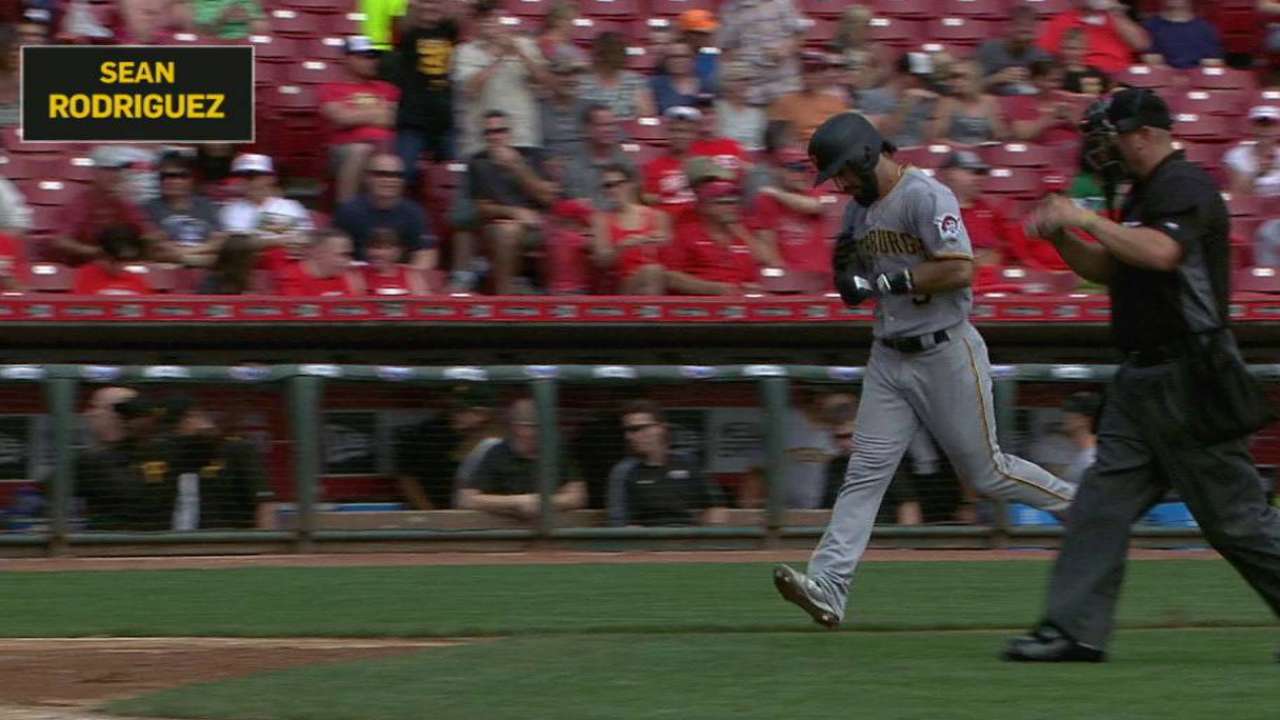 PITTSBURGH -- Johnny Rodriguez has been reminding his son a lot lately where he was five years ago.
Sean Rodriguez was playing for the Rays, who began the season's final month nine games out of a playoff spot and stormed back to capture the American League Wild Card. That same September, David Freese's Cardinals made a similarly dramatic comeback and rode it all the way to the World Series.
"[My dad] says, 'Why not?'" Rodriguez said. "I say, 'I believe, I definitely believe. Why not?'"
That "why not?" mentality fits the Pirates as they enter the final two weeks of the season. They do not have a realistic chance to make the postseason for the fourth straight year. Pittsburgh's playoff odds, as calculated by FanGraphs, had fallen from 31.4 percent on Aug. 28 to 0.3 percent on Monday.
But the Bucs are not yet ready to change course on the remainder of this year for two reasons: First, they won't say they're out until they are officially declared to be so. And second, elimination will not dramatically alter their plans, anyway.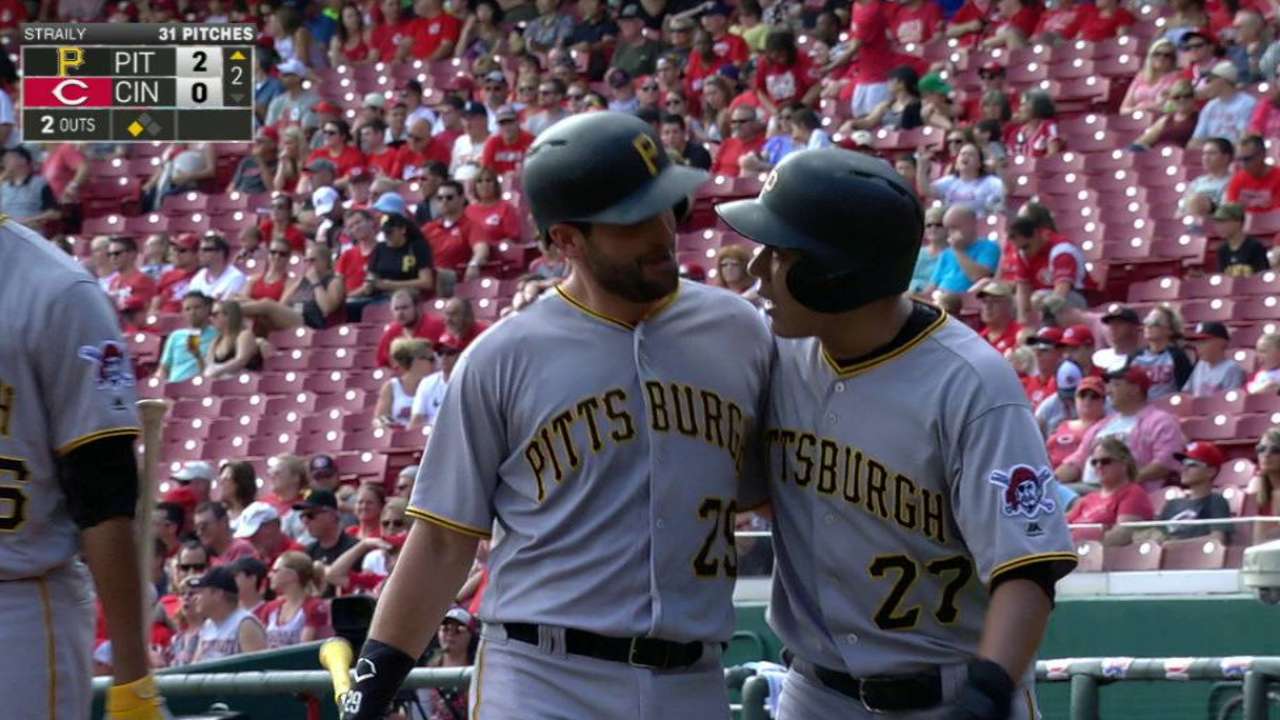 "We're balancing that while it feels improbable, it is still possible," general manager Neal Huntington said. "We may need some help from some other clubs, but we're still balancing that with each player's short-term and long-term interest in mind."
With 13 games remaining, the Pirates' only hope would be for the Giants or Mets to fall behind and the Cardinals to claim ownership of the second Wild Card spot. If Pittsburgh could pull within three games of St. Louis in time for the final series of the season at Busch Stadium, it would still have hope.
But the Bucs may be hard-pressed to finish above .500, much less in the playoffs. With 682 runs scored and 686 allowed, their projected record aligns perfectly with where they are -- 74-75, one game below .500 -- heading into a three-game series in Milwaukee. They will then face the contending Nationals and Cubs at home and end the season in St. Louis.
With the odds stacked so heavily against the Pirates, why not starting playing with an eye toward next year? Because all along, they've been building for 2017 while trying to contend this year.
Some fans might implore the Bucs to play the kids, but they already are. Their current rotation includes rookies Jameson Taillon, Chad Kuhl, Steven Brault and Trevor Williams. First baseman Josh Bell and utility man Adam Frazier have become regulars. Left-hander Felipe Rivero, acquired for former closer Mark Melancon, is pitching high-leverage innings.
Besides, most of Pittsburgh's roster -- everyone but Ivan Nova, Ryan Vogelsong, Matt Joyce, the injured Neftali Feliz and the hot-hitting Rodriguez -- is under contract for next season.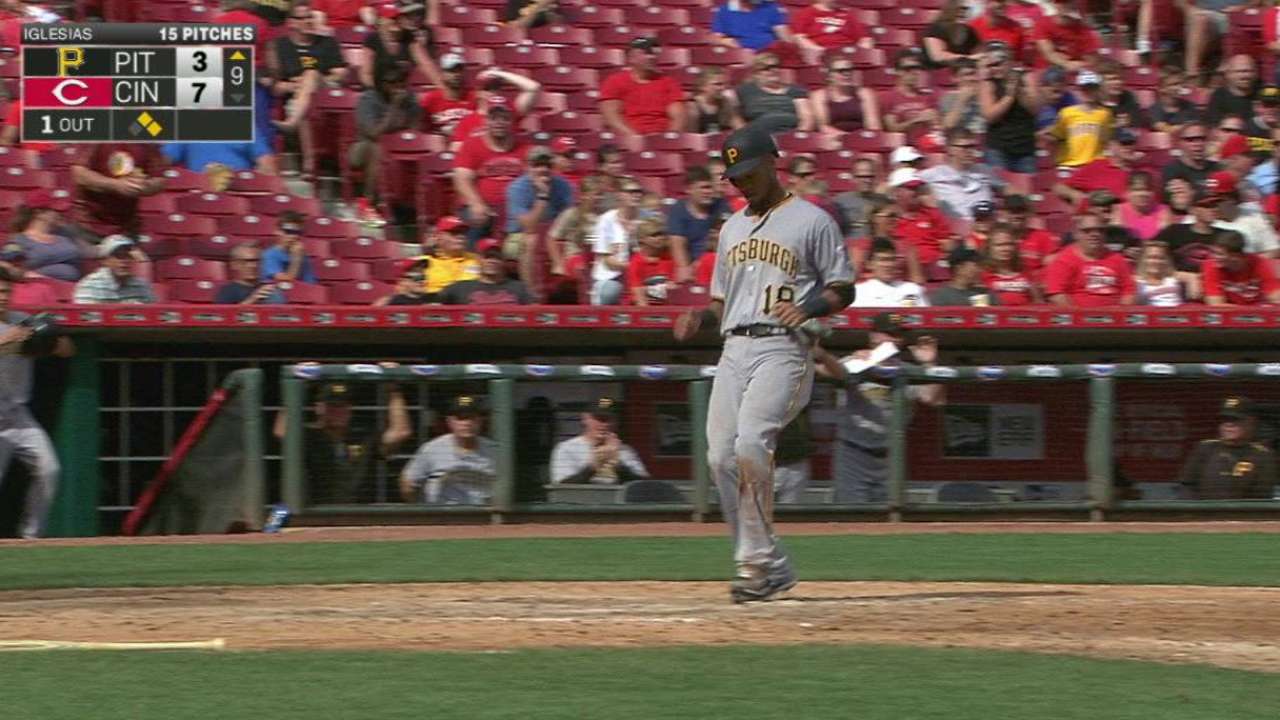 "I don't know that we'd change that much if we were to get eliminated," Huntington said. "The young players are playing a lot, because they're helping us make this late push."
The Pirates hope the experience will be valuable for their young players in the future, even if this year's push doesn't end in middle or late October.
"We're still in a race. My conviction is to continue to put out the best team that day to win a game that still has us in a race," manager Clint Hurdle said. "If that shifts, when it shifts, we'll adjust accordingly. … There's a lot of lessons learned by men being involved in a race and maybe not being the major participants in the race."
Adam Berry has covered the Pirates for MLB.com since 2015. Follow him on Twitter at @adamdberry. This story was not subject to the approval of Major League Baseball or its clubs.