Sox prospects begin instructional league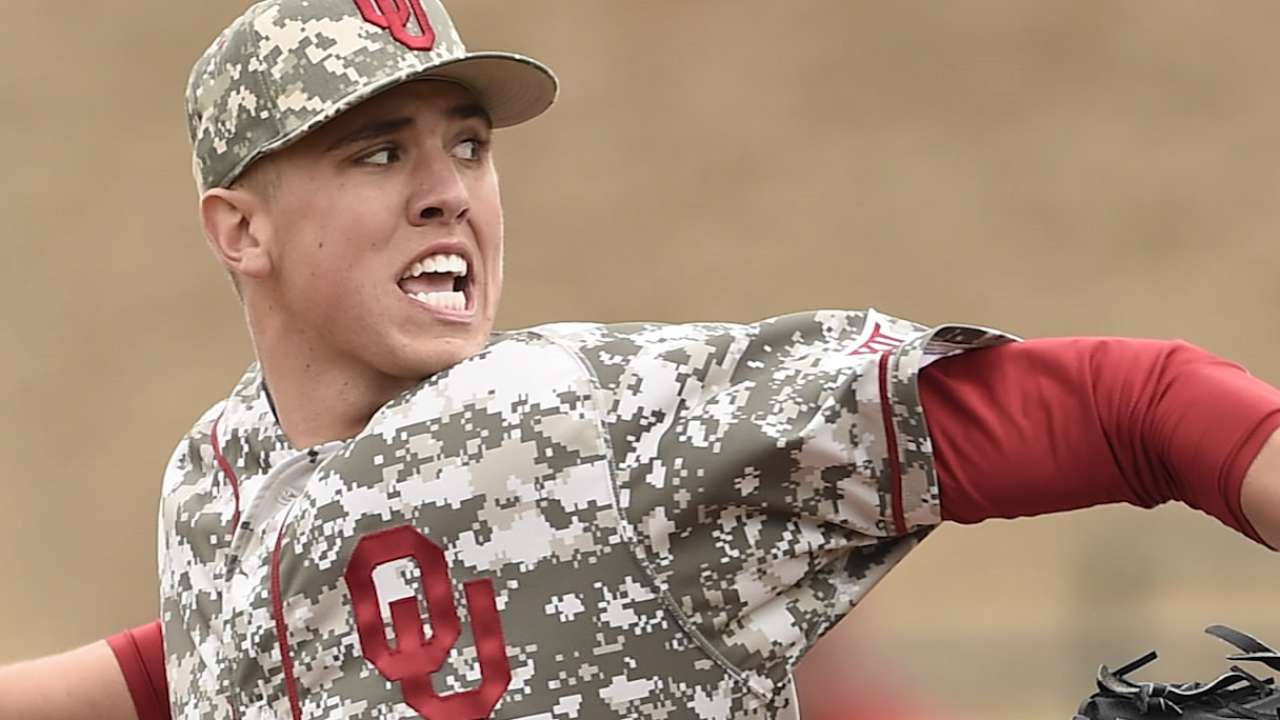 KANSAS CITY -- Say the words "instructional league," and the name Tim Tebow probably follows close behind.
While the former NFL quarterback begins his baseball career with the Mets in Florida amid much hoopla, 50 White Sox prospects went to work across the country Monday at Camelback Ranch in Glendale, Ariz. And the instructional league is much more about teaching and learning than it is a media-driven event.
"It's my favorite time of the year, just because you get most of the younger kids, they are getting a lot more one-on-one instruction," White Sox director of player development Nick Capra said. "It's very valuable time for teaching."
Capra has been with the White Sox during this four-game series in Kansas City and will be with them for the final two weeks of the regular season before returning to Arizona. The White Sox have 25 pitchers, seven catchers, 10 infielders and eight outfielders taking part -- including pitcher Alec Hansen, the club's No. 8 prospect per MLBPipeline.com, outfielder Jameson Fisher (No. 9), outfielder Micker Adolfo (No. 13), outfielder Alex Call (No. 20) and infielder Corey Zangari (No. 26).
Some of the young players brought in through the International signing period will get their first exposure to professional baseball, with five games per week starting Thursday, a camp day on Wednesday and an off-day on Sunday. Fernando Tatis Jr., who was part of this season's trade with the Padres for James Shields, saw his inaugural White Sox action during the 2015 Instructs.
Players such as infielder Lenyn Sosa and outfielders Anderson Comas and Josue Guerrero reside on the current instructional league roster. Sosa and Comas are 16 years old, while Guerrero turns 17 around Thanksgiving. There is a definite chance for players to improve through this work, which ends on Oct. 16.
"Yeah, absolutely. I can't think of any examples off the top of my head, but guys make huge strides," Capra said. "Say a guy you get a hold of, changeup, maybe it's his third or fourth best pitch and we are trying to get that changeup better so he'll go out there and throw fastball/changeup in games for one or two innings. However long he's out there, just to try to work on that changeup or breaking ball.
"Guys that are offensive guys, defensive guys, we'll work on a lot of different things. It's really a blast, a good time of year, atmosphere is great. Low key, not a lot of pressure. There's a lot of activity, but a lot of one-on-one instruction."
Not all top prospects will be present in Glendale. Zack Burdi (No. 4), as an example, currently is working toward his degree at Louisville.
"A lot of it has to do with workload," Capra said. "Some want to go back to school to try to finish, which we encourage."
Scott Merkin has covered the White Sox for MLB.com since 2003. Read his blog, Merk's Works, follow him on Twitter @scottmerkin, on Facebook and listen to his podcast. This story was not subject to the approval of Major League Baseball or its clubs.