Ventura wants to 'play for today' down stretch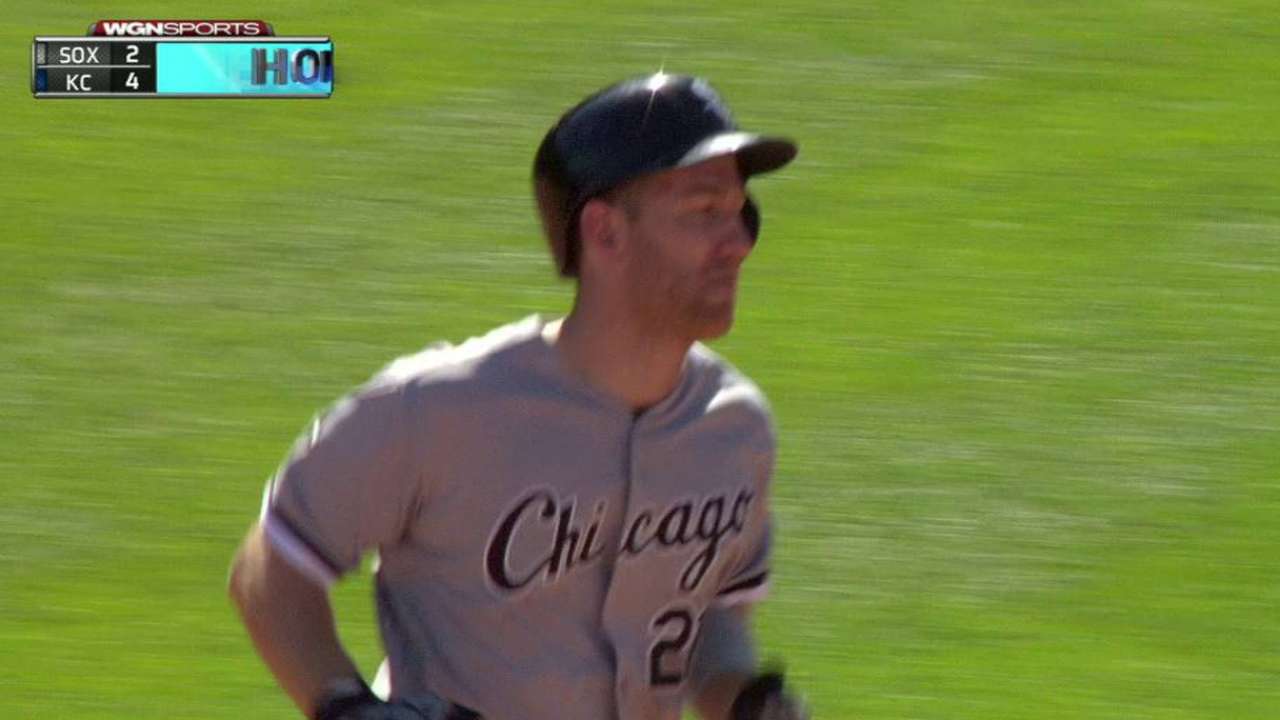 KANSAS CITY -- With Sunday's 10-3 loss to the Royals, the White Sox officially were eliminated from American League Central title contention.
Their elimination number stood at 5 in the AL Wild Card race entering Monday's series finale at Kauffman Stadium. But seven teams had at least a four-game lead over the White Sox, making that race pretty much impossible as well.
It's the completion of a precipitous fall, after the White Sox stood at 23-10 with a six-game lead in the division after an extra-inning victory on May 9 in Texas. Since that high point, the White Sox have a 49-67 mark and have lost 20 games in the standings to the Indians.
Rehashing the disappointment wasn't on manager Robin Ventura's agenda during his pregame media session on Monday.
"We're just playing games right now," Ventura said. "We've gone through the period of all that stuff, and they're playing to win today's game. That's it.
"That's all I can ask for right now. Not worried about looking back a month or four months. I want them to play for today."
Unfortunately for the White Sox, pride remains their lone goal during September for a fourth straight year. The 2013 and '14 campaigns stood out as more of a rebuilding period, but the last two seasons have been disappointments -- especially with the great '16 start.
So what went wrong? The offense wasn't consistently there, even when the team had its lofty early standing. Key bullpen pieces such as Zach Putnam and Jake Petricka were lost to injury for the season, and the same happened with center fielder Austin Jackson, who was a galvanizing force in the outfield and allowed Adam Eaton to start and excel in right.
There were too many "gut-punch" losses, as described by Ventura, where the White Sox held big leads in the eighth or ninth and came up short. There will be time to dissect with greater detail the exact issues as the offseason rolls around shortly, but White Sox reliever Nate Jones pointed to consistency as the biggest factor missing from this group.
"It all boils down to consistency," Jones said. "We knew from earlier in the year what kind of team we are and what kind of team we have. We have the talent and the ability and the leadership to do it. It's just that after that start, we didn't keep it consistent.
"Everybody would have their ups and downs, and we just couldn't get it working together consistently. It happens. It's part of baseball. It's just something we need to work on."
Ventura has taken the bulk of the blame in the final year of his contract. Jones doesn't believe fault belongs with the manager.
"People have to put the blame somewhere, and unfortunately they put it on him when it's us as players," Jones said. "It's our responsibility to play up to our level, and we just haven't been getting the job done. He's our leader and so he takes the flack for it, when it's really us."
Scott Merkin has covered the White Sox for MLB.com since 2003. Read his blog, Merk's Works, follow him on Twitter @scottmerkin, on Facebook and listen to his podcast. This story was not subject to the approval of Major League Baseball or its clubs.