Betts continues historic HR tear in Baltimore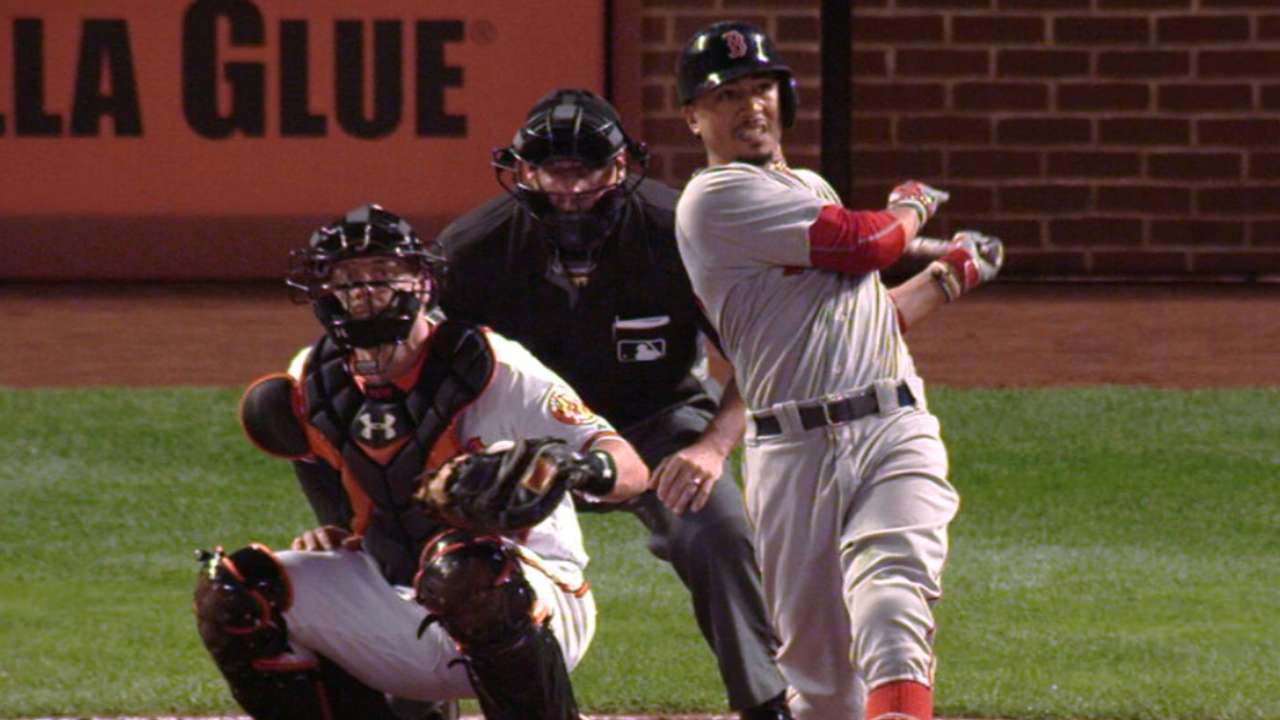 BALTIMORE -- For Mookie Betts, there are road games, and then there is Camden Yards -- his home away from home and personal stomping ground.
The Red Sox's right fielder belted yet another home run on the road against the Orioles to lead his team to a key 5-2 victory in Monday night's opener of a four-game series.
The two-run homer that broke a scoreless tie in the third inning marked the eighth time Betts has taken the Orioles deep in seven games at Camden Yards this season.
To put it in perspective, Betts has six home runs in the other 65 road games he's played this season. Even before Monday night's blast, Betts already held the record for most home runs by a visiting player in Baltimore since the Orioles moved there in 1954.
With three more games left in this American League East showdown -- the Red Sox now have a four-game lead on Baltimore -- perhaps Betts can make history.
Camden Yards or @mookiebetts' playground? https://t.co/7IW8ceFwY4 pic.twitter.com/ShDWDWgLjI

— Boston Red Sox (@RedSox) September 20, 2016
The Major League record for home runs by any visiting player in any ballpark is Detroit's Harry Heilmann, who belted 10 long balls at Shibe Park In Philadelphia in 1922.
If only Betts could figure out why he keeps going deep in the 410 area code, he says he would bottle the approach and do the same thing everywhere else.
"I have no idea. I try to do it everywhere, but it seems like it only works here," Betts said.
Betts is tied for the all-time record for most visiting homers at an existing venue, equaling Sammy Sosa (Minute Maid Park, 2001), Mike Schmidt (Wrigley Field, 1980) and Babe Ruth (Fenway Park, 1927).
There must be a reason. Is it the crab cakes? The cozy dimensions? The hitting backdrop?
"It's no different to me than any other park. Just somehow it's going over the fence," said Betts.
Betts is tied with Hall of Famer Jimmie Foxx for most visiting homers by a Red Sox player in a season in one ballpark. Foxx smoked eight homers against the Browns at St. Louis in 1939.
"Mookie, he's incredible in this ballpark really," said Red Sox righty Rick Porcello, who earned win No. 21.
For Betts, the home-run fun in Baltimore started on May 31, when he clocked three homers in Boston's 6-2 victory. The next night, Betts went deep twice in a 13-9 loss.
When the Red Sox started their second trip to Baltimore on Aug. 16, Betts celebrated with a two-homer, five-RBI night that led his team to a 5-3 victory.
Though Betts is having a terrific season (.314/.356/.541, 31 homers, 108 RBIs), he has been quieted in September. His homer on Monday was his first this month. Perhaps there's no better way for Betts to heat up again than spending four days in Baltimore.
Will Betts at least acknowledge he feels at home in Baltimore?
"No, no," Betts said with a smile. "I only feel like home when I'm in Nashville. That's the only place."
Ian Browne has covered the Red Sox for MLB.com since 2002. Follow him on Twitter @IanMBrowne and Facebook. This story was not subject to the approval of Major League Baseball or its clubs.