Farrell sticking with Pomeranz for now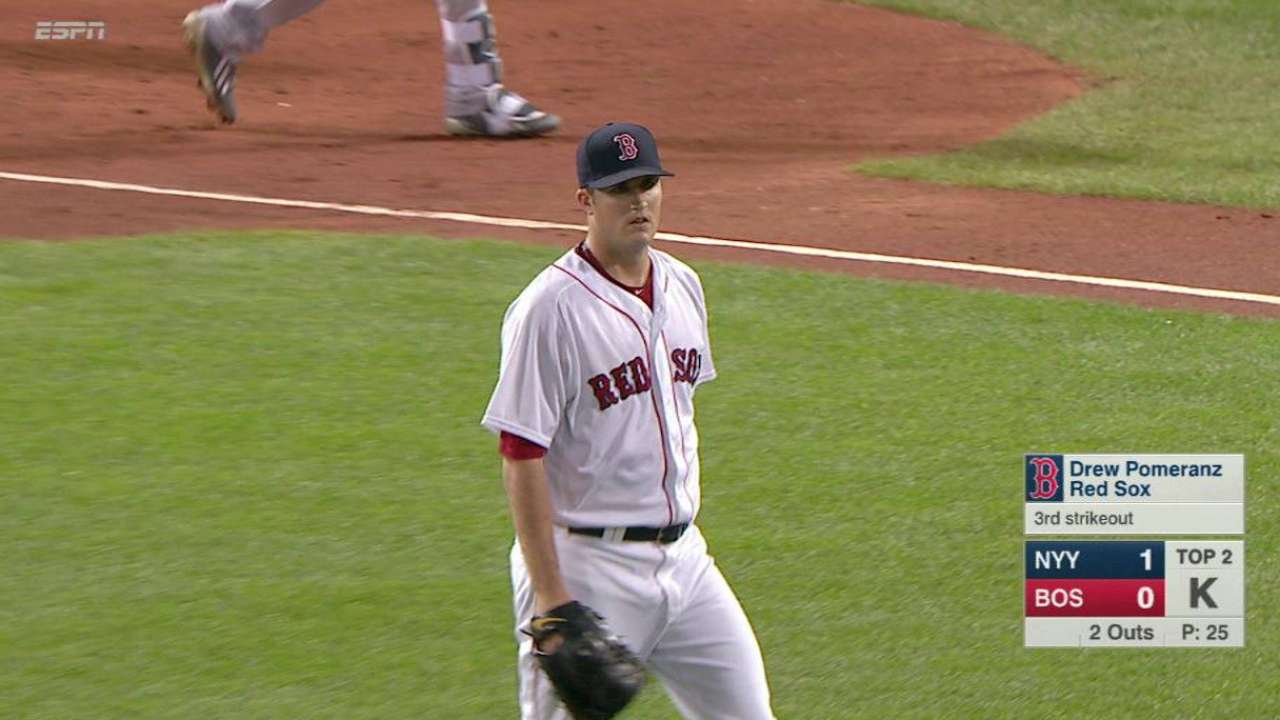 BALTIMORE -- Considering that Drew Pomeranz surpassed his career high for innings pitched a while ago, it wouldn't be a stretch to think fatigue is at the root of his recent struggles.
That said, the Red Sox are sticking with the lefty starter in hopes that he can rebound.
"Command. It's been command," said Red Sox manager John Farrell. "Is that a direct correlation to the innings workload to date? That's quite possible. I thought last night his velocity was consistent or similar to previous starts. The command from pitch to pitch was not there -- and it cost him. That's something we monitor close. He's going to start Friday at [St. Petersburg]. We continue on."
In truth, the Red Sox don't really have any other options with Steven Wright still shut down with bursitis in his right shoulder.
Pomeranz lasted 3 2/3 innings on Sunday against the Yankees, giving up seven hits and four runs. Five days earlier, he went two-plus innings in his start against the Orioles, allowing four hits and five runs.
For the season, Pomeranz is at 164 1/3 innings. His previous high was 146 2/3 in 2012, which included his totals in the Minors that year.
"I feel strong. I feel good. I'm just not making pitches when I need to," said Pomeranz.
In 12 starts since his trade to the Red Sox, Pomeranz is 2-5 with a 4.91 ERA. However, Pomeranz did have a solid seven-start run between Aug. 4-Sept. 5, when he posted a 2.76 ERA and allowed three earned runs or fewer each time out.
The Red Sox have their next off-day on Sept. 26. Perhaps after that, Farrell can build in some extra rest for Pomeranz.
"We're in a dogfight," said Farrell. "We're staying the course right now."
Ian Browne has covered the Red Sox for MLB.com since 2002. Follow him on Twitter @IanMBrowne and Facebook. This story was not subject to the approval of Major League Baseball or its clubs.