Inbox: What are Sanchez's ROY chances?
Beat reporter Bryan Hoch answers questions from Bombers fans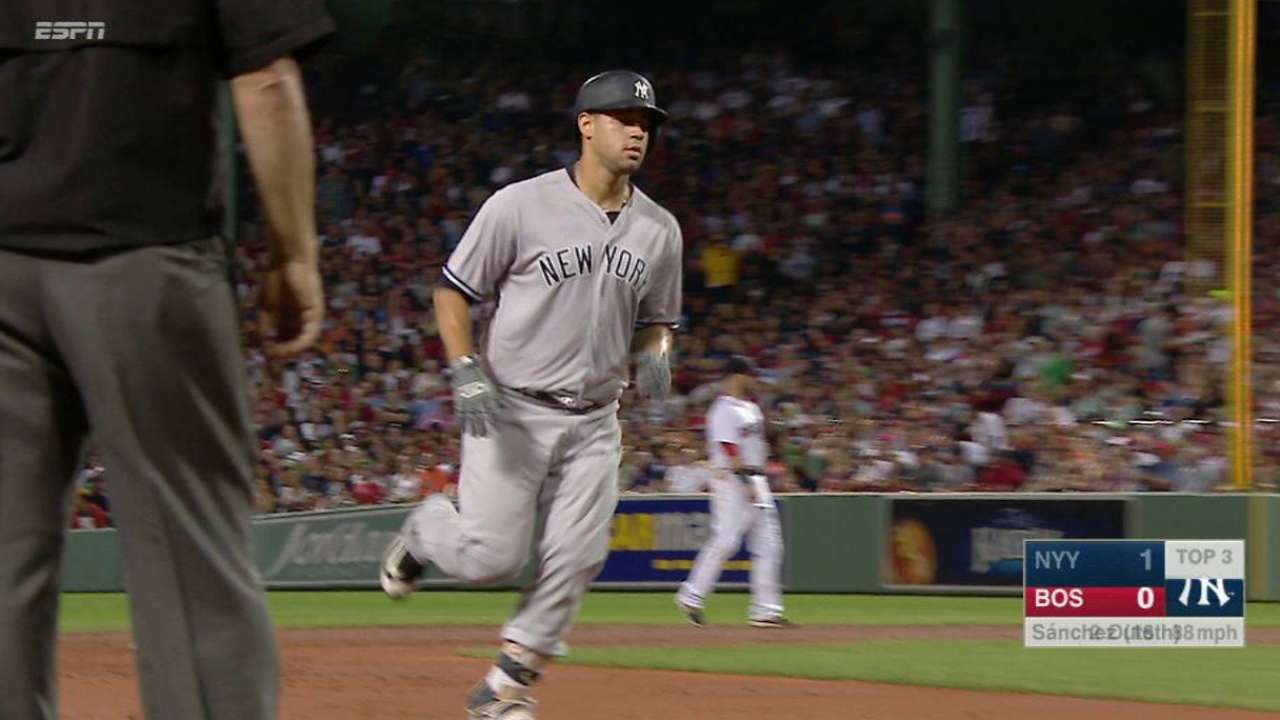 Will Gary Sanchez win the American League Rookie of the Year Award? Could he be eligible for it next season?
-- Stephen S., Port Jefferson, N.Y.
Sanchez absolutely belongs in the discussion, and that alone shows how remarkable his past seven weeks have been. He hit his 16th home run in Sunday's 5-4 loss to the Red Sox, a laser that smashed into an advertising board over the Green Monster. This has been historic. It took Sanchez just 158 at-bats to reach 16 homers, making him the second-fastest player in history (Wally Berger did it in 148 at-bats in 1930).
• Submit a question to the Yankees Inbox
We explored Sanchez's candidacy in more detail during the club's recent homestand, and his .327/.393/.698 slash line through 41 games demands that voters must offer him a serious look before they cast their ballots. This is Sanchez's only shot at the award, since he is past 130 at-bats, which exhausts a player's rookie eligibility.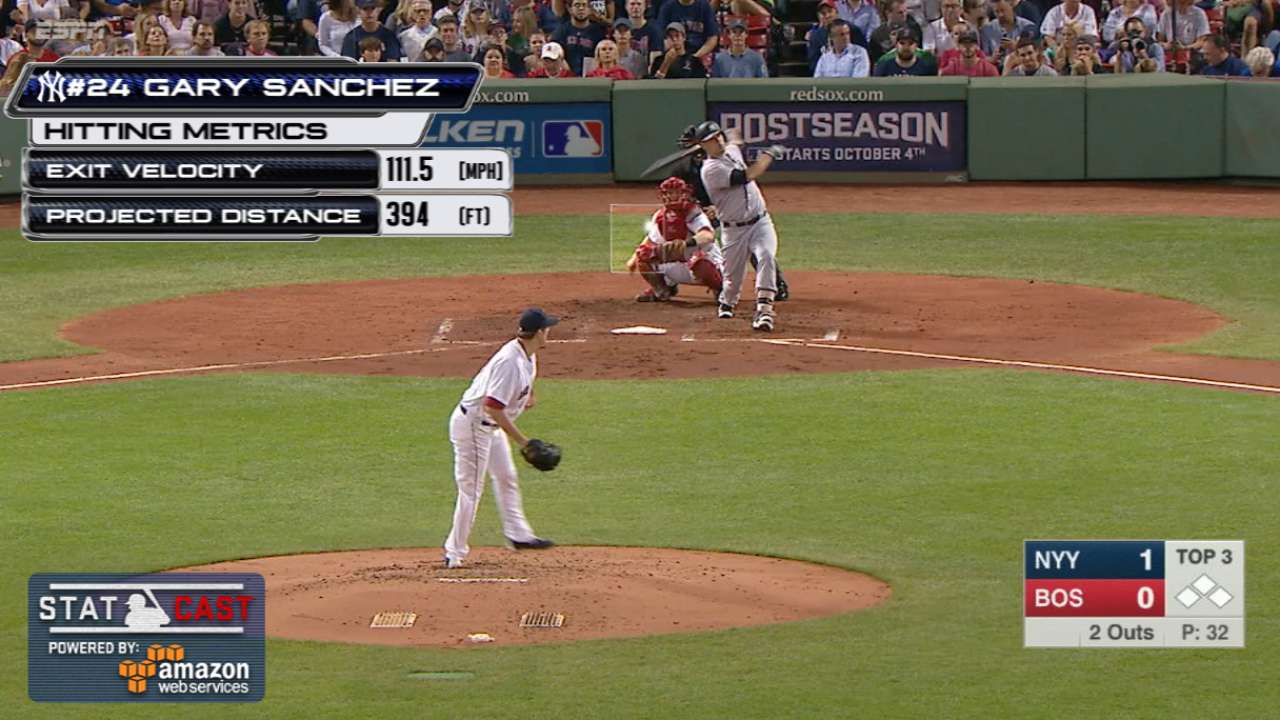 The Tigers' Michael Fulmer seems to be Sanchez's primary competition for the award; Fulmer is 10-7 with a 3.03 ERA, but he has been stumbling to the finish line. The right-hander is 0-4 with a 6.28 ERA in his past five starts. If you like Fangraphs WAR as a measuring stick, that metric makes a compelling case for Sanchez; his 2.7 WAR leads all AL rookie position players, though Fulmer is just behind him at 2.6 WAR.
It helps that there is some historical precedence for a player coming up so late and winning the Rookie of the Year Award; in 1959, Willie McCovey took the National League honors after hitting .354 with 13 homers, 38 RBIs and a 1.085 OPS despite playing in just 52 games. If Sanchez appears in all of the Yankees' remaining games, he would finish with 54 games played.
The Yankees have had a lot of injured players lately; Jacoby Ellsbury, Starlin Castro and Chase Headley. Can you give me an update of all of them?
-- Steven R., via e-mail
The most significant of those three injuries is Castro's, as his Grade 1 right hamstring strain could cost him the rest of the regular season. Those typically take at least two weeks to heal, and the Yankees just don't have that time left on the schedule. Ellsbury has a bone bruise on his right knee, but the Yanks believe he may be able to play this week in the series against the Rays.
Headley was forced to miss Sunday's game against the Red Sox with back spasms. He has a history of back trouble, but he said that he believes the issue is muscular, and he seemed optimistic that he could play on Tuesday. Ronald Torreyes and Donovan Solano figure to soak up extra at-bats while Castro and Headley are out of the lineup.
What are the Yankees' plans for Billy Butler? How will he impact Greg Bird?
-- Joseph S., Mount Sinai, N.Y.
Regardless of what happens the rest of the way, the Yankees' investment in Butler has paid off. They were responsible just for a prorated portion of the league minimum, approximately $50,000, after the Athletics released Butler while eating the remaining money on his contract through 2017. In all four of his games with the Yanks, Butler has done something to help the team, including a home run.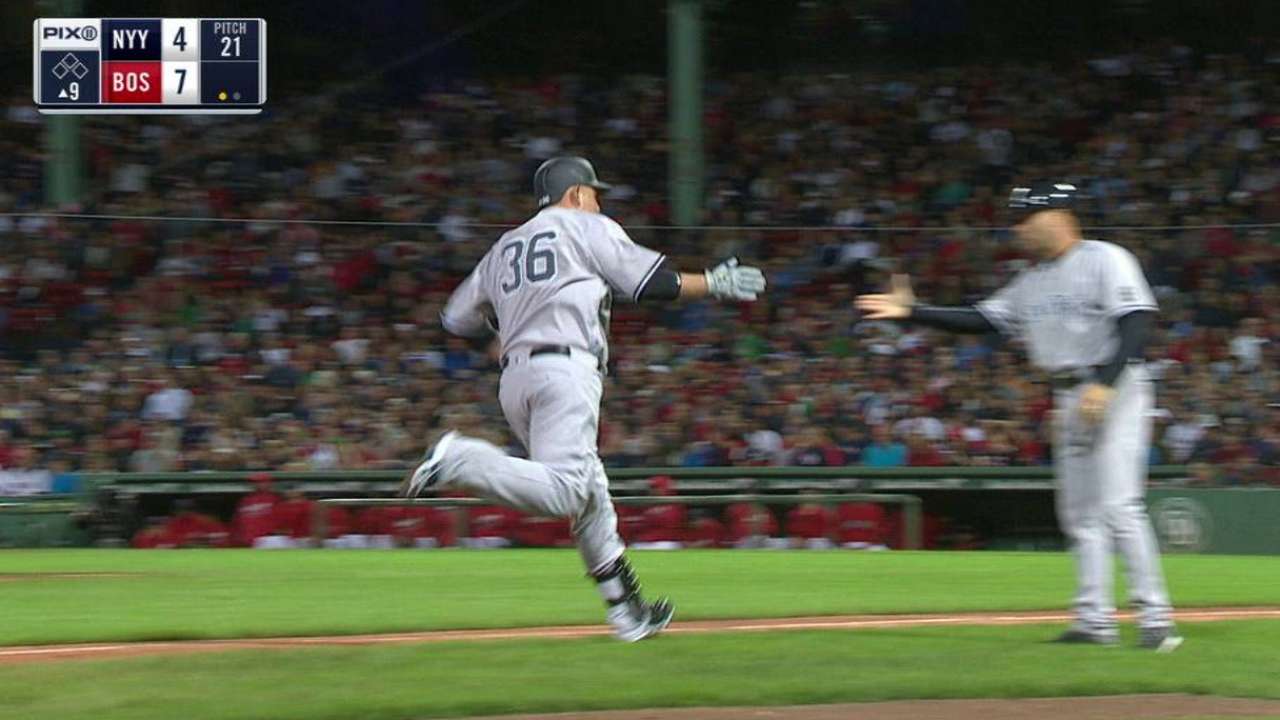 Butler will be eligible for free agency after this season, and while he'd probably be happy to stick around -- he chose the Yankees over the Tigers, who were also interested in his services -- the Yanks have a lefty-righty platoon set to go, with Bird and Tyler Austin prepared to compete for the first-base job in Spring Training.
A wild card could be any kind of setback with Bird, who has been working out recently at Yankee Stadium and is set to participate in the Arizona Fall League as he prepares for next season.
There were rumors about trading Brian McCann in July. Where does all that stand now?
-- Ryan C., Phillipsburg, N.J.
The Yankees' asking price was said to be high for McCann -- one report suggested they requested Mike Foltynewicz from the Braves -- which might show how much the club values having him around. They would probably consider moving him this offseason, but general manager Brian Cashman has not seemed eager to give McCann away. Brett Gardner falls into that same category.
McCann has played the role of good soldier as Sanchez came up to the Majors and grabbed the starting catcher's job, with McCann largely moving into a DH role. There were many who expected that McCann might transition out from behind the plate by the end of his five-year deal with the Yanks, but with the fourth season arriving in 2017, he's still a viable option behind the plate.
The Yankees were reluctant to eat money to move McCann this summer, but if a club is willing to take on most of the $34 million that McCann is owed over the next two seasons, Cashman might find that too appealing of an offer to pass up. Otherwise, there are worse things than having a veteran left-handed hitter like McCann who can catch two or three days a week while taking most of his at-bats as a DH.
Bryan Hoch has covered the Yankees for MLB.com since 2007. This story was not subject to the approval of Major League Baseball or its clubs.