Inbox: Are Phils' young bats as strong as arms?
Beat reporter Todd Zolecki answers questions from Philadelphia fans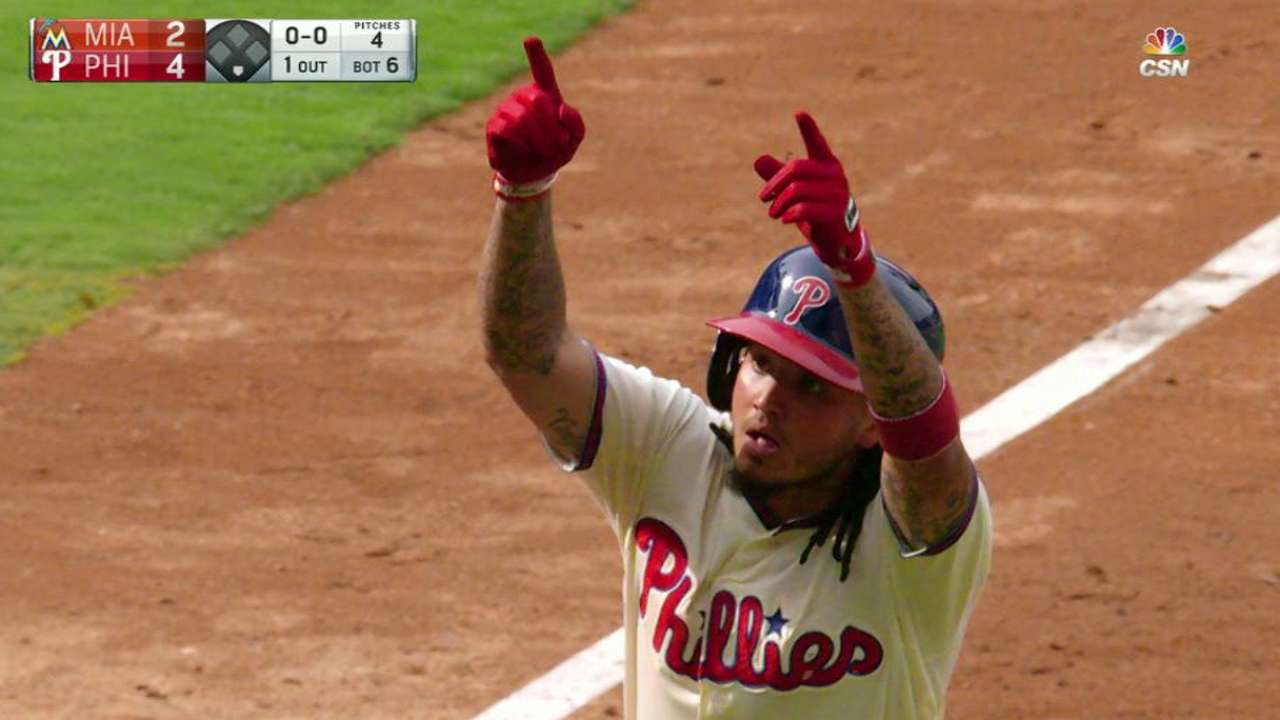 I like what I see from the Phillies' young starting pitchers, but what do you think about the offense?
-- Brendan C., Harleysville, Pa.
Pat Gillick said a couple years ago that it might be at least 2018 before the Phillies are contenders again, and he might be right, based on the Phils' offense.
There are players who are likely to be in that 2018 lineup based on their age, potential and current production, but do they have the next Jimmy Rollins, Chase Utley or Ryan Howard? True, the Phillies had four infielders (Howard, Maikel Franco, Tommy Joseph and Freddy Galvis) hit 20-plus home runs in a season for the first time in franchise history, but there are also more home runs in baseball this year than at any point since 2000. What the Phils need more than homers are hitters who get on base. They are last in the Majors with a .297 on-base percentage, six points worse than they were last season. It also is the sixth-worst on-base percentage of any team in a non-strike season in the past 40 years.
• Submit a question to the Phillies Inbox
Finding players who know how to get on base is the front office's biggest challenge.
Now, can some of the Phillies' players make strides next season in that area? Sure, but can enough of them? Top prospect J.P. Crawford is perhaps the organization's best chance to dramatically upgrade a position's on-base percentage. It is interesting because Galvis has 20 home runs and 67 RBIs, and the Phils have praised him for his combination of run production and Gold Glove-caliber defense. But Galvis also has the worst OBP (.274) of 148 qualified hitters in the Majors. If Crawford lives up to his potential and eventually becomes the Phillies' everyday shortstop, one theory is that Galvis could move to second base, except Cesar Hernandez is tied with Odubel Herrera for the team's best OBP (.361).
There are no easy answers here, other than that there must be a dramatic improvement. Remember the days when people foolishly asked Charlie Manuel about all the runners the Phils left on base? Manuel wisely responded, "Yeah, we leave a lot of runners on base, because we're always getting runners on base. And by the way, we're also leading the league in runs scored."
The Phillies would love to have that problem in 2018, but at the moment, it is hard to see that happening.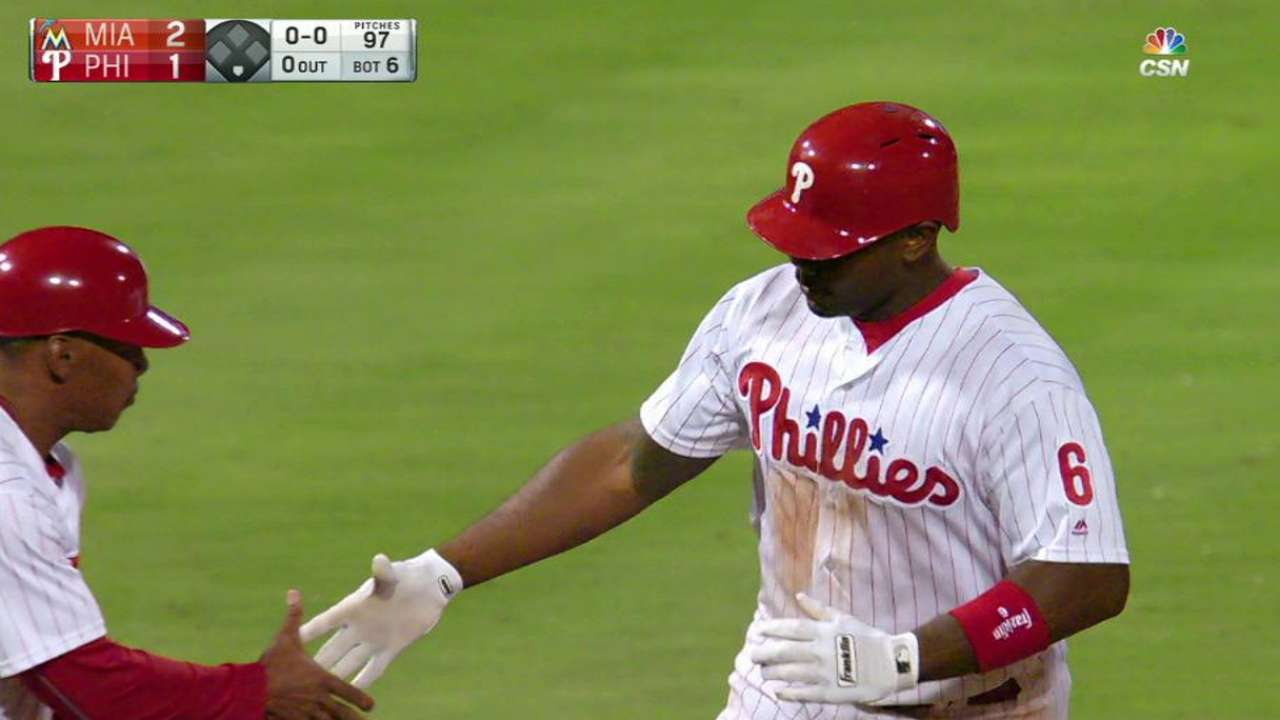 It looks like these are going to be Howard's final few weeks with the Phillies. What will you remember most about him?
-- John G., Mt. Laurel, N.J.
The Phillies wouldn't have had the success they had from 2007-11 without Howard in the middle of the lineup. He was a force. I remember how opposing managers feared Howard in 2006, when he won the National League Most Valuable Player Award. Reds manager Jerry Narron intentionally walked him three times in one game, including once to load the bases with no outs in the bottom of the 14th inning. Astros manager Phil Garner intentionally walked Howard once to lead off the bottom of the ninth inning in a tie game. He almost single-handedly helped the Phils win the NL Wild Card that season after they held a fire sale in July. They wouldn't have won the 2008 World Series without Howard.
Howard had more than his share of clutch home runs (six walk-off homers, 144 go-ahead homers), but I will also remember his personality and his sense of humor. Things got rough for him at times in the past few years, so he became more guarded, but he remains one of the most likable, personable and funniest players that I've covered since 2003. Howard will be missed.
Todd Zolecki has covered the Phillies since 2003, and for MLB.com since 2009. Read his Phillies blog The Zo Zone, follow him on Twitter and listen to his podcast. This story was not subject to the approval of Major League Baseball or its clubs.